Keto Dutch Baby Pancake Recipe
Keto Dutch Baby Pancake Recipe is a large pancake baked in a buttered hot skillet with an almost custardy texture in the middle and crispy edge.
It's the perfect keto family breakfast to share on the weekend and delicious topped with keto-friendly fruits.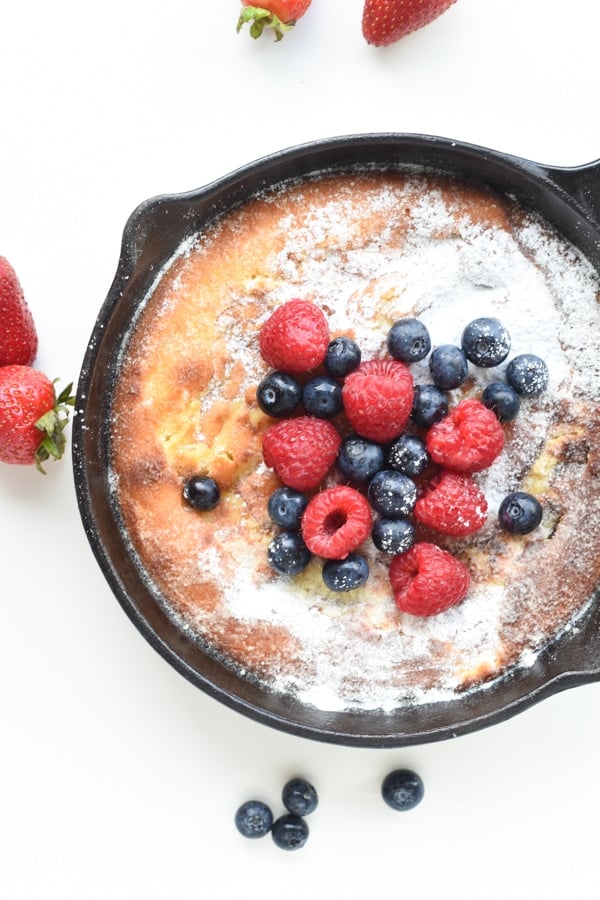 Is Dutch Baby Keto?
A classic Dutch baby is a large German pancake made of high-carb ingredients, including wheat flour, sugar, and milk.
As a result, classic Dutch Baby pancakes, just like old-fashioned pancakes, are not keto-friendly.
But you can make a keto-friendly keto Dutch baby recipe using keto flour and keto sweeteners.
How To Make A Keto Dutch Baby
A Keto Dutch Baby recipe is very easy to make with only a few ingredients.
But first, make sure you have a blender or food processor to create a smooth keto Dutch baby batter.
Ingredients
To make this blender keto pancake recipe, you need the following: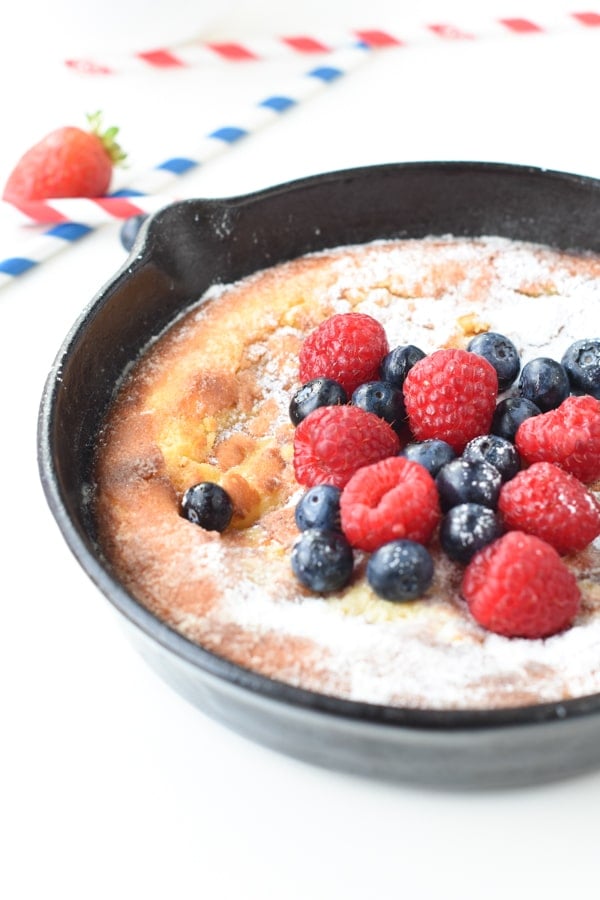 Preheating Oven and Skillet
Before you start making the keto Dutch baby batter, preheat the oven to 460°F (240°C).
Place the oven-safe 8-inch (20 cm) skillet in the center rack of the preheated oven and warm for 15 minutes.
Making The Dutch Baby Batter
Now, place the eggs and cream cheese in the blender. Blend at high speed for 15-20 seconds until it forms a smooth batter.
Stop the blender and add the remaining ingredients.
Blend again until smooth.
Baking
Now, use oven-safe mittens and carefully remove the hot skillet from the oven. Reduce the oven temperature to 350°F (180°C).
Place the piece of butter in the center of the skillet and tilt the skillet to spread and melt the butter. Watch out, the pan is hot, and the butter will melt fast and drizzle out of the pan.
Now, quickly pour the pancake batter from the blender into the hot skillet and bring the skillet back to the center rack of your oven.
Bake for 10 to 14 minutes at 350°F (180°C) or until the center puffs up.
The longer you bake it, the less custardy it will be in the center. You want the center to be set, not runny, but not overbaked and dry.
Brushing Butter
Remove the skillet from the oven and use a pastry brush to spread melted butter on top of the pancake.
I recommend using a spoon to push down the 'bumpy' middle of the pancake, it creates lovely cracks in the pancake, adding moisture and increasing the custardy texture.
Serving
It is imperative to serve this keto Dutch baby keto recipe right out of the oven. This way, the center is still moist and custardy, and the edge crispy.
This keto Dutch baby pancake serves 4 slices from an 8-inch skillet. Serve each portion topped with some of the keto-friendly sweet toppings below:
unsweetened whipped cream
Powdered erythritol or powdered sugar alcohols you love, like allulose or xylitol.
Keto fruits like blueberries, raspberries, or strawberries.
Coconut flakes
Sliced almonds
Flavor Variations
Sure, you can use this recipe to make a savory keto Dutch baby. Remove the erythritol and cinnamon from the recipe and replace them with:
1/2 teaspoon of garlic powder
1 teaspoon of salt
Then top your savory Dutch pancake with some of the keto savory toppings below:
fried egg
avocado
shaved ham
smoked salmon
creme fraiche
crispy bacon
shredded aged cheddar
Frequently Asked Questions
How do Dutch Baby Pancakes taste?
A keto Dutch baby won't pop over on the side of the skillet as a traditional wheat-based Dutch baby recipe. However, its texture is very similar. You'll love its crispy edges and almost custard interior.
How to perfectly bake Dutch Baby?
The key to making a moist, almost custardy keto Dutch baby recipe is to closely watch the baking time! Don't overbake the Dutch baby or the center dry fast.
You know your pancake is cooked through when:
– After at least 10-14 minutes of baking time.
– It puffs up in the center.
– The top is golden brown and firm.
– If you press the puffed area with a spoon, it's firm, but you can feel that it's still slightly spongy under. It shouldn't be runny in the center, and the spoon can't go through.
Why is my Dutch baby dry?
If the center of your pancake is dry, it can be because you:
– Used a larger skillet resulting in a very thin layer of pancake batter. For a large skillet, you must watch out for the baking time closely, it will bake way faster.
– Baked the pancake too long – it's ready when it just puffs up in the center, but it's firm if you press it with a spoon.
Can I bake a Dutch baby Pancake in a cake pan?
Yes, you can use a round baking pan or baking dish of the same size. However, the sides won't crisp as much if your pan is made of glass or ceramic.
The best material to make crispy edges on a Dutch baby is a cast-iron skillet.
More Pancake Recipes
If you love keto and healthy pancakes for breakfast, I have more recipes for you to try!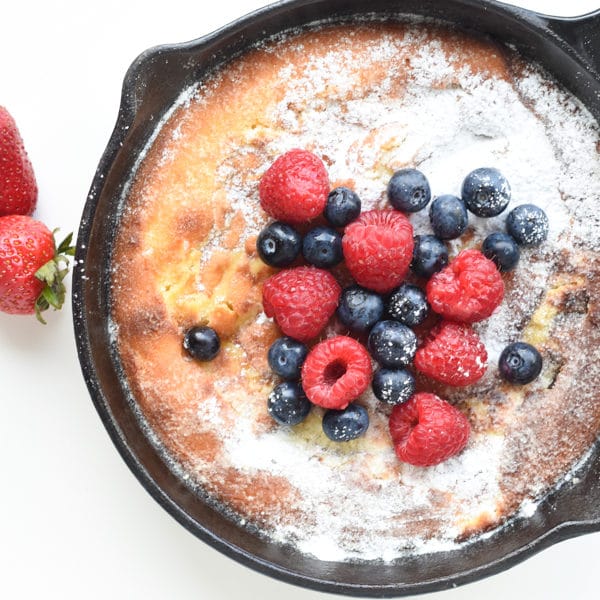 Keto Dutch Baby
An easy Keto Dutch Baby recipe for a delicious family breakfast with crispy edges and buttery custardy center.
Yield:
portions (1/4 of 8″skillet)
Serving Size:
1
serving (1/4 of a 8″ skillet) no toppings
Ingredients
3

large

Eggs

3

oz

Cream Cheese

softened, out of the fridge 30-60 min before

1 ½

tablespoons

Unsalted Butter

¾

teaspoon

Baking Powder

1

cup

Almond Flour

spoon and sweep

2

teaspoons

Vanilla Extract

3

tablespoons

Erythritol

½

teaspoon

Ground Cinnamon
To cook the dutch baby
2

tablespoons

Unsalted Butter
To brush on top of the hot pancake
1

tablespoon

Unsalted Butter
This recipe may contain Amazon or other affiliate links. As an Amazon Associate I earn from qualifying purchases.
Instructions
Preheat oven to 460°F (240°C). When the oven is hot, place an 8-inch (20 cm) heavy oven-proof cast iron skillet pan in the oven to heat up. Don't use a larger skillet to avoid dry pancakes.

Meanwhile, place large eggs, cream cheese, and melted butter in a blender or food processor and blend until smooth – about 15-20 seconds on high speed.

Stop the food processor and add in baking powder, almond flour, erythritol, vanilla, and cinnamon. Blend again at high speed to combine and form a smooth batter with no lumps.

Remove the hot pan from the oven, using oven mittens, and be very careful as the handle is burning hot. Reduce oven temperature to 180°C (350°F)

Place skillet on the stove or on a wooden block and immediately add the 2 tablespoons of fresh unsalted butter.

Swirl the pan to spread the butter all over the surface. Be careful, the butter bursts out of the pan, and it's hot! When the butter is melted, immediately pour the keto Dutch pancake batter and return it to the preheated oven on the center rack.

Bake for 10-15 minutes at 350°F (180°C)or until pancake is golden brown, puffed up in the center. For a moist, almost custard-like center, press the back of a spoon in the puffed area. It should be firm but bounce back – still moist under it. If it's firmer, the center of your pancake will be a bit dryer.

Remove from oven and brush 1 tablespoon of melted butter all over the surface. The center won't deflate, so push it down slightly with the back of the spoon. It will create lovely cracks on the top too. Then, sprinkle with powdered erythritol.

Serve immediately, 1/4 of an 8-inch skillet is one serving, top with unsweetened whipped cream and berries.
Notes
Nutrition panel doesn't includes toppings
Want My Kitchen Equipment?
Serving Size:
1
serving (1/4 of a 8″ skillet) no toppings
Yield:
portions (1/4 of 8″skillet)
Serving:
1
serving (1/4 of a 8″ skillet) no toppings
Calories:
403.8
kcal
(20%)
Carbohydrates:
7.5
g
(3%)
Fiber:
3.1
g
(13%)
Net Carbs:
4.4
g
Protein:
12
g
(24%)
Fat:
37.5
g
(58%)
Saturated Fat:
14.3
g
(89%)
Trans Fat:
0.5
g
Cholesterol:
196.8
mg
(66%)
Sodium:
234.2
mg
(10%)
Potassium:
88.9
mg
(3%)
Sugar:
2.1
g
(2%)
Vitamin A:
882.4
IU
(18%)
Vitamin B12:
0.4
µg
(7%)
Vitamin C:
0.1
mg
Vitamin D:
1.1
µg
(7%)
Calcium:
107.1
mg
(11%)
Iron:
1.8
mg
(10%)
Magnesium:
7.1
mg
(2%)
Zinc:
0.6
mg
(4%)
Posted In: