This Keto Pumpkin Cake is a delicious almond flour pumpkin cake with a crunchy pecan cinnamon topping. It's a moist cake packed with pumpkin pie spices flavors and the best low-carb fall dessert with only 6 grams of net carbs and 12 grams of protein per slice.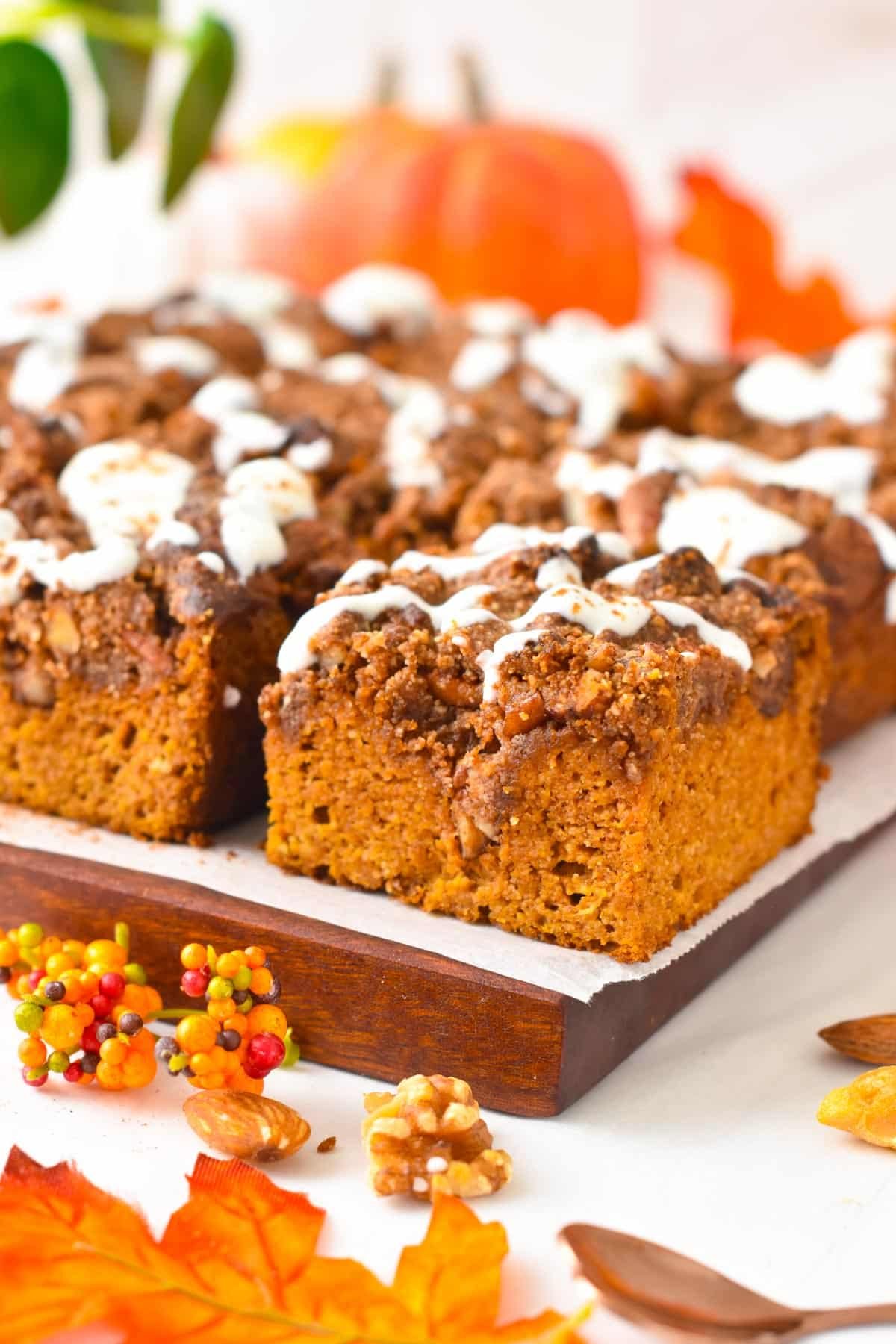 I love keto pumpkin dessert recipes, but there's one that I never published. The sugar-free pumpkin cake with almond flour.
How To Make Keto Pumpkin Cake
It's so easy to bake this fall keto cake that you will have it on repeat this fall, or for your Thanksgiving dinner.
Ingredients
All you need to bake this low-carb pumpkin cake are:
Almond Flour
Brown Sugar-Free Crystal Sweetener – like brown erythritol or, if you can't find a brown sweetener, use allulose or classic erythritol.
Salt
Baking Soda
Baking Powder
Ground Cinnamon
Pumpkin Pie Spices
Large Eggs
Canned Pumpkin Puree – not pumpkin pie filling!
Vanilla Extract
Coconut Oil or melted butter or any light-flavored oil like avocado oil or light olive oil.
Pecan Pumpkin Spice Crumbs
This topping is totally optional and you can also cool down the pumpkin cake, and frost with a keto vanilla frosting like the one used in my keto vanilla cake recipe.
However, I do like the crunchy pecan on top of this pumpkin cake, it turns the recipe a little bit like a pumpkin coffee cake.
All you need is to stir the below ingredient into a bowl:
Almond Flour
Brown Erythritol – or any other brown crystal sweetener.
Chopped Pecans or walnuts
Coconut Oil
Cinnamon
Pumpkin Pie Spices – it's basically a mix of nutmeg, ginger, allspice, and ground cloves that you can make at home if you don't have the mix.
Vanilla Extract
Preparation
First, preheat the oven to 350°F (180°C). Line an 8-inch x 8-inch square pan with parchment paper. Lightly oil the paper with cooking oil spray. Set aside. In a large bowl, whisk all the dry ingredients – except the sweetener. Set aside.
In another bowl, beat eggs with a hand whisk, then whisk in brown sugar-free sweetener, pumpkin puree, vanilla extract, and cooled melted coconut oil.
Stir the dry ingredients with the liquid ingredients.
Keep stirring until the pumpkin cake batter is smooth and lightly thick. Transfer to the prepared baking pan and crumble the pecan cinnamon topping on top of the cake. Bake your low-carb pumpkin cake in the center rack of the oven at 350°F (180°C) for 35 to 45 minutes or until a toothpick inserted in the center of the cake comes out clean. You may want to foil the top of the pan after 25 minutes to protect the top of the cake from burning. Cool completely in the pan, then pull the pieces of parchment paper to release on a cooling rack.
Combine all the crumble topping ingredients in a mixing bowl.
When the mixture is consistent, bring the warm cake back.
Let the cake cool before decorating.
Crumble the topping on top of the cake.
Serving
Serve the cake with a yogurt drizzle, stirring plain Greek yogurt and powdered sugar-free sweetener together. Drizzle on top of the cooled cake just before serving.
Or, try my keto cream cheese frosting or vegan buttercream frosting as seen in my keto cake recipe.
Storage Instructions
Store cake leftovers in an airtight container in the fridge for up to 4 to 5 days.
Freeze the cake in freezer bags for up to one month. Thaw in the fridge the day before serving.
Frequently Asked Questions
Below are my answers to your most common questions about this keto gluten-free pumpkin cake recipe.
Posted In: