Protein Pancakes Without Protein Powder
These Protein Pancakes Without Protein Powder are packed with 22 grams of protein per serving and are the healthiest pancakes to start the day.
They are packed with whole grains, fiber, and nutrients that guarantee you feel energized and full every morning.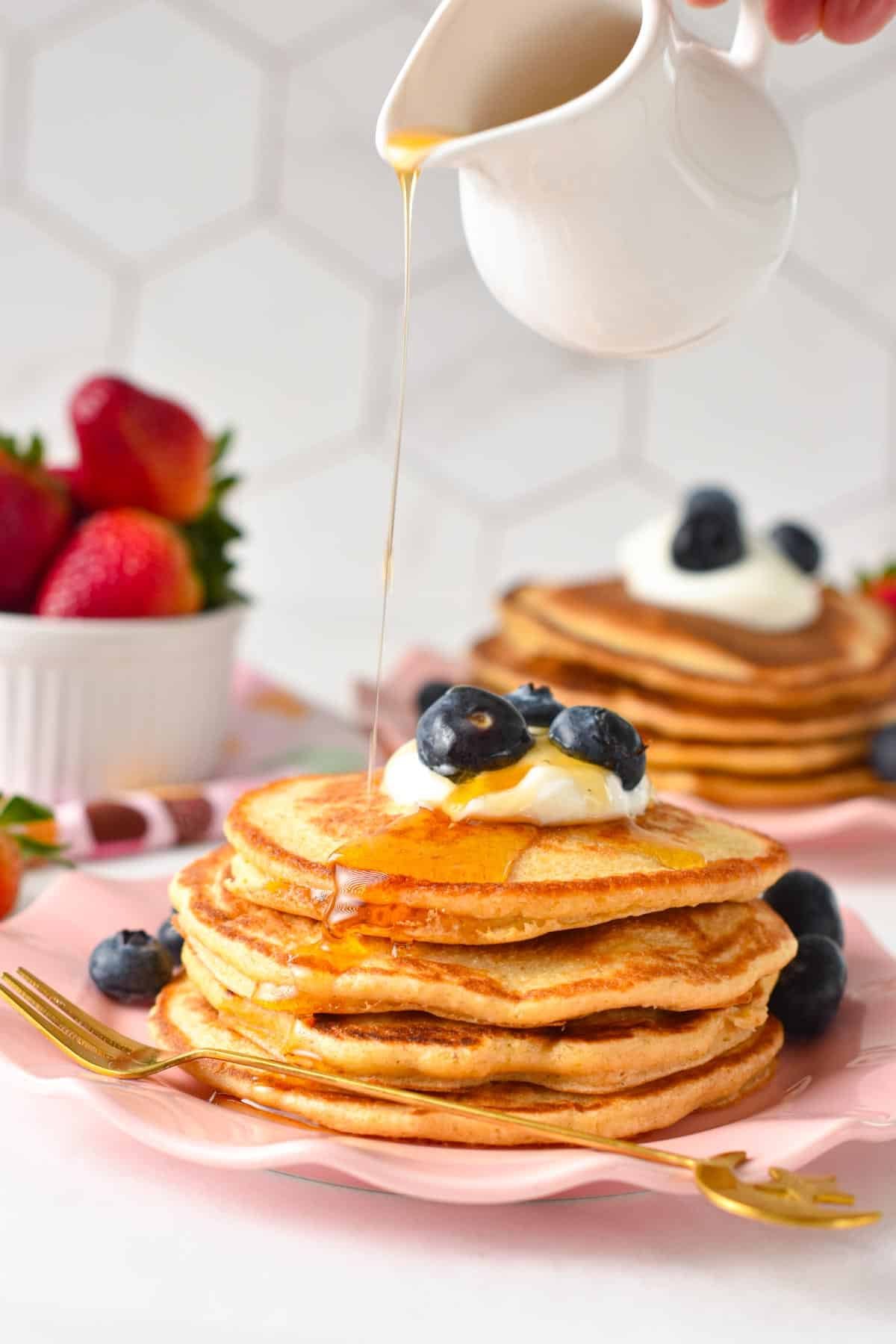 I have a sweet tooth in the morning, so I have shared countless protein pancake recipes, such as my Greek Yogurt Protein Pancakes or my 3-Ingredient Protein Pancakes.
They taste amazing, fix my sweet cravings, and are simple and filling. I guarantee that after one serving of these protein pancakes, I will not crave food for at least 4 hours.
After a workout, they are the real deal to refuel your muscles with proteins and make you feel full.
While I adore my cottage cheese pancakes, I also like to play with other ingredients to boost the protein in my pancakes without adding protein powder or banana. Most protein pancake recipes are either with banana because they are egg-free and banana is the binder, or loaded with protein powder.
Here I am sharing a new way to add protein to your pancakes using a combo of Greek yogurt, milk, and oats.
I love these protein pancakes because they are super fast to prepare and packed with wholesome ingredients. They are higher in carbohydrates than my low-carb protein pancakes, but since there's no protein powder, they are a nice way to boost proteins without buying expensive protein powder.
How To Make Protein Pancakes Without Protein Powder
This protein pancake recipe is even easier to make than your traditional regular pancakes. Plus, they are way healthier for you.
Ingredients
All you need are a bunch of natural ingredients: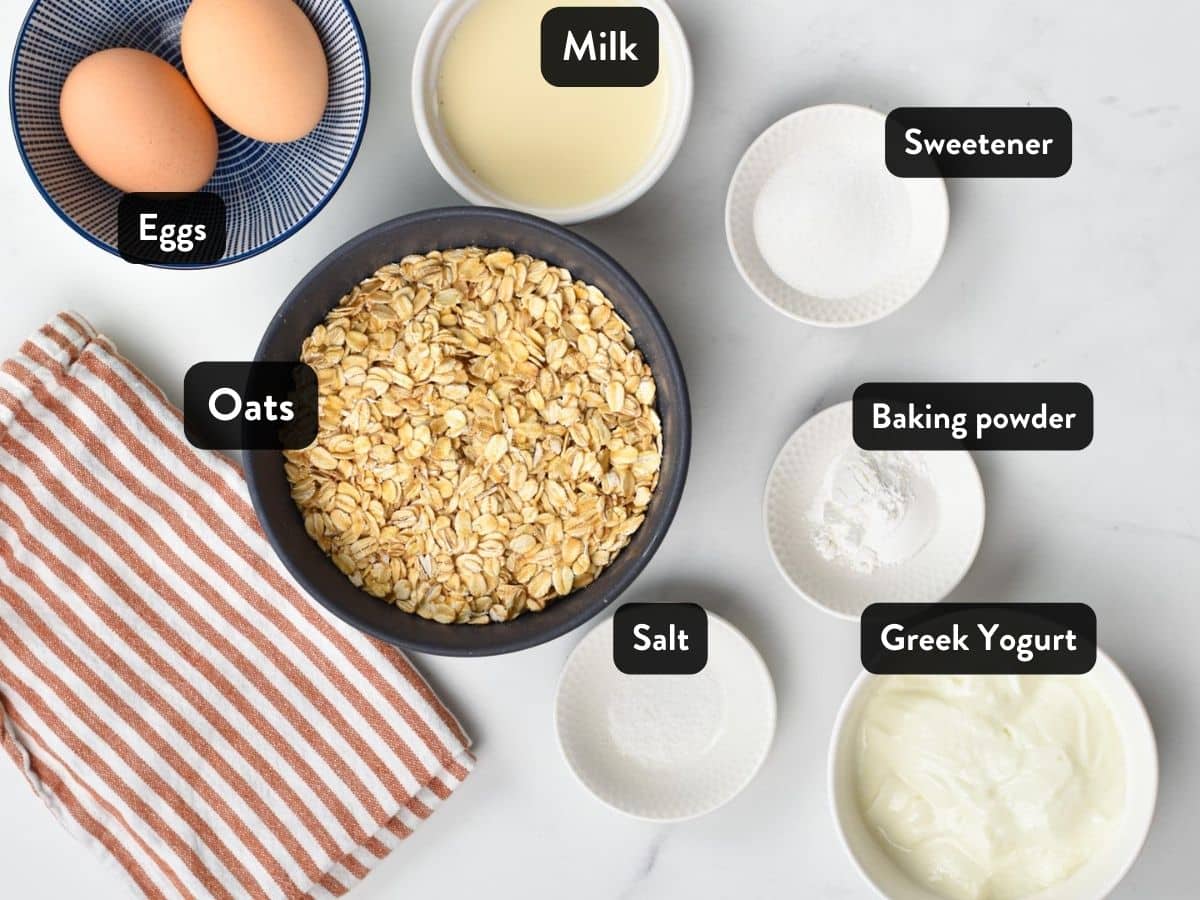 Old-Fashioned Rolled Oats – It's a high-protein and high-fiber grain compared to all-purpose flour, and it acts like flour when blended with the remaining ingredients. Therefore, this is an excellent choice for protein pancake recipes.
Greek Yogurt – This is an excellent source of protein to make high-protein pancakes without adding any protein powder.
Eggs – Another protein-packed ingredient that makes the pancakes fluffy and delicious.
Baking Powder
Vanilla Extract or a pinch of cinnamon – both are optional and used for flavor, pick both, one or none.
Milk – Packed with protein and calcium. You can also choose a dairy-free milk. Soy milk is high in protein, or choose protein-fortified almond milk.
Sweetener of Choice like sugar-free allulose, erythritol, maple syrup, or coconut sugar.
Pinch of Salt
Preparation
There's nothing easier than making this pancake batter as everything goes in a blender.

In a high-speed blender, add all ingredients: oats, eggs, milk, yogurt, vanilla, salt, sweetener, and baking powder.
Blend on high speed until the batter is thick but smooth.
Pour into a large bowl – it makes it easier to scoop from the bowl to the griddle rather than scooping in the blender jug.

Warm a large pancake griddle or skillet over medium heat. Oil the surface with coconut oil or butter.
Add about 1/4 cup of batter per pancake and cook for 2 to 3 minutes before flipping.
When the sides come out dry and bubbles form in the center, slide a small spatula under the pancake and flip on the other side.
Keep cooking for about 1-2 minutes until golden brown, and the center of the pancakes is set and dry.
Cool down at room temperature on a wire rack.
Grease the pancake pan again before adding more batter and cooking the remaining pancake batter.
Add-Ons
You can be creative and add some delicious ingredients in the batter, up to 1/4 cup of the following:
Chocolate chips
Blueberries
Chopped nuts
Also, for flavors, or depending on the season, you may like to add:
1 teaspoon of pumpkin pie spices
1 teaspoon of cinnamon
1 tablespoon of pumpkin puree
Serving
Serve the pancakes in a stack of three pancakes for a decent serving and as much as 22 grams of protein.
To boost the proteins, my favorite toppings are a dollop of Greek yogurt, some nut butter like peanut butter and some:
Strawberries
Blueberries
Banana slices
Chopped nuts
Pinch of cinnamon
Drizzle of maple syrup or sugar-free syrup for pancakes.
Storage Instructions
This recipe can be doubled or tripled and stored in the fridge or frozen for later healthy breakfast,.
Fridge – Place leftovers in an airtight container and keep them in the refrigerator for up to 3 to 4 days.
Freezer – Freeze in zip-lock bags for up to one month. Thaw in the fridge the day before and rewarm in a bread toaster or warm skillet.
Allergy Swaps
Here are some ingredient swap ideas for you to try:
Gluten-Free – Pick a gluten-free certified oat brand.
Dairy-Free – Pick high-protein dairy-free yogurt and high-protein non-dairy milk like soy milk.
Eggs – You can swap the eggs for two flax eggs or four egg whites to decrease the fat content of the recipe, but they come out a little bit dry.
Frequently Asked Questions
Below are my answers to your most common questions about these protein pancakes.
Can you make a protein pancake without protein powder?
Absolutely yes! You need to use high-protein flour like oat flour or blended oats.
Then, add naturally high-protein ingredients like eggs, Greek yogurt, and milk. The combination of the four ingredients makes high-protein pancakes without expensive protein powder.
What are the healthiest pancakes to eat?
An healthy pancakes should be stabilizing your blood-sugar level and keep you full all morning. It means that they must contains lots of fiber and proteins. As a result the healthiest pancakes should be made from oats, eggs, yogurt or protein powder and almond flour.
More Protein Pancake Recipes
If you like high-protein pancakes, you'll love these: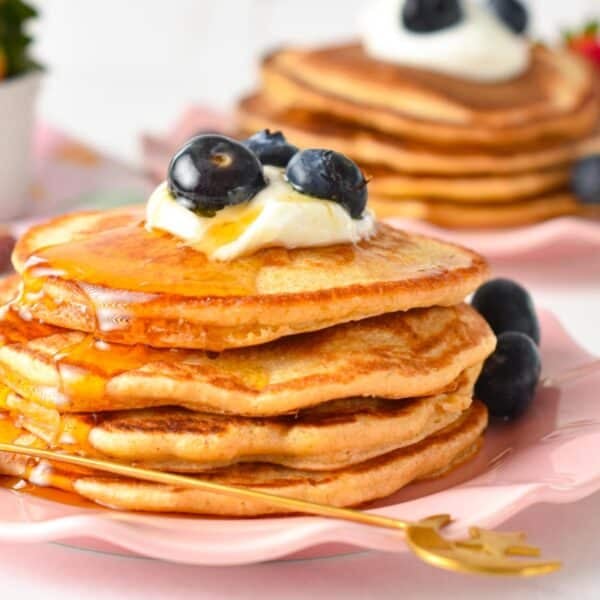 Protein Pancakes Without Protein Powder
These Protein Pancakes without Protein Powder are packed with 22 grams of protein per serving and are the healthiest pancakes to start the day.
Yield:
servings (3 pancakes each)
Serving Size:
1
serving (3 pancakes each)
Ingredients
½

cup

Greek Yogurt

½

cup

Milk of Choice

2

large

Eggs

1 ¼

cup

Old-Fashioned Oats

1

tablespoon

Erythritol

2

teaspoons

Baking Powder

¼

teaspoon

Salt

1

teaspoon

Vanilla Extract

optional
This recipe may contain Amazon or other affiliate links. As an Amazon Associate I earn from qualifying purchases.
Instructions
In a high-speed blender, add all the ingredients: egg, milk, Greek yogurt, oats, cinnamon, baking powder, and vanilla extract if desired.

Blend on high-speed until the batter is liquid and smooth.

Transfer the pancake batter into a mixing bowl and set aside 10 minutes – the fiber from oats will lightly thicken the batter.

Warm a pancake griddle or non-stick skillet over medium heat and grease the surface with cooking oil spray.

Add 1/4 cup of batter per pancake and cook for 2-3 minutes until bubbles form on top of the pancakes.

Flip and cook an extra minute on the other side.

Serve 3 protein pancakes per breakfast with a drizzle of syrup of choice, fresh blueberries, and extra yogurt.
Storage
Store leftover pancakes in the fridge in an airtight container for up to 3 days or freeze pancakes for up to 1 month in zip-lock bags.

Thaw in the fridge the day before.
Want My Kitchen Equipment?
Serving Size:
1
serving (3 pancakes each)
Yield:
servings (3 pancakes each)
Serving:
1
serving (3 pancakes each)
Calories:
345.2
kcal
(17%)
Carbohydrates:
40.9
g
(14%)
Fiber:
5.1
g
(21%)
Net Carbs:
35.8
g
Protein:
20.6
g
(41%)
Fat:
11.1
g
(17%)
Saturated Fat:
3.9
g
(24%)
Polyunsaturated Fat:
2.2
g
Monounsaturated Fat:
3.3
g
Trans Fat:
0.02
g
Cholesterol:
196.6
mg
(66%)
Sodium:
835.1
mg
(36%)
Potassium:
344.8
mg
(10%)
Sugar:
5.9
g
(7%)
Vitamin A:
401.6
IU
(8%)
Vitamin B12:
0.8
µg
(13%)
Vitamin D:
1.7
µg
(11%)
Calcium:
430.7
mg
(43%)
Iron:
3.5
mg
(19%)
Magnesium:
84.3
mg
(21%)
Zinc:
2.7
mg
(18%)
Posted In: