Almond Flour Chocolate Chips Muffins (Keto, Gluten-Free)
These Keto Almond Flour Chocolate Chips Muffins are ultra-moist vanilla muffins with delicious bites of sugar-free chocolate chips.
Plus, these almond flour muffins are also gluten-free and grain-free approved!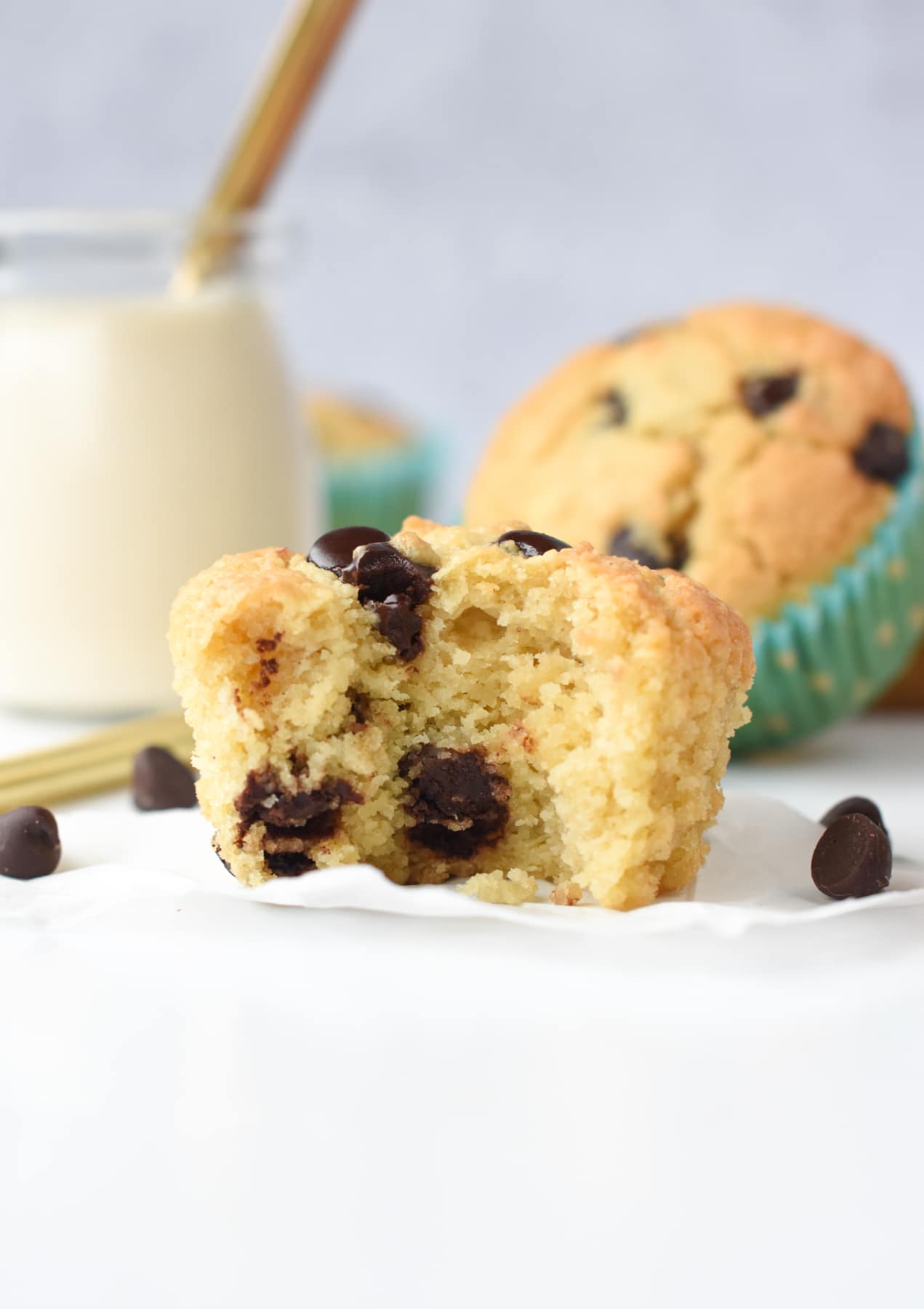 There's no secret about it. I am in love with almond flour recipes! Almond flour bread, almond flour crackers, almond flour cupcakes, blueberry muffins, there are basically no baked goods that you can't make out of almond flour.
Almond flour is my favorite low-carb flour for so many reasons but below are my top three:
It adds a light and fluffy texture to gluten-free baking without adding carbs.
It's a no-fail keto flour to start baking with – much easier than coconut flour, for example.
It tastes great and adds a lovely golden color to baking.
How To Make Almond Flour Chocolate Chips Muffins
Bake these lovely gluten-free chocolate chips muffins with almond flour is easy.
Ingredients
The ingredients you need to make this keto chocolate chip muffin recipe are:
Blanched ultra-fine almond flour – that's the key to making light, fluffy almond flour-based baking recipes. You can't use coarse almond flour, also called almond meal, or your muffins end up grainy and dry.
Granulated Sweetener of Choice – I am using a keto-friendly sweetener here since I love making sugar-free muffins. But if you don't like erythritol or are not on a keto diet, use any granulated sugar you like.
Eggs – Use large eggs at room temperature. The size and temperature matter more than you think! Small eggs make the batter thick and dry, and cold eggs form lumps when in contact with coconut oil.
Coconut oil – This oil is my favorite fat for this recipe. It makes these gluten-free muffins dairy-free at the same time. But melted butter works as well. They just wouldn't be dairy-free.
Baking powder
Unsweetened Almond milk – vanilla-flavored almond milk is a great choice for an extra vanilla flavor in the muffin crumb.
Vanilla extract
Cinnamon – optional
Sugar-free chocolate chips – you can make your own with my sugar-free chocolate chip recipe.
Preheat your oven to 350°F (180°C) before starting the low-carb chocolate chip muffin batter. Line a 12-hole muffin tin with paper cases and lightly spray oil on them to prevent the muffin batter from sticking.
Set the tray aside when done.
Making the batter
The good thing about almond flour baked goods is that they are absolutely the easiest to make!
All you have to do is combine all the dry ingredients in a bowl. Then, in a separate bowl, whisk all the liquid ingredients.
Finally, pour the dry ingredients into the wet ingredients and stir to combine.
Fold in chocolate chips at the end.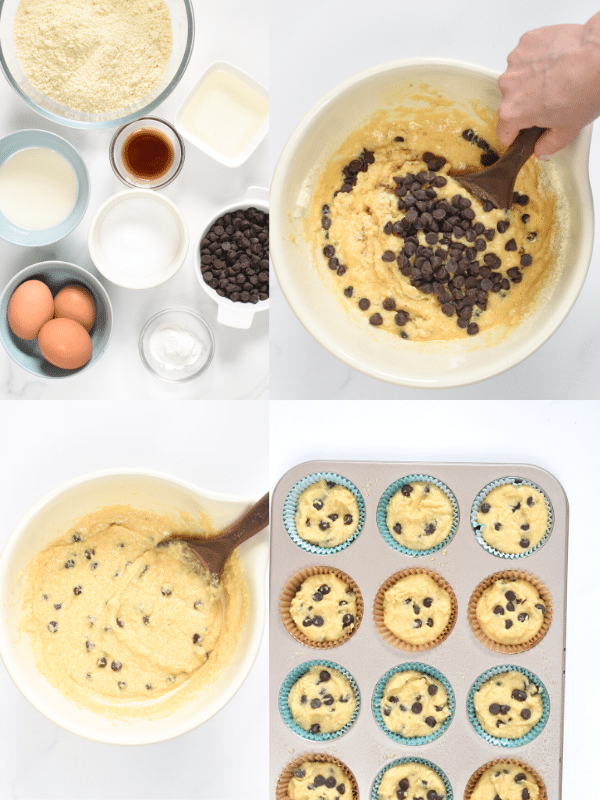 Baking
Now, fill each muffin paper case with 1/4 cup of the keto muffin batter. Since the batter is quite dense, it won't spread or rise much, so use the back of the spoon to smoothen the top and shape lovely muffins.
Bake in the center rack of the oven for 20-25 minutes or until a toothpick inserted in the center of the muffins comes out clean.
Cool down on a cooling rack for one hour and add a few extra chocolate chips on top of the muffins when they cool down to melt on top.
Add-ons
There are many options to make these keto chocolate chip muffins even more delicious.
You can add an extra 1/3 cup of some of the below ingredients to add crunchy bites to the crumb:
Shredded coconut
Chopped walnuts
Berries – like raspberries or blueberries
Chopped pecans
Sugar-free white chocolate chips
Storage
These sugar-free chocolate chips muffins can be stored for up to 5 days in the fridge in an airtight container.
Of course, you can also freeze your low-carb muffins for later.
Place the muffins in ziplock bags or containers and thaw at room temperature the day before.
Frequently Asked Questions
Should My Muffin Batter Be Thick?
Yes, almond flour cake muffin batter is always thicker and slightly grainy in texture.
It isn't runny and silky like a wheat-based muffin batter. Look at my pictures above to guide you.
My Batter Has Lumps; What Should I Do?
This happens if you use cold eggs or cold almond milk in contact with melted coconut oil.
Coconut oil firms up under 73°F (23°C), so if you pour a cold liquid onto coconut oil, it forms lumps.
To remove oil lumps, bring the bowl on a bain-marie.
Why Did My Chocolate Chips Burn?
If you use sugar-free chocolate chips that contain a low-fat amount (and a lot of keto sweetener), they don't melt as much.
Always use high-quality keto chocolate chips. It can also happen if you bake the muffin too high in the oven and they are too close to the top cooking rack.
More Muffin Recipes
Below I listed more muffin recipes for you to try:
Have you made these keto Almond Flour Chocolate Chips Muffins? Share a comment or review below to let me know how it went!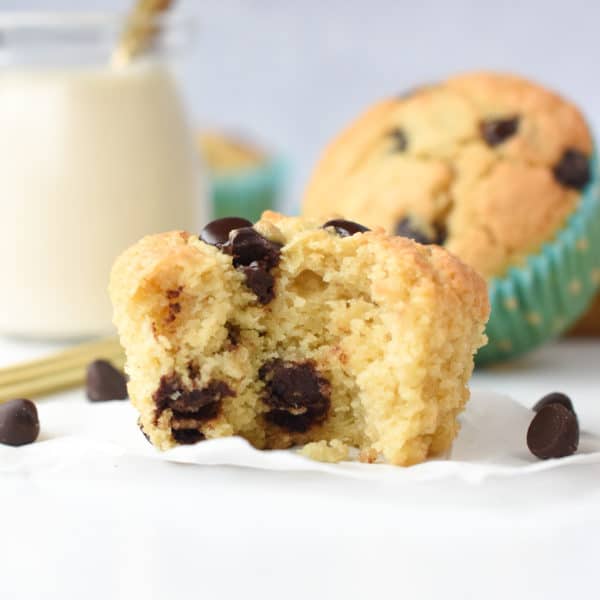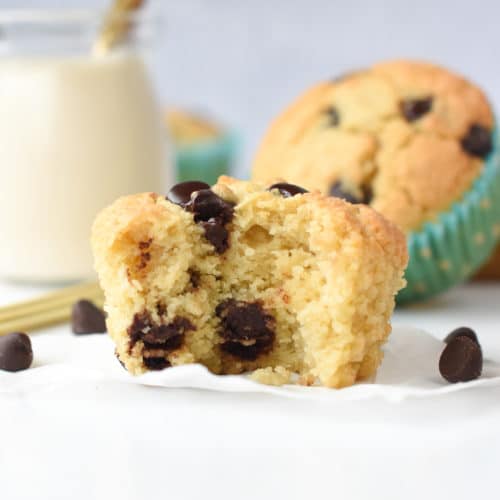 Almond Flour Chocolate Chips Muffins
An easy 1-bowl Almond Flour Chocolate Chips Muffins that makes 100% sugar-free and keto-friendly low-carb desserts or snacks.
Ingredients
3

large

Eggs

½

cup

Erythritol

Monk fruit or erythritol or xylitol

⅓

cup

Unsweetened Vanilla Almond Milk

⅓

cup

Coconut Oil

melted

2 ½

cups

Almond Flour

2

teaspoons

Baking Powder

½

teaspoon

Ground Cinnamon

½

cup

Sugar-Free Dark Chocolate Chips
This recipe may contain Amazon or other affiliate links. As an Amazon Associate I earn from qualifying purchases.
Instructions
Preheat oven to 350°F (180°C). Line a 12-hole muffin pan with muffin paper or grease with an oil spray if preferred. Set aside.

In a medium-sized mixing bowl, whisk together eggs, sugar-free sweetener of your choice, unsweetened almond milk, and melted coconut oil. Set aside.

In another bowl, whisk almond flour, cinnamon, baking powder.

Pour the dry ingredients into the first bowl with the egg mixture and stir with a spoon to combine and form a thick batter with no lump.

Fold in the sugar-free chocolate chips.

Transfer the muffin batter evenly into the 12 muffin cases, using 1/4 cup of batter per muffin. The batter won't spread in the oven, so use the back of a spoon to smoothen the top and shape lovely muffins. You can sprinkle a few extra chocolate chips on top of each muffin if desired.

Bake for

22

–

25 minutes

or until a toothpick inserted in the middle of the muffins comes out clean or with few to no crumbs on it.

Cool for

10 minutes

in the muffin pan, then gently transfer onto a cooling rack and cool for

30 minutes

to 1 hour before eating. Be patient. They get the best texture at room temperature.
Storage
Store in an airtight muffin box for up to 4-5 days at room temperature.

They can be frozen in airtight ziplock bags, preferably without the paper cup. Defrost the day before at room temperature. Can be toasted or rewarmed in an oven at 100°C/210°F.
Want My Kitchen Equipment?
Serving:
1
muffin
Calories:
223.4
kcal
(11%)
Carbohydrates:
8.6
g
(3%)
Fiber:
5
g
(21%)
Net Carbs:
3.6
g
Protein:
6.6
g
(13%)
Fat:
20.7
g
(32%)
Saturated Fat:
7.5
g
(47%)
Polyunsaturated Fat:
0.4
g
Monounsaturated Fat:
0.8
g
Trans Fat:
0.1
g
Cholesterol:
46.5
mg
(16%)
Sodium:
97.5
mg
(4%)
Potassium:
17.7
mg
(1%)
Sugar:
0.9
g
(1%)
Vitamin A:
67.7
IU
(1%)
Vitamin B12:
0.1
µg
(2%)
Vitamin C:
0.1
mg
Vitamin D:
0.3
µg
(2%)
Calcium:
104.3
mg
(10%)
Iron:
1.2
mg
(7%)
Magnesium:
1.7
mg
Zinc:
0.2
mg
(1%)
Posted In: