Cottage Cheese Egg Bake (Frittata)
This Cottage Cheese Egg Bake is a tasty high-protein brunch recipe perfect to bring to a potluck and packed with 30 grams of protein per serving.
You will love the Mediterranean flavors of this cottage cheese egg bake made with spinach, sundried tomatoes, and feta cheese.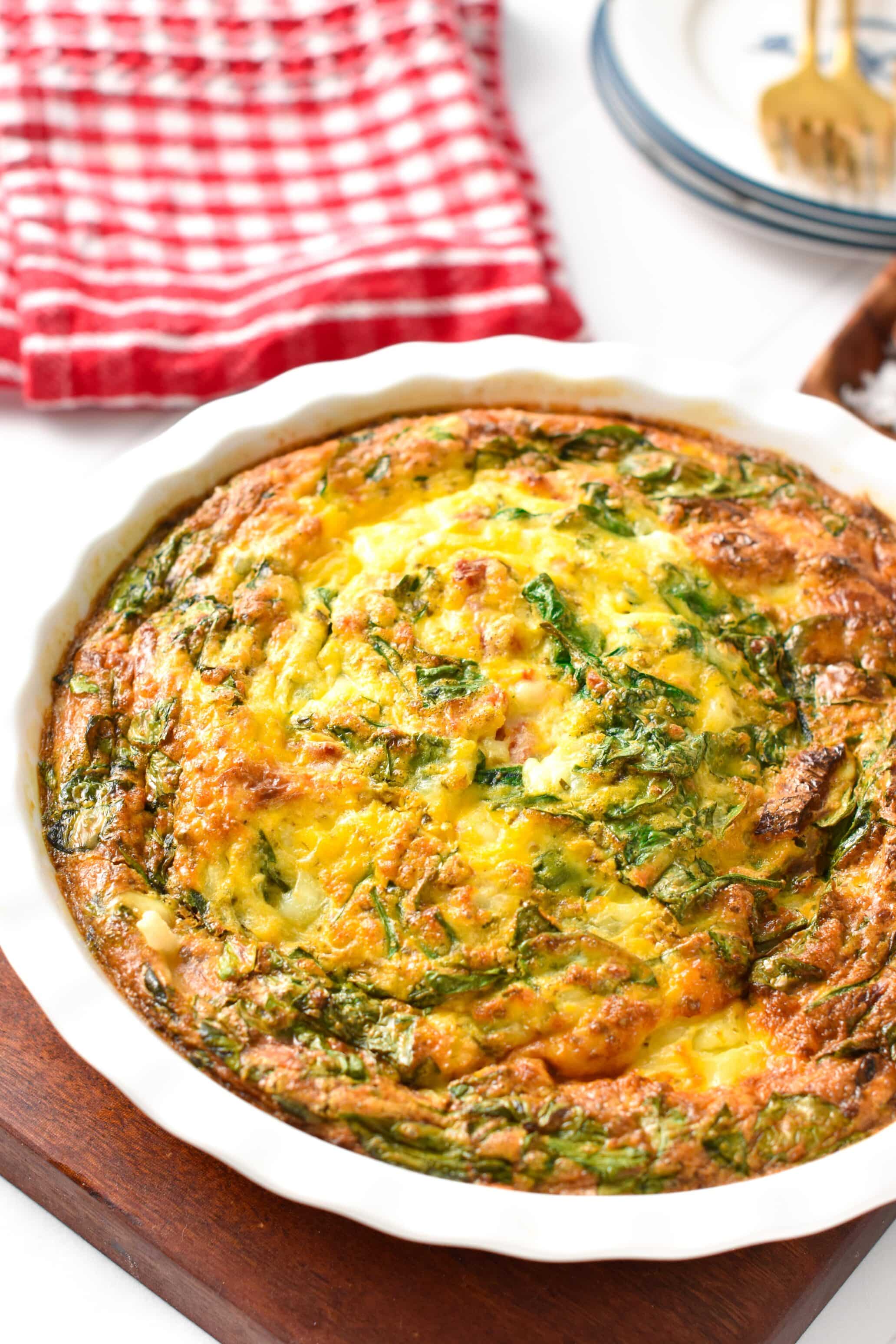 This cottage cheese egg bake is cottage cheese frittata, crustless quiche, or simply the best high-protein breakfast casserole for brunch.
This easy baked egg recipe is sure to impress and make all your guests and family ask for more.
How To Make Cottage Cheese Egg Bake
Egg bake are the perfect way to serve an healthy tasty breakfast to the entire family on the weekend.
Plus, adding cottage cheese to egg bake is an excellent protein boost. It also adds a cheesy texture and creaminess to your eggs.
Ingredients
All you need to make a delicious cottage cheese egg bake are:
Cottage Cheese – I am using full-fat cottage cheese. Feel free to use low-fat cottage cheese to decrease the saturated fat. For a boost of flavor, try flavored cottage cheese like dill cottage cheese.
Large Eggs
Baby Spinach – roughly chopped.
Sundried Tomatoes – Stored dry, not in oil. If yours are stored in oil, you will have to pat dry the sundried tomatoes to avoid adding too much oil in the dish. Cut them into thin strips if they are whole. Sundried tomatoes are high in proteins and are a great way to add protein to this egg bake.
Crumbled Feta cheese like goat feta.
Shredded Cheese like cheddar, Parmesan, or mozzarella.
Oregano
Salt
Pepper
Garlic powder
Egg Mixture
Preparation: First, in a large bowl crack the eggs, add the cottage cheese, grated cheese, feta cheese, herbs, garlic, salt and pepper.
Whisking: Whisk vigorously until well combined.
Adding Veggies
Chopping: Next, place the baby spinach on a chopping board and roughly chop it.
Combining: Add the chopped spinach, sundried tomatoes to the egg mixture and stir to evenly combine.
Baking

Pouring: Preheat the oven to 400°F (200°C). Grease a 12-inch pie plate or baking dish with melted butter or olive oil.
When all the ingredients are combined, pour the mixture into the prepared baking dish or pie plate.
Baking: Bake the cottage cheese egg bake on the top rack of the oven for 15 to 25 minutes, or until the top is golden brown and the center of the dish is not jiggly, and the eggs are set.
Depending on the size of your pie plate, it can take less or longer to bake in the center.
Be patient, check often, and when the center is set and not jiggly, you know it's ready to remove from the oven.
I like to foil the pie plate after 20 minutes to prevent the top of the egg casserole from browning too fast.
It also accelerates the baking process, especially in the center of the pan where eggs tend to take time to set.
Cooling: Let the baked egg recipe cool down for 10 minutes at room temperature before slicing.
Slicing: To slice, loosen the sides of the egg bake with a knife, running along the sides of the pie plate. Then, serve plain or with some toppings.
Serving Egg Bake
Serve the cottage cheese egg bake recipe with some of the below toppings:
Avocado
Hot sauce
Sriracha sauce
Sour cream or Greek yogurt for a boost of protein.
Green onion slices or finely chopped Parsley.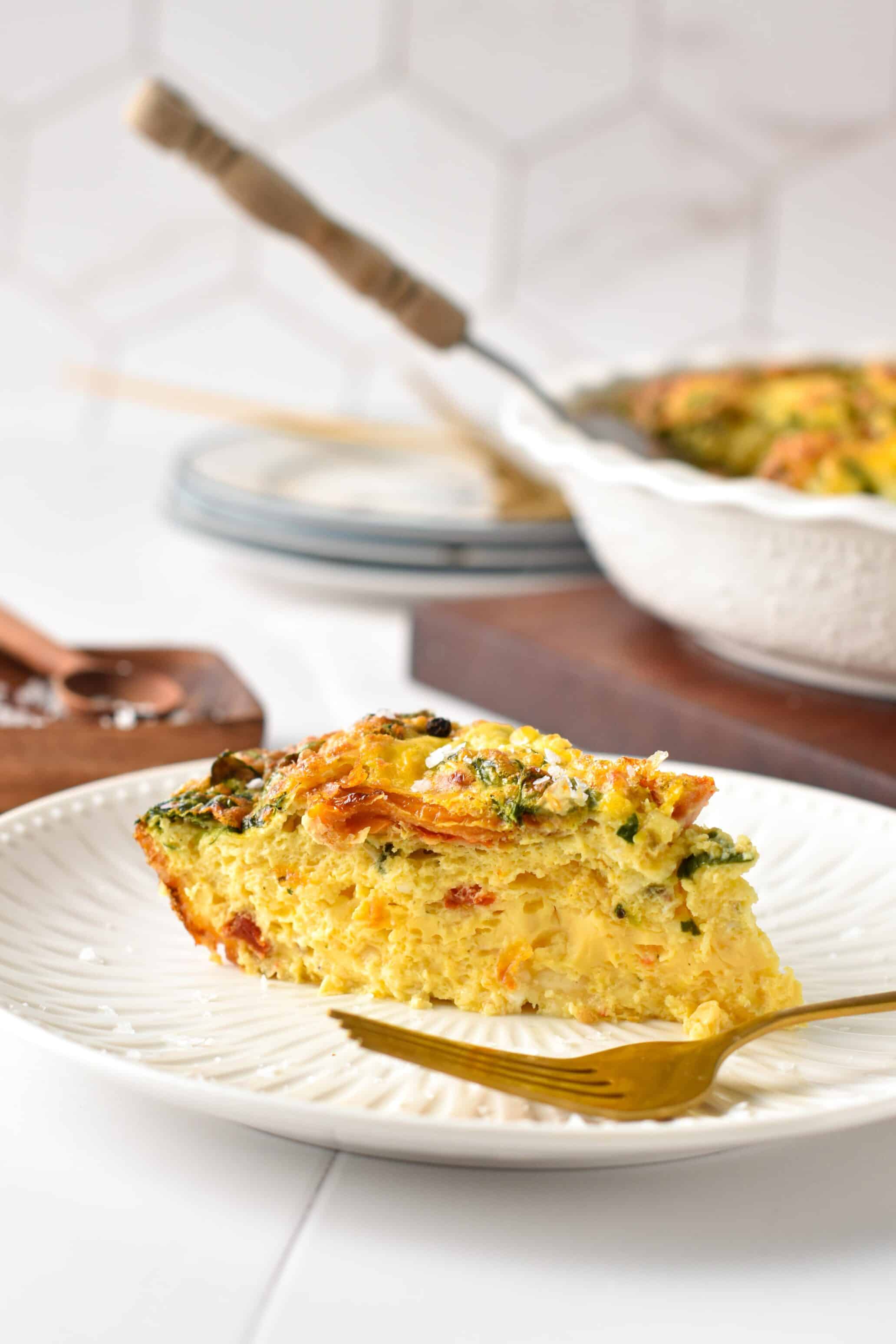 Variations
You can change the filling ingredients of this basic recipe to create a range of egg flavors.
For example you can replace sundried tomatoes and or spinach with:
Kale – trimmed chopped
Button Mushrooms – sliced
Bell Pepper – cored, cut into stripes. Any color tastes good, or try roasted red bell pepper for more flavors.
Bacon Bits or bacon strips
Ham – diced
Onion
Green Onions
Cooked Sausage, like turkey, pork, or chicken sausage.
Shredded Chicken
Storage Instructions
This egg bake recipe is perfect to meal prep days of savory breakfast.
Fridge – Cover and refrigerate the pie plate for up to 4 days.
Freezer – Slice the egg bake and store it in individual containers or freeze the whole recipe in its pie dish. Cover the top with plastic wrap and freeze it for up to one month. Thaw in the fridge the day before serving.
Rewarm – Place the egg casserole onto a microwave-safe plate and microwave in 1-minute bursts until warm in the middle.
Frequently Asked Questions
Here are my answers to your most common questions about this egg bake with cottage cheese recipe.
Posted In: