These Keto Lemon Cookies are soft, buttery low-carb cookies with tangy lemon glazing.
Bonus, these keto lemon drop cookies are also egg-free, dairy-free, and gluten-free.
Are Classic Lemon Cookies Keto?
No, the classic lemon cookie recipe is made with sugar and wheat flour. Both contain lots of carbs that are not suitable for a keto diet.
If you're after a low-carb alternative to classic lemon cookies, the recipe below is what you need!
How To Make Keto Lemon Cookies
To make keto cookies with lemon juice, you need to use a combination of keto-friendly sweeteners and keto-friendly flours.
In fact, lemon is in the keto-allowed fruits, and therefore lemon juice is excellent on keto.
Ingredients
All you need to make these simple keto lemon cookies are the following ingredients:
Almond Flour – make sure you use ultrafine blanched almond flour to avoid a dark color in your cookies or a gritty texture. Learn how to choose your keto flours.
Coconut Flour – you need a combination of flour to create the best soft keto lemon cookies. Don't skip coconut flour or replace it with more almond flour, or the dough won't hold together. Also, make sure you use a fresh bag of coconut flour without lumps. In fact, if you see lumps in coconut flour, it means that your flour has already absorbed moisture. Consequently, the fibers are already activated, and they won't absorb moisture as well in the recipe.
Melted Coconut Oil – I like to use unrefined coconut oil because it adds a lovely coconut flavor to the cookies – lemon coconut keto cookies are truly the best! But also, unrefined oil is much more natural. However, if you are not a coconut lover, choose refined coconut oil. It doesn't add a coconut flavor to recipes. I didn't try melted butter in this recipe.
Erythritol – use my converter to convert from one sweetener to another.
Lemon juice – I use fresh lemon juice from my garden lemon tree. They are organic, meaning I am confident to use the zest.
Lemon zest – make sure you use untreated lemons, organic ones, or lemons from your garden. They are the best to avoid contamination in the lemon zest.
Lemon extract for a boost of lemon flavor.
Baking soda – or use double the amount of baking powder if you can't use baking soda.
Combining Ingredients
First, in a large mixing bowl, combine almond flour, coconut flour, baking powder, and erythritol.
Make a well in the center of the dry ingredients and pour in the remaining liquid ingredients to form a cookie dough.
Place the mixing bowl in the fridge for 10 minutes to set the cookie dough.
Tip: Make Your Own Powdered Sweetener
You will need a sugar-free powdered sweetener to make the glazing. If you can't find some in your store, make your own powdered sugar-free sweetener!
Cover the blade of a blender with crystal sugar-free sweetener (erythritol or Monk fruit). Blend on high speed until it forms a powder.
Store the homemade sugar-free powdered sweetener in an airtight glass jar in the pantry for up to 3 months.
Rolling Cookie Balls
Next, scoop out about 2 tablespoons of dough, roll between the palm of your hands, and place on a baking sheet covered with parchment paper.
These keto low-carb lemon cookies won't expand in the oven but leave 1 thumb space between each.
This makes it easier to remove the baked cookies from the baking sheet later.
Slightly flatten each cookie ball with your hand. If cracks appear on the sides of the cookies, wet your fingers with water and smoothen them.
Baking
Bake the cookies in an oven preheated at 350°F (180°C) for 12 minutes to 15 minutes or until golden brown.
Cooling
These cookies are low-carb vegan cookies. They don't use eggs, butter, or dairy, so they are softer than regular cookies when out of the oven.
Their texture forms with time, when they cool down as coconut oil firm up and make the cookies hold together, creating a melting center.
Make sure you follow the 20 minutes of cooling down time on the cookie tray without touching the cookies. It is tempting as they smell good but don't!
Then, make sure they cool down up to room temperature (70°F or 20°C) before adding the glazing.
If your room temperature is higher, bring the cookies to a cooler place like a garage, cave, by the window, or in your fridge for a few minutes.
Sugar-free Lemon Glazing
It is up to you to add lemon glaze to your lemon cookies. I use a low amount of sugar-free sweetener in the cookie batter.
It means the cookies are not too sweet with a high zing of lemon.
I do love my sugar-free lemon glazing to balance the lemon flavor, add a subtle sweet touch, and melt-in-your-mouth icing.
Storage Instructions
These cookies store very well in the fridge for up to 6 days.
You can also freeze your keto lemon cookies and thaw them a few hours before eating at room temperature.
Frequently Asked Questions
How Do Keto Lemon Cookies Taste?
They are egg-free keto lemon cookies, which means they are soft, melt-in-your-mouth cookies with a delicious almond lemon flavor.
They are the best keto afternoon snack with a cup of bulletproof tea. Since they are covered with tangy lemon glazing, they taste pretty similar to lemon drop cookies.
Their sides are crispy like shortbread, while the center is soft, buttery as you will expect from a lemon drop cookie.
How Many Carbs Are In A Lemon Cookie?
A classic lemon cookie contains about 230 kcal and 34 grams of net carbs.
This keto lemon cookie recipe loads your body with healthy fats, and protein and contains only 3 grams of net carbs and 176 kcal per glazed cookie.
More Keto Cookie Recipes
If you like keto cookies, you'll love these: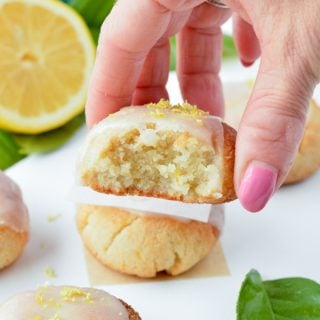 Keto Lemon Cookies
These Keto Low-carb Lemon Cookies are easy 1-bowl soft keto lemon drop cookies with a tangy lemon glazing.
Serving Size:
1
cookie with glaze
Ingredients
Dry ingredients
1 ⅓

cup

Almond Flour

2

tablespoons

Coconut Flour

¼

cup

Erythritol

can go up to 1/3 cup for a sweeter flavor

½

teaspoon

Baking Soda
Liquid ingredients
¼

cup

Lemon Juice

fresh or organic

¼

cup

Melted Coconut Oil

1

tablespoon

Lemon Zest

optional

1

teaspoon

Lemon Extract
Keto lemon glazing
¼

cup

Powdered Erythritol

2

teaspoons

Lemon Juice

1

teaspoon

Coconut Oil

melted

1

tablespoon

Lemon Zest

optional, to decorate
This recipe may contain Amazon or other affiliate links. As an Amazon Associate I earn from qualifying purchases.
Instructions
Preheat oven to 350°F (180°C). Line a cookie tray with parchment paper. Set aside.

In a medium mixing bowl, combine all the dry ingredients: almond flour, coconut flour, sugar-free crystal sweetener, and baking soda.

Make a well in the center of the dry ingredients and add melted coconut oil, lemon juice, lemon extract, and lemon zest. Combine until it forms a sticky, soft cookie dough. The batter should be soft, buttery, and not dry. If dry, adjust by adding 1-2 teaspoons of water. If too wet, add an extra teaspoon of coconut flour.

Refrigerate the dough for 10 minutes, wrapped in a piece of plastic wrap or in the mixing bowl covered with a silicone lid.

Remove the dough from the fridge and shape 8 even cookie dough balls. You can weigh the dough if you want precision and divide it into 8 portions of the same weight.

Roll each ball in your hands to shape smooth cookie dough balls.

Place each ball on the cookie tray, leaving a thumb-size space between each ball. The cookies won't expand in the oven, so you don't have to leave a big space between them.

Press the balls slightly with the palm of your hand to flatten cookies. Don't flatten too much, or the sides will form cracks, and they won't be as soft and moist. The thicker, the moister!

Bake for 12-15 minutes or until golden on the sides. The middle will stay slightly soft, and that is the texture you want.

Remove the cookie tray from the oven and cool down on the tray for 20 minutes before transferring it to the rack to cool down to room temperature. Don't touch the cookies during the first 20 minutes. They are soft and need time to firm up.
Prepare the keto lemon glazing
In a small mixing bowl, combine the sugar-free powdered sweetener, coconut oil, and lemon juice. Play with the texture, adding more sweetener, 1 teaspoon at a time for thicker glazing, or more lemon juice for thinner glazing.

Drizzle the glazing onto the cold cookies. Don't decorate warm or lukewarm cookies or the glazing will melt and be absorbed by the cookie dough.

For lovely, white glazing, place the cookies 2 minutes in the freezer just after adding the glazing. This step sets the glazing fast and makes beautiful cookie decorations.

Sprinkle lemon zest on top if desired.

Store the lemon cookies in an airtight container for up to 3 days in the pantry or in the fridge if you prefer your cookies firm.
Notes
Nutrition info: This recipe makes 8 cookies. The nutrition panel includes the glazing.
Want My Kitchen Equipment?
Serving Size:
1
cookie with glaze
Serving:
1
cookie with glaze
Calories:
178.6
kcal
(9%)
Carbohydrates:
5.8
g
(2%)
Fiber:
2.8
g
(12%)
Net Carbs:
3
g
Protein:
4.3
g
(9%)
Fat:
16.8
g
(26%)
Saturated Fat:
7.2
g
(45%)
Sodium:
72.3
mg
(3%)
Potassium:
11.5
mg
Sugar:
1.1
g
(1%)
Vitamin A:
1.3
IU
Vitamin C:
5.4
mg
(7%)
Calcium:
41.7
mg
(4%)
Iron:
0.8
mg
(4%)
Magnesium:
0.8
mg
Zinc:
0.1
mg
(1%)
Posted In: