Keto Smoothie Bowl (Dairy-Free)
This Keto Smoothie Bowl is an easy and refreshing breakfast with a thick ice-cream-like texture and only 5.6 grams of net carbs per serving.
This smoothie bowl is also dairy-free, gluten-free, and vegan-friendly.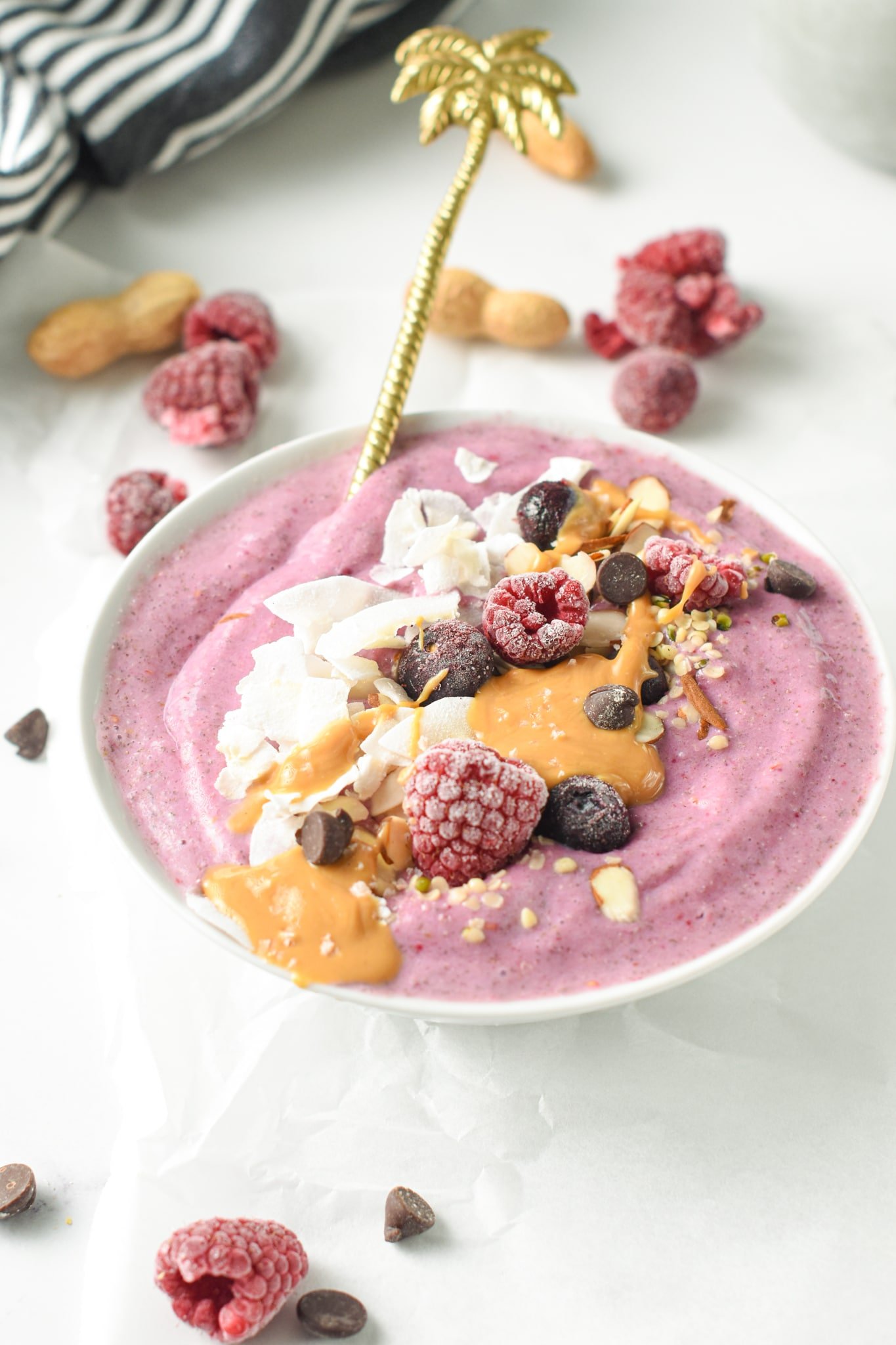 Celebrate Spring with a refreshing smoothie bowl! Yes, you can make low-carb smoothie bowls without bananas! Let me show you how.
Are Smoothie Bowls Keto?
Unfortunately, no, classic smoothie bowl recipes are thickened with frozen bananas.
Banana is a high-carb fruit that you can't include in large amounts on a keto diet. As a result, a regular berry smoothie bowl contains about 50 grams of net carbs.
How To Make A Keto Smoothie Bowl
So since classic smoothie bowls recipes are not keto-friendly, let's see how you can whip a thick smoothie bowl that fits your keto diet.
Ingredients
Frozen cauliflower or frozen zucchini slices – both of these are low-carb vegetables that add an amazing creamy texture to the smoothie without adding much flavor to your drink. It's also a great way to add fiber to your plate on a keto diet.
Frozen berries – the lowest carb fruits are berries like boysenberries, raspberries, and strawberries. Blueberries are fine but on the higher end of the scale.
Unsweetened almond milk – you can use other low-carb unsweetened dairy-free milk like hemp milk or coconut milk. Regular cow milk isn't keto-friendly.
Chia seeds – to boost your healthy fat macros, and add proteins and fiber to your breakfast.
Sweetener – you can add stevia drops or granulated keto sweeteners like allulose or erythritol.
Blending
Simply place all the ingredients into a high-speed blender or Nutribullet.
Blend it until the texture is thick and smooth.
You may have to stop the blender a few times to scrape down the side of the jug as the mixture will be very thick and difficult to blend.
If too thick and the blade can't spin, add more almond milk 1-2 tablespoons at a time but don't overdo liquids, or it won't be as thick as ice cream.
Flavoring
You can use this low-carb smoothie bowl recipe to create different smoothie bowl flavors.
Below I listed some ideas to adapt this recipe and make a flavorsome range of keto smoothie bowls.
Chocolate keto smoothie bowl – use frozen raspberries. They match very well with cocoa flavor. Add 1 1/2 tablespoons of unsweetened cocoa powder to the blender.
Green smoothie bowl – replace the berries with frozen avocado and add a hand full of baby spinach to the blender.
Tropical smoothie bowl – use frozen raspberries, swap the almond milk for coconut milk, and add some pineapple stevia drops to sweeten.
Keto Smoothie Toppings
My favorite toppings for this keto smoothie bowl recipe are low-carb cereal-like food, including:
Shredded coconut
Sliced almonds
Hemp seeds
Crushed peanuts
Thickening Tips
There are many ways to make thick smoothie bowls without bananas.
Below I listed some options that you can use in this smoothie bowl recipe to boost the creamy texture of your smoothie.
Frozen vegetables – cauliflower and zucchini work best. If you don't like the taste of cauliflower, zucchini will be your best option.
Frozen almond milk or coconut milk – freeze your milk in an ice cube tray and add it to the smoothie to thicken the texture without adding carbs.
Seeds – high-fiber seeds like chia seeds, flaxseed, and hemp seeds make the smoothie creamier.
Nut butter – almond butter and peanut butter are delicious in smoothie bowls. Both are keto-friendly options to add texture and flavor to your smoothie bowl, and peanut butter is easy to make at home.
Nuts – cashews are slightly higher in carbs but a great way to thicken smoothies.
Avocado – fresh or frozen avocado is the best keto-friendly vegetable to add to a keto smoothie. It adds a creamy texture and healthy fats to your day.
Keto Smoothie Boost
You can tweak this smoothie bowl recipe by adding plenty of delicious, healthy ingredients like:
MCT oil – a great way to boost your fat macros on a keto diet.
Protein powder – adding one tablespoon of your favorite keto vanilla protein powder is a great way for boosting the protein, flavoring, and thickening the smoothie.
Collagen powder – 1 tablespoon is a great healthy addition.
Frequently Asked Questions
Below I listed the answers to your most common questions about this recipe:
Does It Taste Like Cauliflower?
Not at all! The berries and sweetener mask the cauliflower pretty well. Another option is to use frozen zucchini slices.
This option has zero flavors and is best if you don't appreciate cauliflower very much.
Zucchinis is what I use for my Keto Apple Crisp.
Why Doesn't My Smoothie Bowl Blend?
The blade of the mixer can struggle to blend the ingredients.
Add more liquid, almond milk, or water to help the blade process the ingredients.
Then, if you accidentally added too much liquid and the mixture is too liquid, reverse back by adding ice cubes or more frozen fruits.
I Don't Like Chia Seeds, What Can I Use?
You can replace the chia seeds with the same amount of flaxseed, flaxseed meal, or nut peanuts.
More Low-Carb Smoothie Recipes
I love to create low-carb keto smoothie recipes for breakfast or as a quick sweet snack.
Below are some delicious sugar-free smoothie recipes for you to try.
Keto Smoothie Bowl
This Keto Smoothie Bowl is an easy and refreshing breakfast to start the day with fruity flavors without the carbs.
Ingredients
½

cup

Frozen Zucchini

or frozen cauliflower rice

½

cup

Frozen Raspberries

or strawberries or mixed berries

½

cup

Unsweetened Almond Milk

or coconut milk

1

tablespoon

Chia Seeds

2-3

tablespoons

Erythritol

or 2-4 vanilla stevia drops
This recipe may contain Amazon or other affiliate links. As an Amazon Associate I earn from qualifying purchases.
Instructions
Place all the ingredients in the jug of a high-speed blender. Blend and use the tamper attachment to push down the ingredients onto the blade.

If it doesn't blend well, add more almond milk 1-2 tablespoons at a time. If it results in an overly liquid texture, add the optional 1/2 cup ice cubes or more frozen vegetable to enhance the creamy texture of the smoothie bowl. Blend after each addition.

Serve immediately with homemade keto granola, or nuts, seeds and nut butter.
Want My Kitchen Equipment?
Serving:
1
serving
Calories:
117.6
kcal
(6%)
Carbohydrates:
14.6
g
(5%)
Fiber:
9
g
(38%)
Net Carbs:
5.6
g
Protein:
4.1
g
(8%)
Fat:
5.8
g
(9%)
Saturated Fat:
0.5
g
(3%)
Polyunsaturated Fat:
3.9
g
Monounsaturated Fat:
1.1
g
Trans Fat:
0.1
g
Sodium:
170
mg
(7%)
Potassium:
301.3
mg
(9%)
Sugar:
4.3
g
(5%)
Vitamin A:
150.3
IU
(3%)
Vitamin C:
27
mg
(33%)
Calcium:
250.6
mg
(25%)
Iron:
1.6
mg
(9%)
Magnesium:
64.6
mg
(16%)
Zinc:
1
mg
(7%)
Posted In: