Pizza Bowl (2.5g Net Carbs)
These Pizza bowls are easy, crustless pizzas made in a bowl, perfect as a quick pizza fix without the carbs or a fun kid dinner.
Plus, this pizza bowl recipe is easy to make vegan or vegetarian, and it's naturally gluten-free, so everyone can enjoy a bowl of pizza.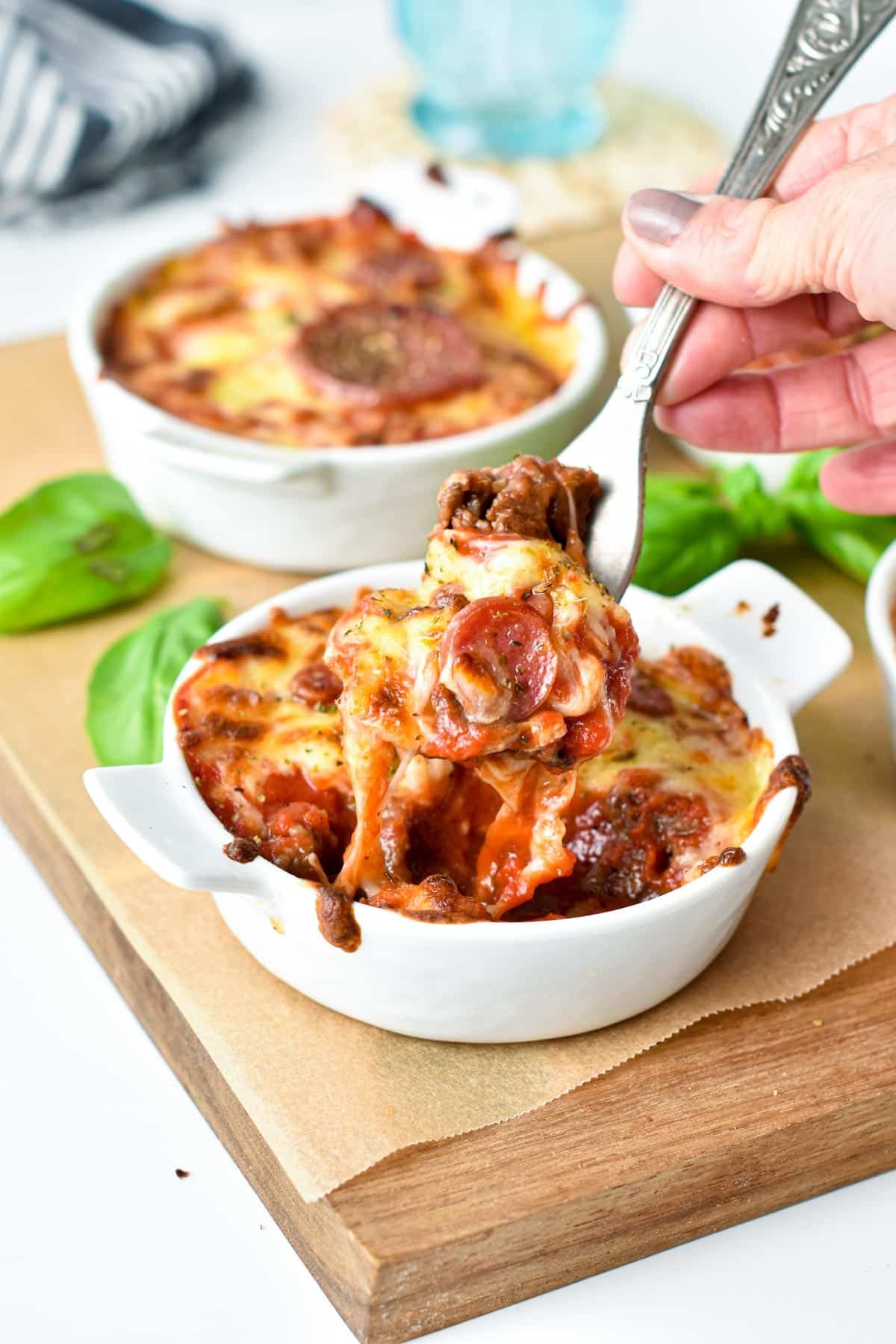 I crave pizza all the time, but when I don't feel like making a large batch of crustless pizza or my almond pizza crust, I like a quick and easy pizza bowl.
Plus, pizza bowls are kid-friendly, and my kids love creating their own using their favorite pizza toppings.
What Are Pizza Bowls?
A pizza bowl is a crustless pizza made in a small ramekin and baked or microwaved for a quick pizza fix.
Since it has no pizza crust, it's a low-carb keto-friendly recipe perfect for a pizza night, light dinner, or quick breakfast for pizza lovers.
How To Make Pizza Bowl
To make delicious pizza bowls, you need a few simple ingredients. You can play with toppings and flavoring and swap some of the below depending on your liking.
Ingredients
Ground Beef or Italian sausage. This is my favorite base for a pizza bowl, but ground turkey, ground chicken, or rotisserie chicken are great options if you don't feel like cooking meat.
Olive Oil
Garlic Powder
Salt
Italian Herbs
Freshly Grated Parmesan
Mushrooms or red bell pepper
Black Olives or green olives
Pizza Sauce – I am using my keto pizza sauce recipe for this crustless pizza bowls.
Shredded Mozzarella – Mozzarella is a keto-friendly cheese.
Pepperoni Slices or chorizo
Preparing The Meat
First, in a non-stick frying pan, warm the olive oil, add the ground beef or ground Italian sausage, stir, and cook until the meat is no longer pink.
Season the ground meat with salt, garlic powder, Italian herbs, and parmesan.
Assembling The Pizza Bowl
First, select four oven-safe bowls like my ramekins. They are 4 inches in diameter (10cm).
Slightly oil the ramekin with oil spray. Preheat the oven now if you are using the oven method at 400°F (200°C).
Set the ramekins aside.
Follow the order below to make a tasty low-carb pizza bowl.
#1 Add The Meat
Split the meat into four oven-proof ramekins. You add about 1.5 ounces of cooked meat to each.
You can also use a ready-cooked rotisserie chicken that you shred and place at the bottom of the ramekins.
#2 Tomato Sauce
Prepare a batch of my keto pizza sauce. Freeze leftovers in zip-lock bags or use a marinara sauce.
Spread 3 tablespoons on top of the cooked meat.
#3 Pizza Toppings
Now, add the pizza toppings you love, I mostly add keto vegetables like:
A few slices of mushrooms – Don't add too much because mushroom releases water and then it will turn the bowl watery.
Diced Red Bell Pepper and onion
Jalapenos
Finely Diced Zucchini – This vegetable also releases water, so don't add too much.
#4 Cheese
Top up the bowls with 1/4 cup of mozzarella cheese.
#5 Cured Meat
Now, add pepperoni slices, chorizo, or prosciutto ham and some sliced black olives.
#6 Dried Herbs
I love to sprinkle some dried herbs on top of pizza cheese to make the pizza ultra flavorsome, like traditional pizza.
Oregano
Marjoram
Italian herbs
Basil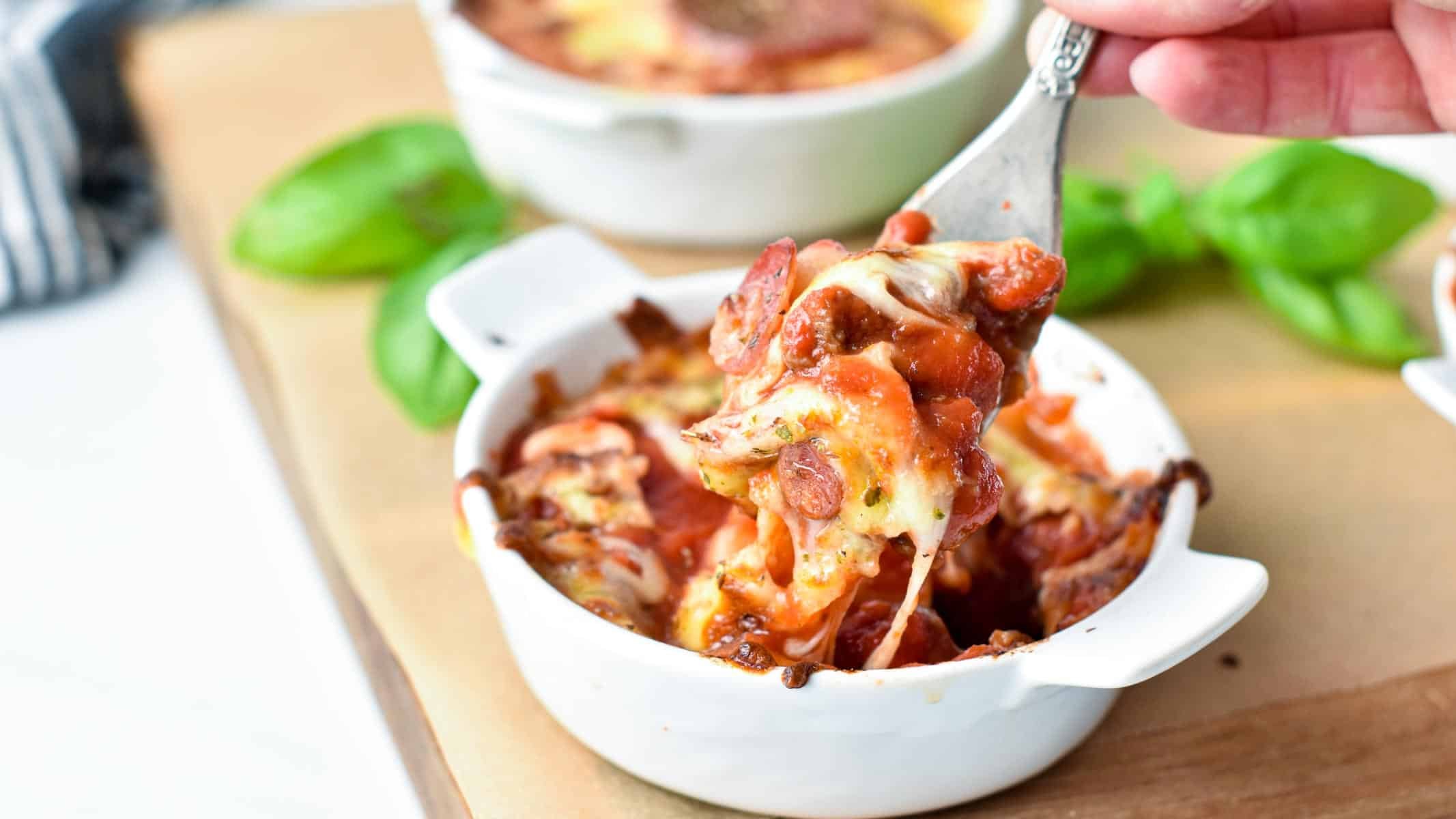 Cooking Pizza Bowls
Like a traditional pizza, these pizza bowls are baked in the oven.
But they can also be baked in an air fryer or quickly cooked in a microwave if you crave a keto-friendly pizza in less than 5 minutes.
Oven Method
Preheat the oven to 400°F (200°C). Bake the pizza bowls in the center of the oven for about 8 to 12 minutes, switching to broil mode for a few minutes.
It's ready when the sauce is bubbly, and the cheese is melted and grilled.
Air Fryer
Place the filled ramekins in the air fryer basket and air fry for 8 to 10 minutes at 400°F (200°C) until the cheese is grilled.
Microwave
This method won't grill the cheese but if your pizza cravings can't wait, go for it! Microwave the ramekins for 2 minutes or until they are warm inside and the cheese is melted.
Meal Prep
These low-carb pizza bowls are also perfect for meal prep. Fill each ramekin, wrap the top with plastic wrap and keep in the fridge for up to 2 days or freeze them for up to 3 months.
Thaw the day before in the fridge and pop in the oven, air fryer, or microwave.
Allergy Swaps
Below are some options for you if you have some food allergies to the ingredients listed in this recipe.
Vegetarian Swap – Replace the ground meat with ground tofu or textured soy protein. Both are low-carb, keto-friendly.
Dairy-Free – Pick dairy-free mozzarella cheese for this recipe.
Reduce Saturated Fat – Pick cheese low in saturated fat, like feta or shredded mozzarella, instead of Parmesan.
Frequently Asked Questions
Below are the answers to your most common questions about this pizza bowl recipe.
Can I Bake The Recipe In A Large Skillet?
Yes, you can make this recipe in an 8-inch skillet, but it will be pretty thin, so you may want to double the recipe.
Can I Make Ahead And Freeze The Pizza Bowls?
Film the top of the ramekin with plastic wrap and freeze for up to 3 months.
Always thaw the ramekin in the fridge the day before, or bringing a frozen ramekin in a hot oven can break the ceramic.
When Should I Eat Pizza Bowls?
These pizza bowls are great savory keto breakfast, light keto dinner, or even fulfilling keto snacks.
More Keto Pizza Recipes
If you like keto pizzas, you'll love these:
Did you try these pizza bowls? Share a comment or review below.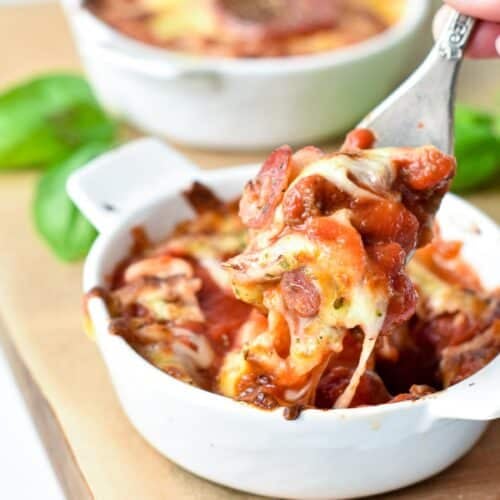 Pizza Bowl
These Pizza bowls are easy, crustless pizzas made in a bowl, perfect as a quick pizza fix without the carbs or a fun kid's dinner. Plus, this pizza bowl recipe is easy to make vegan or vegetarian and it's naturally gluten-free, so everyone can enjoy a bowl of pizza.
Ingredients
1

tablespoon

Olive Oil

8

oz

Ground Beef

or ground pork or chicken

¼

teaspoon

Garlic Powder

¼

teaspoon

Salt

2

teaspoons

Italian Herbs

¼

cup

Freshly Grated Parmesan

1

small

Mushrooms

sliced

4

teaspoons

Black Olive

½

cup

Pizza Sauce

1

cup

Shredded Mozzarella

16

Mini

Pepperoni Slices

from pepperoni sticks
This recipe may contain Amazon or other affiliate links. As an Amazon Associate I earn from qualifying purchases.
Instructions
Preheat oven to 400°F (200°C). Slightly grease oven-proof ramekins (3.9 inches in diameter – 10cm). Set them aside.

In an 8-inch skillet, warm olive oil over medium heat, then cook ground meat for 5-6 minutes, breaking the meat apart with a wooden spoon. Cook until the meat is no longer pink.

Remove from the heat, stir in the garlic powder, grated parmesan, salt, and Italian herbs and pepper.

Split the meat evenly in each ramekin (2 oz each), then top up with pizza sauce (4 tablespoons each) and half of a sliced mushroom.

Sprinkle 1/4 cup of shredded mozzarella over each ramekin, top up with 4 mini pepperoni slices and 1 teaspoon sliced olives.

Bake for 10-15 minutes, switching to broil mode for 2-4 minutes or until the cheese is melted and grilled.
Microwave option
For a quick snack, microwave the pizza bowl for 2 minutes until the cheese is melted.

Serve as a snack or light meal with keto garlic bread or salad.
Storage
Store in the fridge for up to 2 days, and film the top of the ramekins to prevent pizza bowls from drying out. Freeze and thaw in the refrigerator the day before. Rewarm in the microwave or non-stick saucepan.
Want My Kitchen Equipment?
Serving:
1
serving
Calories:
269.8
kcal
(13%)
Carbohydrates:
3.5
g
(1%)
Fiber:
1
g
(4%)
Net Carbs:
2.5
g
Protein:
17.6
g
(35%)
Fat:
20.6
g
(32%)
Saturated Fat:
8.6
g
(54%)
Polyunsaturated Fat:
1
g
Monounsaturated Fat:
8.9
g
Trans Fat:
0.5
g
Cholesterol:
61.5
mg
(21%)
Sodium:
685.2
mg
(30%)
Potassium:
274
mg
(8%)
Sugar:
1.5
g
(2%)
Vitamin A:
393.6
IU
(8%)
Vitamin B12:
1.6
µg
(27%)
Vitamin C:
2.2
mg
(3%)
Vitamin D:
0.2
µg
(1%)
Calcium:
245.2
mg
(25%)
Iron:
1.8
mg
(10%)
Magnesium:
25
mg
(6%)
Zinc:
3.1
mg
(21%)
Posted In: