These Raspberry Crumble Bars are the most indulgent keto low-carb dessert I have ever made.
They have a crumbly base and a rich raspberry jam layer.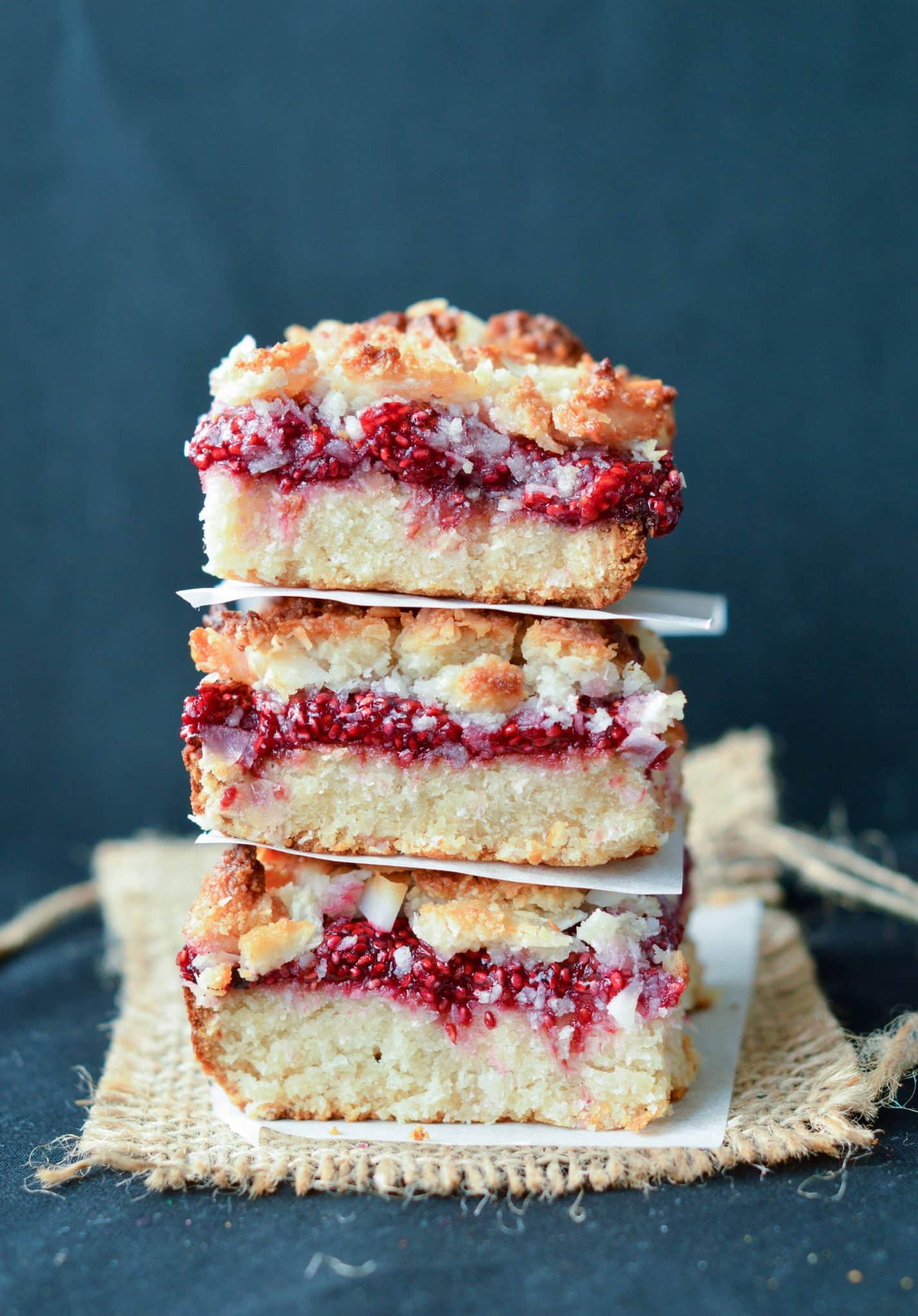 What Are Raspberry Crumble Bars?
Raspberry Crumble Bars are a healthy breakfast recipe made of a crumbly base with gluten-free flour, a refine-sugar-free jam, and a toasted coconut top layer.
It also makes for a lovely snack that is suitable for almost all dietary requirements.
Why I Love This Recipe
These Raspberry Crumb Bars are a delicious easy breakfast recipe that is also:
Gluten-Free
Egg-Free
Dairy-Free
Vegan
Paleo
Keto-Friendly
Low-Carb
How To Make Raspberry Crumble Bars
This is a (relatively) simple recipe, made with a few wholesome ingredients.
Ingredients
Almond Flour – Almond flour is a delicious low-carb flour that brings a nutty taste with a lot of nutrients. Pick ultra-fine almond flour for the best results.
Desiccated Coconut – I like unsweetened desiccated coconut to reduce the added sugars in the recipe.
Coconut Flour – Coconut flour is another healthy flour full of fiber and nutrients that adds a delicious coconut taste.
Coconut Oil – Prefer using unrefined coconut oil. You could also use melted butter if you don't have coconut oil, but it won't be dairy-free anymore.
Maple Syrup – Use sugar-free maple syrup for keto-friendly raspberry bars.
Vanilla – vanilla extract or essence brings a delicious taste to the recipe. You can also use grated vanilla pods.
Raspberries – Fresh or frozen raspberries can be used to make sugar-free jam. Raspberries are low-carb fruits.
Chia Seeds – Chia seeds are superfoods rich in minerals and vitamins that I love using in many recipes.
Coconut Chips – fresh or toasted coconut chips work. I like the taste of toasted coconut so it's my pick for the top layer.
Making The Crumble
If you are a lover of crumble bars, you will love this simple healthy raspberry crumble bars recipe. So here is how to make them.
It is a very simple recipe as all you have to do is process all the ingredients – for the bottom layer – into a food processor. It just takes 5 minutes to prepare.
The bottom layer is my favorite part. It is 'buttery' with a lovely crumb texture that melts in your mouth.
Making The Jam
The filling is a super healthy jam, the sweetest fresh raspberry chia seed jam you'll ever make with no refined sugar.
It only takes 5 minutes to cook the raspberry filling ingredients into a mixture that can be spread on the base.
Making The Crust
Finally, the coconut crust on top is crunchy, with a delicious taste of roasted coconut that goes so well with the raspberry jam.
Combine all the top crust ingredients in a large bowl and sprinkle it on top of the jam by crumbling the batter.
Storage Instructions
You can store your Raspberry Crumble Bars in the refrigerator for up to 3 days in an airtight container.
It's also possible to freeze them for up to 3 months and reheat them in the oven for a few minutes or thaw them in the fridge overnight.
Frequently Asked Questions
Can I Use Oats In Crumble Raspberry Bars?
Yes, you can use oats in the shortbread, but the recipe would be slightly higher in carbs.
Can I replace the sweeter with a crystal sweetener?
You can use a crystal sweetener such as erythritol if you are on a low-carb diet, or light brown sugar if you're not.
Can I Use Other Berries?
Yes, you can use strawberries or blueberries for the jam instead of fresh raspberries. If you don't like berries, you can also use apricot or peach.
Can I use store-bought raspberry preserves?
The recipe will work with raspberry preserves but it's always healthier and more interesting to make your own food!
More Breakfast Bar Recipes
If you like healthy breakfast bars, you'll love these: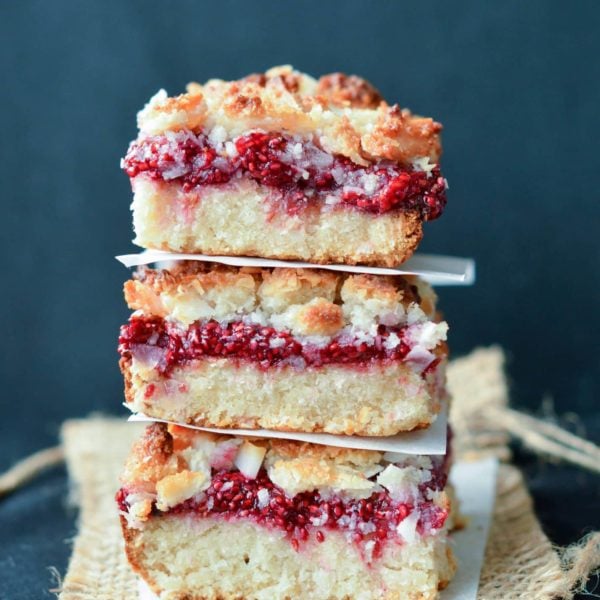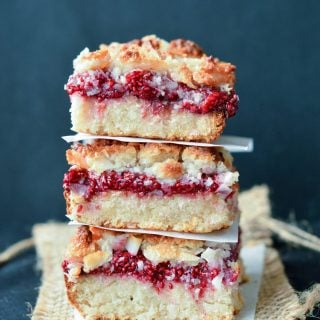 Raspberry Crumble Bars
Raspberry Crumble Bars are easy, healthy, keto, low-carb, paleo, and vegan breakfast bars. A delicious gluten-free dessert with only 7 grams of net carbs per slice.
This recipe may contain Amazon or other affiliate links. As an Amazon Associate I earn from qualifying purchases.
Instructions
Preheat the oven to 350°F (180°C).

Prepare an 8-inch square baking tray covered with parchment paper. Set aside.
BOTTOM LAYER
In a food processor with the S blade attachment, add the almond meal, desiccated coconut, coconut flour, honey, salt, coconut oil and vanilla, and water (start with 8 tbsp). Process until it gets crumbly and all the ingredients are coming together. If too crumbly – it means it does not form a dough ball when firmly pressed within your hands – add 2 extra tablespoons of water. I added 10 tablespoons of water. Always add 2 tbsp at a time and check with a small portion of the dough. If it holds well together, you added enough water.

Evenly press the batter into the prepared baking tray. I used my fingers and flattened the layer by pressing with a spatula.

Using a fork, prick the base a few times in a few areas to prevent the base from popping when baking.

Bake for 15 minutes. Cool it down fully in the tray before spreading the raspberry jam on top.
RASPBERRY CHIA SEED JAM
While the bottom layer is baking, prepare the jam. In a small saucepan, add all the jam ingredients. Cook the jam under medium heat, constantly stirring to avoid burning the jam. It is ready when the raspberries are fully melted, and it forms a thick jam. It should not take more than 5-6 minutes.

Set aside in a bowl to fully cool down and thicken a little bit. You can bring the jam outside on the deck to cool down faster. It does not have to be cold, room temperature is fine.

Spread the jam onto the baked bottom layer and return to the oven for 10 minutes to set.

Remove from the oven. Set aside while you prepare the top layer.
TOP LAYER
Add all the top layer ingredients into a mixing bowl. Use your hand to combine the ingredients, rubbing the coconut oil and liquid sweetener onto the dry ingredients to create a crumbly batter. It is the messy part!

Crumble these ingredients on top of the last layer – the chia jam – and return the tray to the oven for 10 minutes to slightly toast the coconut crumble layer.

Fully cool down for 1 hour in the pan. You can place the pan in a cooler place, like outside on the deck, to cool down faster. The jam must be set and at room temperature before making slices. Place the pan for 1 hour in the fridge to set the jam faster and make it easier to slice.

This recipe makes 16 slices. Store up to 1 week in the pantry in an airtight plastic box.
Want My Kitchen Equipment?
Serving:
1
slice
Calories:
321.9
kcal
(16%)
Carbohydrates:
17.2
g
(6%)
Fiber:
11.2
g
(47%)
Net Carbs:
6
g
Protein:
6.4
g
(13%)
Fat:
27.6
g
(42%)
Saturated Fat:
16.3
g
(102%)
Polyunsaturated Fat:
1.6
g
Monounsaturated Fat:
1
g
Trans Fat:
0.1
g
Sodium:
89.3
mg
(4%)
Potassium:
159.4
mg
(5%)
Sugar:
3.4
g
(4%)
Vitamin A:
10.3
IU
Vitamin C:
6.3
mg
(8%)
Calcium:
78.9
mg
(8%)
Iron:
1.9
mg
(11%)
Magnesium:
39.8
mg
(10%)
Zinc:
0.7
mg
(5%)
Posted In: