Chia Fresca (65kcal, sugar-free)
This Chia Fresca recipe, also known as chia seed water, is a refreshing sugar-free drink perfect for helping on your weight-loss journey.
Chia seed water is packed with fiber and proteins that keep you full for hours and this water also helps you reach your water-drinking goal.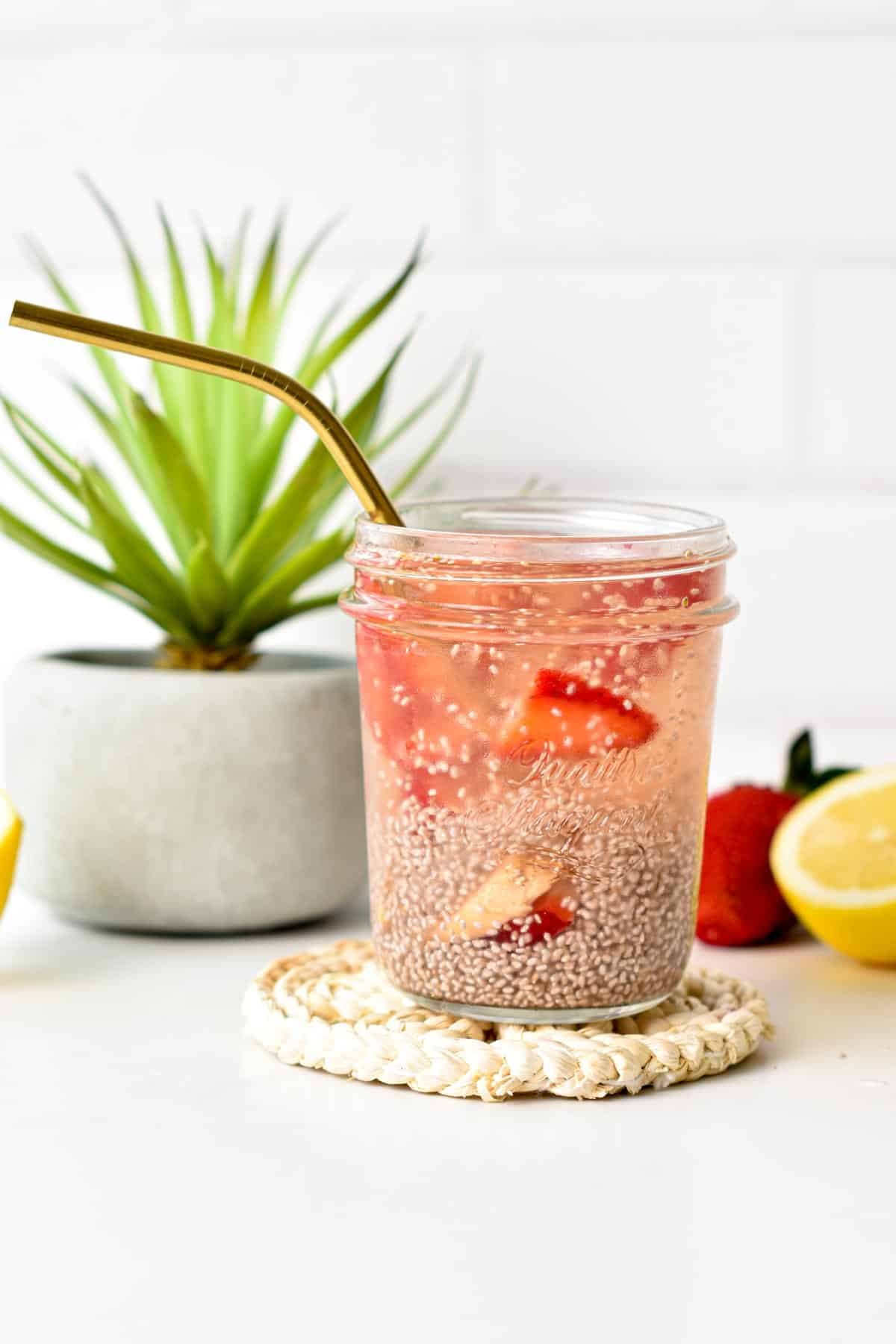 I've always found it hard to drink 8 to 10 glasses of water daily, and I especially get bored of plain water flavor.
That's why I am now adding this chai Fresca drink to my daily routine, preferably in the morning before drinking my coffee.
Chia seeds are packed with 11 grams of fiber per 2-tablespoon serving, and they are a powerful source of proteins and healthy fat. Drinking chia Fresca is delicious, fulfilling, refreshing, and energizing.
Why You'll Love This Drink
This drink recipe is naturally:
Keto-friendly
Gluten-free
Grain-free
Sugar-free
Vegan
Let me share how you can make delicious chia Fresca at home.
How To Make Chia Fresca
Here's how to make this refreshing weight-loss drink.
Ingredients
All you need to make this delicious chia seed water drink are:
Chia Seeds – You can use white or black chia seeds. Both are the same, nutritionally speaking, but I prefer white chia seeds in drinks as they look more appealing.
Water – I am using fresh flited water from the fridge.
Ice Cubes
Lemon Juice
Fresh Strawberry Slices – It's totally optional I just love the flavor it adds to the water combined with lemon.
Stevia Drops – You can use plain stevia drops or flavored stevia drops like lemon stevia, raspberry stevia, mango or orange.
Ginger slices – totally optional but I love the side kick of ginger with lemon. It also help with gut health and digestion
Preparation
The best time to prepare this drink is 24 hours before drinking it. The reasons I like to prepare this chia drink so much before are:
Freshness – The water is super fresh and cold the next day.
Infuse Spices – If you add ginger, it takes a few hours to diffuse its delicious flavors into the water.
Gelling Chia Seeds – The chia seeds grow in the water with time. While they can reach their full size in only 5 minutes, I found the drink easier to digest if the chia seeds have soaked for longer.
So the day before, add chia seeds, ginger slice, lemon juice, stevia drops, and water to a glass mason jar. Stir to combine.
The chia seeds will always fall at the bottom of the jar and there's nothing you can do about it.
Refrigerate your Chia Fresca overnight.
Serving Chia Fresca
The next day, use a straw for drinking this water and stirring it just before drinking, so the chia seeds are released from the bottom and dispersed into the drink.
Flavoring Ideas
Of course, you can adapt this recipe and use any fruit slices and spices to make different flavors. Here are some ideas.
Pumpkin Spice Chia Fresca – Add a pinch of pumpkin spices, swap the strawberry slices for orange slices, and use orange stevia drops.
Cucumber Mint Lime – Swap the strawberries and ginger for cucumber slices and mint leaves. Add lime stevia drops.
Coconut Chia Fresca – Add fresh coconut pieces instead of strawberries and use coconut stevia drops.
Wild Berries Vanilla – Use vanilla stevia drops, and add blueberries, boysenberries, and raspberry to the strawberries. Keep the ginger or swap it for vanilla bean pods.
Storage Instructions
You can store this drink in a glass mason jar, in the fridge for up to 4 days.
Always stir just before drinking with a straw.
Frequently Asked Questions
Below are my answers to the most frequent questions about this recipe.
Can I Use Sparkling Water?
Yes absolutely, you can use plain or flavored sparkling water.
Why Do The Seeds Stick To The Bottom Of The Glass?
The chia seeds will always gravitate to the bottom of the glass.
You must stir the chia Fresca before drinking it and use a straw to get all the seeds with the water. It also prevents the seeds from sticking to your teeth.
Can I Swap Chia Seed For Flaxseeds?
No, the properties of flaxseeds are delivered after grinding them. Raw flaxseed won't provide the same nutritional benefits as chia seeds.
While ground flaxmeal will work, the taste and texture will be very special, more bitter and slimy than chia seeds.
How Does Chia Water Taste?
This is like drinking bubble tea. It's fresh flavored water filled with tiny gluey seeds.
When Should I Drink Chia Fresca?
It's a great morning drink instead of lemon water to cleanse the body or make you fast for longer if you are trying intermittent fasting.
It's also a great refreshing snack on hot days that keep you full.
Did you try this healthy chai seed recipe? Share a review or comment below to connect with me.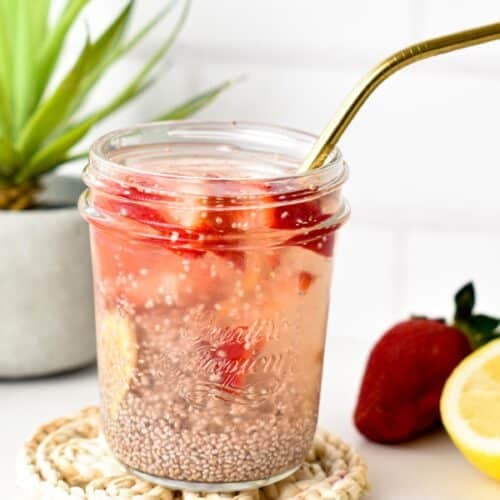 Chia Fresca
This Chia Fresca recipe, also known as chia seed water, is a refreshing sugar-free drink perfect for adding to your weight-loss journey. Chia seed water is packed with fiber and proteins that keep you full for hours, and this water helps you reach your drink goal.
Nutrition Snapshot
Want My Kitchen Equipment?
Instructions
For the best flavors, prepare the drink the day before.

In a glass mason jar, add chia seeds, lemon juice, fresh ginger (skip if you don't like ginger, see note for options), stevia drops, strawberry slices, and water.

Stir, close the jar, and pop it into the fridge. The seeds will always gravitate to the bottom of the jar, and that's normal.

Serve with a straw – it makes it easier to drink the seeds and water. Always stir with the straw just before drinking to disperse the seeds in the drinks.

Store up to 4 days in the fridge.
Notes
Note 1: Use any berries you like, such as raspberries, blueberries, or cucumber slices. Note 2: If you don't like ginger, try a vanilla pod, mint leaves, turmeric powder, or cinnamon.
My Recipe Notes
Nutrition
Serving:
1
serving
Calories:
64.9
kcal
(3%)
Carbohydrates:
7
g
(2%)
Fiber:
4.2
g
(18%)
Net Carbs:
2.8
g
Protein:
2.1
g
(4%)
Fat:
3.7
g
(6%)
Saturated Fat:
0.4
g
(3%)
Polyunsaturated Fat:
2.8
g
Monounsaturated Fat:
0.3
g
Trans Fat:
0.02
g
Sodium:
29
mg
(1%)
Potassium:
80.3
mg
(2%)
Sugar:
0.6
g
(1%)
Vitamin A:
7.8
IU
Vitamin C:
9
mg
(11%)
Calcium:
93.4
mg
(9%)
Iron:
1
mg
(6%)
Magnesium:
47.7
mg
(12%)
Zinc:
0.6
mg
(4%)
Posted In: