Flaxseed Crackers (Keto, Vegan, 0.5g Net Carbs)
These Keto Flax Crackers are healthy low-carb crackers flavored with rosemary and garlic.
Bonus, this is also a gluten-free cracker recipe, made with only 5 simple ingredients.
An easy, tasty snack or appetizer for your summer food platter.
Also, these crackers are egg-free and dairy-free, meaning this recipe is vegan as well.
What Are Flaxseed Crackers?
My appetizers, desserts, and snacks are mostly keto vegan recipes. We love to snack on crackers or chips.
My low-carb tortillas chips are always a big hit, and recently I've had huge success experimenting with homemade crackers.
My favorite flavor is garlic & rosemary crackers. The ones you can buy from the store are definitely not low-carb or vegan.
That's why I made my own Garlic & Rosemary keto flax crackers, also known as flaxseed Crackers.
Why You'll Love This Recipe
Keto flax crackers are crunchy little bites size food with a bread-like flavor made essentially from flax meal.
It's an easy flaxseed recipe using ground flaxseed and water to create a crunchy snack or appetizer.
It's also:
Gluten-Free
Nut-Free
Egg-Free
Dairy-Free
Vegan
Low-Carb
Keto
Ready In 30 Minutes
How To Make Flaxseed Crackers
Flaxseed crackers are keto vegan crackers as they contain no eggs, no dairy.
Ingredients
All you need to make these low-carb crackers are 4 ingredients:
Ground Flaxseed – you can use either golden or brown flaxseed. I love both, but some people prefer golden flaxseed as they don't have much flavor.
Water – simple tap water at room temperature.
Spices – I love garlic powder, dried rosemary, and onion powder. Again, this is my favorite flavor, and you can play a lot with spices. I love smoked paprika, dried oregano, dried thyme, or even nutritional yeast for a cheesy flavor.
Sesame Seeds – this is optional. That's my secret weapon to make these simple flaxseed crackers super tasty! If you have got sesame seeds at home, go for it, this is so good with it!
Making Homemade Gluten-Free Cracker Recipe
These flaxseed crackers are super easy to make and don't require any kitchen tools. I like to grind raw flaxseeds in my blender simply because whole flaxseeds are cheaper.
However, this recipe works well with store-bought ground flaxseed. Combine all the ingredients into a bowl with a spatula or your hand until it forms a dough.
Rolling The Keto Flax Crackers Dough
The dough can be slightly sticky so I recommend rolling the dough between two pieces of parchment paper.
Peel off the top piece of paper before baking.
Keep the crackers onto the bottom piece and slide this piece of parchment paper onto a baking sheet.
Also, to create beautiful square crackers, make sure you cut the dough into squares before baking.
Baking Low-Carb Crackers
The longer you bake, the crispier. I recommend baking the crackers for 15 minutes, then checking every 5 minutes and stopping the baking when it reaches your favorite texture.
Test the center of the cracker. If too soft, keep baking.
I love mine very crispy but still thick, so it takes about 25 minutes.
The color will vary depending on how long you bake them. The longer, the darker.
How Do The Keto Crackers Taste?
They are crispy crackers, and as a flaxseed meal doesn't have much flavor, the main flavor is garlic rosemary.
It's hard to believe that this is indeed a low-carb cracker. All of my non-vegan or low-carb friends love these flaxseed crackers.
We love to spread dips on these crackers. I love my keto spinach avocado dip, my keto hummus, my pizza dip, or my vegan tzatziki.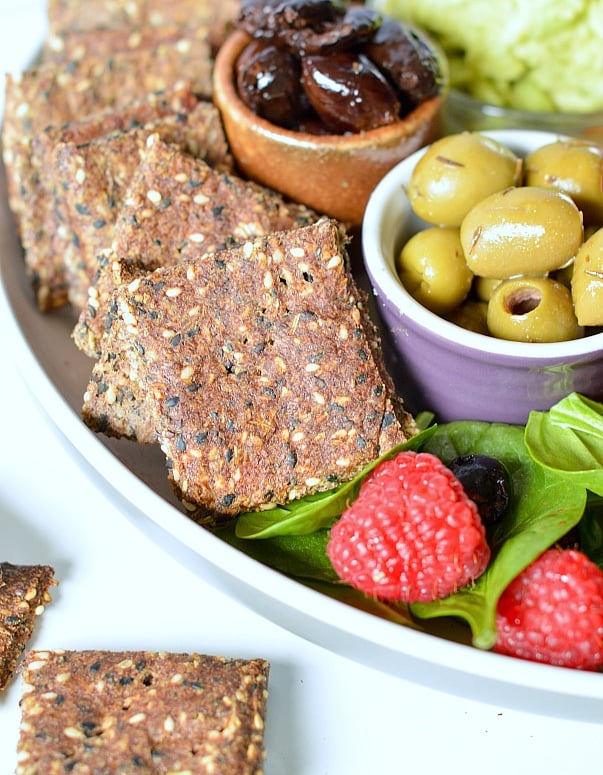 More Chips And Cracker Recipes
If you like crackers and chips, I have a few more recipes for you!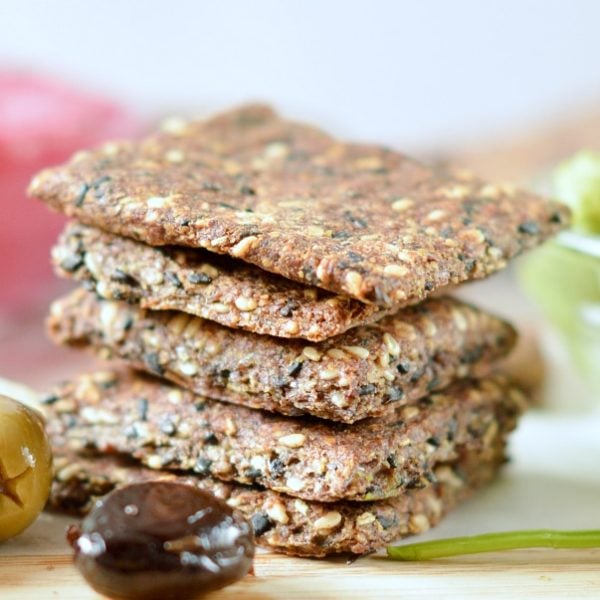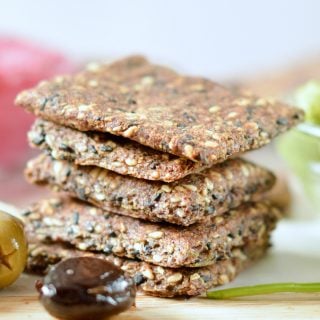 Flaxseed Crackers
Keto Flaxseed Crackers are paleo vegan healthy Rosemary Garlic flaxseed Crackers made of 5 simple ingredients make the best keto snacks or low carb appetizers. Plus, it is gluten-free!
This recipe may contain Amazon or other affiliate links. As an Amazon Associate I earn from qualifying purchases.
Instructions
In a mixing bowl, add ground flaxseed, onion powder, garlic powder, salt, sesame seeds -if used, and dried rosemary.

Give a good stir to combine, then pour the water.

Use a spatula to combine all the ingredients at first, then use your hands to form a ball of dough. The more you knead the dough, the drier and harder it will get. If the ball really sticks to your hands – can happen when your ground flaxseed is thicker than mine – sprinkle extra flaxseed to slightly dry the ball and make it easy to roll.

Place the dough ball onto two pieces of parchment paper, and use a rolling pin to roll about 2-4 mm thick – I like my crackers thick!

Use a pizza cutter or knife to cut the rolled dough into squares/rectangles. I usually shape a large rectangle and then cut smaller squares inside. I keep the leftover dough from the border to reform a ball, roll again, and cut more crackers with this dough. You should make about 30 square crackers in total.

Leave the crackers onto the piece of parchment paper and slide the piece of paper onto a baking sheet. Prick each cracker with a fork 2-3 times.

Bake at 350°F (180°C) for 20-25 minutes. I recommend checking the crackers every 5 minutes after the first 15 minutes of baking. This will prevent over baking the crackers. If yours are rolled thinner, they will bake faster and get crispier, more like tortillas chips. You know it is ready when the border and center are crispy and golden brown. If soft in the center, keep baking – they don't get much crispier when cooling down.

Cool down on a cooling rack and enjoy at room temperature with your favorite dips.

Store in an airtight container for up to 3 weeks in the pantry.
Notes
Sesame seeds: I love them, but you can use any other seed you like or even make plain crackers. The recipe will also work well without the sesame seeds. Baking time: it depends on the thickness of your crackers. The thicker, the longer you have to bake them to get crispy! Flax seeds: use golden or brown flaxseed. The golden flaxseed has less flavor than brown. You can grind your own flaxseed or use store-bought ground flaxseed. Herbs: if you don't like rosemary, other herbs that are tasty will be dried oregano or dried thyme, or a combo.
Want My Kitchen Equipment?
Serving:
1
cracker
Calories:
38
kcal
(2%)
Carbohydrates:
2.2
g
(1%)
Fiber:
1.7
g
(7%)
Net Carbs:
0.5
g
Protein:
1.3
g
(3%)
Fat:
3
g
(5%)
Saturated Fat:
0.3
g
(2%)
Sodium:
81.6
mg
(4%)
Sugar:
0.1
g
Calcium:
30
mg
(3%)
Iron:
0.5
mg
(3%)
Posted In: