Homemade Keto Chocolate Bars
Learn how to make your own keto chocolate bars at home.
It's cheaper than store-bought sugar-free chocolate, with no additives, and perfect for a snack with only 0.8 grams of net carbs per 4 squares!
Plus, this diabetic-friendly chocolate recipe is dairy-free, vegan, and gluten-free!
Are Chocolate Bars Keto?
Very few of the chocolate bars you can find in stores are keto-friendly.
Most commercial chocolate bars are sweetened with sugar unless they are very high in cocoa which also makes them bitter.
Why You'll Love This Recipe
This recipe is a must-have because it's both simple to make and can be used for everything.
You can also enjoy the sugar-free chocolate bars as-is. But this staple recipe is also:
Gluten-Free
Dairy-Free
Nut-Free
Vegetarian
Vegan
Low-Carb
Keto-Friendly
5 Ingredients
Ready In 20 Minutes
How To Make This Homemade Keto Chocolate Bar Recipe
It's probably the easiest mind-blowing keto snack recipe ever!
Honestly, you won't believe how simple it is to make your own sugar-free dark chocolate at home.
Ingredients
All you need are 5 ingredients:
Cocoa Butter – this is not a chocolate recipe that uses coconut oil. Here I am sharing a true keto chocolate recipe that tastes like the real thing. The key to achieving the smooth chocolate texture of store-bought chocolate bars is to use pure cocoa fat: cocoa butter.
Cocoa Powder – it's essential to use unsweetened cocoa powder because some manufacturers add sugar.
Stevia Drops – chocolate-flavored stevia drops are the best to enhance the chocolate flavor of your bars. Otherwise, regular stevia drops or vanilla stevia drops are just fine.
Powdered Erythritol – the combo of sweeteners makes all the difference. Don't be tempted to skip this and use only stevia drops. The result will be very bitter. The combo of these two sugar-free sweeteners is what creates the best sweetness in your sugar-free chocolate bars.
Stevia vs. erythritol
To make smooth keto chocolate, you must combine sugar-free sweeteners. In fact, if you are using only powdered erythritol, you will need a lot, about 6 tablespoons, to achieve the sweetness of an 80% dark chocolate bar.
The thing is, powdered erythritol itself can add a gritty texture to the chocolate. That's why a combination of stevia drops and powdered erythritol is the best to reach the balance of sweetness in your chocolate bars.
Making Homemade Chocolate
Add the sweetener first
I recommend you always add the sweetener into the melted cocoa butter before adding unsweetened cocoa butter.
In fact, the melting point of erythritol is 121C, and you need to reach this temperature to dissolve it into the cocoa butter and avoid the gritty texture.
However, if you add cocoa powder before and bring the mixture so high in temperature, the mixture thickens and becomes like a paste that won't create smooth chocolate.
Silicone Mold
Using a silicone chocolate mold (affiliate link) is the easiest way to unmold homemade chocolate bars without breaking them.
You can use any shape, even silicone muffin molds on which you cover the bottom half centimeter.
Storage Instructions
As mentioned above, this recipe uses cocoa butter as fat which means it doesn't melt under 93°F (34°C).
Therefore, you can wrap your chocolate tab in foil and store it in the pantry as store-bought chocolate.
You don't have to refrigerate your chocolate bars, but you can if you want to increase the crunch of your chocolate.
Chocolate purists think that chocolate flavor is enhanced at room temperature, then it's up to you to choose the option you prefer.
Frequently Asked Questions
Can I use coconut oil to make this keto chocolate bar?
There are two ways to make homemade chocolate bars. Some recipes call for coconut oil, and some for cocoa butter.
So let me explain why I believe you should always make homemade chocolate with cocoa butter and not coconut oil. Cocoa butter is a type of fat that comes from cocoa beans, like coconut oil.
Cocoa butter is solid at room temperature but melts at 93°F (34°C), close to your body temperature.
It means that chocolate made with cocoa butter will store well in the pantry, stay hard in your hand and crunch but melt immediately when in contact with your tongue!
It results in the most delicious smooth texture. On the opposite, coconut oil melts at 78°F (23°C), which is close to room temperature in spring/summer.
Therefore, coconut oil chocolate bars melt easily in the pantry and in your hands, losing all their crunch when you bite a square. Plus, coconut oil adds a coconut flavor to chocolate that not everyone loves.
More Keto Chocolate Snacks
If you love snacking on easy keto chocolate snacks, I recommend you also try these recipes.
Made this Homemade Keto chocolate bar recipe and want to share your feedback or question with me? Drop a comment below!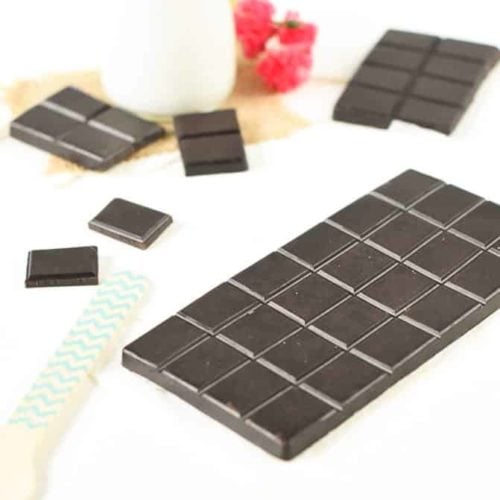 Keto Chocolate Bar
Homemade sugar-free dark chocolate bar, cheaper than store-bought without the carbs!
Yield:
servings (4 chocolate squares)
This recipe may contain Amazon or other affiliate links. As an Amazon Associate I earn from qualifying purchases.
Instructions
Place 2 chocolate bar silicone molds on a flat board or plate. I recommend placing a piece of parchment paper between the mold and the plate. This prevents the silicone mold from sticking to the plate when you freeze the bar later in the recipe. Set aside.

In a small saucepan, under medium heat, melt the cocoa butter.

When fully melted, remove the saucepan from the heat and stir in stevia drops, powdered sweetener (not crystal! you don't want bits in your chocolate), and salt.

Return to medium heat until cocoa butter slightly boils and reaches 250°F (121°C). It's the temperature at which the erythritol will dissolve and prevents a gritty texture in your chocolate.

Remove from heat and stir in unsweetened cocoa powder.

Stir quickly and immediately transfer the liquid into the 2 silicone molds to fill them up to the top. Working quickly prevents the cocoa powder and cocoa butter from separating and creates the most consistent bars.

Freeze

10 minutes

or until the chocolate bars are hard and fully set

Remove from the freezer, flip over the chocolate mold onto a flat surface and peel off the mold from the bar to release.

Store the chocolate bars in the fridge in an airtight box or at room temperature. The melting point of cocoa butter is 93°F (34°C), so if your house is not that warm, the chocolate bars won't melt in the pantry.
No silicone mold?
You can pour the chocolate mixture into a 9-inch x 5-inch loaf pan (halve the recipe first, freeze, release, then repeat as the recipe makes 2 chocolate bars). Make sure you cover the pan with parchment paper, grease the paper with oil spray.
Keto chocolate toppings
Before freezing the bars, you can add crunchy keto toppings like sliced/chopped almonds, toasted coconut flakes, chopped brazil nuts, pecan, and freeze-dried raspberries.
Notes
One chocolate bar has 24 chocolate squares. This recipe makes 2 chocolate bars, so 48 chocolate squares. The serving size is 4 squares. Therefore one chocolate bar has 6 servings, 12 serving for the whole recipe. I recommend using a silicone chocolate mold for the best results.
Want My Kitchen Equipment?
Yield:
servings (4 chocolate squares)
Serving:
4
squares
Calories:
81.2
kcal
(4%)
Carbohydrates:
1.9
g
(1%)
Fiber:
1.1
g
(5%)
Net Carbs:
0.8
g
Protein:
0.7
g
(1%)
Fat:
8.8
g
(14%)
Saturated Fat:
5.3
g
(33%)
Sodium:
49.1
mg
(2%)
Potassium:
50.4
mg
(1%)
Sugar:
0.1
g
Calcium:
4.2
mg
Iron:
0.5
mg
(3%)
Posted In: