A delicious keto version of the classic banana pudding made with layers of unsweetened whipped cream and keto gluten-free shortbread cookie crumble.
You will love this keto banana pudding with less than 1 gram of net carbs per serving!
Is Banana Pudding Keto?
No, the classic banana pudding is not keto-friendly. It's made of milk, sugar, cornstarch, vanilla wafer cookie, and banana slices.
All these ingredients are high in sugar and carbs and are not keto-approved.
Bananas in particular are quite high in carbs and they only make a classic banana pudding too high in carbohydrates.
How To Make Keto-Friendly Banana Pudding
The classic Southern recipe can easily be adapted to create the most delicious keto-friendly banana pudding.
The ingredients you need to make a keto low-carb banana pudding recipe are:
Heavy cream – for a dairy-free keto pudding, you can replace heavy cream with canned coconut cream. Shake the can before measuring. Heavy Cream is perfectly keto-friendly.
Unsweetened almond milk – hemp milk is also a great keto nut-free option.
Erythritol or xylitol, or any keto-friendly sweetener you like. This recipe works with Monk fruit. Make sure to use my sweetener converter to adjust the amount. Monk fruit, like stevia, is very sweet, and you will need a tiny amount to reach the same level of sweetness.
Natural Banana extract – not all banana extracts are equal and have different strengths. That's why I recommend starting with the minimal amount recommended by the recipe, then adjusting to taste.
Vanilla extract
Egg yolk
Whole eggs
Xanthan gum – that's your pudding thickener, don't skip it, or the pudding won't be thick at all.
Butter – this adds a boost of creaminess to your pudding. If dairy-free, you can skip this ingredient. The result will be lighter but still delicious. Butter is very much keto-friendly.
Ingredients at room temperature
First, gather all your ingredients and bring the eggs to room temperature.
This is an important step to avoid cooking the eggs in the hot milk in the next steps of the recipe.
Egg mixture
Before you start, beat the eggs and erythritol (or any keto sweetener you like), and xanthan gum together until well combined.
It is important that you sprinkle xanthan gum into the bowl to avoid lumps, don't add the gum all at once.
Set the bowl aside while you warm the milk and heavy cream.
Warm milk and cream
In a saucepan, over medium heat, warm unsweetened almond milk, and heavy cream together.
Stir constantly to avoid having the mixture overflowing the pan or burning. After 2 minutes, remove from heat.
Temper the eggs
Scoop 2 tablespoons of the warm milk mixture and stir one at a time into the egg mixture bowl.
This step brings the egg mixture to the perfect temperature, preventing the eggs from cooking in the hot milk.
Bring the egg mixture into the saucepan
Now that the egg mixture is lukewarm, you can pour it into the saucepan along with the hot milk/cream mixture.
Return to heat
Continue to cook under low heat for 5-8 minutes until the mixture thickens and covers the back of the spoon.
If the mixture is not thick enough, sprinkle some extra gum all over the sauce, stirring at the same time to incorporate.
Don't add more than 1/2 teaspoon of gum, or the pudding will be slimy.
Adding butter and flavoring
Remove the saucepan from the heat and stir in fresh butter, vanilla, and banana extract.
Stir in until the butter is fully melted, and test the pudding flavor to check if it matches your linking. You may want to increase the banana extract flavoring depending on its strength.
Always add 1/4 extra teaspoon, stir and taste. Adjust until it reaches the banana flavor you love.
Assembling The Banana Pudding
This easy keto banana pudding can be served in many ways:
Plain – serve 1/2 cup of this recipe, plain, with no toppings or layering.
Layered – the classic banana pudding recipe is assembled with a layer of banana slices, whipped cream, and vanilla wafers. All these ingredients are high in carbs, and you can't use them to assemble this keto banana pudding. Instead, use unsweetened whipped cream and one batch of my keto vanilla shortbread recipe crumbled into pieces.
Storage Instructions
This sugar-free banana pudding keto recipe must be stored in the fridge in a sealed jar.
Or, you can use a simple mixing bowl covered with plastic wrap.
It is important to cover the container to prevent the formation of a film on top of the pudding.
This recipe can be stored for up to 3 days in the fridge. You can also freeze your pudding in small sealed containers and thaw it in the fridge overnight.
Frequently Asked Questions
Can I Use Real Bananas In My Keto Pudding?
No, you can't use real banana in this keto banana pudding if you want to keep the carbs low!
Bananas are one of the highest-carb fruits and not a keto-approved fruit to stay in ketosis.
Therefore, it's not recommended to add a real banana puree to flavor your keto pudding. Instead, I am using natural banana extract. It contains no carbs, no sugar, and a real banana flavor.
How Many Carbs Are In Keto Pudding?
This keto banana pudding has a low-carb count per serving.
The serving size is half a cup of this recipe. It contains only 0.9 grams of net carbs, but it's very fulfilling with 11 grams of fat and 120 kcal. Jump to the recipe below for full nutrition information.
If you opt for the layered pudding, you would need:
– Three of my keto almond flour shortbread cookie recipe
– 1/2 cup of this keto banana pudding recipe
– 1/2 cup of unsweetened whipped cream
The net carbs per serving then come to 4 grams per pudding.
More Keto Pudding Recipes
If you love puddings, I have more keto pudding recipes for you to try!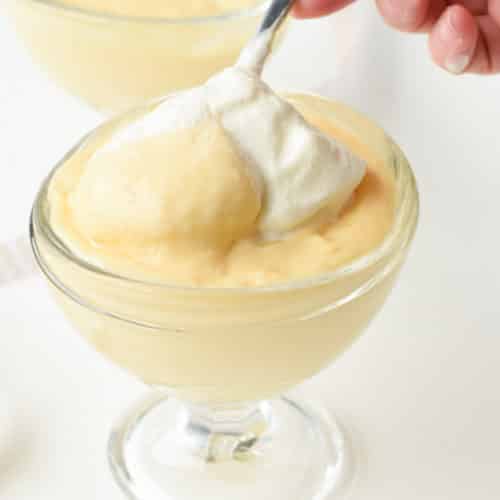 Keto Banana Pudding
A delicious, creamy pudding with banana flavor and only 1 gram of net carbs per serving. Gluten-free, dairy-free option.
Yield:
servings (1/2 cup, 1 serve)
Serving Size:
1
serving (1/2 cup)
Ingredients
2

large

Egg Yolks

at room temperature

2

large

Eggs

at room temperature

6

tablespoons

Erythritol

1

teaspoon

Xanthan Gum

1 ½

cup

Unsweetened Almond Milk

½

cup

Heavy Cream

or Canned Coconut Cream

2

tablespoons

Butter

not melted

1-2

teaspoons

Natural Banana Extract

start with 1 and adjust to taste

½

teaspoon

Vanilla Extract
Serving ideas – not included in nutrition panel
This recipe may contain Amazon or other affiliate links. As an Amazon Associate I earn from qualifying purchases.
Instructions
In a large mixing bowl, whisk together: egg yolk, whole egg, erythritol, and xanthan gum that you gently sprinkle on top – don't add all the gum at once to avoid lumps! Whisk until fully combined. Set aside.

In a medium saucepan, heat unsweetened almond milk and heavy cream over medium heat. Bring to a simmer for 3-4 minutes and stir often to prevent the liquid from overflowing the saucepan.

Remove the saucepan from heat. Scoop 1 tablespoon of the hot milk into the egg mixture and whisk vigorously to combine. Repeat this step once, stirring 1 extra tablespoon of the hot milk into the egg mixture. This step is very important. It brings the eggs to a lukewarm temperature and prevents the hot milk from 'cooking' the eggs.

Now that the egg mixture is tempered with milk, pour the egg mixture from the bowl into the saucepan, stir and return to medium-low heat (don't boil!).

Cook for 5-7 minutes, gently stirring, until it thickens and coats the back of a spoon.

You can sprinkle an extra 1/4 teaspoon of gum if not thick to your liking but keep in mind that the pudding will keep thickening while cooling down.

Once thickened, remove from heat and stir in the fresh butter, vanilla extract, and banana extract.

Test the pudding sweetness and flavor. Adjust the amount of banana extract to taste. Add an extra 1/4 teaspoon at a time, stir and taste. You can add up to 1 extra teaspoon, depending on the strength of your banana extract.

Pour the banana pudding into a wide bowl to steam out and cool. Stir every 10 minutes to prevent skin from forming on top.

When cool, about 20 minutes later, place a piece of plastic wrap on top of the bowl and refrigerate for 1 hour or until chilled before serving or assembling.
Serving – Assembling ideas
Serve 1/2 cup of chilled banana pudding per person, plain or with a dollop of unsweetened whipped cream on top. To make a layer as seen in my picture, add banana pudding, unsweetened whipped cream, and crumble of my keto shortbread cookie recipe (I am using 3 cookies per serving). Top with unsweetened whipped cream and sliced almonds.
Storage
Store in the fridge the assembled dessert. Cover tightly with plastic wrap, for 4-8 hours before serving.
Notes
Dairy-free option:
Replace heavy cream with canned coconut cream. Shake can before measuring. Note that this option adds a coconut flavor to your pudding.
You can omit butter for the dairy-free option.
Nutrition: the nutrition panel is for 1/2 cup of plain banana pudding.
Want My Kitchen Equipment?
Serving Size:
1
serving (1/2 cup)
Yield:
servings (1/2 cup, 1 serve)
Serving:
1
serving (1/2 cup)
Calories:
120.9
kcal
(6%)
Carbohydrates:
1.5
g
(1%)
Fiber:
0.6
g
(3%)
Net Carbs:
0.9
g
Protein:
3.7
g
(7%)
Fat:
11.2
g
(17%)
Saturated Fat:
5.6
g
(35%)
Cholesterol:
150.7
mg
(50%)
Sodium:
129.6
mg
(6%)
Potassium:
44.1
mg
(1%)
Sugar:
0.2
g
Vitamin A:
463.3
IU
(9%)
Calcium:
104.5
mg
(10%)
Iron:
0.4
mg
(2%)
Posted In: