Keto Chocolate Chip Mug Cake
This easy Keto Chocolate Chip Mug Cake is like a single-serve keto vanilla cake but ready in 90 seconds with delicious melted sugar-free chocolate in the crumb.
A delicious keto snack to fix your sweet tooth, with only 3.7 grams of net carbs per serving. Plus, this recipe is also gluten-free and dairy-free!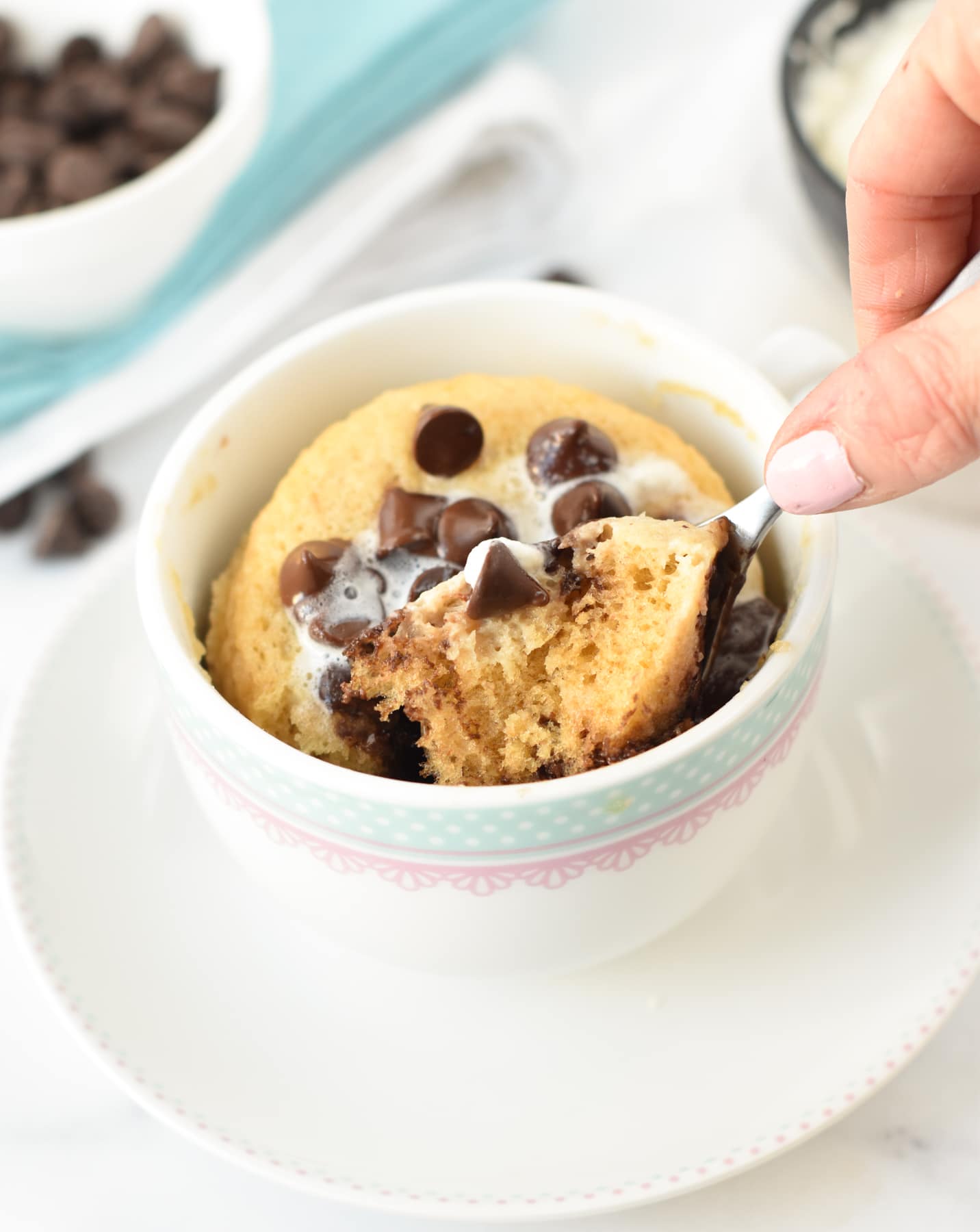 How To Make Keto Chocolate Chip Mug Cake
It's super easy to make this chocolate chip almond flour mug cake within 5 minutes or so.
All your need are two essential kitchen tools and a few pantry ingredients.
Kitchen tools
A tall coffee mug that is microwave safe or a ceramic ramekin. Not that a tall recipient makes mug cakes raise more and provides a fluffier, moister cake, so avoid wider small ramekins. Also, a low-height recipient often results in mug cakes overflowing from their bowl.
Microwave – I really think mug cakes recipes bake better in the microwave. They don't raise as much in the oven, and their texture is packed and less moist. But below, I will share both baking options if you don't have a microwave at home and still crave a keto quick cake.
Ingredients
The ingredients you need to make this almond flour chocolate chips mug cakes are:
Almond flour – use ultra-fine almond flour for best texture. Almond meal is coarse and great grainy cake with a darker color. Learn how to choose your keto flours.
Erythritol or a few drops of stevia or monk fruit. Do you have another sweetener? Learn how to convert them!
Melted coconut oil for a dairy-free option or melted butter.
Baking soda or baking powder.
Egg at room temperature
Vanilla extract
Sugar-free chocolate chips – you can use any sugar-free chocolate chips: milk, dark or white chips. You can even make your own sugar-free chocolate chips. Make sure they contain erythritol or stevia which are keto-friendly sweeteners. These are much better than maltitol which can upset your gut and spike blood sugar level. Another option is to use dark chocolate bars superior to 85% cocoa, chop into pieces, and use them as chocolate chips replacement.
Instructions
First, beat the egg with melted coconut oil and vanilla extract. Then, stir in almond flour, baking soda, erythritol, and chocolate chips until a smooth cake batter forms.
Transfer the batter into a greased microwave-safe tall mug or ramekin.
Microwave at powder 900W for 90 seconds or until the cake rises to the top of the mug or so and the top is dry if touched with your fingers.
Cool it down 1 minute before eating or serving with toppings.
Serving
You can eat your chocolate chip keto mug cake straight from the mug or flip it over a plate.
I highly recommend adding toppings to turn this simple keto mug cake into a decadent keto dessert.
Toppings that are delicious and keto-approved for this recipe are:
Whipped cream or unsweetened whipped coconut cream if dairy-free.
Plain yogurt – many varieties are low-carb, like Greek yogurt or dairy-free coconut yogurt.
Keto ice cream
Oven Option
If you don't have a microwave, you can bake this chocolate chip mug cake in your regular oven.
However, as mentioned before, the cake won't rise as much, and it takes longer to bake through.
I recommend using a 5-inch oven baking pan or any ceramic ramekin that is oven-friendly.
Grease mold with coconut oil and fill following the assembling tips above.
Bake at 350°F (180°C) until the cake is set and a pick inserted in the center of the snickerdoodle cake comes out clean.
It can take 15 to 25 minutes, depending on the diameter of your mold. The wider, the faster it cakes, but the less it rises!
Storage
You can make ahead your mug cake batter and store it in an airtight container in the fridge overnight.
Or place the batter in your coffee mug, wrap the top with plastic wrap to prevent the batter from drying out, and refrigerate overnight.
The next day, microwave for a sweet quick keto breakfast.
Note that you can't prebake a mug cake and store it for the next day.
The texture of microwaved baked cakes dries out very fast, resulting in a dry, hard cake after a few hours.
Consequently, always microwave mug cakes before serving and enjoy hot or lukewarm, within 30 minutes of baking.
More Keto Mug Cake Recipes
I love to make low-carb mug cake when a cake craving comes up. Below are my other favorites for you to try.
Have you made this snickerdoodle cake in your microwave or oven? Share a comment or feedback with me below!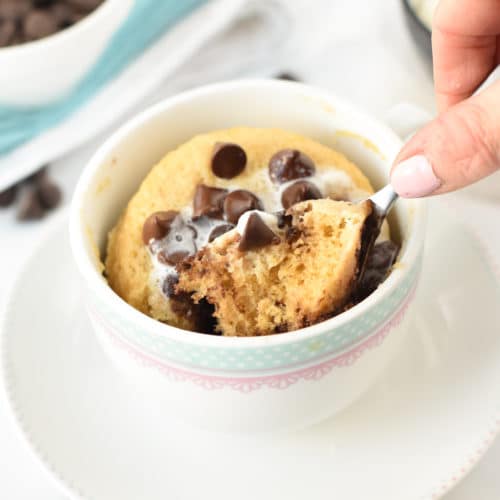 Keto Chocolate Chips Mug Cake
A 90-second Ket Chocolate Chip Vanilla Mug Cake with spongy, moist cake texture and melted sugar-free chocolate chips.
Ingredients
3

tablespoons

Almond Flour

¼

teaspoon

Baking Soda

or 1/2 teaspoon baking powder

1 ½

tablespoon

Erythritol

1

tablespoon

Coconut Oil

melted or melted butter

1

large

Egg

beaten, at room temperature

1

teaspoon

Vanilla Extract

or 2 drops Vanilla liquid stevia (if using this option, decrease erythritol to 1 tablespoon)

1 ½

tablespoon

Sugar-Free Chocolate Chips
This recipe may contain Amazon or other affiliate links. As an Amazon Associate I earn from qualifying purchases.
Instructions
Grease a microwave-proof ramekin or tall coffee mug with coconut oil. Choose one that is at least 2.5-inch tall and 3.5-inch wide. This will prevent the mug cake from overflowing when microwaving. Set aside.

In a small bowl, whisk the egg, melted coconut oil, and vanilla extract. Make sure the egg is not cold, or it will solidify the coconut oil, forming lumps. For a moister cake, use melted butter. For a chewier cake, use melted coconut oil.

Stir in almond flour, baking soda, erythritol, and half the amount of sugar-free chocolate chips.

Pour the batter into the prepared mug cake.

Microwave on high (800W) for 80-90 seconds or until set in the center. Make sure you check the microwave power. If yours is higher (1000W), you may have to microwave the mug cake for only 60-70 seconds to get the same texture.

Sprinkle remaining chocolate chips on the hot mug cake and cool for 60 seconds in the mug before eating.

Serve with a dust of sugar-free powdered erythritol and a dollop of unsweetened whipped cream on top (use coconut cream for dairy-free paleo option).
Notes
Egg: this recipe is not working with flaxseed eggs or egg replacers. Make sure the egg is at room temperature to prevent the coconut oil from forming lumps. Vanilla: if using vanilla stevia drops, decrease erythritol to 1 tablespoon, or the mug cake will be too sweet. Chocolate Chips tips: toss chocolate chips in some almond flour, or coconut flour helps suspend them in your mug batter.
Want My Kitchen Equipment?
Serving:
1
mug cake
Calories:
370.8
kcal
(19%)
Carbohydrates:
13.4
g
(4%)
Fiber:
9.7
g
(40%)
Net Carbs:
3.7
g
Protein:
10.7
g
(21%)
Fat:
34.6
g
(53%)
Saturated Fat:
17.6
g
(110%)
Polyunsaturated Fat:
1.2
g
Monounsaturated Fat:
2.6
g
Trans Fat:
0.1
g
Cholesterol:
186
mg
(62%)
Sodium:
344.6
mg
(15%)
Potassium:
69
mg
(2%)
Sugar:
0.9
g
(1%)
Vitamin A:
270
IU
(5%)
Vitamin B12:
0.5
µg
(8%)
Vitamin D:
1
µg
(7%)
Calcium:
72.1
mg
(7%)
Iron:
1.7
mg
(9%)
Magnesium:
6
mg
(2%)
Zinc:
0.7
mg
(5%)
Posted In: