Keto Mozzarella Sticks (1g Net Carbs)
These Keto Mozzarella Sticks are crispy with a super cheesy center and delicious Italian seasoning flavors.
They are easy gluten-free mozzarella cheese sticks fried in avocado oil and coated with a crispy almond flour pork rinds coating.This keto low-carb appetizer recipe contains only 60 kcal and 1.1 grams of net carbs per stick!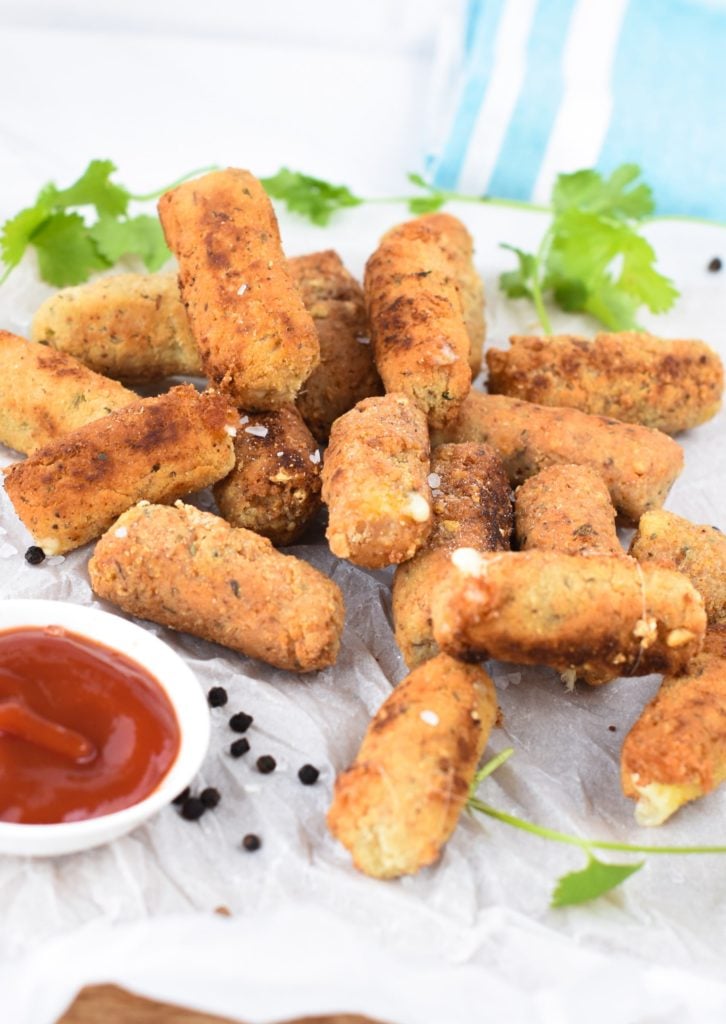 Are Classic Mozzarella Sticks Keto-Friendly?
No, classic mozzarella sticks or sticks bought from the store contain flour.
Flour is high in carbs and starch, and it will raise your blood sugar level and would take you out of ketosis.
How To Make Keto Mozzarella Sticks
First, choose the right ingredients.
Ingredients
You will need:
Preparing The Cheese Sticks
Open each mozzarella string cheese stick and cut them in half to form 24 smaller sticks.
Set aside on a plate. Prepare one or two large plates covered with baking paper and set them aside.
Make sure the plate fits the width of your freezer because you will pop it in at the next step.
Preparing The Keto Breadcrumb
First, prepare the keto breadcrumb. It's the mixture that you are going to use to coat the keto cheese sticks.
In a plastic bag, add the pork rinds, close the bag, and roll a rolling pin onto it to crush the pork rinds into fine powder/crumbs.
If it doesn't work well, add the pork rinds in a mortar and pillar.
Open the bag, add to it the almond flour, garlic powder, grated parmesan, and Italian seasoning.
Finally, close the bag, shake to combine evenly, and transfer into a shallow bowl.
Making The Egg Wash
In another shallow bowl, beat one egg and an egg white along with water to create an egg wash.
Set the egg wash aside.
Double Coating
Now, working one stick at a time dip into:
The beaten egg
Keto breadcrumbs
The beaten egg again
Keto breadcrumb again
This double-coating method ensures a thick coating on the cheese sticks. They will be crispier, and the cheese is well encased into the coating.
Freezing
This is the most important part of making any mozzarella stick recipe.
You must place the breaded mozzarella sticks in the freezer for at least 2 hours or overnight to harden the cheese sticks.
This prevents the cheese from dripping out of the coating when fried.
Cooking
Finally, shallow-fry or deep-fry the mozzarella cheese sticks.
You can also air fry or bake the sticks, but the coating won't be golden and crispy. It will be soft and powdery.
Air Fryer Method
I don't recommend air frying or baking these mozzarella sticks. The coating wouldn't be as crispy. It would remain white and soft.
But if you really want to try air fryer mozzarella sticks, then this is how I would proceed.
First, set your air fryer to 400°F (200°C).
Then, spray the air fryer basket with oil spray and lay the mozzarella sticks in the basket, leaving some empty space between each stick to prevent them from touching each other.
So for this recipe, you will have to work in batches as you can't fit 24 mozzarella sticks in a single basket.
Spray some oil onto the breaded sticks. Finally, air-fry the sticks for about 6 to 8 minutes until the coating is golden and crispy.
Frying Keto Cheese Sticks
You should shallow-fry these mozzarella sticks instead of deep-frying them.
It's a little bit healthier as it requires less oil. I recommend using high-smoke-point avocado oil for a healthier frying technique and enjoy a crispy coating.
To shallow fry, warm just enough avocado oil to a frying pan – about 1 inch/2.5 cm oil.
Shallow fry the mozzarella sticks on both sides just until the coating is golden and crispy.
Place on a plate covered with absorbent paper to remove excess oil from the sticks before serving.
Serving Mozzarella Sticks
One serving size, when used as a meal, is 10 sticks, which comes to 8 grams of net carbs and 400 kcal.
But you can also serve smaller portions as a keto appetizer or keto salad topping or as a side to a delicious steak of beef.
These cheese sticks are also delicious combined with keto dips and sauce like:
Storage Instructions
Once you have cooked your keto cheese sticks, you can store them for up to 3 days in an airtight container in the fridge.
You can also freeze them for up to 3 months. To do that, place them in zip lock bags in groups of 3-4 that you can thaw and rewarm together.
Reheat your keto mozzarella sticks in a frying pan with oil for a couple of minutes or in the air fryer.
Frequently Asked Questions
Can I use other cheese?
No, you can't make keto cheese sticks with any other cheese.
For the best stringy, melted cheese sticks that won't drip out of the coating, you must use part-skim mozzarella string cheese sticks.
Can I skip the pork rinds?
Yes, you can replace the pork rinds with more almond flour in this recipe.
More Keto Appetizer Recipes
If you love crispy coated food to dip in sauce or top on keto salad, I have more recipe ideas for you below: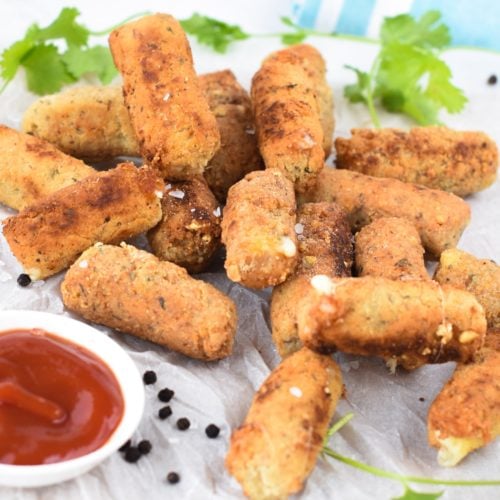 Keto Mozzarella Sticks
These Keto Mozzarella Sticks are crispy shallow fried cheese sticks with a crispy gluten-free almond flour coating.
This recipe may contain Amazon or other affiliate links. As an Amazon Associate I earn from qualifying purchases.
Instructions
Line a large baking sheet with parchment paper. Make sure it fits your freezer width because you will pop this in the freezer later in the recipe. Otherwise, use two plates covered with parchment paper, and you will transfer the frozen sticks to the baking sheet later. Set aside.

Slice each stick of mozzarella in half cross-wise to end up with 24 pieces of cheese.

In a plastic bag or using a pillar and mortar, crush the pork rinds into a coarse breadcrumb. Measure the quantity of ground pork rinds required by the recipe.

Transfer the grounds pork rinds into a shallow bowl along with almond flour, Italian seasonings, garlic powder. Give a quick stir to combine.

In another shallow bowl, beat eggs and water.

Working one stick at a time, Dip each mozzarella cheese stick into the beaten eggs, then press into the keto bread crumb bowl. Repeat dipping in egg and keto breadcrumbs for a double-thick coating. Don't hesitate to press the crumb hard in the palm of your hand to fully cover them with the crumb.

Place each breaded cheese stick on the prepared baking sheet.

Repeat this process until the 24 sticks are covered with the keto breadcrumb mixture.

Place the breaded cheese stick in the freezer for at least 2 hours or overnight to set. This is not optional, or the cheese would melt straight away and come out of the crumb.

When ready to serve, warm 1 inch (2.5 cm) avocado oil in a frying pan.

When the oil is hot, shallow-fry the sticks, adding no more than 6 at a time, or the oil temperature drops fast, and they wouldn't cook properly.

Fry for about 3 minutes on each side, rotating the cheese sticks with 2 forks. They are ready when the coating is golden and crispy and the cheese is melted in the center.

Place the fried stick on a plate with absorbent paper to soak up the extra oil.

Serve immediately with sugar-free ketchup or sour cream.
Want My Kitchen Equipment?
Serving:
1
stick
Calories:
66.9
kcal
(3%)
Carbohydrates:
2.1
g
(1%)
Fiber:
1
g
(4%)
Net Carbs:
1.1
g
Protein:
3.3
g
(7%)
Fat:
5.5
g
(8%)
Saturated Fat:
0.6
g
(4%)
Trans Fat:
0.1
g
Cholesterol:
16.9
mg
(6%)
Sodium:
31.4
mg
(1%)
Potassium:
7.5
mg
Sugar:
0.3
g
Vitamin A:
24.6
IU
Vitamin B12:
0.1
µg
(2%)
Vitamin C:
0.1
mg
Vitamin D:
0.1
µg
(1%)
Calcium:
24
mg
(2%)
Iron:
0.5
mg
(3%)
Magnesium:
0.8
mg
Zinc:
0.1
mg
(1%)
Posted In: