Spinach Mushroom Omelette
This easy Spinach Mushroom Omelette is a delicious keto vegetarian breakfast recipe easy to whip in 10 minutes any day of the week.
Plus, this omelette recipe has a dairy-free option!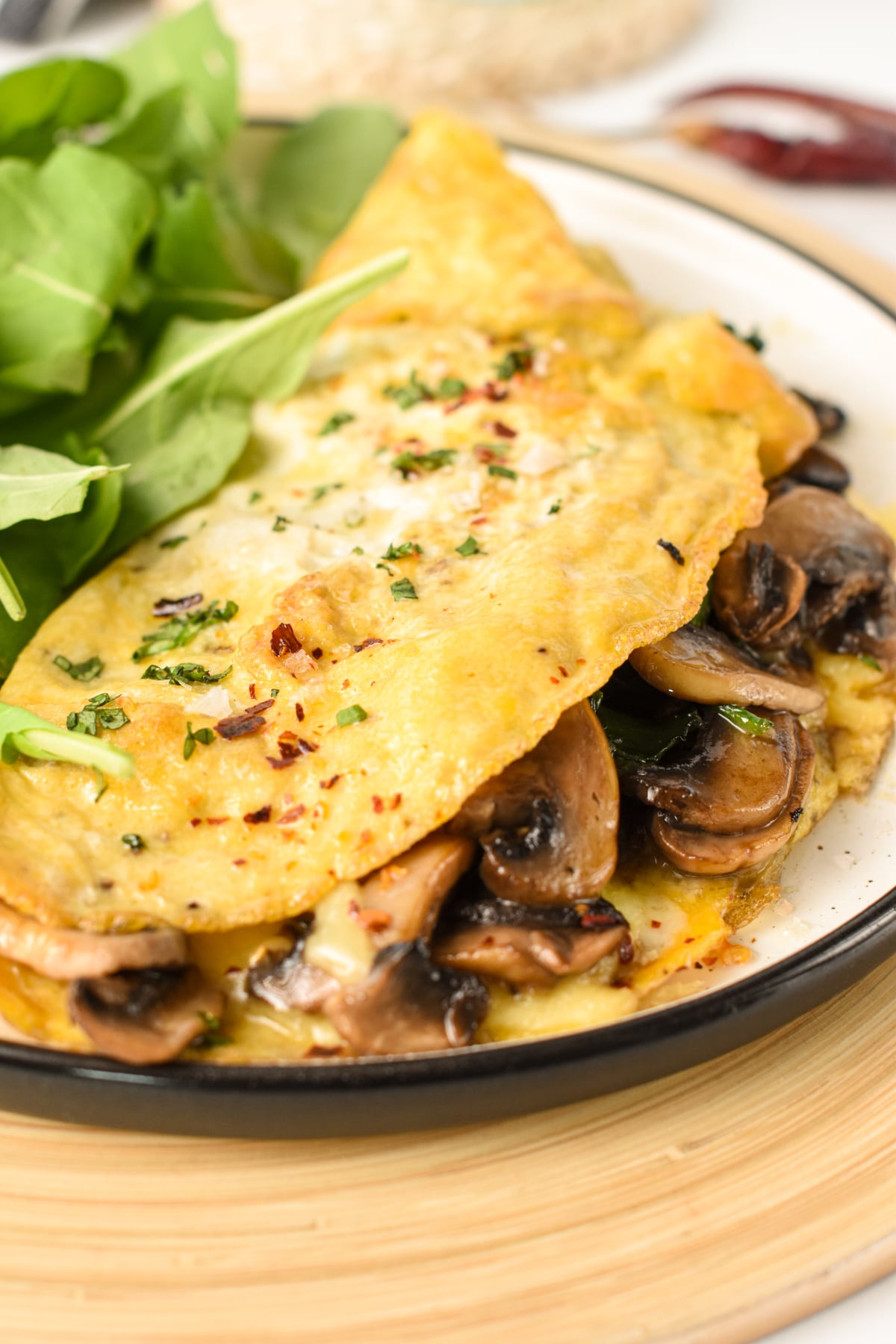 I love French omelette for breakfast or a simple dinner and even more vegetarian omelette for a ketotarian breakfast.
What's A Spinach Mushroom Omelette
Spinach Mushroom omelettes are a delicious version of the classic omelette.
But to make a fulfilling vegetarian omelette, you need to add two key components:
Are Mushrooms Low-Carb?
Absolutely yes! Mushrooms are high-protein vegetables and a great plant-based protein to add to your keto diet if you want to skip the meat.
A portion of 100 grams (3.5oz) of button mushrooms contains only 2 grams of net carbs and 3 grams of proteins.
Is Spinach Low-Carb?
Yes, spinach is a low-carb keto-friendly vegetable with only 0.4 grams of net carbs per cup of packed spinach.
Therefore, a spinach and mushroom omelette is an ideal vegetarian keto breakfast, high in protein and fiber to keep you full for hours.
How To Make A Spinach And Mushrooms Omelette
Here are my tips to make a delicious mushroom spinach omelette.
Ingredients
Let's have a look at the ingredients you need:
Large Eggs
Mushrooms – you can use cremini mushrooms or button mushrooms.
Baby spinach leaves or frozen spinach, you don't need to thaw the spinach before.
Salt
Pepper
Olive oil
Butter
Garlic cloves
Shredded mozzarella or cheddar
Beating Eggs
First, beat the eggs in a mixing bowl and whisk vigorously with salt and pepper.
Set aside while cooking the vegetables.
Stir-Fry The Vegetables
Next, in a non-stick pan, warm and melt butter. Stir in the finely sliced mushrooms and stir fry with garlic until fragrant and roasted on all sides. Add salt and pepper if desired.
Push the cooked mushrooms on one side of the pan and add the baby spinach leaves. Stir and cook the spinach until wilted – about 1 minute.
If you are using frozen spinach, it will release some water in the pan and take longer to cook. Cook until all liquid is evaporated.
Cooking The Eggs
Set aside the cooked vegetables on a plate. Cover the plate with foil to keep the omelette filling hot and warm.
Warm some olive oil over medium heat in the same pan. If you used frozen spinach, I recommend wiping the pan with absorbent paper to remove all the water released into the pan by defrosting the spinach.
Cook the beaten egg mixture in the hot oiled pan, tilting it to spread the eggs evenly.
Lift edges to let the uncooked eggs run under.
Fill The Omelette With The Mushroom Mixture
When the sides of the omelette are cooked and crisp, add half shredded cheese on half of the omelette, then add spinach and mushrooms.
Top up with the remaining cheese.
Lift the omelette by sliding a spatula under the other side of the omelette,
Fold over the filling ingredients and keep cooking on low heat until the cheese has melted.
Serve the spinach omelette immediately, with some chopped fresh parsley, salt and pepper, and extra chili flakes for a spicy touch.
Add-ons
You can tweak this keto omelet recipe, adding some of the ingredients below.
For example, you can add mushrooms with onion or red pepper.
Cook the onion and mushrooms until golden brown, then cook and stir red bell pepper and spinach.
How To Make The Omelette Fluffy
To make a fluffier omelette, whisk the eggs with 2 teaspoons of heavy cream, almond milk, or even cold water.
Frequently Asked Questions
Can I Use Frozen Spinach?
Yes, you can use frozen spinach in this recipe.
You don't have to thaw the vegetables before using them. Cook the spinach longer until all the water evaporates.
Can I Make Dairy-free Omelette?
Yes, you can skip the cheese in the recipe. For a cheesy dairy-free flavor, you can add a pinch of nutritional yeast to your beaten eggs.
Can I Freeze The Omelette?
Yes, you can freeze the cooked omelette in an airtight container.
Thaw the omelet in the fridge the day before and preferably rewarm in an oiled saucepan, with a lid on top to bring back some moisture.
I don't recommend rewarming the omelette in the microwave. The eggs become hard, dry, and chewy.
Can I Cook Omelette In The Air Fryer?
You can air fry omelette in a small air-fryer-safe pan. The result is closer to an egg-bake than an omelette, but it creates puffy, fluffy eggs.
Air fry the beaten eggs with cooked vegetables at 350°F (180°C) for 6 to 8 minutes or until set in the center.
More Egg Breakfast Ideas
Below I listed some more egg breakfast recipes to serve as a savory breakfast on your keto diet.
Have you made this mushroom omelette with spinach? Share a comment or review below to connect with me!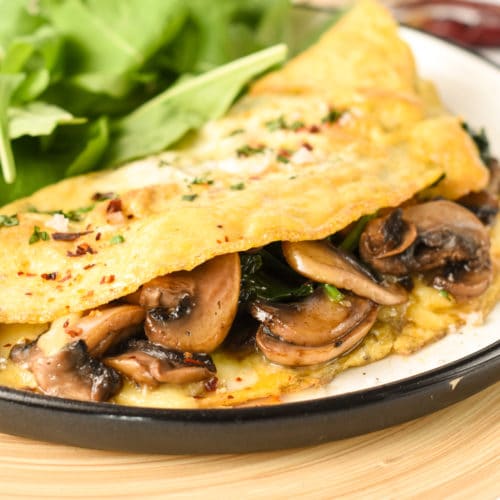 Spinach Mushroom Omelette
An easy cheesy Spinach Mushroom Omelette, perfect as a high-protein vegetarian low-carb breakfast.
Ingredients
1

cup

Baby Spinach

1

cup

Button Mushrooms

fresh, finely sliced, equivalent 4-5 medium mushrooms

3

teaspoons

Butter

1

Small

Garlic Cloves

peeled, crushed

2

large

Eggs

beaten

2

teaspoons

Olive Oil

¼

teaspoon

Salt

divided

¼

cup

Shredded Mozzarella

or Grated Parmesan
This recipe may contain Amazon or other affiliate links. As an Amazon Associate I earn from qualifying purchases.
Instructions
Crack and beat the eggs in a small bowl. Season with salt, pepper and set aside in the fridge while cooking the vegetables.

Heat a non-stick skillet over medium heat, warm butter. When hot, add mushrooms slices, crushed garlic a pinch of salt and pepper.

Stir fry for about 1-2 minutes, until the mushrooms are roasted and fragrant. Stir in spinach and keep cooking until wilted. Take off the skillet and set it aside on a plate. Cover with a piece of foil to keep warm.

Add olive oil, warm, and spread it evenly into the pan, tilting the pan in a rotating motion.

Reduce to medium-low heat, add beaten eggs and tilt the pan again to spread the egg mixture all over the pan.

When the sides of the omelette are set and start to dry out, lift them with a spatula to let the uncooked eggs from the middle run under and cook.

Once the middle of the omelette starts to set, sprinkle the shredded mozzarella on one half of the omelette and top with cooked spinach and mushrooms.

Fold the omelette in half, reduce to low heat and keep cooking until cheese is melted.

Gently slide on a plate and adjust seasoning, adding more salt, pepper, fresh parsley, or a pinch of chili flakes to taste.
Want My Kitchen Equipment?
Serving:
1
omelette
Calories:
402.2
kcal
(20%)
Carbohydrates:
6.6
g
(2%)
Fiber:
1.7
g
(7%)
Net Carbs:
4.9
g
Protein:
22.9
g
(46%)
Fat:
32.4
g
(50%)
Saturated Fat:
13.1
g
(82%)
Polyunsaturated Fat:
3.5
g
Monounsaturated Fat:
13.4
g
Trans Fat:
0.4
g
Cholesterol:
415.6
mg
(139%)
Sodium:
1001.1
mg
(44%)
Potassium:
648.5
mg
(19%)
Sugar:
2.7
g
(3%)
Vitamin A:
3822.2
IU
(76%)
Vitamin B12:
1.6
µg
(27%)
Vitamin C:
11.4
mg
(14%)
Vitamin D:
2.4
µg
(16%)
Calcium:
238.6
mg
(24%)
Iron:
3.3
mg
(18%)
Magnesium:
51.1
mg
(13%)
Zinc:
2.8
mg
(19%)
Posted In: