Those whole wheat banana muffins are one of my healthiest clean food recipes ever! NO processed food here only real food to create delicious, moist  and nut-free banana muffins for kid.
Whole wheat banana muffins : an healthy snack
My big girl is now at preschool. Emma has to bring her afternoon snack in her lunchbox everyday. And trust me, this generate lots of excitement to her! Each night she is coming back home telling me what friends had in their lunchboxes. She plan what she would like for the next day. Yesterday she said ' I want muffins mummy'. Phew! for a nut lover like me, it becomes a challenge to prepare healthy nut free baking recipe for her lunchbox. Well, yes there is a nut-free policy in her preschool. I understand how nut allergy can be dramatic for some kids.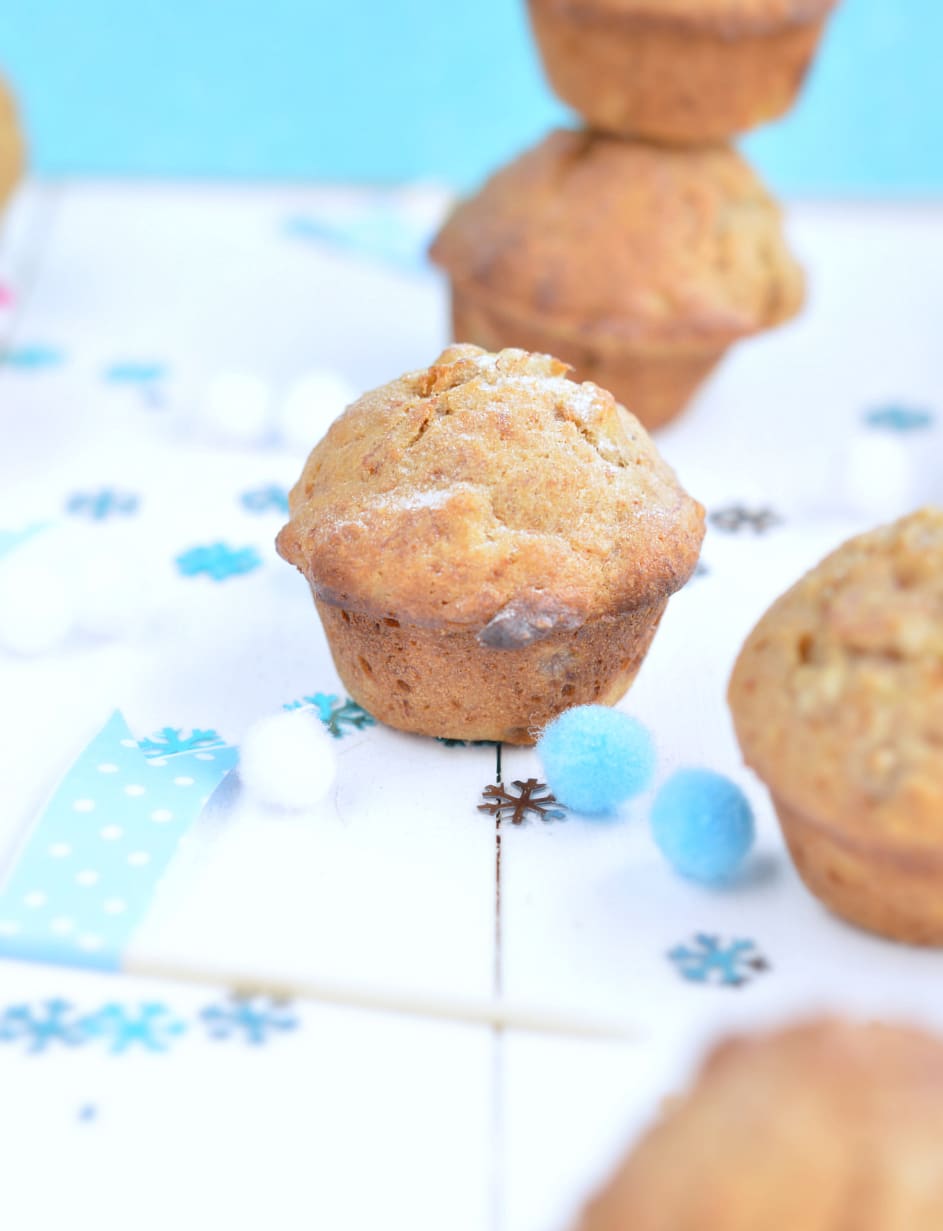 Whole wheat banana muffins with honey
SO I must challenge myself and do my best to develop new easy recipes for Emma's lunchbox. Good bye favorite nut butter or almond meal! Plus, yesterday I had a long busy day and I was not really in the mood to bake. BUT I still wanted to be a good mum. I am sure you have been there too. You know that feeling when you want to makes your kids happy. But still, don't have the energy to spend hours in the kitchen preparing the lunch box. Don't you? SO yesterday night we work together on making simple whole wheat banana muffins with honey as a sweetener. Well, the recipe works with any liquid sweetener like maple syrup – my favorite – honey or apple syrup. But I was running out on maple syrup so we did whole wheat banana muffins with honey today. 
Whole wheat banana muffins healthy and easy !
It was ready in 10 minutes using only wholefood. I had 2 very ripe bananas on hand. The ugly one with black spots on the skin – and those actually inspired me to make banana muffins. It was a great way to use up those black spots ripe bananas. It also decrease the sweetener in the recipe. We choose wholewheat flour as a main flour ingredient to add lots of fibre. Those banana muffins will also work well if you use half whole wheat flour and half white wheat flour. Just in case you are running out of whole wheat and want to make those! In total we used only 5 ingredients to make those whole wheat banana muffins. It makes this recipe super fast!
Mini muffins
Also, we used a 12-mini muffin tray to bake them. It is a great time saving kitchen tool for mums. Those mini muffin tray decrease the baking time to 12-15 min! Plus it is a perfect size for kids small hands. My girl loves those whole wheat banana muffins. It was a great alternative to my sugar free raspberry muffin recipe  that I make very often too. The recipe makes about 24 mini muffins. I bake the batter in two trays of 12 mini muffins.
Thank you so much for taking some time to read this recipe post.
I would love to hear what's your favorite kids muffins flavor too!
Talk to you soon & enjoy this healthy recipe.
WATCH THE WHOLE WHEAT BANANA MUFFIN RECIPE VIDEO !
Whole wheat banana muffins | an easy snacks for kids
An easy 5-ingredients whole wheat banana muffins recipe made with natural and wholesome ingredients. A refined sugar free banana muffins with wholewheat flour ideal for an healthy lunchbox for kids.
Prep Time: 10 mins
Cook Time: 15 mins
Total Time: 25 mins
24 mini muffins
Print The Recipe
Preheat oven to 180C (355F)

Grease a 12-holes mini muffins tray with coconut oil. Set aside.

In a large mixing bowl or the bowl of your food processor with the S blade attachment, add all the ingredients in this order whole wheat flour, extra virgin coconut oil, eggs, mashed bananas, baking soda, maple syrup and cinnamon (if desired).

Blend until combine and smooth. It is ok if you still have bites of bananas it is actually better as it adds lots of moisture to those muffins.

If you are using a food processor it will not take more than 1 minute to prepare the batter.

Spoon the batter into the muffin tray and bake for 10-15 minutes max or until a chopstick inserted of the centre of the muffins comes out clean.

Flip over the tray onto a cooling rack and cool at room temperature before eating.

You can froze those whole wheat banana muffins in zip bags and defrost them 3-4 hours before eating.

Store in the pantry up to 5 days in a airtight container.

This recipe makes about 20-24 mini muffins.
Muffin Pan
: we used a non stick 24-cup mini muffin pan - no silicon
here.
Oil: 
You can replace melted coconut oil by any vegetable oil of your choice. The healthiest options will be olive oil, rice bran oil or almond oil. 
Nutrition Facts
Whole wheat banana muffins | an easy snacks for kids
Amount Per Serving (24 mini muffins)
Calories 61 Calories from Fat 24
% Daily Value*
Total Fat 2.7g 4%
Dietary Fiber 0.4g 2%
Sugars 3.2g
Protein 1.1g 2%
* Percent Daily Values are based on a 2000 calorie diet.
This recipe makes 24 mini wholewheat banana muffins. Nutrition panel is for one mini muffin.
nutrition panel data from Nutrifox calculated for 24 muffins using maple syrup