Those moist banana muffins with honey are easy wholewheat muffins with only 5 ingredients. Plus, their tiny size make them the perfect toddler banana muffins for snacks. NO processed food here only real food to create delicious, moist and nut-free banana muffins for kid.
Moist banana muffins : healthy wholewheat muffins
What is better than a moist, fluffy banana muffin right? Here I am going to show you how you can make delicious moist banana muffins with only 5 ingredients. Plus, those are healthy banana muffins made with wholewheat flour and honey. 100 % refined sugar-free wholewheat muffins for a delicious snack.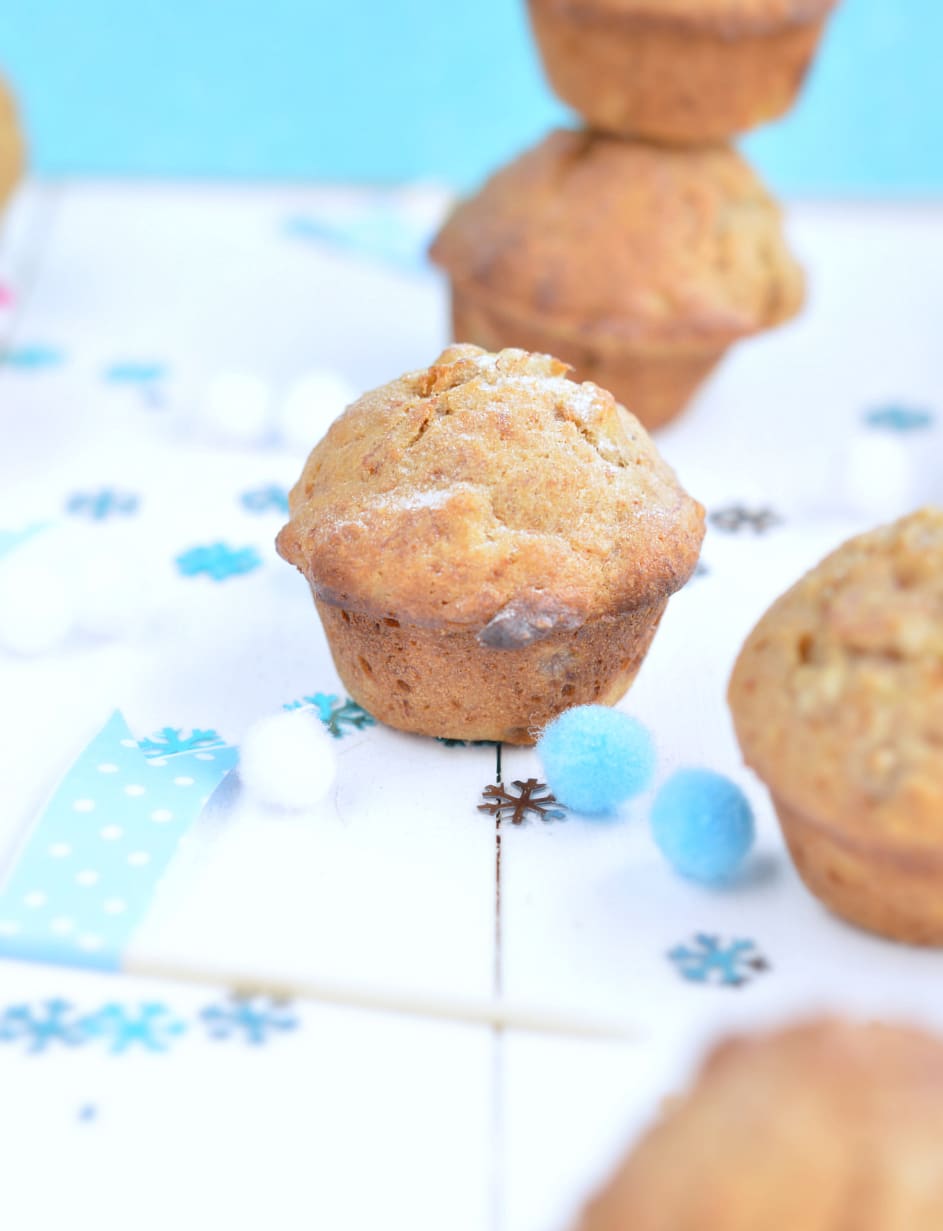 How to make moist banana muffins ?
The secret to make fluffy moist banana muffins is to use unrefined liquid sweetener and oil. Very often banana muffins are too dense and heavy because they contains too much butter and lots of refined sugar. Those banana muffins with honey are also banana muffins with oil, particularly coconut oil. The combo of those two natural wholesome ingredients create the best moist banana muffins on earth. So let's see all the ingredients you need to make those healthy banana muffins.
Ripe banana – meaning the ugly bananas, the ones with black spots on the skin that you usually through in the bin. Yes this recipe is the perfect banana recipe to use overripe bananas.
Wholewheat flour – wholewheat flour or wholemeal flour adds lots of fiber to this recipe. If you only have white wheat flour on hands, the recipe will still work but it will contains less fiber. You can also use half white wheat flour and half wholewheat flour if desired.
Eggs – eggs adds lots of moisture to those muffins so don't replace or decrease the egg amount
Baking soda – this gives a little raise to the muffins, feel free to replace by half the amount of baking powder if preferred
Honey – it is a natural unrefined sweetener that adds a light sweet flavor to those muffins while keeping them moist. You can replace by maple syrup if desired.
What 's a toddler banana muffins
Those are toddler banana muffins, meaning they are moist banana muffins easy to eat by little hands. Bonus, they are naturally sweetened with honey and ripe banana and made with nutrient dense wholewheat flours. Indeed, wholewheat flour is made by grinding whole grains wheat adding a bunch of 12 grams of fiber per 100 grams of flour. Fiber are good for busy toddlers as they slow down the release of energy in their body, keep their tummy full for longer and improve gut health. They have energy for longer and they won't feel hungry just an hour after eating those banana muffins.
How to store banana muffins ?
Those banana muffin can be store for up to 3 days in an airtight container in the pantry. Otherwise you can freeze them in plastic bags or in a box. You can place them frozen in the kids lunchbox. They are mini banana muffins – I used a non-stick 24 mini muffin pan to make toddler size banana muffins – so they will need only 1 hour to defrost at room temperature. If you make large banana muffin, you will need about 3 hours to defrost them.
Muffin size and flavor tips
This banana muffin recipe is cooked in mini muffin size. However, you can bake the recipe is a 12 non-stick muffin pan too. It should be noted that mini muffins bake faster – only 12-15 min. A large muffin will required around 20-25 minutes baking time at same temperature. Also, mini banana muffins are much more moist and perfect for toddler hands. ! It is also a great way to control the portion you eat! Finally, note that this recipe is very versatile and you can create many different flavor like:
Chocolate chips banana muffins – add between 1/4 cup to 1/3 cup chocolate chips
Blueberry banana muffins – add 1/3 cup frozen or fresh blueberries or check my blueberry banana muffin recipe here
Cinnamon banana muffins – add 1 teaspoon ground cinnamon
I would love to hear what's your favorite kids muffins flavor too! Talk to you soon & enjoy this healthy recipe.
xoxo Carine
Whole wheat banana muffins | an easy snacks for kids
An easy 5-ingredients whole wheat banana muffins recipe made with natural and wholesome ingredients. A refined sugar free banana muffins with wholewheat flour ideal for an healthy lunchbox for kids.
Prep Time: 10 mins
Cook Time: 15 mins
Total Time: 25 mins
24 mini muffins
Print The Recipe
Preheat oven to 180C (355F)

Grease a 24-holes mini muffins tray or 2 tray of 12-holes mini muffins with coconut oil. Set aside.

In a large mixing bowl or the bowl of your food processor with the S blade attachment, add all the ingredients in this order whole wheat flour, extra virgin coconut oil, eggs, mashed bananas, baking soda, maple syrup and cinnamon (if desired).

Blend until combine and smooth. It is ok if you still have bites of bananas it is actually better as it adds lots of moisture to those muffins.

If you are using a food processor it will not take more than 1 minute to prepare the batter.

Spoon the batter into the muffin tray and bake for 10-15 minutes max or until a chopstick inserted of the centre of the muffins comes out clean.

Flip over the tray onto a cooling rack and cool at room temperature before eating.

You can froze those whole wheat banana muffins in zip bags and defrost them 3-4 hours before eating.

Store in the pantry up to 5 days in a airtight container.

This recipe makes about 24 mini muffins.
Muffin Pan: we used a non stick 24-cup mini muffin pan - no silicon here.
Oil: You can replace melted coconut oil by any vegetable oil of your choice. The healthiest options will be olive oil, rice bran oil or almond oil.
Nutrition Facts
Whole wheat banana muffins | an easy snacks for kids
Amount Per Serving (24 mini muffins)
Calories 61 Calories from Fat 24
% Daily Value*
Fat 2.7g4%
Fiber 0.4g2%
Sugar 3.2g4%
Protein 1.1g2%
Net Carbs -0.4g
* Percent Daily Values are based on a 2000 calorie diet.
This recipe makes 24 mini wholewheat banana muffins. Nutrition panel is for one mini muffin.