This Bok Choy Stir Fry recipe is an easy 10-minute veggie stir fry. It's perfect as a side dish to any Asian meal, and this recipe is also low-carb, gluten-free, and vegan-friendly.
I love simple Asian dinner recipes. I learned so many techniques to enjoy simple, healthy, flavorsome Asian recipes that I need to share with you my favorite.
If you love stir-fry recipes, check out my ground beef stir-fry. If you are a meat lover, it's fantastic!
But today, it's a simple vegetarian stir fry with Bok Choy that I am sharing.
What's Bok Choy?
Bok choy is a low-carb leafy green and crunchy vegetable, also known as Pok Choi or Pak Choi.
Bok Choy is a type of Chinese cabbage cultivated in China for hundreds of years. Like spinach, baby Bok Choy or regular Bok Choy exist.
Both are commonly used in Asian recipes as part of stir-fry recipes, Asian soup, dumpling fillings or on their own.
Nutritionally speaking, Bok Choy is packed with nutrients. It might be intimidating initially, but it's easy to cook, like broccoli.
However, compared to broccoli, Bok Choy is way more interesting because it's packed with:
Vitamin C
Calcium
Potassium
It contains 62% fewer calories than broccoli. Only 13 kcal per 100 grams, compared to 34 kcal for broccoli.
High in Beta Carotene
How To Cook Bok Choy For Stir Fry
It takes under 10 minutes to make this delicious veggie stir fry. Bok choy is the quickest Chinese vegetable to stir fry and one of the healthiest as well.
It's low in carbs and high in vitamins, fiber and nutrients. So let's see how to cook Bok choy in a stir fry.
Ingredients
All you need to stir fry Bok choy are only a few simple ingredients and a wok or non-stick stir fry pan.
Fresh Bok Choy – You can use baby or regular bulbs. Both work.
Sesame Oil
Light Soy Sauce
Fresh Ginger
Fresh Minced Garlic cloves
Chili Flakes
Crushed Peanuts to serve
Preparing Bok Choy
It's very easy to cook bok choy, but first, it requires a few steps to prepare the vegetable perfectly.
Cut the bok choy roots and discard them.
Next, cut each bulb in half lengthwise. If you use baby bok choy, you will end up with two halves.
Baby bulbs are packed and dense and the leaves barely detach from one another.
However, if using regular bulbs, as seen in my pictures below, the leaves are less packed, and when you slice the bulb in half, the leaves will split.
This is fine and won't affect the stir-frying time or the stir-fry sauce.
Rinse the bok choy under cold tap water to remove dirt and impurities. The bok choy's structure makes it prone to accumulating dirt around the stem and leaves.
So it always needs a good clean, rub on that part before cooking, or it can impact the flavor of your dish.
Pat dry with absorbent paper or a clean kitchen towel before cooking. Set aside.
Stir Frying
In a large wok, over high heat, warm some sesame oil.
Add the garlic and ginger and stir fry for 20 seconds.
Now, add the bok choy leaves and stir to cook until the top green part of the leaves has wilted and turned bright green. It takes just about 2 minutes to do so.
Pour the soy sauce into the pan. If you like your stir fry spicy, add the chili flakes. If not, you can just skip the chili.
Stir fry for one minute until the soy sauce coat the vegetable and slightly evaporate. The soy sauce adds saltiness and balances the bitterness of the leaves.
Remove from heat and serve immediately.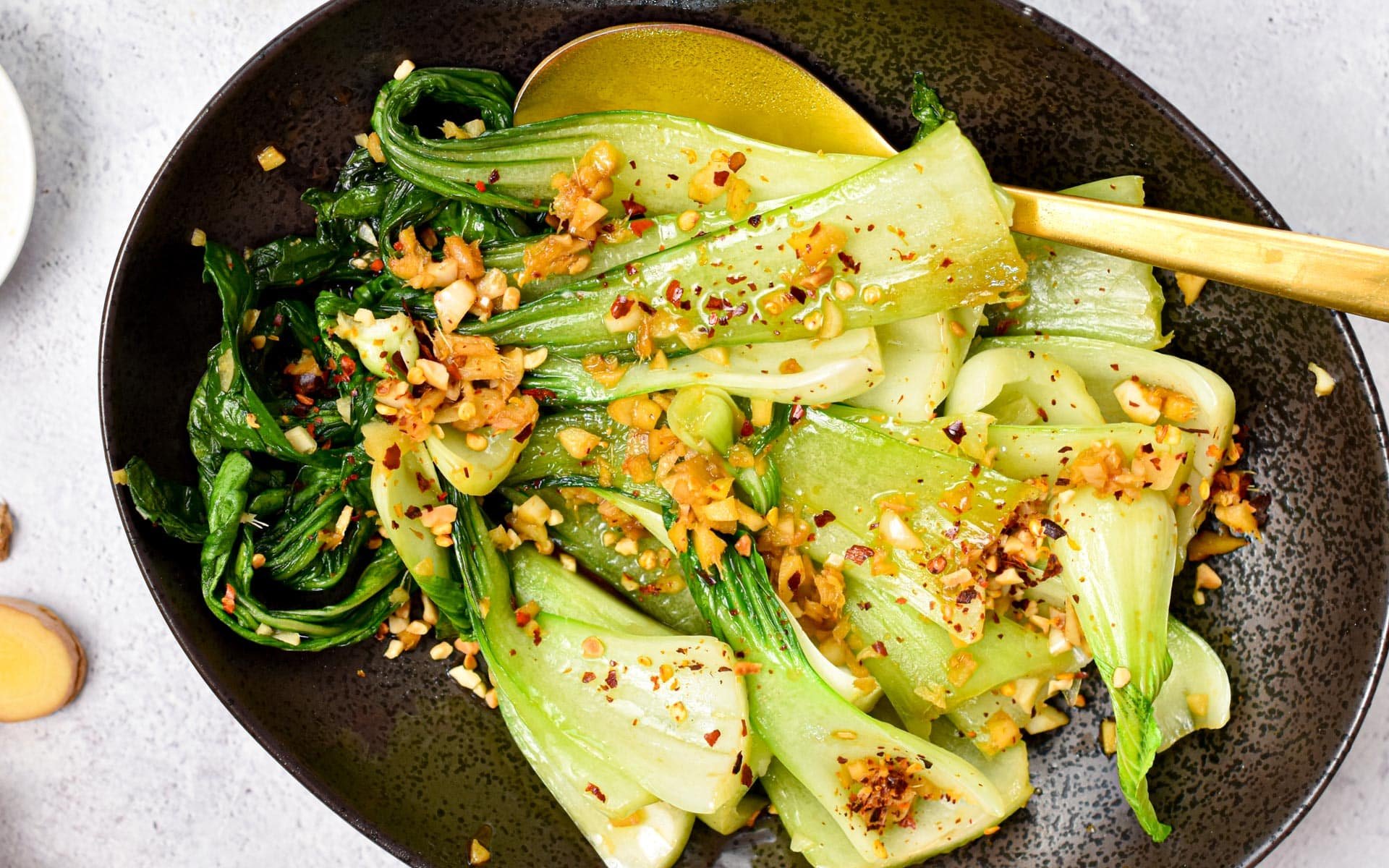 Serving Bok Choy
Bok choy tastes like cooked green cabbage, so it's pretty bland in flavor. It's always better to serve it with toppings or stir-fry other ingredients like:
Shiitake Mushrooms – To add the umami flavor to the dish.
Miso Paste – Also adds umami flavor, but it increases the salty flavor of the dish, so you may like to decrease the soy sauce.
To boost the flavor of this easy Asian side dish, it's a great idea to add some crunchy, spicy toppings like:
Crushed Peanuts
Chili Flakes
Chili Oil
The best dish to serve with this Bok choy stir fry is mainly grilled or baked meat, eggs, seafood, or fish.
It doesn't have to be an Asian meal, you can serve this dish with any grilled or baked proteins like:
Storage Instructions
You can store the cooked Bok choy stir fry in an airtight container in the fridge for up to 3 days. Or, you can freeze the leftover in sealed boxes and thaw them in the refrigerator the day before.
Stir fry recipes can be rewarmed in the microwave, in a microwave-safe bowl, or on the stove in a non-stick saucepan.
Allergy Swaps
Below are some ingredient substitutions to try if you have some food sensitivities or allergies to the ingredients used in this recipe.
Sesame-Free – You can swap the sesame oil for coconut oil, peanut oil, or avocado oil.
Nut-Free – You don't have to serve the recipe with crushed peanuts. Skip them or replace them with sesame seeds to still add some crunch.
Gluten-Free – Replace the light soy sauce with tamari sauce or coconut aminos.
Add-Ons
This is a ginger garlic bok choy stir fry, so it's not very sweet.
However, to make the recipe slightly sweet or match other Asian dishes you are making, try to stir in some of the below:
Japanese Bok Choy – Stir in one tablespoon of Mirin and 1/2 teaspoon of miso paste along with the soy sauce. Serve with sesame seeds.
Thai Bok Choy – Stir in two teaspoons of oyster sauce or Thai fish sauce at the same time you add the soy sauce. Serve with crushed peanuts.
Chinese Bok Choy – In a small bowl, stir the soy sauce with one teaspoon of cornflour and two teaspoons of brown sugar before adding to the wok. Serve with chili oil and keep the recipe as written.
Frequently Asked Questions
Below are my answers to your questions about this easy vegetable stir-fry recipe.
Should I Blanch The Bok Choy For A Stir Fry?
No, you shouldn't blanch the bok choy before stir-frying.
This method apploes only for Chinese broccoli because their stem is hard and tough.
On the other hand, bok choy stems soften quickly as you stir-fry them and they taste better served crunchy.
Can I Stir Fry Baby Bok Choy?
Yes, this recipe works with six baby bok choy bulbs instead of three large ones.
However, the stir fry time increases slightly by 1 or 2 extra minutes because the leaves won't separate from the stem.
As a result, the core is thicker, and it takes longer to cook.
More Asian Dinner Recipes
If you love this Bok Choy Stir Fry, you may also like to try the Asian-inspired recipes below.
Have you tried this Bok Choy recipe? Share a comment or review below to let me know.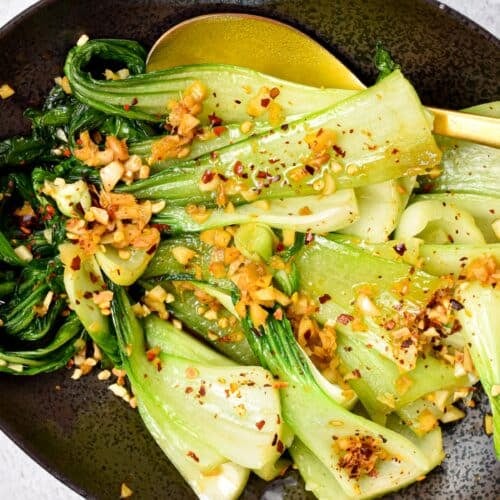 Bok Choy Stir fry
This Bok Choy Stir Fry recipe is an easy 10-minute veggie stir fry, perfect as a side dish to any Asian meal. Plus, this recipe is also low-carb, gluten-free, and vegan-friendly.
This recipe may contain Amazon or other affiliate links. As an Amazon Associate I earn from qualifying purchases.
Instructions
Cut the Bok Choy roots then cut the bulb in half lengthwise to release the leaves.

Wash the leaves carefully under cold tap water to remove any dirt and impurities.

Pat dry leaves with absorbent paper or a clean kitchen towel. Set aside.

Warm sesame oil over high heat in a large non-stick Wok pan.

Add finely minced garlic and grated ginger and stir fry for 20 seconds, then add Bok choy leaves.

Stir and cook for 2 minutes until the green part of the leaves turn bright green and starts to wilt.

Stir in soy sauce, oyster sauce, and a pinch of sugar (if used) and keep cooking, stirring for 1 minute or until the vegetables are coated with the sauce. The stem should stay crunchy, and the green leaves should be soft and wilt.

Serve immediately with chili flakes and crushed peanuts.
Storage
Store leftovers in the fridge in an airtight container for up to 3 days or freeze for up to one month. Thaw in the fridge the day before.
Notes
Note 1: You can use baby Bok Choy. Use six baby Bok Choy bulbs instead of 3 large ones. The leaves won't split from the core as you cut them lengthwise, and that's fine. The stir-fry time will be a bit longer. Allow for an extra 1-2 minutes as the stem is thicker. Note 2: Peanut oil, coconut oil, or avocado oil also works. Note 3: Tamari sauce or coconut aminos are recommended if gluten-free. Note 4: For vegan Bok Choy, use a fish-free Oyster sauce. Note 5: For a low-carb version, use brown erythritol or coconut sugar for a paleo option.
Want My Kitchen Equipment?
Serving:
1
serving
Calories:
67
kcal
(3%)
Carbohydrates:
10.4
g
(3%)
Fiber:
4.3
g
(18%)
Net Carbs:
6.1
g
Protein:
6.8
g
(14%)
Fat:
1.5
g
(2%)
Saturated Fat:
0.2
g
(1%)
Polyunsaturated Fat:
0.7
g
Monounsaturated Fat:
0.3
g
Sodium:
441.2
mg
(19%)
Potassium:
1079.6
mg
(31%)
Sugar:
5.1
g
(6%)
Vitamin A:
18765.8
IU
(375%)
Vitamin C:
189.8
mg
(230%)
Calcium:
446.3
mg
(45%)
Iron:
3.5
mg
(19%)
Magnesium:
82.1
mg
(21%)
Zinc:
0.8
mg
(5%)
Posted In: