Coconut Flour Bread (1.5g Net Carbs)
This easy Keto Coconut Flour Bread is an easy nut-free, low-carb bread recipe made with coconut flour and a flaxseed meal for a boost of fiber.
This is a gluten-free, dairy-free, paleo bread recipe with only 1.5 grams of net carbs per slice.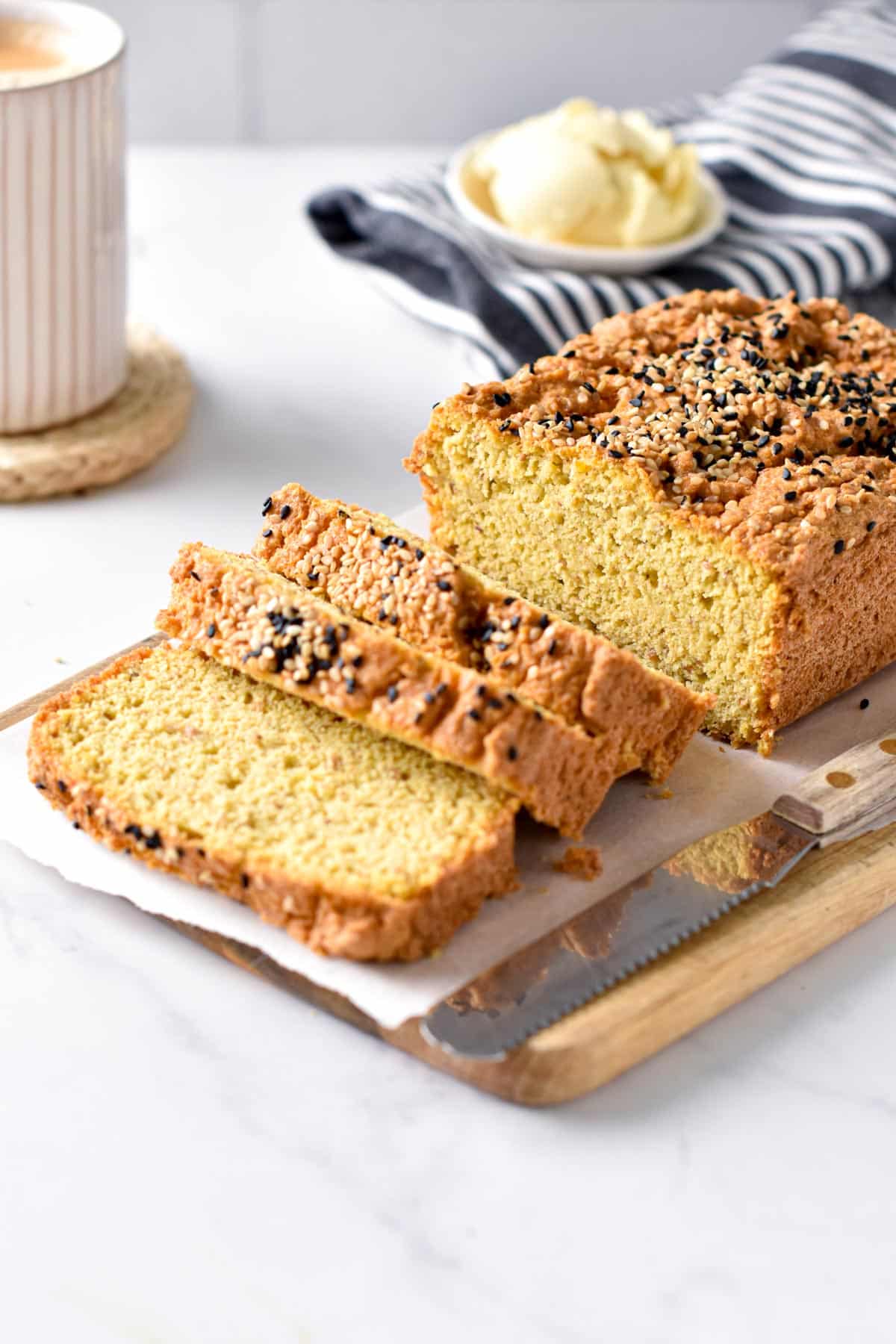 I have been baking my low-carb bread for years, and coconut flour is one of the trickiest low-carb flour to use.
That's why it took me a while to come up with a coconut flour bread recipe that tastes great, not too dry, moist, or eggy flavor.
Why You'll Love This Recipe
This recipe is perfect for breakfast toast and sandwiches, and I highly recommend it with sweet toppings because coconut flour naturally tastes sweet.
I love this bread with butter and keto jam or peanut butter more than ham or cheese.
I instead make my almond flour bread for savory toppings or add some delicious flavors to this bread recipe to cover the sweet taste of coconut flour.
So let's start and see how you can make an easy allergy-friendly keto coconut flour bread.
How To Make Coconut Flour Bread
If you have never baked with coconut flour before, it is worth knowing that coconut flour is four times more liquid absorbent than other low-carb flour like almond flour.
As a result, I recommend measuring the coconut flour with precision, filling the cup, sweeping the top and not over-packing it in the cup.
Also, avoid swapping any other ingredients, especially eggs and oil, or your bread may end up very dry.
Ingredients
All you need to make this low carb bread recipe are:
Large Eggs – Since coconut flour is high in fiber, you need many eggs to bake with it, and there's no way to cut down the eggs, or your bread will be dry. For an egg-free alternative, try my Keto Bread Without Eggs.
Coconut Flour
Flaxseed Meal – I find the texture of the bread to be much fluffier and less eggy with a combination of coconut flour and ground flaxseed. Ground flaxseed adds protein, healthy fat, and fiber, making the bread very fulfilling and perfect for quickly fixing your craving.
Light Olive Oil or avocado oil, or melted butter. I didn't try coconut oil, but it should work well. The flavor of the bread will be impacted by the choice of oil, so make sure you choose an oil you love or a light-flavored olive oil to avoid an overpowering oil flavor.
Lukewarm Water – Use warm tap water.
Sea Salt
Baking Powder – This won't raise the bread much because this recipe has no gluten. Adding baking powder makes the crumb fluffier, and less dense.
Apple Cider Vinegar – To bring the acidic ingredient needed to have an airy bread crumb.
Flavoring To Cover The Eggy Flavor
Often, people find that keto bread tastes eggy because it contains many eggs.
However, if you add the right spices, herbs, or sweeteners, the bread will taste much more like classic bread.
My recommendations are:
For Sweet Bread
If you intend to use this bread with sweet toppings, add:
1 teaspoon of vanilla extract
1/4 cup of erythritol
1 teaspoon of cinnamon
For Savory Bread
This bread makes excellent sandwiches, but coconut flour has a light sweet flavor, so I recommend adding savory spices to make this bread tastier for sandwiches.
1 teaspoon of garlic powder
1 teaspoon of dried oregano or Italian herbs
1/2 teaspoon of onion powder
2-3 tablespoon of grated Parmesan
Of course, all these flavors are optional, and you can keep the bread plain, the recipe works like a charm without them.
Making The Coconut Flour Bread Batter
To make this bread soft and fluffy, not dry or dense, whip the liquid ingredients on the highest-speed setting of your kitchen tool.
In the bowl of a stand mixer or large mixing bowl, add eggs, lukewarm water, olive oil, and apple cider vinegar.
Using an electric beater or the whisk attachment of your stand mixer, beat the liquid ingredients for 1 minute and 30 seconds at the highest speed. I used the speed 11 of my KitchenAid stand mixer.
The mixture should almost triple in size and look almost white and very fluffy. Set it aside.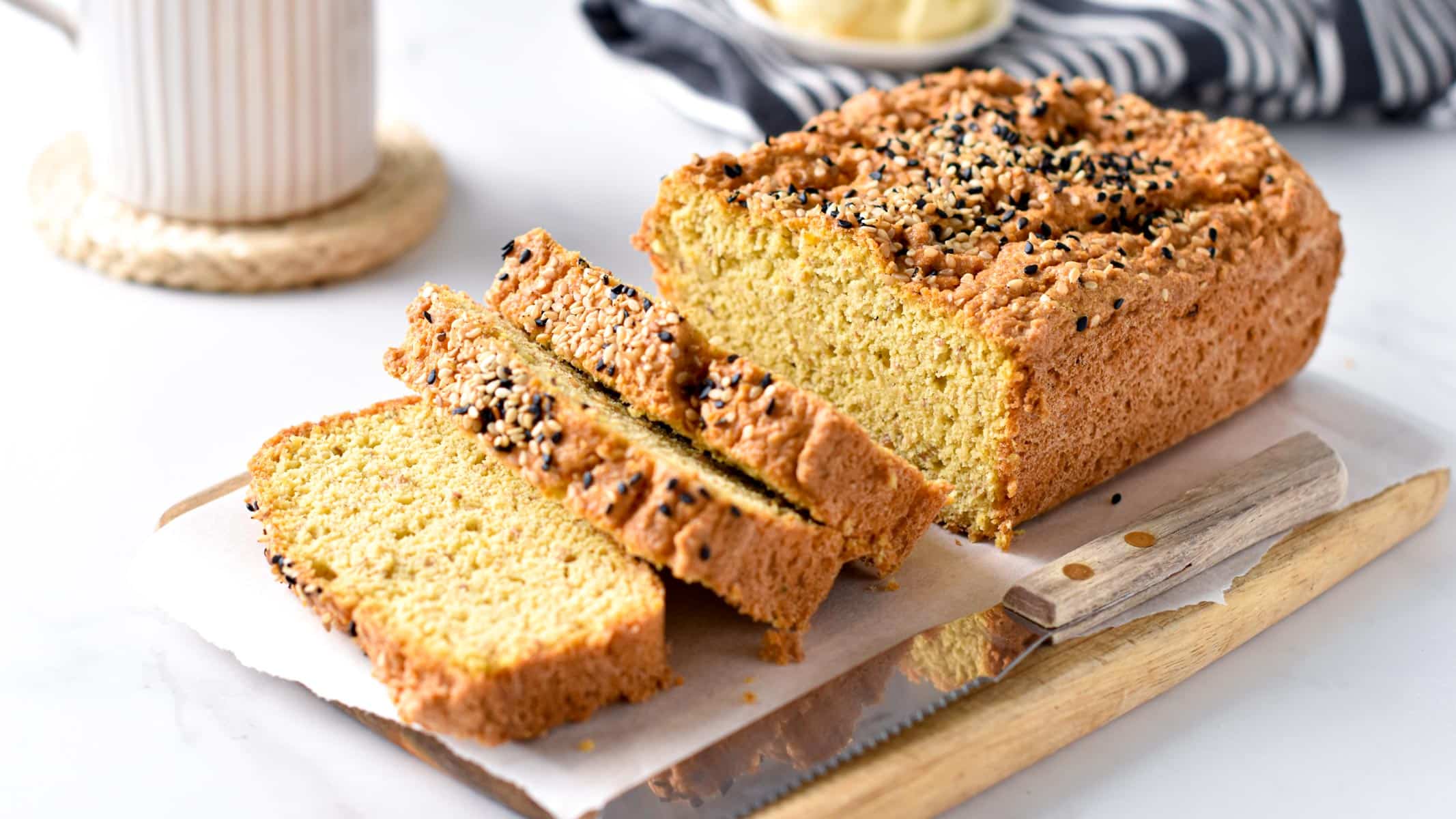 Dry Ingredients
In another mixing bowl, add all the dry ingredients: coconut flour, ground golden flaxseed meal, salt, and baking powder, and whisk very well until well combined.
Pour the liquid ingredients onto the dry ingredients, and using a silicone or wooden spatula, stir the ingredients together.
It will deflate the liquid ingredients, and after stirring for about 1 minute, it will form a yellowish, slightly thick mixture but still quite liquid.
Preheat the oven to 350°F (180°C). Line a 9-inch x 5-inch loaf pan with parchment paper and cover the pan evenly with parchment paper.
Use an oil spray to oil the paper.
Baking
Pour the coconut flour bread batter into the pan and sprinkle the bagel seasoning on top of the bread.
Bake the bread in the preheated oven for about 45 to 55 minutes at 350°F (180°C) or until it's golden brown on the top and a pick inserted in the center of the bread comes out clean.
Stop the oven, and keep the bread on the middle rack for 10 minutes with the door open.
Then, remove the pan from the oven and release the bread on a cooling rack.
Cool down completely before slicing. I recommend waiting for 3 hours or overnight as the bread gets all its texture and flavor when cold.
Serving
This low-carb bread is delicious with sweet or savory toppings, depending on the spices you add to the dough.
You can eat the bread plain with some:
Cottage cheese
Cheese
Cured meat: ham, salami, pepperoni, cooked chicken
Butter
Peanut Butter, almond butter or tahini
Toasting The Bread
If you find this bread too moist, you can always toast a slice in a bread toaster.
Another great idea is to melt butter or olive oil in a frying pan and fry a bread slice on both sides. It also works well to make grilled cheese sandwiches in a sandwich press.
Storage Instructions
This coconut flour bread makes two slices of bread that you can slice in advance or before eating.
It can be stored for up to 4 days in the fridge in an airtight container or up to 1 month in an airtight box or bags in the freezer.
Thaw the bread at room temperature the day before.
Allergy Swaps
If you are allergic to some of the ingredients listed above, I have some substitution option for you:
Flaxseed-Free – You can replace the flaxseed meal with ground chia seed for similar results. If you are on a paleo diet, you can also use arrowroot flour.
Apple Cider Vinegar can be swapped for lemon juice or any other vinegar.
Frequently Asked Questions
Below are some answers to your most common questions about baking this bread with coconut flour.
Why Didn't My Bread Raise?
This bread won't raise much because it's a gluten-free bread.
It will keep the shape you give it when you pour the batter in the pan.
It will be fluffy if you gently combine the ingredients and beat the liquid long enough at the beginning.
Why Is My Bread Dry?
This bread is made of two highly absorbent flour: coconut flour and flaxmeal. Therefore, if your ratio of liquid-to-dry ingredients is off, the texture will be altered.
Dry bread often means the eggs where too small or you added too much flour.
It can also be that you over packed the measuring cup or you didn't sweep the top of the cup, then the bread will be too dry and crumbly.
Can I Use Almond Flour Instead Of Coconut Flour?
No, you can't swap one flour for the other. Try my almond flour bread recipe to make bread entirely from almond flour.
Can I Remove Eggs Or Decrease The Quantity?
No, unfortunately this won't work the bread will be too dry and won't hold its shape.
For an egg-free bread recipe, try my Eggless Vegan Keto Bread Loaf with Almond Flour.
More Coconut Flour Recipes
If you love baking with coconut flour and need some more inspirations, try some of the top coconut flour recipes below:
Did you try this gluten-free coconut flour bread recipe? Share a comment or review below.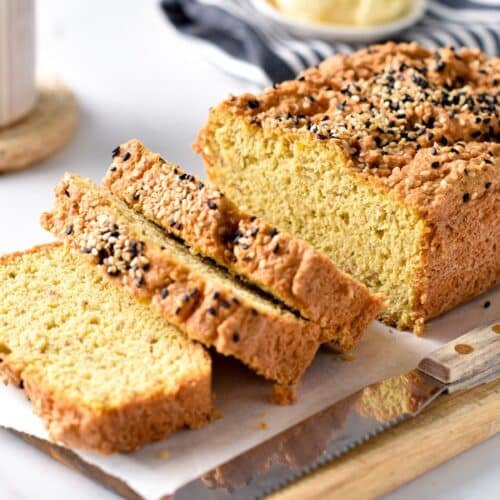 Coconut Flour Bread
This Coconut Flour Bread is a delicious nut-free keto bread recipe with a light, moist texture that is perfect for breakfast toast or sandwiches.
Ingredients
Optional flavors
1

teaspoon

Oregano

dried

1

teaspoon

Garlic Powder

¼

cup

Erythritol
This recipe may contain Amazon or other affiliate links. As an Amazon Associate I earn from qualifying purchases.
Instructions
Preheat the oven to 350°F (180°C). Line a 9-inch x 5-inch loaf pan with parchment paper. Slightly oil paper with olive oil. Set aside.

In a large mixing bowl or the bowl of your stand mixer, add the whole eggs, olive oil, water, and apple cider vinegar.

Use the whisk attachment or an electric beater and beat on high speed (speed 11 of a KitchenAid) for 1 minute 30 seconds. You want the mixture to triple in size and look like a fluffy, light, white mixture.

In another bowl, whisk all the dry ingredients: coconut flour, flaxseed, salt, and the optional flavoring: oregano and garlic powder (for savory bread) or erythritol (for sweet bread).

Pour the liquid ingredients on top of the dry ingredients and stir until the liquid ingredients deflate and are fully incorporated into the dry ingredients. It takes about 1 minute for the fiber of the dry ingredients to bind to the liquid and combine well.

Pour the batter into the loaf pan and bake in the center rack of the oven for 45-55 minutes, or until a pick inserted in the center of the bread comes out clean.

Stop the oven, open its door wide, keep the pan in the oven, and let it cool down for 10 minutes before removing it from the oven.

Remove the bread from the pan and let it cool down for 3 hours or overnight on a cooling rack before slicing.

Serve plain or toast the bread in a bread toaster or in a frypan with warm melted butter to crisp the crumb.
Storage
Store in a sealed container for up to 4 days in the fridge. Freeze the bread slices in a zip-lock bag and thaw at room temperature overnight.
Serving:
1
slice
Calories:
155
kcal
(8%)
Carbohydrates:
4.5
g
(2%)
Fiber:
3
g
(13%)
Net Carbs:
1.5
g
Protein:
4.1
g
(8%)
Fat:
13.6
g
(21%)
Saturated Fat:
2.8
g
(18%)
Polyunsaturated Fat:
2.6
g
Monounsaturated Fat:
7.7
g
Trans Fat:
0.01
g
Cholesterol:
77.5
mg
(26%)
Sodium:
196.6
mg
(9%)
Potassium:
66.1
mg
(2%)
Sugar:
0.5
g
(1%)
Vitamin A:
112.5
IU
(2%)
Vitamin B12:
0.2
µg
(3%)
Vitamin C:
0.03
mg
Vitamin D:
0.4
µg
(3%)
Calcium:
82.3
mg
(8%)
Iron:
0.9
mg
(5%)
Magnesium:
20.4
mg
(5%)
Zinc:
0.5
mg
(3%)
Posted In: