What about an easy butternut squash carrot ginger soup recipe with only 7 ingredients ? If you love easy healthy soup 100 % vegan this is for you.
I was not sure it was a good idea to share a soup recipe.  I mean, winter officially starts in June in New Zealand but lots of you read me from US where the sun shines in July, right?  I went back and forth, but then looked at my window and all rain, grey clouds had convinced me, yes, it is soup time ! Plus, honestly, this is one of those soup recipes that can be made anytime in the year. Butternut squash is almost available all year, meaning this easy butternut squash soup is not only a winter recipe.  
Easy butternut squash carrot ginger soup : vegan
This said, here's the story. Yes there is a little story about this easy butternut squash carrot ginger soup. I decided to share with you my little trick for a super tasty easy butternut squash carrot ginger soup with you guys … because I swear this butternut squash soup is really the best. 
Years back when I made this soup, I only used butternut squash. I remember it being amazingly tasty. Ever since then, Emma came to the world, hate butternut squash – or any pumpkin kind of vegetables. Weird I know! Kids tends to love sweet vegetables, she doesn't except carrots. While adding carrots into this butternut soup was actually a trick to make here at the soup it turns my traditional recipe into something even better, accidentally! It taste so delicious, really, I couldn't keep this butternut squash recipe only for my family.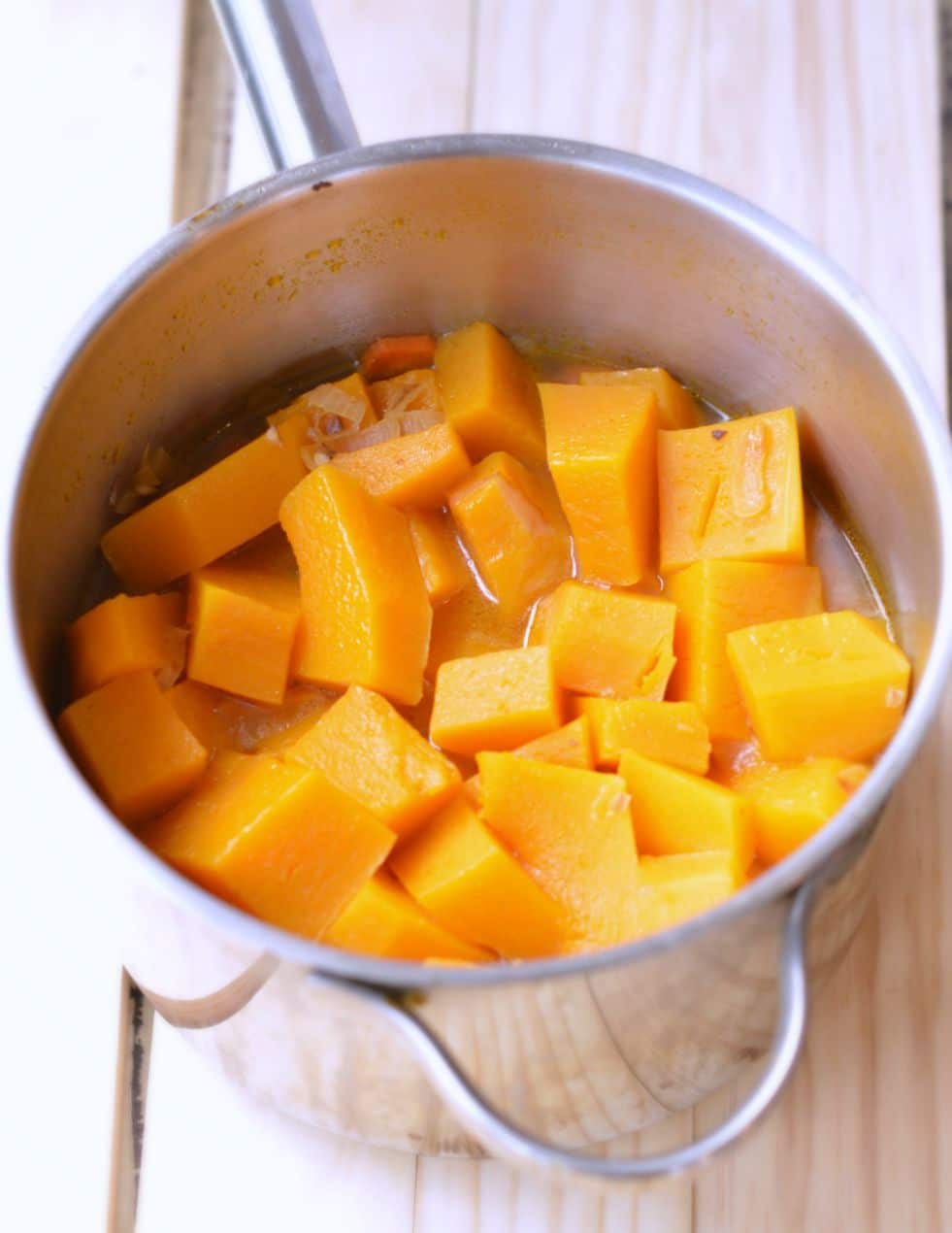 The orange color of this soup brings so much light to this dark winter.  I love to suggest soup toppings to make her dinner fun. In my house the most popular soup toppings are shredded blend cheese, wholegrain croutons bread, sour cream, oven roasted peas like chickpeas, parmesan, roasted pumpkin seeds, popcorn, pieces of nachos, pita chips.  This recipe serve 8 people. You can store up to 7 days in the fridge. I simply keep the soup into an airtight plastic container. Rewarm in a bowl in the microwave when desired or in a saucepan. Enjoy !
Butternut squash carrot ginger soup
An easy butternut squash carrot ginger soup with only 6 ingredients. Vegan, gluten free and ready in 15 minutes. A great winter soup recipe with a sweet taste and perfect for kids.
8 serve
Print The Recipe
2 tablespoon Extra virgin olive oil
1 small Onion peeled, finely chopped
1 thumb fresh ginger peeled, grated
2 Garlic clove peeled, finely chopped
35 oz Butternut squash peel, scoop out the seeds and strings, cut in large chunks (1 kg)
2 small carrots peeled, roughly sliced
3 cup reduced-salt vegetable stock
1/2 teaspoon Salt
Serving suggestions
2 tablespoons heavy cream or coconut cream if dairy free
2 tablespoons Grated Parmesan
Heat olive oil in a large non-stick pan over a medium heat.

Cook onion, ginger and garlic for 3 minutes until fragrant stirring occasionally.

Add butternut squash pieces, carrots slices. Give a good stir, cover and cook for 2 more minutes until fragrant

Add the vegetable stock and salt. Bring to boil, reduce heat and simmer for 15 minutes or until the vegetable pieces are soft and tender.

Blend soup to a smooth consistency using an immersion stick blender. Season to taste.

Serve with a spoonful of coconut cream or heavy cream, grated parmesan, cracked black pepper  and rosemary.
Note 1: 1 kg (35 oz) before peeling and removing seeds (or 650 g (23 oz) when skin and seeds removed, cut in large pieces) Note 2 : this soup serve 8 plates/people. Nutrition fact is provided for 1 plate of butternut squash soup. Note 3: can be made in a slow cooker Net carb per serve: 15 g per plate
Nutrition Facts
Butternut squash carrot ginger soup
Amount Per Serving (1 serve)
Calories 100 Calories from Fat 32
% Daily Value*
Fat 3.5g5%
Carbohydrates 18g6%
Fiber 3g13%
Sugar 4.5g5%
Protein 1.5g3%
Net Carbs 15g
* Percent Daily Values are based on a 2000 calorie diet.