This Flourless Almond Cake recipe is the easiest 1-bowl cake recipe with a buttery, moist almond cake crumb.
This cake recipe is also gluten-free and 100% made from almond flour, so you can share it with all your friends and family.
What's A Flourless Almond Cake?
This French-inspired recipe is called Amandier by French people. It means a cake made from almonds, nothing else, no need for all-purpose flour, only pure ground almonds.
The particularity of this flourless almond cake recipe is that you can make it in one bowl. There are no complicated steps involved, and no need to whip egg whites or use thousands of kitchen tools or bowls.
This makes this dessert recipe an easy gluten-free cake that even kids can make.
Let me share with you the secret to making thi moist almond cake at home.
How To Make Flourless Almond Cake
As mentioned before, this is a 1-bowl cake recipe. It means we are going to throw all the ingredients in one bowl
Ingredients
All you need to make a delicious sweet and buttery almond cake are:
Ultra-Fine Almond Flour – This refers to white golden almond flour, not almond meal. I don't recommend almond meal in this recipe because it has a dark color that makes the cake greyish and adds a gritty texture to the cake crumbs.
Cooled Melted Butter – You can use melted margarine or melted ghee with similar results in taste. Melted coconut oil works well, but make sure you pick refined coconut oil, or it adds a coconut flavor to the cake.
Eggs – Prefer large free-range eggs at room temperature.
Sugar – For a sugar-free version, try my Keto Almond Cake Recipe.
Milk – Any milk you like works for the recipe, including plant-based milk, sour cream, or heavy cream.
Almond Extract
Vanilla Extract
Sliced Almonds to decorate the top of the cake and add a crispy toasted almond flavor.
Powdered Sugar – or powdered sweetener.
Making The Cake Batter
Preheat the oven to 350°F (180°C).
First, crack the eggs in a large mixing bowl, and add the sugar, almond milk, melted butter, vanilla extract, and almond extract.
Using a hand whisk, beat the eggs and other ingredients until just combined. There's no need to beat the ingredients for long or use an electric beater.
Then, whisk in the baking powder and salt. Next, switch to a silicone spatula. Add the almond flour gradually and stir to incorporate.
The batter should be quiet thick compared to regular vanilla cake recipe. It should even look grainy and that's normal.
Preparing The Pan
Grease a 9-inch round springform cake pan. Use butter or avocado oil to grease the pan, sides, and bottom.
Then, line a piece of parchment paper at the bottom of the pan and grease again.
Almond flour cake recipes stick way more to your cake pans, so it's crucial to double-grease the pan and add parchment paper.
This prevents the almond cake from sticking to the pan and makes it easy to unmold it. Pour the batter into the prepared cake pan and spread it evenly.
Sprinkle the sliced almonds on top of the cake and bake it on the center rack of the oven for 40 to 50 minutes.
You know the cake is ready when a toothpick inserted in the center of the cake comes out clean.
Let it cool down for 10 minutes in the pan, then release the cake on a wire rack.
Releasing The Cake
Almond flour sticks to pans much more than all-purpose flour. That's why it's recommended to run a knife blade around the sides of the cake to loosen the cake before opening the spring form pan.
Then, place a wire rack on top of the cake, flip the cake over with the top side touching the wire rack, remove the bottom of the springform pan and finally, peel off the parchment paper at the bottom
Wait for about 1 hour or until the cake reaches room temperature, before dusting powdered sugar on it.
Place a cake plate on the cake and flip it again to serve.
Serving
Slice the cake and serve it with some of the cake topping ideas below:
Whipped Cream
Vanilla Ice Cream
Berries
Lemon Zest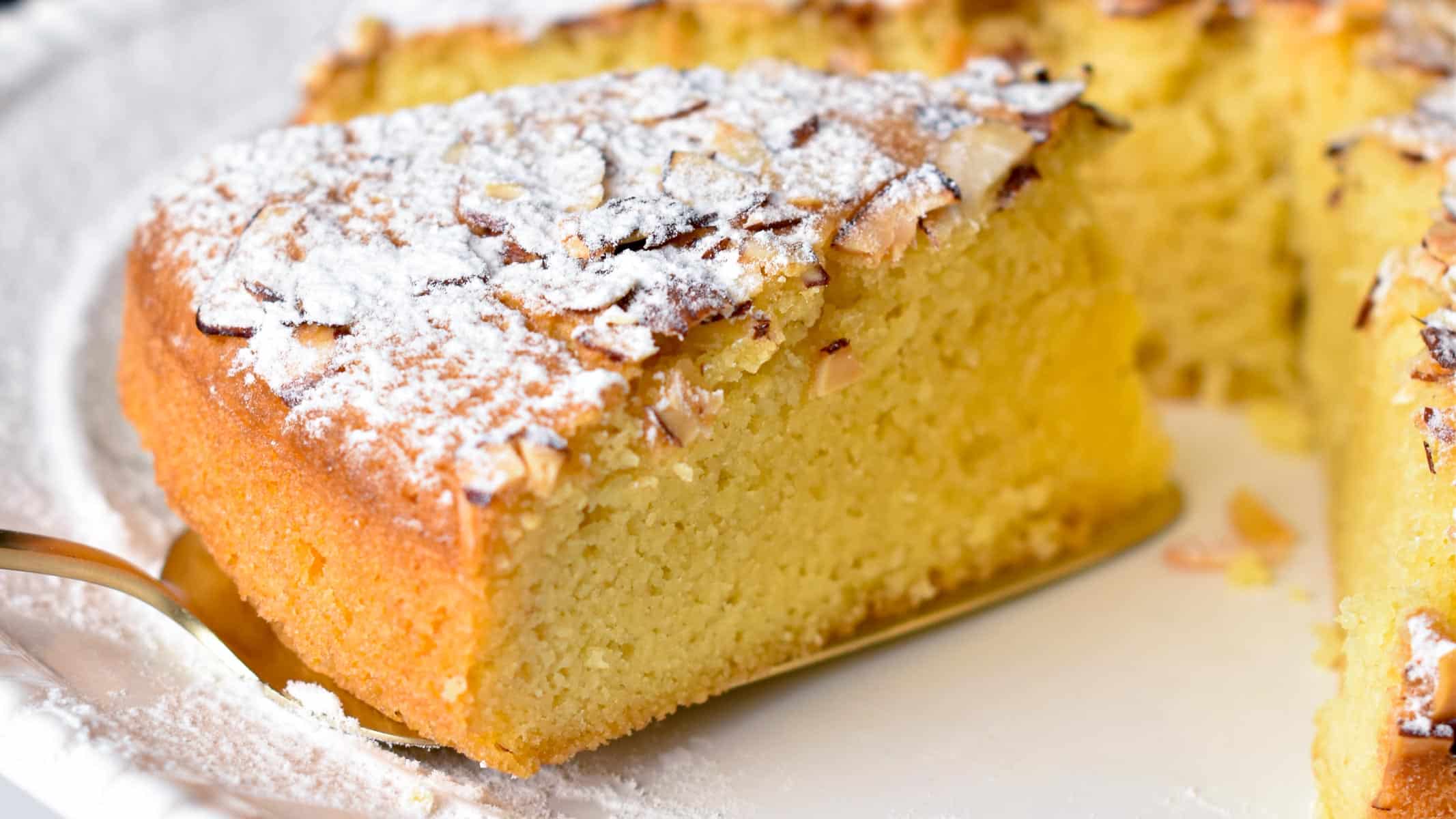 Storage Instructions
This flourless almond cake can be stored for up to 4 days in a sealed cake box placed in the fridge.
In fact, the cake crumb gets even moister and buttery after spending time in the fridge.
You can also freeze this cake, whole or sliced. Make sure it's placed in an airtight container.
Freeze for up to 1 month and thaw the cake at room temperature before serving.
Allergy Swaps
If you have some food allergies, there are some options for you below.
Gluten-Free – The cake is naturally gluten-free. Make sure you use gluten-free baking powder or replace it with 1 teaspoon of baking soda.
Sugar-Free and Low-Carb – Using a sugar-free crystal sweetener like erythritol or allulose turns the cake sugar-free.
Dairy-Free – Replace the butter with melted refined coconut oil or melted margarine. Use dairy-free milk like almond milk or oat milk.
Frequently Asked Questions
Below are my answers to the most common questions about this almond cake recipe.
Can I Add Lemon Flavors?
It's very common to add lemon zest and lemon extract to almond cakes.
Feel free to stir in two teaspoons of grated lemon zest from an untreated lemon and one teaspoon of lemon extract in replacement for vanilla extract.
Serve the cake with a sprinkle of lemon zest on top.
Can I Make The Cake In A Regular Pan?
If you don't have a springform pan, make sure you cover the sides of the pan with greased parchment paper, or the cake can stick to the pan easily.
How Can I Make A Layered Cake With This Recipe?
You can double the recipe, but I recommend baking the cakes in two separate pans instead of baking the double-sized batter in one pan.
This ensures that each layer will be soft and fluffy and not packed or dense.
Why Is My Almond Cake Packed Or Dense?
This happens if you overly pack the almond flour in the measuring cup, resulting in too much of some of the dry ingredients compared to wet ingredients.
It can also be that your eggs are small or medium.
More Almond Flour Recipes
If you love baking desserts with almond flour, try some of the other recipes below:
More Cake Recipes
If you like this cake, you'll love these: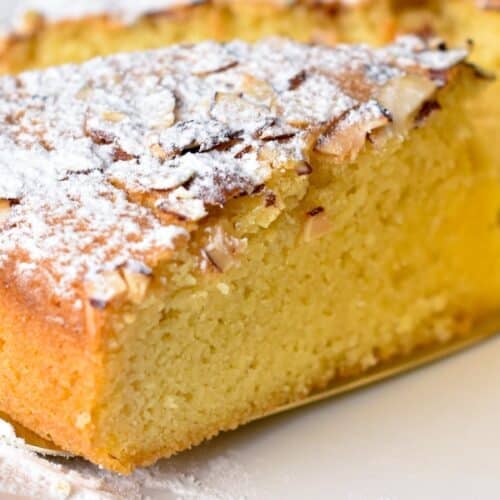 Flourless Almond Cake
This easy Flourless Almond Cake recipe is made in 1 bowl with the most delicious almond flavors. This Almond Cake recipe is also gluten-free, so you can share it with all your friends and family.
Ingredients
3

large

Eggs

beaten, at room temperature

½

cup

Sugar

Note 1

⅓

cup

Milk

Note 2

2

teaspoons

Baking Powder

¼

teaspoon

Sea Salt

1

teaspoon

Vanilla Extract

2

teaspoons

Almond Extract

½

cup

Unsalted Butter

Note 3

3

cups

Almond Flour scooped and leveled
This recipe may contain Amazon or other affiliate links. As an Amazon Associate I earn from qualifying purchases.
Instructions
Preheat the oven to 325°F (160°C). Grease a 9-inch non-stick springform pan with butter or coconut oil. Add a circle of parchment paper at the bottom of the pan and grease it as well. Set it aside.

In a large mixing bowl, using a manual whisk, beat the eggs, sugar, unsweetened milk, vanilla extract, almond extract, and melted butter. Make sure the melted butter is not too hot, or it can cook eggs and form lumps.

Fold in the baking powder and salt, and gradually pour the almond flour into the liquid ingredients and stir with a spatula until it forms a thick, slightly grainy cake batter.

Pour the almond cake batter into the greased pan and sprinkle sliced almonds all over the top of the cake. Slightly press the almonds into the batter to stick to the top.

Bake the cake for 40-45 minutes on the center rack of your oven. I recommend tenting the cake pan with a large foil after 25 minutes to prevent the cake's top from burning.

After 30 minutes, insert a skewer in the center of the cake, and if it comes out with almost no crumb on it, the cake is ready. Remove from the pan.

Cool the cake on a cooling rack for at least 3 hours before slicing.

When the cake has reached room temperature, sieve powdered sugar on top of the cake.

Slice into 12 even slices.
Storage
Store the cake in a sealed cake box in the fridge for up to 3-4 days.

Freeze cake slices in airtight zip-lock bags or a box and thaw at room temperature the day before serving.
Notes
Note 1: You can replace the sugar with 1/2 cup of sugar-free crystal sweetener like allulose or erythritol for a sugar-free almond cake. Note 2: Any milk works, including low-fat milk or plant-based milk. Note 3: You can also use melted coconut oil or melted ghee. Note 4: Use powdered sugar-free sweetener for a low-carb version.
Want My Kitchen Equipment?
Serving:
1
slice
Calories:
316.7
kcal
(16%)
Carbohydrates:
22.8
g
(8%)
Fiber:
3.3
g
(14%)
Net Carbs:
19.5
g
Protein:
8.4
g
(17%)
Fat:
24.5
g
(38%)
Saturated Fat:
6.5
g
(41%)
Polyunsaturated Fat:
0.9
g
Monounsaturated Fat:
3.4
g
Trans Fat:
0.3
g
Cholesterol:
67.6
mg
(23%)
Sodium:
200.5
mg
(9%)
Potassium:
53.6
mg
(2%)
Sugar:
14.1
g
(16%)
Vitamin A:
314.9
IU
(6%)
Vitamin B12:
0.2
µg
(3%)
Vitamin D:
0.3
µg
(2%)
Calcium:
123.9
mg
(12%)
Iron:
1.5
mg
(8%)
Magnesium:
10.9
mg
(3%)
Zinc:
0.3
mg
(2%)
Posted In: