Gluten-Free Crepes (French-Style)
These Gluten-Free Crepes are thin, light French pancakes made with gluten-free flour and suitable for anyone with gluten intolerance.
Enjoy a French recipe 100% gluten-free for a tasty cozy weekend breakfast.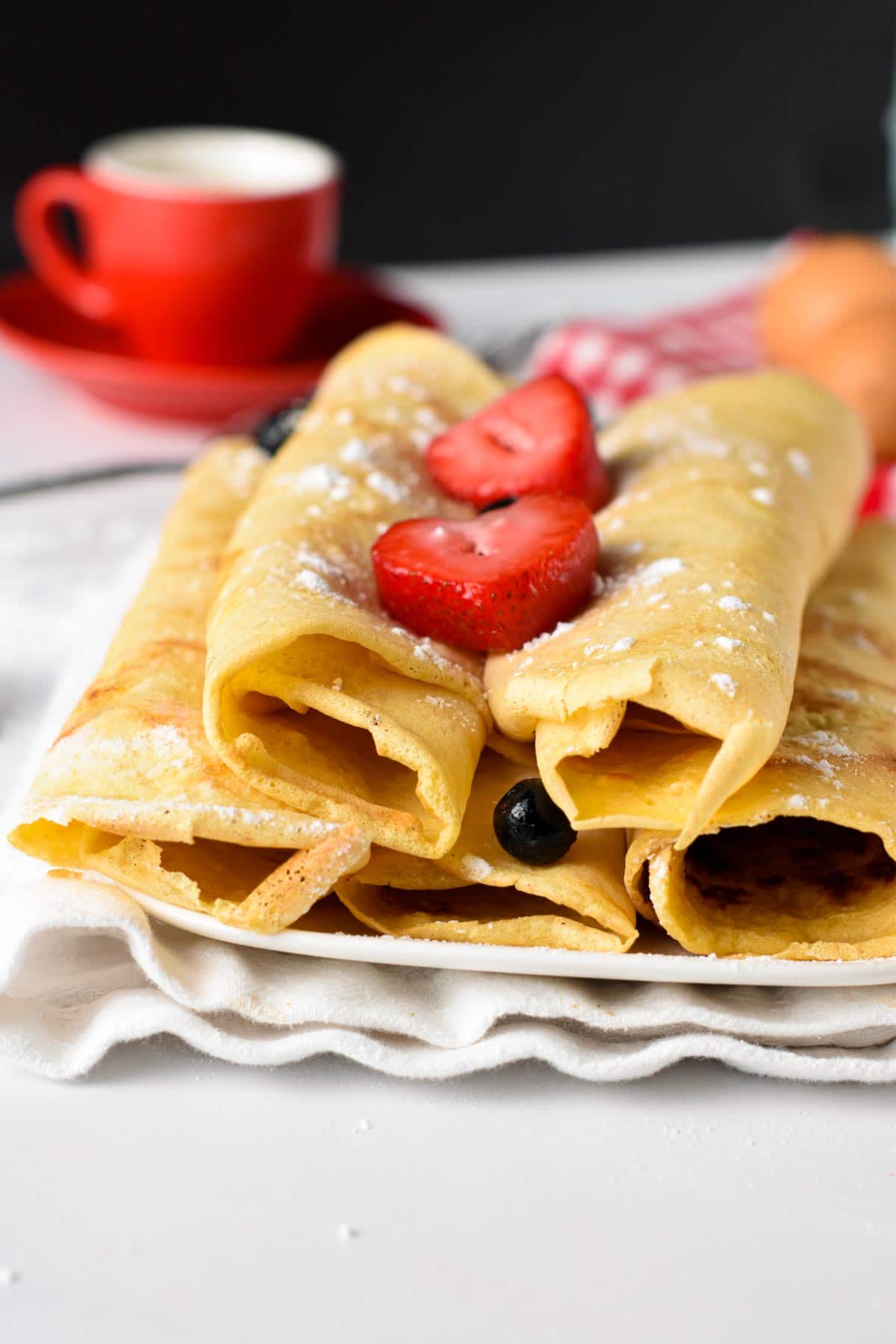 I love crepes recipes like my crepe recipe, so it's time to share my gluten-free crepe recipe version.
You can make coconut flour crepes, almond flour crepes, or keto crepes if you are on a gluten-free diet.
They are all made without gluten and are low-carb, but they are not as close in texture to classic crepes as this gluten-free flour crepe recipe.
What Are Gluten-Free Crepes?
Gluten-Free Crepes are the gluten-free version of the popular French crepes recipe.
They are thin, large pancakes that are flexible and easy to fill with any sweet or savory filling and roll for a comforting weekend breakfast.
Are Classic crepes Gluten-Free?
No, the authentic crepe recipe is made with wheat flour and therefore contains gluten.
Why You'll Love This Recipe
This gluten-free crepe recipe is the perfect allergy-friendly breakfast because:
Same Classic Taste and Texture As Regular Crepes
Ready In Under 15 Minutes
Only 6 Wholesome Ingredients
Gluten-Free
Many Allergy Swap Options
Easy to turn into a gluten-free crepe cake
How To Make Gluten-Free Crepes
It's very easy to make thin crepes with gluten-free flour
The choice of gluten-free flour matters, and based on the brand you are using you will experience different textures and probably some variation in cooking.
Some gluten-free flour doesn't contain xanthan gum, and these are terrible for crepes recipes.
They split the batter in the pan and make it difficult to spread the batter into thin crepes as you tilt the pan.
I am using Bob Red Mill's 1:1 all-purpose gluten-free flour, or you can also make my own gluten-free flour – see below for instructions.
Ingredients
All you need to make gluten-free crepes are:
All-Purpose Gluten-Free Flour – use a brand with added xanthan gum for the best result or follow my tips below to make your own batch of gluten-free flour mix.
Eggs – This recipe doesn't work egg-free. Try my egg-free crepes recipe if you are after a vegan gluten-free option and use all-purpose gluten-free flour.
Milk of Choice – You can use regular milk or any plant-based milk such as coconut milk, almond milk, or oat milk.
Butter or coconut oil or olive oil.
Sugar or any sweetener you like. You can use coconut sugar, erythritol, allulose, or tagatose.
Vanilla Extract
Salt
Making The Batter
Whisk the dry ingredients together in a large mixing bowl: gluten-free flour, salt, and sugar.
Beat in eggs, milk, melted butter, and vanilla extract. The batter should be smooth with no lumps.
Set the batter aside at room temperature or fridge for at least 1 hour before cooking.
Cooking Gluten-Free Crepes
Cooking crepes is a bit of an art, it takes time to make beautiful crepes that are thin with a soft center and crispy on the edges.
It's even more tricky with gluten-free flour so be prepared to fail the first crepes – French people always agree that the first crepe is a fail!
The reasons are simple, the pan is just warm, and you need to get the hang of it.
Warm a crepe pan over medium-high heat. Grease the pan with butter or oil. Rub the surface with absorbent paper to remove excess oil and avoid frying the crepes.
Pour 1/4 cup to 1/3 cup of batter in the center of a warm non-stick frying pan or crepe pan. Tilt, and rotate the pan to spread the batter.
If the batter split, it means the nonstick skillet is too warm.
If the batter is too thick to spread thin it out with a splash of milk but don't add too much or it can be too liquid and difficult to cook.
Cook the gluten-free crepes until the sides are crispy golden, and unstick from the side of the skillet using a flat spatula.
Then, lift a flat tool under the crepe and flip the crepe quickly to the other side.
Cook for an extra 1 minute then slide them onto a plate. Cover plate with foil to keep crepe warm.
Repeat the steps above to cook the remaining batter.
Gluten-Free Crepe Fillings
Crepes are large thin pancakes that are always served with toppings or filling.
Usually, any sweet filling is added to the lukewarm crepes which means you don't bring the crepe back to the pan to cook the filling.
However, if you add some filling that is difficult to spread you can bring the crepe back to the pan over low heat to help melt any chocolate spread or nut butter.
The best filling for crepes are:
Jam – strawberry jam and apricot jam are the most popular n France make a healthy keto jam recipe to avoid added sugar and boost the fibers.
Peanut butter or almond butter
Nutella or make my sugar-free keto Nutella recipe or any chocolate spread or healthy chocolate sauce.
Whipped Cream
Chopped Fresh Fruits or berries like banana slices, raspberries, and apples.
Savory crepes
Usually, gluten-free savory crepes are made from buckwheat flour also called galette in French.
Check my buckwheat flour crepes recipe to try savory gluten-free crepes.
Of course, you can also use this gluten-free crepe recipe to make a savory crepe. If so, skip the vanilla extract and sweetener.
Instead, you can add some spices to the batter or keep it plain.
Great savory spices in crepes batter are:
1/4 teaspoon of garlic powder
1/4 teaspoon of cumin or paprika
Savory Crepes Toppings
The best gluten-free toppings for a savory crepe are:
Grated cheese – Emmental is the most popular in France.
Ham
Fried egg
Bacon
Spinach
Fried mushrooms
Folding Gluten-Free Crepes
There are 3 ways to serve crepes depending on how you like to fold yours.
Triangle Shape – fill one quarter of the gluten-free crepe then fold in half to form a half-disc shape. Fold again to form a triangle. This is the classic folding to serve sweet crepes on a plate with whipped cream on top of syrup or fruits.
Simple Roll – The simplest way to fold crepes is to roll them into a cylinder. Spread some jam, Nutella, or any spread you love. Roll and take away the crepes anywhere.
Japanese Roll – This technique is used to present crepes as a tower. Fold the extremity to half inches, then roll from the longer side to form a roll that is sealed on both sides. Stack crepes in a pyramid shape and drizzle melted chocolate on top.
Making Your Own Gluten-Free Flour Blend
To make a jar of homemade gluten-free flour, whisk the following gluten-free flour in a mixing bowl.
Then, store the flour mix in an airtight jar in the pantry, away from heat or light.
It can be stored for up to 3 months.
Then, use as in this recipe as a substitution for gluten-free flour.
All-Purpose Gluten-Free Flour
2 cups of white rice flour
1 cup of arrowroot flour aka arrowroot starch
1 cup of potato starch
1 1/2 teaspoon of xanthan gum
Grain-Free Gluten-Free Flour
For whole grain gluten-free flour mix use
1 cup of white rice flour
1 cup of brown rice flour or teff flour
1 cup of arrowroot flour aka arrowroot starch
1 cup of potato starch
1 1/2 teaspoon of xanthan gum
Storage
Crepes can be stored in the fridge for up to 3-4 days. To keep the crepes soft, flexible, and not dry, stack them on a plate and film the plate with plastic wrap.
Or place them in an air-tight container – you may have to roll them to fit the container.
You can also freeze crepes without filling and flat. Wrap the crepes in plastic wrap, place them flat on the freezer and thaw them the day before on a plate in the fridge.
Allergy Swaps
If you have allergies, you can make these gluten-free crepes:
Dairy-Free – This recipe works well with any non-dairy milk you love, including almond milk, oat milk, soy milk, or coconut milk. You can also swap the butter for coconut oil or olive oil.
Sugar-Free – You can sweeten the batter with any sugar-free sweetener you love, like xylitol, allulose, or erythritol.
Frequently Asked Questions
Find below my answers to you common questions about this recipe.
Do I Have To Rest The Crepe Batter?
Yes, for gluten-free crepes, it's the best option to avoid trouble when cooking the batter.
Rest for at least 1 hour in the fridge or overnight.
Why Do My Crepes Stick To The Bottom Of The Pan?
This happens if you use a pan that doesn't have a non-stick coating or you don't rub enough oil or butter in the pan.
You must grease the crepe pan between each crepe you cook.
What's The Best Pan For Crepes?
The best is to use a non-stick crepe pan, they are thinner, lighter, and warm faster.
Can I Use A Blender?
I don't recommend using a blender as the batter might get overly consistent and make a heavy batter. The best is to use a manual whisk or an electric beater.
More Crepes Recipes
If you like crepes, you'll love these: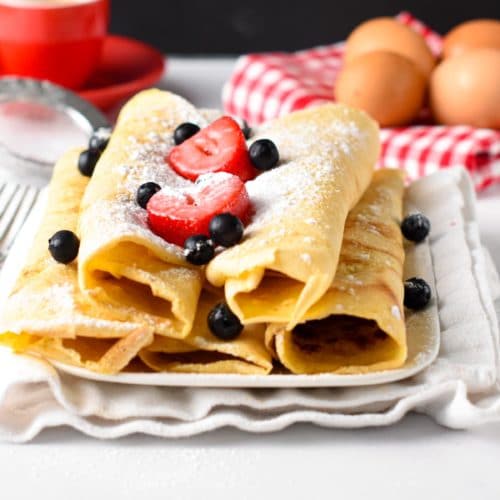 Gluten-Free Crepes
These light, thin Gluten-Free Crepes are the best French-inspired crepes for breakfast.
Serving Size:
1
sweet crepe
Ingredients
1 ¾

cup

All-Purpose Gluten-Free Flour

I used Bob Red Mills

3

Eggs

¼

teaspoon

Salt

1

tablespoon

Vanilla Extract

1

teaspoon

White Sugar

2

cups

Milk

2

tablespoons

Unsalted Butter

melted or vegetable oil of your choice
Optional – if your AP Gluten-free flour doesn't contains gum
This recipe may contain Amazon or other affiliate links. As an Amazon Associate I earn from qualifying purchases.
Instructions
In a large bowl, add the gluten-free flour and whisk with salt and xanthan gum if your flour blend doesn't include it.

Fold in eggs, vanilla extract, melted butter, and sugar.

Using a whisk or electric mixer, beat in the milk gradually until a smooth batter forms with no lumps.

Set batter aside for 1 hour in the fridge before cooking

Heat a lightly buttered non-stick pan or non-stick crepe pan over medium/high heat.

Pour or scoop 1/3 cup of the gluten-free crepe batter onto the middle of the pan, then tip and rotate the pan to spread the batter as thinly as possible.

If the batter is too thin you can whisk in 2 extra tablespoons of flour in your mix. If too thick, add a splash of milk.

Cook until lightly brown and sides get crispy and unstick from the pan – about 1-2 minutes

Then, lift a flat tool under the crepes to flip and cook on the other side on each side and serve hot with your favorite fillings.
Want My Kitchen Equipment?
Serving Size:
1
sweet crepe
Serving:
1
sweet crepe
Calories:
179.6
kcal
(9%)
Carbohydrates:
22.8
g
(8%)
Fiber:
2.7
g
(11%)
Net Carbs:
20.1
g
Protein:
6.8
g
(14%)
Fat:
7.3
g
(11%)
Saturated Fat:
3.5
g
(22%)
Polyunsaturated Fat:
0.6
g
Monounsaturated Fat:
1.9
g
Trans Fat:
0.1
g
Cholesterol:
76.2
mg
(25%)
Sodium:
143.7
mg
(6%)
Potassium:
117.7
mg
(3%)
Sugar:
4.6
g
(5%)
Vitamin A:
275.4
IU
(6%)
Vitamin B12:
0.5
µg
(8%)
Vitamin D:
1
µg
(7%)
Calcium:
102.8
mg
(10%)
Iron:
1.2
mg
(7%)
Magnesium:
9.6
mg
(2%)
Zinc:
0.5
mg
(3%)
Posted In: