When it comes to pizza we are all on the look for healthy pizza toppings ideas. But what about a pizza crust that will be healthier too ? This Kale Pizza Crust is a veggie loaded pizza crust made with healthy raw kale, eggs and cheese. A low carb pizza crust recipe for everyone looking for a fun cheesy low carb pizza that do not skimp on flavour.
KALE PIZZA CRUST – KETO + LOW CARB
To my fellow readers on this blog , you know how much I love pizza specially lower carb pizza crust. I published so much pizza crust recipe on this blog and my inspiration is unlimited when it comes to make pizza with extra veggie and less carbs. I choose to use Kale in this recipe because of it is known as one of the best superfood out there right now. I read a great article about the benefits of Kale on Well Being Secrets recently. It listed 23 science-backed health benefits of kale – read more  HERE –  including its role in diabetes and it clearly convince me to add more kale to my diet.
My all time favorite low carb pizza crust has always been the cauliflower pizza crust but with spring coming up I love adding some green color in my plate.  That is why I created this Kale Pizza Crust.  I used some gluten free panko breadcrumb in the original recipe which is not the lowest carb option for this recipe but my family loves the crust with pork rind too. So feel free to use your favorite option.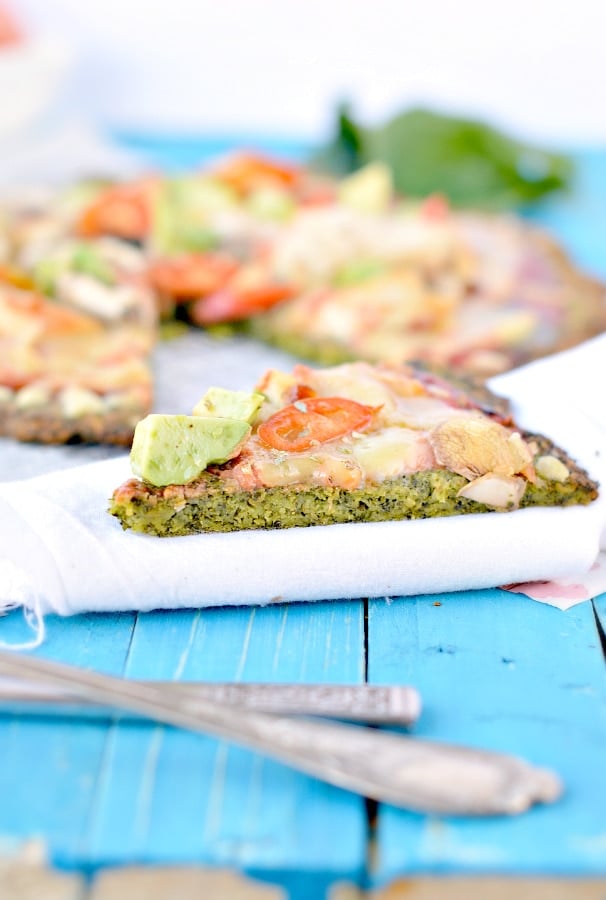 We often wonder how to cook kale? but for this recipe there is no need to cook kale. Simply wash and trim the kale leaves and process them into the food processor with the rest of the ingredients. This kale pizza dough is made within 15 minutes and it bake very fast – less than 15 minutes. I pre baked the crust for 15 minutes then return in the oven for 5-8 minutes with the toppings on. Do not over bake this kale pizza crust or you will loss all the moisture and end up with a dry crust. This recipe contains a good amount of cheese and I used low fat grated cheese for the crust and I sparingly add cheese to the top of the pizza. However you can avoid the cheese on the top of the pizza as the crust is already very cheesy. Again, I love this recipe simply because it is a surprising vegetarian appetizer with lovely green and red colours for springs. It is loaded with healthy vegetables – except from the kale into the crust I topped my pizza with home made tomato paste, fresh mushroom, tomatoes, fresh avocado and chilli.  You will not overeat pizza with this kale pizza crust because you will be fulfilled very quickly and simply enjoy pizza with health benefits! If you are looking for other green pizza recipe check my spinach pizza crust recipe.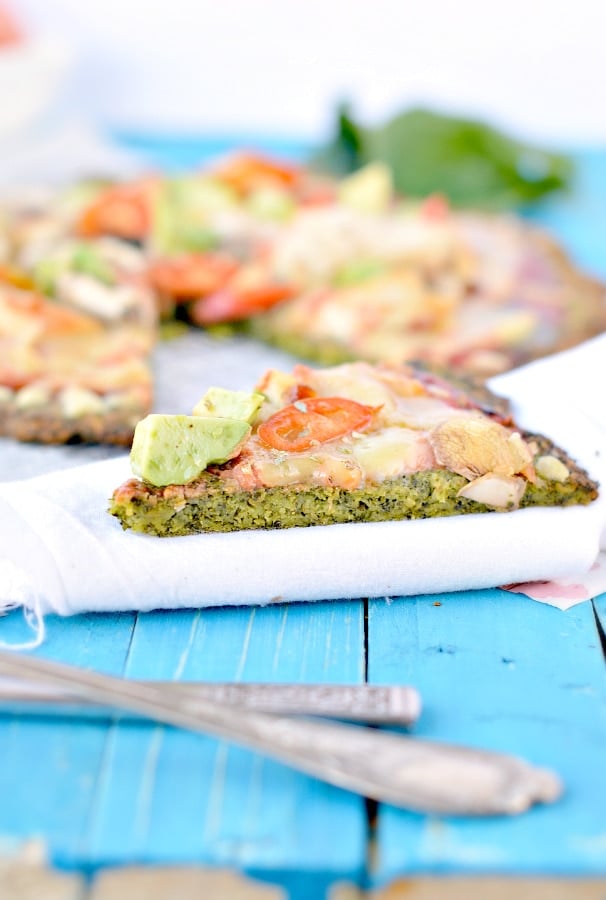 Kale Pizza Crust
Kale Pizza Crust Healthy low carb crust made with 4 simple ingredients. Simple and kids friendly. #crust #pizza #kale
Prep Time: 15 mins
Cook Time: 20 mins
Total Time: 35 mins
8 slices
Print The Recipe
Preheat oven to 180C (350F).

In a food processor with the S blade attachment, add the raw kale, trimmed and washed.

Add eggs, cheese, pork crumb, salt and pepper.

Process until it form a sticky pizza dough.

Place the kale pizza dough onto a baking tray covered with baking paper.

Using your hand, press the ball to flatten and extend the dough with your finger until it forms a pizza crust of about 0.4 mm thickness, 20 cm diameter. If sticky, slightly oil your hands with olive oil.

Bake for 15-20 minutes until the kale crust is firm and starts to get brown on the sides.

Remove from the oven, add your pizza toppings ingredients starting with sauce then flat ingredients (I used mushroom and herbs) and grated cheese.

Return to the oven until the toppings are cooked and cheese is melted.

Serve hot with a green salad on side.

Can be store in the fridge up to 2 days and rewarm in the microwave.
Nutrition Facts
Kale Pizza Crust
Amount Per Serving (1 slice)
Calories 104 Calories from Fat 35
% Daily Value*
Fat 3.9g6%
Carbohydrates 1.7g1%
Fiber 0.7g3%
Sugar 0.6g1%
Protein 15.2g30%
* Percent Daily Values are based on a 2000 calorie diet.
Nutrition panel for one slice. This recipe makes 6 slices.