Keto Shortbread Cookies (1g Net Carbs)
Easy 4-Ingredient Keto Shortbread Cookies with almond flour ready in less than 15 minutes to fix all your sweet cravings with only 1 gram of net carbs.
Bonus, these almond flour shortbread cookies are keto, with a vegan option, and gluten-free!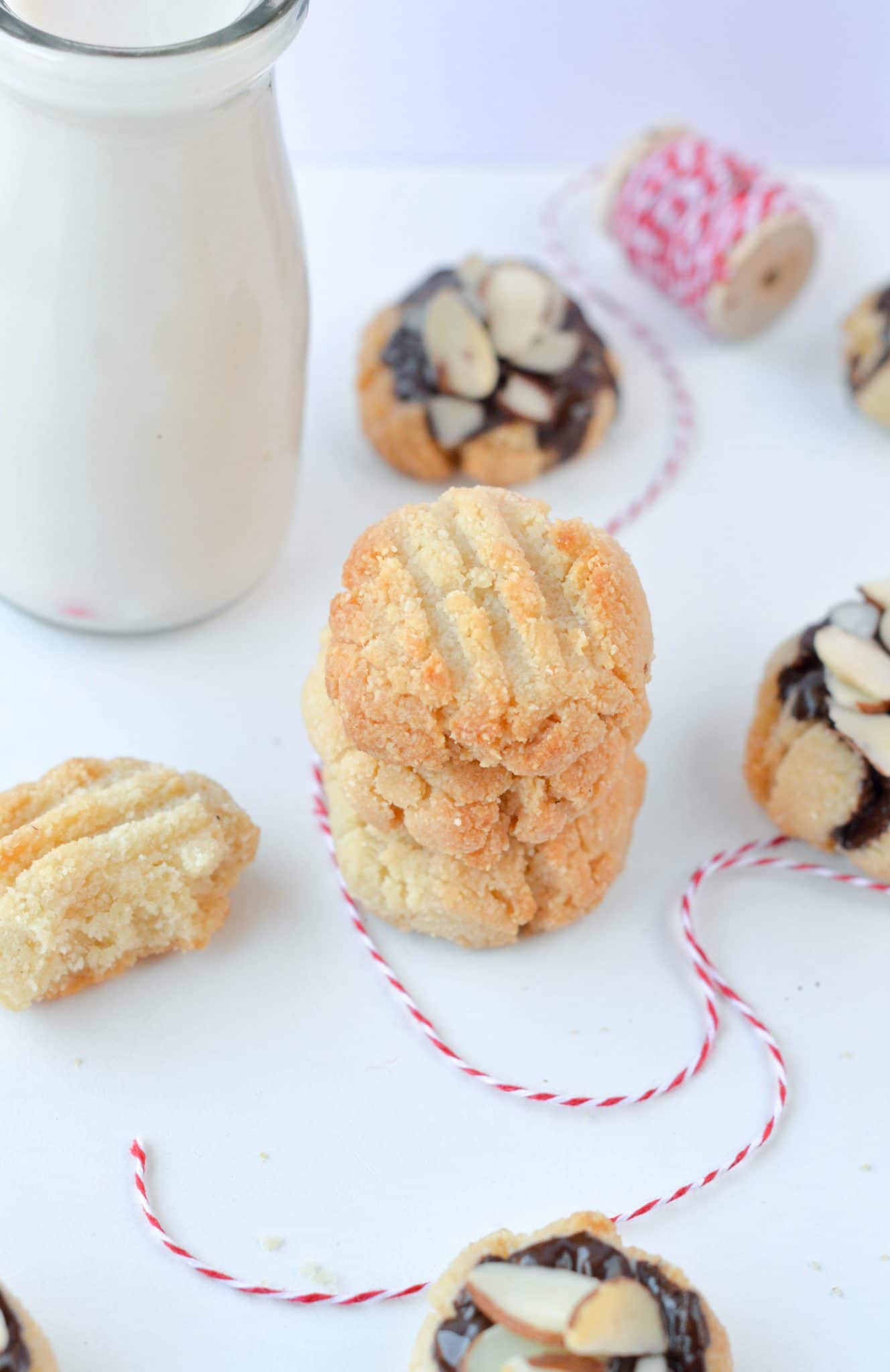 How To Make Keto Shortbread Cookies
It's very easy to whip a batch of keto shortbread cookies that taste like your favorite traditional shortbread!
Ingredients
All you need to make low carb shortbread cookies are 5 ingredients:
Almond Flour – this refers to ultra-fine almond flour, golden-white in color. Don't use almond meal for keto cookie recipes. The texture of your cookies will be dry and grainy. Want to learn how to choose your keto flours?
Erythritol – this is my favorite keto sweetener to make keto cookies that keep your blood sugar level in control. It also adds a lovely crispy texture to cookies compared to xylitol that keeps cookies soft. Another option is to use allulose or brands that combine erythritol and monk fruit.
Softened Butter – like for traditional shortbread, remove the butter from the fridge for 1 hour or so before making the cookie dough. You can use vegan butter if vegan.
Vanilla Extract
Salt
Combining Ingredients
Next, add all the ingredients into a large mixing bowl, and using an electric beater or paddle attachment of a stand mixer, combine until a crumbly dough forms.
Finally, use your hands to gather the dough crumble and for a cookie dough ball.
Refrigerate the dough for 10 minutes in the mixing bowl.
Rolling The Dough
It's up to you to press out cookies or roll out the dough and cut out shapes using a cookie cutter. I personally prefer option 1 because it's faster.
Option 1: fast keto shortbread shaping
Divide the dough into 16 balls – one ball is about 1 tablespoon size.
Roll each ball between the palm of your hands and place it on a cookie sheet covered with parchment paper, leaving half thumb between each cookie.
While these keto shortbread cookies won't expand in the oven, it's preferable to prevent them from touching each other.
Using the back of a fork, press the top of each cookie gently to flatten them into about 1/2 inch thickness (1 cm).
The thinner, the crispier they will be, so play with their thickness.
Option 2: cut-out keto shortbread cookies
To roll out the dough, encase the cookie dough between 2 pieces of parchment paper and start rolling with a rolling pin.
Don't roll too thin, or the dough becomes fragile, and the cookies bake too fast.
Cut out dough with a cookie cutter and transfer the cut-out cookies on a baking tray covered with parchment paper.
Gather leftover dough to reform a dough ball and roll for more cookies.
Baking
These low-carb shortbread cookies with almond flour bake very fast. Place the cookie sheet in the center rack of a preheated oven at 350°F (180°C) and bake for 8 to 11 minutes.
Baking time depends on the thickness of your cookies.
If you roll out the dough and cut out thin cookies, they will bake super fast.
Cooling Down
Cool down the cookies at room temperature for 10 minutes on the cooking rack.
Then, transfer on a cooling rack and wait 20 extra minutes before eating.
The cookies are soft when out of the oven and firm up at room temperature. They reach their best texture after 30 minutes.
Flavoring
Of course, you can play with flavor and create a range of shortbread cookie flavors with this recipe. Add some of the below ingredients into the dough to change the flavor.
For Lemon Shortbread Cookies: add 1 tablespoon of grated lemon zest and 1 teaspoon lemon extract instead of the vanilla extract.
For Chocolate Chips Almond flour Shortbread Cookies – add 1/4 cup of sugar-free chocolate chips.
Decoration
To decorate the cookies, simply melt the following in a saucepan over medium heat:
Sugar-free dark chocolate chips
Coconut oil
Use a spoon to drizzle the melted chocolate on top of each cookie. Then, place the cookies in the fridge for 20 minutes to harden the chocolate.
If you fancy some extra crunchy, why not add some of the following toppings:
Sliced almonds
Desiccated coconut
Pinch of salt
Peanut butter
Storage Instructions
You can store this keto shortbread cookie recipe in a cookie jar at room temperature for up to 1 week.
If you keep the jar sealed, the cookies stay crunchy.
Another option is to freeze your cookies and thaw at room temperature 3 hours before eating or overnight.
Allergy Swaps
You can't replace almond flour with coconut flour in a keto cookie recipe. Both are keto-friendly flours, but they have different properties.
For example, coconut flour contains four times more fiber.
Therefore, it's a very liquid absorbent flour that often requires eggs or lots of liquid to hold ingredients together.
For coconut flour keto cookies, follow some of my recipes below:
Frequently Asked Questions
I've listed below the answers to the most common questions about this recipe.
When Can I Eat Keto Shortbread Cookies?
These low-carb shortbread cookies are the best snack on your keto diet.
They are full of fat to keep you full, taste sweet to fix your sweet tooth, and are convenient to bring everywhere.
One or two of these cookies should fix all your afternoon hunger and help you reach your fat macros.
How Does Keto Almond Shortbread Taste?

These keto-friendly shortbread cookies are crunchy, slightly sweet, buttery, and even more delicious with a drizzle of sugar-free dark chocolate on top!
More Cookie Recipes
If you love baking cookie recipes, I have plenty of other delicious delicious recipes for you to try.
Have you made this almond flour keto shortbread recipe? Share a comment or review below!
XOXO Carine
Keto Shortbread Cookies
Easy 4-ingredient Keto Shortbread Cookie recipe with almond flour, gluten-free, egg-free, vegan, and paleo.
Yield:
cookies (1 tbsp each)
Ingredients
1 ⅓

cup

Almond Flour

scooped, slightly packed, excess swept

¼

cup

Erythritol

¼

cup

Softened Butter

out of the fridge for 30-60 minutes – or vegan butter

1

teaspoon

Vanilla Extract

¼

teaspoon

Sea Salt
This recipe may contain Amazon or other affiliate links. As an Amazon Associate I earn from qualifying purchases.
Instructions
Preheat oven to 350°F (180°C). Line a cookie sheet with parchment paper. Set aside.

In a mixing bowl, add all the ingredients, and using an electric beater, beat until the batter forms a crumble.

Gather the cookie crumble into a dough ball.

Refrigerate the dough for 10 minutes.

Scoop one tablespoon of dough, roll between the palm of your hand, and place onto the cookie sheet.

Repeat until you form 16 cookie dough balls, leaving half thumb space between each cookie ball to prevent the cookies from touching each other.

Flatten each cookie dough ball with the back of a fork into a 1/2 inch thickness – the thinner, the crispier, and the faster they bake.

Bake in the center rack of the oven for 8 to 11 minutes or until the sides of the cookies are golden brown.

Cool down for 10 minutes on the cookie sheet, then 20 minutes on a cooling rack.

Serve plain, or add a drizzle of 1/4 cup melted sugar-free chocolate chips on top to decorate.
Storage
Store in a cookie jar, sealed, for up to 1 week. They can be frozen. Thaw for 3 hours before eating.
Want My Kitchen Equipment?
Yield:
cookies (1 tbsp each)
Serving:
1
cookie
Calories:
78.2
kcal
(4%)
Carbohydrates:
2
g
(1%)
Fiber:
1
g
(4%)
Net Carbs:
1
g
Protein:
2
g
(4%)
Fat:
7.5
g
(12%)
Saturated Fat:
0.9
g
(6%)
Sodium:
33.4
mg
(1%)
Potassium:
1.5
mg
Sugar:
0.3
g
Vitamin A:
126.9
IU
(3%)
Vitamin B12:
0.1
µg
(2%)
Vitamin C:
0.1
mg
Calcium:
20.7
mg
(2%)
Iron:
0.4
mg
(2%)
Magnesium:
0.1
mg
Posted In: