These keto coconut cookies are easy 5-ingredient keto cookies. They taste like French coconut macaroons, soft in the center, crusty outside with delicious coconut flour, and only 4.1 grams of net carbs per large cookie.
Bonus, these cookies are also dairy-free and gluten-free.
Are coconut macaroons keto-friendly?
Trust me, as a French person, the first question I ask myself when I started the keto diet was 'how to make keto macaroons.'
Because, if you are wondering if traditional coconut macaroons are keto, unfortunately, the answer is no.
Like most French cookies, French macaroons are loaded with sugar from condensed milk, and they are not keto-friendly.
How to make keto-friendly macaroons?
Great news, these keto coconut cookies taste like your favorite French macaroon cookies!
Imagine a soft, moist, and sweet cookie that melts in your mouth with a slightly crusty outside that tastes like toasted coconut.
Plus, they are large cookies, very satisfying, with only 4 grams of net carbs for a quick keto snack.
ⓧ
Are you new to Keto?
Receive my Keto Quick Start email series to learn all about the Keto diet and kick start your keto journey!
So now, let me show you how to make keto macaroons.
What are keto coconut cookies?
Keto coconut cookies are 5-ingredient sugar-free cookies with a similar taste and texture to French coconut macaroon. They are also gluten-free, dairy-free, and can be made egg-free for people on a keto vegan diet.
How to make keto coconut cookies?
This keto coconut cookies recipe is the easiest keto cookies recipe. A 1-bowl recipe with only 5 ingredients for a quick keto snack. All you need to make these coconut macaroon style cookies are:
Almond flour – fine almond flour or almond meal, both work well in this recipe.
Unsweetened desiccated coconut or shredded coconut. Now, you are probably wondering if shredded coconut is keto? Well, not always some brands add sugar into it, so make sure you buy an unsweetened shredded coconut for this keto cookie recipe.
Coconut oil – or melted butter.
Erythritol or any sugar-free keto sweetener you like, use my keto sweetener converter to swap for a different one.
Egg or flaxseed egg if on keto vegan. Note that the color and texture of the cookies will be very different using flax eggs.
Vanilla – optional.
More keto cookie recipes
For the keto cookies lovers you can try the following recipes:
xoxo Carine
Recipe Card
Keto Coconut Cookies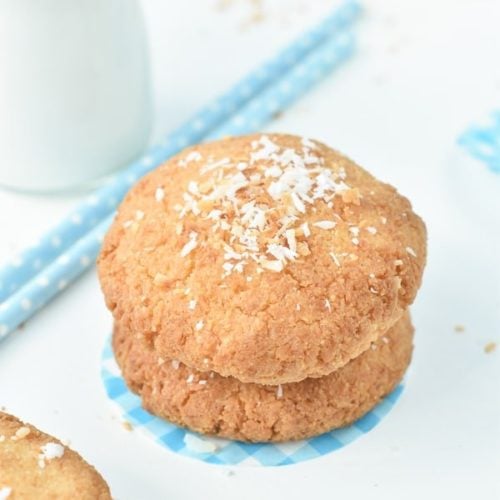 Keto coconut cookies are soft coconut almond cookies perfect for a quick keto snack.
Instructions
Preheat oven to 180°C (360°F). Lay a cookie sheet with baking paper. Set aside.

In a food processor, with the S blade attachment, add all the cookie ingredients. 

Process on medium speed until all the ingredients come together. Scoop out the dough with a cookie scoop, and roll into a ball with your hands

Place each cookie ball on the baking tray covered with baking paper. You should be able to make 10 large cookies with the whole batter.

Press each ball with your fingers to form thick flat round cookies - about 1 cm thickness.

Bake at 180°C (360°F) for 18-23 minutes or until the sides and top are golden-brown.

Cool down on the cookie sheet for 20 minutes, they will harden slightly when cooling down.

Transfer onto a cookie rack to fully cool down to room temperature.
Storage
Store up to 5 days in a cookie jar or freeze for later.
Net carbs per large cookie (recipe make 10 large cookies), 4.1 g Vegan option: use a flaxseed egg instead of a regular egg. Simply combine 1 tablespoon of ground flaxseed into 2 tablespoons of water. Give a good stir and set aside for 10 minutes until it forms a jelly-like texture. Use as an egg in this recipe. See the recipe video in the post for more details. Recipe updated on 12 March 2013. For the previous recipe, replace erythritol with a liquid sweetener of your choice, I recommend Monk fruit liquid sweetener to keep the cookie sugar-free.
My Recipe Notes
Tools
Starting Keto
What Is Keto Diet?
Macro Calculator
Sweetener Converter
Keto Meal Plans
Keto Recipe Ebooks
Intermittent Fasting
Keto Fruits
Keto Vegetables
Keto FLours
Fighting Keto Flu
Keto Sweeteners
Nutrition Facts
Keto Coconut Cookies
Amount Per Serving (1 large cookie)
Calories 190
Calories from Fat 107
% Daily Value*
Fat 11.9g18%
Carbohydrates 6.3g2%
Protein 4.5g9%
Net Carbs 4.1g
* Percent Daily Values are based on a 2000 calorie diet.