Sweet potato brownies paleo, gluten-free, grain-free, and sugar-free. A delicious clean eating coconut flour dessert recipe with the most amazing fudgy chocolate texture and only 44 calories per slice and 2.4 grams of net carbs.
Sweet potato brownies paleo + Sugar-free + Vegan (option)
I am all into avocado in dessert right now! It is such a great way to add healthy fat to dessert! And nothing can beat that feeling to see my kids enjoying a sweet treat while adding some vegetables to their diet.
Emma absolutely loves the chocolate avocado cookies I made last week. I thought I should try something new with even more vegetables in it.
I know sweet potatoes are not low carb, but if you are using my favorite sugar-free flavored maple syrup, those sweet potato brownies contain only 2.4 grams of net carbs per square.
So all you need to make those fudgy, sweet potato brownies paleo + sugar-free are:
Sweet potato puree – I used orange sweet potatoes. You can simply prick the sweet potato with a fork and microwave for 6-8 minutes until tender and then scoop out the flesh to have about 1/2 cup sweet potato puree. You can bake them too, but it took longer, about 35-40 minutes.
Avocado – choose a ripe avocado, regular size one. It makes about 1/2 cup of avocado puree/flesh.
Coconut flour
Unsweetened cocoa powder
Baking soda
Liquid syrup – maple syrup, agave, brown rice syrup, anything will work, but to make mine sugar free I am using natural maple-flavored sugar-free syrup made of monk fruit. It is 100% low carb, sugar-free and low calories.
Eggs – or vegan option! As hubby is vegan, I tested this sweet potato brownies paleo recipe with chia gel as well. Both works! But if you use chia gel, see the recipe note below. The batter is a bit drier, and you must add 1/2 cup dairy-free milk to your recipe to make it work. See below how to make chia egg.
An easy brownie recipe
All you need to make those lovely sweet potato brownies is a food processor and a few minutes to brings all the ingredients together.
ⓧ
Are you new to Keto?
Receive my Keto Quick Start email series to learn all about the Keto diet and kick start your keto journey!
It is optional, but I recommend transferring the batter to a mixing bowl to add dark chocolate chips and chopped pecan nuts into the batter.
It takes a few extra minutes, but this extra step brings this brownie to the next level. It is amazing! You won't regret it!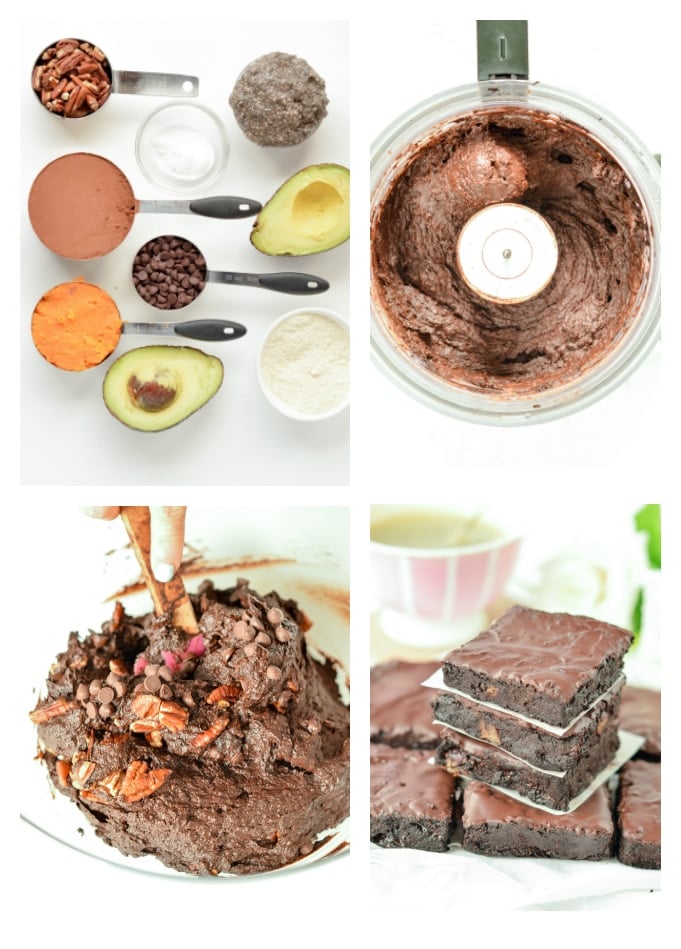 The fudgiest brownie and low calories!
I am pretty sure it is the combo of sweet potatoes and avocado that makes these brownies so fudgy and moist.
So be ready for dark chocolate teeth and sticky fingers because these are the most decadent fudgy brownies you will ever have.
Yes, that is another great news; a square only contains 44 calories and 2.4 g net carbs. I know sweet potatoes are not typically considered low-carb but because of the small amount used in this recipe, the carbs per serving are very low.
If you really watch the carbs, try my sugar-free fudgy avocado brownies recipe or my easy keto brownie recipe. It is clearly the best brownie recipe to enjoy if you are on a diet.
More keto brownie recipes
All my family asks for more and loves this. I hope you will enjoy it too!
Recipe Card
Sweet Potato Brownies
Sweet potato brownies paleo, gluten-free, grain-free, and sugar-free. A delicious clean eating coconut flour recipe with the most amazing fudgy chocolate texture and only 44 calories per slice and 2.6 grams of net carbs.
Instructions
Preheat oven to 180°C (350°F)

Line a square brownie pan (24 cm x 24cm) with parchment paper. Set aside.

Prick the sweet potato with a fork (keep the skin on). Place on a microwave-safe plate and microwave for 5-6 minutes or until the sweet potato is entirely soft, and you can easily insert a knife through it. You can also bake your sweet potatoes at 350°F for 35-40 minutes.

Cut lengthwise - be careful it is very hot - cool down for 10/15 minutes then scoop out the sweet potato flesh. Set aside in a bowl. You need 1/2 cup sweet potato flesh/puree.

In your food processor with the S blade attachment add all the ingredients except the optional ingredients.

Process for 30 seconds to 1 minute on medium speed until all the ingredients come together and you obtain a shiny smooth batter. 

Pour the brownie batter into a large mixing bowl and stir in chocolate chips and chopped pecan nuts, if used. 

Transfer batter into the prepared square pan. Spread the batter evenly in the pan using a spatula.

Bake for 20-25 minutes or until the top and sides are set. 

Cool down for 10 minutes in the pan before pulling out the brownie from the pan using the parchment paper to pull out the brownie easily. Transfer the brownie to a cookie rack to cool down to room temperature before decorating.

Melt your dark chocolate (use your favorite one anything >70% cocoa is a healthy option) in a small mixing bowl. I microwave mine by 30-second bursts, stir and repeat until fully melted and shiny. 

Spread evenly on top of the brownie with a spatula. 

Freeze for 10 minutes to set the chocolate frosting quickly. Freezing also adds an extra fudgy texture to the brownie! 

Cut into 16 brownie squares and enjoy.

Store in the fridge in an airtight container for up to 4 days.
Vegan option: replace the 2 eggs with chia gel and an extra 1/2 cup almond milk. This is necessary, or the batter is too dry, only use chia gel. For the chia gel, stir 2 tablespoons of chia seeds into 6 tablespoons of water. Set aside 15 minutes until it forms a gel. Add in the recipe instead of eggs with an extra 1/2 cup of almond milk. Storage: I don't recommend freezing this recipe. However, it stores very well for 4 days in an airtight container in the fridge. The brownie is even fudgier when stored in the fridge.  Sweetener options per diet: make sure you use a sugar-free maple-flavored syrup made of natural monk fruit. If you are not sugar-free, use maple syrup, or agave syrup or brown rice syrup (not if you are paleo), or even honey (not if you are vegan!)
My Recipe Notes
Tools
Starting Keto
What Is Keto Diet?
Macro Calculator
Sweetener Converter
Keto Meal Plans
Keto Recipe Ebooks
Intermittent Fasting
Keto Fruits
Keto Vegetables
Keto FLours
Fighting Keto Flu
Keto Sweeteners
Nutrition Facts
Sweet Potato Brownies
Amount Per Serving (1 square)
Calories 44
Calories from Fat 31
% Daily Value*
Fat 3.4g5%
Carbohydrates 4.8g2%
Protein 1.3g3%
Net Carbs 2.6g
* Percent Daily Values are based on a 2000 calorie diet.