This Air Fryer Zucchini recipe is the easiest, healthy side dish for any meal.
Plus, it's ready in 15 minutes and vegan-friendly.
I am a huge fan of air fryer recipes because it makes delicious, healthy meals or side dishes in about 20 minutes.
What Are Air-Fried Zucchini?
Air Fryer Zucchinis is a way to cook breaded zucchinis in just a few minutes and with less oil by using an air fryer.
It's the best way to use the late summer zucchinis you still have after trying all my other zucchini recipes!
Why You'll Love This Recipe
This Air Fryer Zucchini recipe is awesome because it's:
Healthy
Gluten-Free Option
Ready In 20 Minutes
Can Make A Large Batch
Perfect for Appetizers and Side Dishes
How To Cook Zucchini In The Air Fryer
There's not only one way to make air fryer zucchini. You can play with the spices and toppings, but my favorite is a combination of the ingredients below.
It has a slight crisp from the breadcrumb, savory and cheesy flavors from Parmesan, and all the Mediterranean flavors of oregano and olive oil.
Ingredients
Below are the main ingredients you need to make zucchini in the air fryer:
Zucchini – Trim the ends and don't peel the zucchini to keep their texture and fiber, then cut them into thick slices. I found that 1/2-inch slices (1.3 cm) are the best to keep some texture without turning the zucchini into dry chips.
Extra-Virgin Olive Oil – I prefer to use locally-sourced olive oil.
Garlic Powder
Whole Wheat Breadcrumb – You can also use alternatives like Panko crumbs or almond meal for a low-carb, gluten-free option.
Parmesan Cheese – You need a hard cheese variety for this recipe. Don't replace it with softer cheese like cheddar.
Oregano
Paprika
Cumin
Salt and Pepper
Preparation
Depending on how much zucchini you intend to air fry, you may want to preheat the oven to 325°F (160°C).
This allows you to keep the first batches of air-fried zucchini warm and crunchy while the other batches are cooking.
If you don't have an oven, you can air fry all zucchinis batches and store each batch on a wire rack and cover them with foil to keep them warm.
Once all your zucchinis have been air-fried, bring them back to the warm air fryer basket.
Many zucchini slices will overlap, but that's ok because they are already air fried. They will rewarm and get their crispiness back within 2 to 3 minutes.
Coating The Zucchinis
First, trim and slice the zucchinis keeping their skin on for extra firmness and texture.
Cut each zucchini into thick 0.5-inch slices (1.3cm). Place the zucchini slices into a large bowl, drizzle the olive oil on top and stir to evenly coat each slice with the oil.
In another mixing bowl, stir the dry ingredients: breadcrumb, garlic powder, salt, pepper, oregano, paprika, and cumin.
Pour the dry ingredients on top of the oiled zucchini slices and stir to coat the zucchinis with the dry ingredients.
Cooking Zucchini In The Air Fryer
The timing to make the best air fryer zucchini slices is between 12 and 15 minutes. The timing pretty much depends on two main factors:
Size of the zucchini slices – that's why I recommend sticking to the 1/2-inch thickness, or they can be very dry.
Air fryer temperature – if you preheated the air fryer, the air frying time can decrease by 1 to 3 minutes.
How Do You Know Zucchinis Are Ready?
It's pretty visual since a cooked air-fried zucchini is golden brown on the outside but still tender in the center if you insert a toothpick or knife blade.
Serving
These zucchini air fryer recipe is the perfect side dish for any grilled meat, seafood, or some of the following meals:
You can serve the plain zucchini slices straight out of the air fryer or add some of the following toppings just before serving:
Fresh Chopped Basil or Italian Parsley
Sesame Seeds
Lemon Juice
Allergy Swaps
If you have any food allergies and can't tolerate some of the ingredients used in this air fryer recipes try some of the suggested swaps below:
Dairy-Free – You can totally skip the Parmesan cheese or swap for a dairy-free alternative as long as the cheese is the powder form. Some dairy-free cheese types don't melt well in the air fryer so they are not very tasty. You can also use nutritional yeast to add a cheesy flavor without any cheese alternatives.
Gluten-Free – Pick gluten-free wholegrain crumbs, coarse almond meal, or ground nuts.
Sodium-Free – You can skip the salt to reduce sodium.
Low-Carb Keto Friendly – Use keto breadcrumbs made of ground Pork rinds or coarse almond meal.
Storage Instructions
These Zucchini Slices can be stored for up to 3 days in a sealed container in the fridge.
You can rewarm the zucchini in an air fryer preheated to 325°F (160°C).
Place the slices in a single layer and air fry for 3 to 5 minutes until warm.
You can also rewarm them in a microwave, but the breadcrumbs get mushy and soft.
Frequently Asked Questions
Can I Use This Recipe In My Oven?
Yes, you can use this recipe to make baked zucchini slices.
Line a baking tray with lightly oiled parchment paper.
Arrange the zucchini slices in a single layer and bake them at 375°F (200°C) for 15 to 20 minutes, flipping them halfway.
Can I Cut The Zucchinis Into Different Shapes?
Yes, you can cut the zucchini in half moons or long boats as soon as the thickness is about 0.5 inches it won't change the air frying time.
Can I Air Fry Yellow Squash?
Yes, you can use the same recipe to air fry yellow squash, the timing will be similar.
More Zucchini Recipes
Below I listed some more zucchini recipes for you to try:
Did you try this air fryer zucchini recipe? Share a comment or review below to connect with me.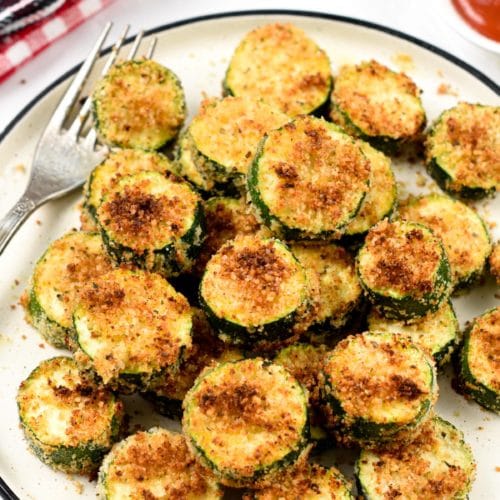 Air Fryer Zucchini
This Air Fryer Zucchini recipe is the easiest healthy side dish for any meal. Plus, it's ready in 15 minutes and it's vegan-friendly.
Yield:
4
servings (100g/3.5oz each)
Nutrition
Want My Kitchen Equipment?
Instructions
Trim the zucchini's ends, discard them, then cut the zucchinis into 1/2-inch (1.3 cm) slices. Feel free to cut each slice in half to make half-moon shapes.

Slightly oil the air fryer basket before starting. Preheat the air fryer to 350°F (180°C) for 5 minutes before adding the zucchinis.

Place the zucchini slices in a large bowl, drizzle olive oil, and stir, massage the slices to be evenly coated with the oil.

In another bowl, stir all dry ingredients: breadcrumb, parmesan, garlic powder, dried oregano, paprika, cumin, salt, and pepper.

Pour the dry ingredients onto the zucchini slices, and give a quick shake/stir to evenly coat the slices with the dry ingredients.

Place the zucchini slices in a single layer in an air fryer basket.

Air fry at 350°F (180°C) for 12-15 minutes, flipping them halfway, until golden and crispy on the outside.

Serve as a main or side dish.
Storage
Store leftover in the fridge in an airtight container and rewarm in the air fryer the next day at 300°F (150°C) for 3-5 minutes.
Note 1: Any low-carb bread breadcrumb works or almond meal.
Note 2: For a dairy-free option use a dairy-free parmesan powder or 2 tablespoons of nutritional yeast.
My Recipe Notes
Nutrition Facts
Air Fryer Zucchini
Amount Per Serving (1 serving)
Calories 113.9
Calories from Fat 64
% Daily Value*
Fat 7.1g11%
Cholesterol 2.5mg1%
Sodium 113.7mg5%
Potassium 438.3mg13%
Carbohydrates 11.6g4%
Protein 4.2g8%
Net Carbs 9g
Vitamin A 481.3IU10%
Vitamin B12 0.04µg1%
Vitamin C 30.4mg37%
Vitamin D 0.02µg0%
Calcium 76.2mg8%
Iron 1.4mg8%
Magnesium 32.4mg8%
Zinc 0.6mg4%
* Percent Daily Values are based on a 2000 calorie diet.