Cauliflower Pizza Crust Recipe
This Cauliflower Pizza Crust recipe is a healthy, nut-free pizza crust recipe made with only 3 simple ingredients.
Bonus, this cauliflower crust recipe is also gluten-free and grain-free.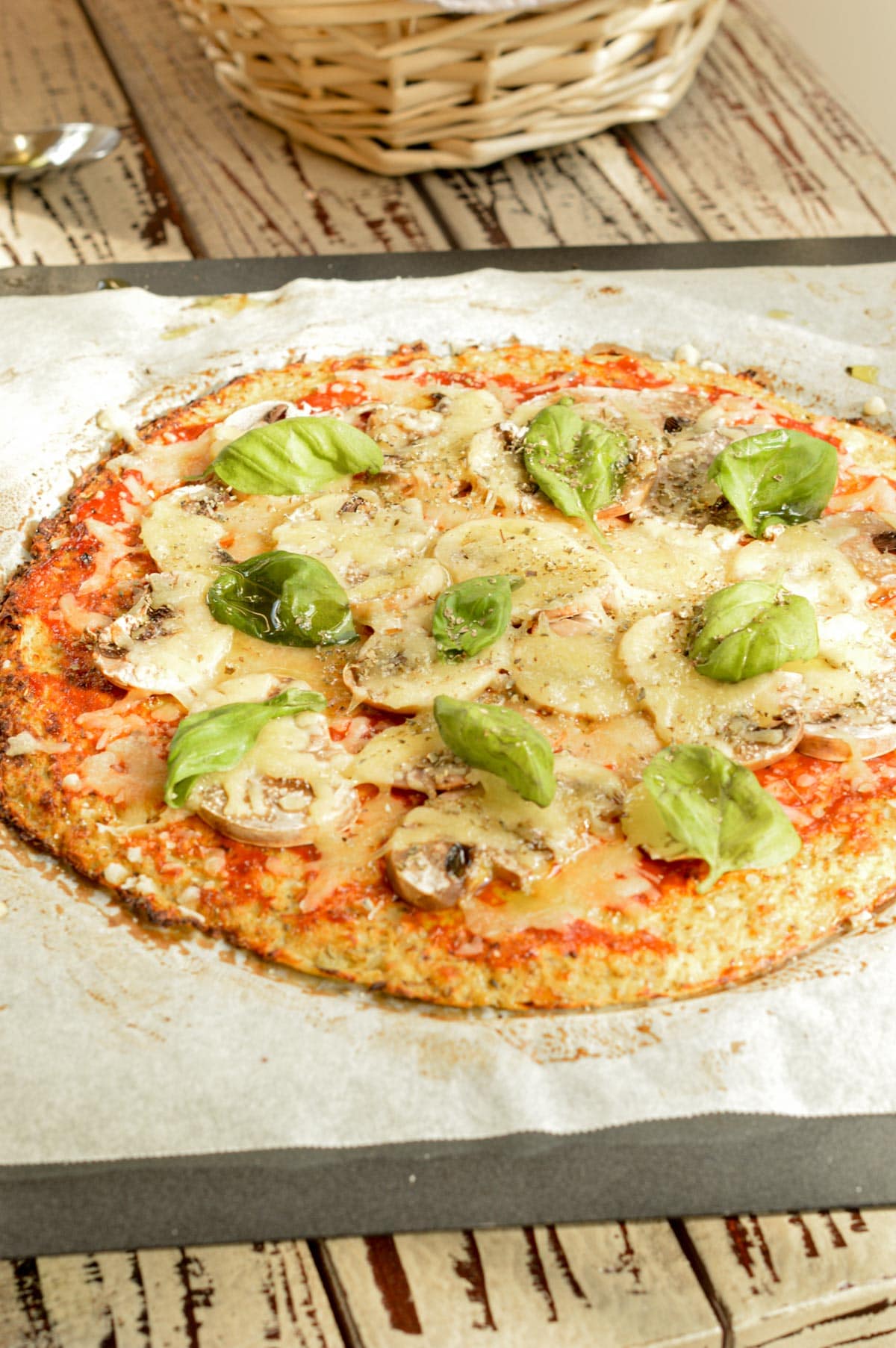 What Is Cauliflower Pizza Crust?
Cauliflower pizza crust recipes are flourless, gluten-free, low-carb pizza crusts made of 3 simple ingredients.
It is a very healthy pizza crust recipe perfect for anyone watching their carb intake. This crispy cauliflower pizza crust recipe is also perfectly keto-friendly.
In fact, one single slice contains only 3 grams of net carbs. Plus, the calories in a cauliflower pizza are very low.
There are only 66 calories per slice!
How To Make This Cauliflower Pizza Crust
This recipe is ridiculously easy to make. All it takes is 3 base ingredients and 15 minutes of prep.
Ingredients
Cauliflower – it's a low-carb vegetable that needs to be turned into fine rice to make the base.
Egg – the beaten egg in this recipe provides some of the binding to the crust. It's possible to use a flaxseed egg as an egg-free replacer.
Grated Mozzarella – this low-carb cheese brings crispiness to the keto pizza crust. Use full-fat cheese for a crispier pizza.
Before you start, you need to make cauliflower rice.
How To Make Cauliflower Rice
Keto pizza crusts made of cauliflower are very easy to make. Let's have a look at what you need to succeed in this delicious crispy cauliflower pizza crust anytime.
First, you need a food processor to pulse your cauliflower florets into a rice-like texture.
Otherwise, you can directly buy cauliflower rice from the store. We call cauliflower rice the result of grated or pulsed cauliflower florets.
Cooked cauliflower is an excellent Keto-friendly vegetable. Carbs in cauliflower only reach 1.7 grams of net carbs per 100 grams once cooked. So this great recipe is perfect if you're on the keto diet!
After your cauliflower is pulsed, you need to steam your cauliflower rice. The best technique is to steam your cauliflower in a microwave-proof bowl.
Obviously, if you don't have a microwave, you need to use a vegetable steamer or boil your cauliflower rice in water.
Finally, for a perfect result, drain all the residual water left in your steamed cauliflower rice. You need a clean towel for this.
You must obtain a ball of steamed cauliflower, like a dough, very dry and compact.
Making The Crust
Transfer the cauliflower rice to a mixing bowl. Add the cheese and beaten egg and combine the batter thoroughly.
Line a baking sheet with lightly oiled parchment paper and press the keto cauliflower crust onto it.
Give it the shape you want, round or rectangular.
The thinner you press the cauliflower crust, the crispier it will be after baking!
Pre-bake the crust for 15 minutes at 400°F (200°C).
To make the perfect, crispy under-crust, flip it after it's prebaked before adding any topping.
Topping The Pizza
This keto crust recipe can be used as a pizza crust replacement, and therefore most regular pizza toppings can be used.
In order to limit carbs, opt for a no-sugar-added tomato paste or tomato sauce or, my favorite option, a homemade keto pizza sauce.
You can also use sour cream as a zero-carb option. Our favorite keto pizza toppings are:
Pepperoni
Sausage
Mushrooms
Italian Seasoning
Cheese
Onions
Olives
Peppers
Chicken
Beef
Anchovies
Some spicy olive oil
Mushrooms, zucchini, or eggplant release water on your pizza crust and soften the crust.
I recommend cooking these ingredients in a frying pan before adding them to the crust.
Storage Instructions
You can store the baked pizza slices in the fridge for a few days in the fridge. Rewarm it in the oven for 10 minutes at 400°F (200°C).
It's also possible to freeze the pizza slices in zip-lock bags for up to 3 months in the freezer.
More Pizza Recipes
Other healthy pizza crusts you would love to try if you enjoy this recipe.
Have you made this pizza crust recipe? Share a comment or review below!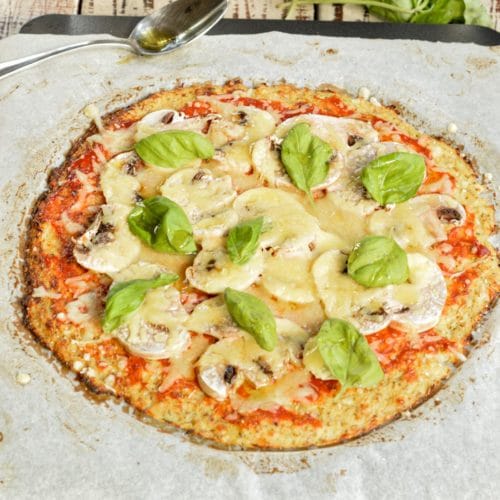 Cauliflower Pizza Crust
This Cauliflower Pizza Crust is a delicious healthy and low-carb pizza crust perfect for any occasion!
Ingredients
5

cups

Cauliflower Rice

about the head of a medium size cauliflower

1

large

Beaten Egg

or flaxegg

½

cup

Grated Mozzarella

¼

teaspoon

Garlic Salt

optional

1

teaspoon

Dried Oregano

optional
This recipe may contain Amazon or other affiliate links. As an Amazon Associate I earn from qualifying purchases.
Instructions
Preheat the oven to 400°F (200°C).

Prepare a baking sheet covered with parchment paper. Spray some oil on top to prevent the crust from sticking. Set aside.

Place half of the cauliflower florets into a food processor with the S-blade attachment. Process for 30 seconds, stop and scrape the bottom and sides. Repeat for 30 seconds until all the florets are pulsed into fine cauliflower rice – it will look like couscous/semolina. Transfer the cauliflower rice to a microwave-safe glass bowl. Process the other half of the cauliflower florets until pulsed into rice and transfer into the glass bowl.

Cover the glass bowl with a microwave-safe lid. Microwave for 5-6 minutes. Remove from the microwave with oven mittens – be careful it is super hot!

Transfer the hot cauliflower rice onto a clean towel. Squeeze as firmly as you can to release all the water. Again it is hot, so use your oven mittens to avoid burning your hands.

Open the towel. You should obtain a dry ball of cooked cauliflower rice. Transfer into a bowl, and add spices, salt, beaten egg, and cheese. Combine with a spatula. The cheese will melt, and the cauliflower pizza crust is forming.

Press the cauliflower crust onto the prepared baking sheet. Press with your hands to form a round pizza.

Bake for 15 minutes or until the borders are crispy.

It is optional, but if you can flip over the crust and bake for an extra 5-8 minutes on the other side, it will add extra crispiness to the crust.

Spread your favorite pizza toppings, starting with a sauce like my healthy pizza sauce, sour cream, or no-added-sugar tomato paste, then flat ingredients like pepperoni, ham and finish with extra grated pizza cheese

Bake again for 15 minutes until your toppings are cooked, and the cheese is melted.
Notes
The nutrition panel is for one slice without toppings.
To make a flaxseed egg, combine 1 tablespoon of flaxseed meal with 3 tablespoons of lukewarm/hot water. Whisk and set aside for 10 minutes until it resembles egg texture. Use it as a beaten egg replacement.
Want My Kitchen Equipment?
Serving:
1
slice
Calories:
63
kcal
(3%)
Carbohydrates:
4.9
g
(2%)
Fiber:
1.9
g
(8%)
Net Carbs:
3
g
Protein:
4.9
g
(10%)
Fat:
3.1
g
(5%)
Sugar:
1.8
g
(2%)
Posted In: