Keto Blueberry Pie with Chia Seed Jam
This Keto Blueberry Pie is a healthy sugar-free sweet pie with chia seed jam and almond flour walnut crust.
A delicious low-carb gluten-free dessert, 100% paleo, vegan, and dairy-free.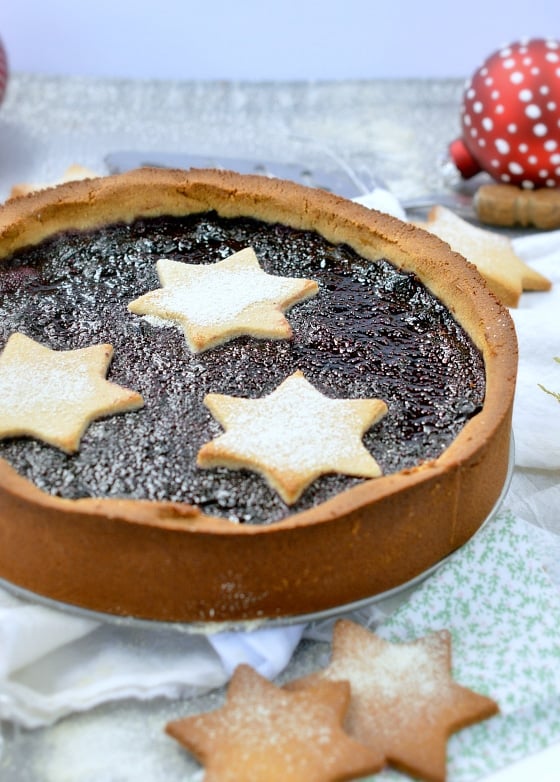 What's A Keto Blueberry Pie?
A Keto Blueberry Pie is a low-carb version of the classic pie. Its crispy almond and walnut crust is 100% gluten-free, low carb, and simply the best pie crust ever!
The keto blueberry filling is loaded with antioxidants from blueberries and chia seeds, simply sweetened with natural sugar-free sweeteners to cut out the calories, and carbs without cutting on flavor.
Why You'll Love The Recipe
This Keto Blueberry Pie is amazing because it's:
Gluten-Free
Dairy-Free
Paleo
Vegetarian
Low-Carb
Keto-Friendly
How To Make A Keto Blueberry Pie
This Keto Blueberry Pie is similar to the Linzertorte. A Linzertorte is a crusty pie made with a nut crust using almonds, walnuts, and lots of sugar.
The pie is usually filled with blueberry jam. Then the leftover crust is used to design a cross on the top of the pie.
Below is the crust I developed made with a mixture of whole walnuts, almond meal, and coconut flour.
I sometimes bake the crust in small dishes, as you can see below, or in a larger pie pan for a family-size keto blueberry pie.
Key Ingredients
Walnuts – the keto pie crust is made with walnuts as one of the main ingredients. It brings a delicious taste and texture to the pie.
Almond Flour – Almond Flour is a great keto-friendly flour. It's low in carbs and high in fiber and has an almond flavor that enhances sweet recipes.
Coconut Flour – Coconut flour is another keto-friendly flour with even more fiber than almond flour. It's also rich in micronutrients and is great to make a dry and crumbly dough.
Coconut Oil – Coconut Oil is solid at room temperature and it's better to pick an unrefined version.
Egg – Eggs are keto-friendly ingredients that provide the binding in this recipe.
Crystal Sweetener – I prefer to use erythritol as a sugar-free crystal sweetener in most baking recipes. You can also use allulose, xylitol, or tagatose depending on what is the most gut-friendly for you.
Blueberries – Blueberries are not the lowest-carb fruit, but with a reasonable quantity, it's possible to make pies, like this keto blueberry pie, that are still keto-friendly.
Chia Seeds – Chia seeds are superfoods loaded with nutrients and low in carbs that are delicious in many recipes, from overnight chia puddings to raspberry jam.
Making The Stars
I used the leftover dough to design a star shape on the top of the pie. The texture of the dough is a bit more crumbly than the usual recipe, but it is really malleable like play dough, so it is still easy to use.
I highly recommend using a removable bottom pan to easily unmold the crust from the pan without breaking the crust. I filled the pie with a homemade blueberry chia seed jam.
Storage Instructions
You can store this Keto Blueberry Pie at room temperature for up to 2 days or in the fridge for 4 days.
It's possible to freeze it when it has been sliced and keep the slices in the freezer in individual containers for up to 3 months.
More Keto Pie Recipes
If you have enjoyed this recipe, check out these other keto pies!
Keto Blueberry Pie
This Keto Blueberry pie with chia seed jam and almond flour walnut crust. A delicious low-carb gluten-free dessert.
Ingredients
Blueberry chia seed jam filling
This recipe may contain Amazon or other affiliate links. As an Amazon Associate I earn from qualifying purchases.
Instructions
Preheat the oven to 350°F (180°C).

In a food processor with the 'S' blade attachment, combine all the crust ingredients: almond meal, walnuts, coconut flour, egg, sweetener, and coconut oil. Process on medium speed for about 1 minute or until the mixture comes together and forms a ball.

Transfer the dough to a bench or surface covered with a piece of parchment paper. Set aside a quarter of the dough to decorate the top of the tart or to serve as biscuits with the tart on the side.

Place another piece of parchment paper on the top of the remaining dough and start rolling the dough as you would for a regular pie crust. The parchment paper will prevent the dough from sticking to the rolling pin and the bench, so do not remove the layers until fully rolled.

Roll to fit the size of the pie dish. Remove the top layer of parchment paper and flip the crust over onto the greased pie dish. The dough will be very crumbly but workable. If it breaks, use your fingers to shape and push the dough until it perfectly fits the dish.

Bake the crust for 15-20 minutes or until golden and crispy on the side.
Blueberry chia seed jam
To make the filling, put the chia seeds into a small bowl and add the lukewarm water. Give them a good stir and set aside for 2 minutes until they absorb the water. Give them a quick stir from time to time to stop them from sticking together.

Meanwhile, place the blueberries and sugar-free sweetener in a saucepan, cover, and warm over medium heat. When bubbles start to form on the side of the saucepan, uncover and stir in the soaked chia seeds. Simmer for 4–8 minutes or until the blueberries are cooked, and it becomes jelly-like.

Pour the jam onto the prepared crust and bake for an extra 10 minutes to set.
Cookie stars decoration
Meanwhile, prepare some pastry stars to decorate the top of the tart. If you end up with too many, they can be baked separately and served as cookies with the tart or to decorate the Christmas table.

Roll the extra pastry dough between two pieces of cling wrap, as before, until it is the right thickness. Cut into stars using a cookie cutter. Place the stars on a baking tray covered with baking paper and bake for 10–12 minutes until golden brown

Cool on a wire rack. Cool completely, for about 90 minutes, before you unmold the tart. This will stop the crust from falling apart as it will harden while cooling down, getting very crispy and easier to unmold.

Store at room temperature for up to 2 days.
Want My Kitchen Equipment?
Serving:
1
slice
Calories:
219.4
kcal
(11%)
Carbohydrates:
12.2
g
(4%)
Fiber:
5.4
g
(23%)
Net Carbs:
6.8
g
Protein:
5.5
g
(11%)
Fat:
17.9
g
(28%)
Saturated Fat:
5.4
g
(34%)
Polyunsaturated Fat:
5.9
g
Monounsaturated Fat:
1.4
g
Trans Fat:
0.1
g
Cholesterol:
13.6
mg
(5%)
Sodium:
13.9
mg
(1%)
Potassium:
96.3
mg
(3%)
Sugar:
4.6
g
(5%)
Vitamin A:
44.3
IU
(1%)
Vitamin B12:
0.1
µg
(2%)
Vitamin C:
3.8
mg
(5%)
Vitamin D:
0.1
µg
(1%)
Calcium:
63.3
mg
(6%)
Iron:
1.3
mg
(7%)
Magnesium:
33.9
mg
(8%)
Zinc:
0.6
mg
(4%)
Posted In: