Keto cinnamon muffins are bakery-style cinnamon muffins with only 2.3 grams of net carb per muffin. Plus, they are gluten-free, dairy-free, and sugar-free.
Keto cinnamon muffins – only 2.3 grams of net carbs!
The keto cinnamon muffins are great to start the day and bring back some cinnamon roll memories without the carbs! Indeed, one muffin contains only 2.3 grams of net carbs and 5 grams of protein to keep you full.
Easy flaxseed muffins recipe
You don't have to be a chef to bake, and these muffins are definitely great ones if you're a keto beginner cook! All you need to make the keto cinnamon muffins are a few simple ingredients.
Flaxmeal – you can use either golden flaxseed meal or brown flaxseed meal. I recommend golden flaxseed meal because it doesn't have a bitter aftertaste as the brown flaxseed meal.
Almond flour – or almond meal if preferred. You can also substitute almond meal for sunflower seed flour, the same amount for a nut-free keto muffin recipe. Learn more about keto-friendly flours.
Eggs – you need eggs to make fluffy muffins, so don't try to replace them with more flaxseed meal. It wouldn't work.
Cinnamon – of course, lots of ground cinnamon is what makes the muffins delicious.
Sugar-free crystal sweetener – I always use an Erythritol and Monk fruit crystal sweetener blend, but you can also use xylitol with the same amount. Xylitol may have a minty aftertaste, so be aware of that. Read more about keto-friendly sweeteners.
Unrefined coconut oil – I love the light coconut flavor of coconut oil in those low-carb cinnamon muffins. However, you can also use melted butter.
Unsweetened almond milk or unsweetened coconut milk.
Baking powder – or half baking soda.
How to customize your keto cinnamon muffins?
This is a very versatile recipe, and you can play a lot with it. I recommend trying some of the following add-ons:
Chopped nuts – add 1/3 cup of chopped walnuts, hazelnuts, or almonds. Nuts and cinnamon marry really well together.
Coconut – add 1/3 cup unsweetened shredded coconut for a coconut cinnamon muffin.
Berries – add 1/3 cup frozen or fresh blueberries or raspberries.
Chocolate chips – add 1/3 cup sugar-free chocolate chips.
Grated zucchini and chocolate chips – adding 1/4 cup grated zucchini (squeeze out the zucchini juice before adding!) with 1/3 cup sugar-free chocolate chips. This was the most delicious and surprising flavor I tried. I highly recommend that.

Keto flaxseed muffins and flaxseed meal carbs?
You probably wonder why flaxseed meal is a great addition to these keto cinnamon muffins. Well, flaxseed meal is one of the lowest carbs flour to bake with!
In fact, 100 gram (3.5 oz) of flaxseed meal contains only 0.2 grams of net carbs. It's the best flour to create muffins without blowing your carb count.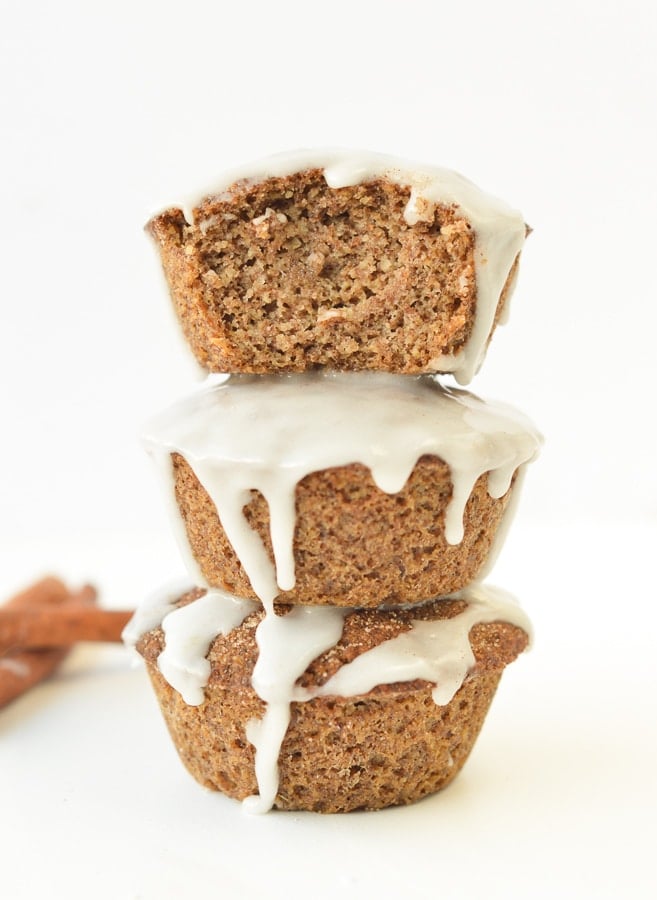 More keto breakfast recipes
If you are a muffin lover and miss muffins on a keto diet, I recommend trying my other keto muffin recipes. You will love to try:
Enjoy the recipe, and don't forget to save this on Pinterest to make it later!
xoxo Carine