Keto cinnamon muffins are bakery style cinnamon muffins with only 2.3 grams net carb per muffin. Plus, those are gluten free, dairy free and sugar free.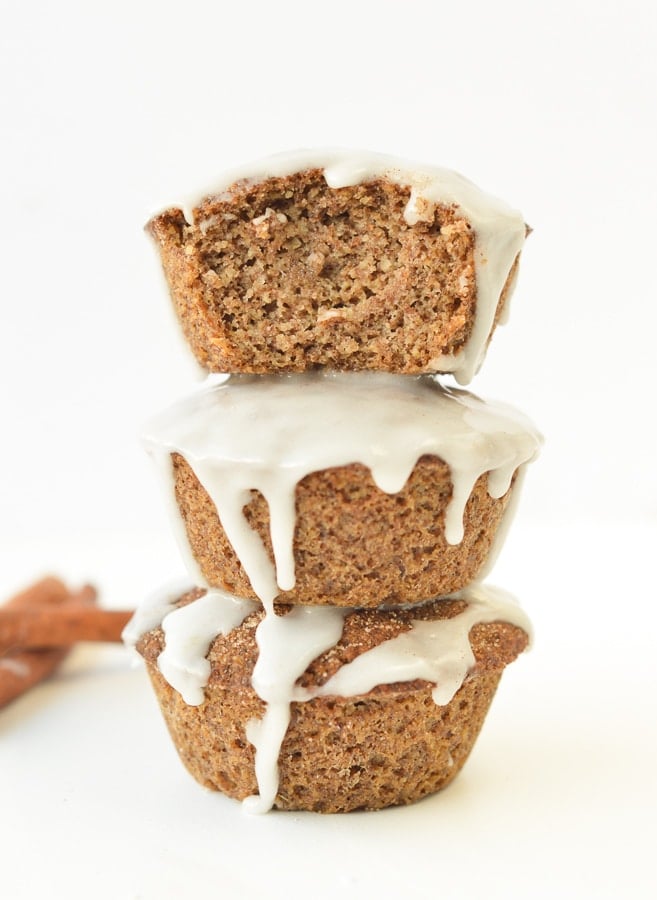 Keto cinnamon muffins – only 2.3 gram net carb!
Those keto cinnamon muffins are great to starts the day and bring back some cinnamon rolls memories without the carbs ! Indeed, one muffin contains only 2.3 grams of net carbs and 5 grams of protein to keep you full.
Easy flaxseed muffins recipe
You don't have to be a chef to bake and this muffins is definitely a great one if your a keto beginner cook! All you need to make those keto cinnamon muffins are few simple ingredients.
Flaxmeal – you can use either golden flaxmeal or brown flaxmeal. I recommend golden flaxmeal because it doesn't have a bitter aftertaste as the brown flaxmeal
Almond flour – or almond meal if preferred. You can also substitute almond meal for sunflower seed flour, same amount for a nut free keto muffin recipe
Eggs – you need those beautiful eggs to make fluffy muffins so don't try to replace them with more flaxmeal, it won't work.
Cinnamon – of course lots of ground cinnamon is what makes those muffins delicious
Sugar-free crystal sweetener – I always use Monk fruit crystal sweetener but you can also use erythritol or xylitol in same amount. Xylitol may had a minty aftertaste so be aware of that.
Unrefined coconut oil – I love the light coconut flavor of coconut oil in those low carb cinnamon muffins. However, melted butter can be used too
Unsweetened almond milk or unsweetened coconut milk
Baking powder – or half baking soda
How to customize your keto cinnamon muffins?
This is a very versatile recipe and you can play a lot with it. I recommend you try to some of those add on :
Chopped nuts – add 1/3 cup of chopped walnuts, hazelnuts or almonds. Nuts and cinnamon marry really well together
Coconut – add 1/3 cup unsweetened shredded coconut for a coconut cinnamon muffin
Berries – add 1/3 cup frozen or fresh blueberries or raspberries
Chocolate chips – add 1/3 cup sugar free chocolate chips
Grated zucchini and chocolate chips – adding 1/4 cup grated zucchini (squeeze out the zucchini juice before adding!) with 1/3 cup sugar free chocolate chips was the most delicious and surprising flavor I tried. I highly recommend that

Keto flaxseed muffins and flaxseed meal carbs ?
You probably wonder why flaxseed meal is a great addition to those keto cinnamon muffins. Well, flaxseed meal is one of the lowest carbs flour to bake with! In fact, 100 gram (3.5 oz) of flaxseed meal contains only 0.2 grams of net carbs. It is the best flour to create muffins without blowing your carb count.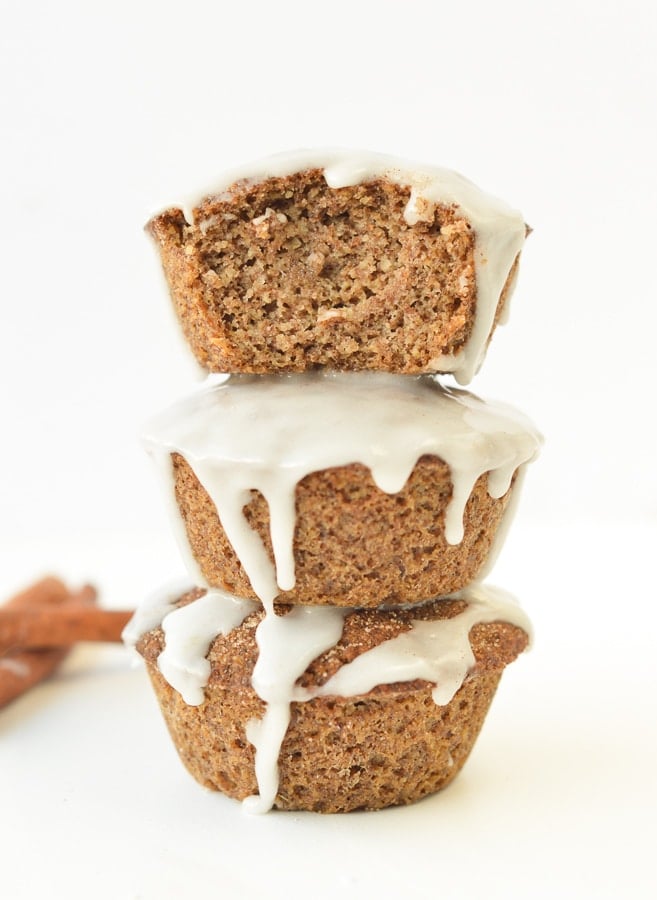 More keto muffins recipe
If you are a muffin lover and miss muffins on a keto diet, I recommend you try my others keto muffins recipe. You will love to try
Enjoy the recipe and don't forget to save this on Pinterest to make it later!
xoxo Carine
Keto cinnamon muffins
Keto cinnamon muffins an easy healthy bakery style keto muffins with only 2.3 g net carbs per serve.
Prep Time: 15 mins
Cook Time: 20 mins
12 muffins
Print The Recipe
Preheat oven to 180C (350F). Line a non-stick 12 holes muffins tray with paper cups or grease the holes slightly with coconut oil. Set aside.

In a large mixing bowl, combine all the dry ingredients. Set aside.

In another bowl, whisk the liquid ingredients together. If you are using melted coconut oil, make sure all the ingredients are at room temperature. If you add melted coconut oil on cold eggs (eggs coming straight away from the fridge), the coconut oil makes lumps, solidify. To avoid that use melted butter or eggs at room temperature.

Pour the liquid ingredients onto the dry and combine until it forms a thick muffin batter.

Fill each muffins holes with the batter. I recommend using a mechanical ice cream scoop to be precise and create muffins of same size (and same amount of carbs per serve).

In a small bowl prepare the cinnamon sugar free sugar. Combine sugar free crystal sweetener and cinnamon.

Sprinkle the cinnamon sugar free sugar on top of each muffins before baking. Keep some to dip the top of the hot muffins into if you like, optional but tasty!

Bake for 20 minutes or until a skewer inserted in the center of the muffins come out clean or with no crumbs on it.

Cool down 10 minutes in the baking tray, then dip each muffin top into the sugar free cinnamon sugar. As the muffins are still hot the toppings will stick to the top adding a lovely sweet cinnamon flavor and crunch.

Transfer the muffins on a cooling rack and cool for 1 hour before eating to enjoy the best flavor and texture.
Sugar free icing
Combine sugar free powdered sweetener with 1- 3 teaspoon of almond milk. Add the milk gradually and stop when it reach your favorite texture. The more liquid you add the thinner the icing become.

Spread 1 tablespoon on top of each muffin and enjoy!
Net carbs per muffins : 2.3 grams
Nut free option: replace almond flour by same amount of sunflower seed flour
Nutrition Facts
Keto cinnamon muffins
Amount Per Serving (1 muffin)
Calories 217 Calories from Fat 149
% Daily Value*
Fat 16.5g25%
Carbohydrates 5.5g2%
Fiber 3.2g13%
Sugar 0.4g0%
Protein 5.3g11%
Net Carbs 2.3g
* Percent Daily Values are based on a 2000 calorie diet.