These easy keto pumpkin muffins are the most amazing moist, pumpkin spice muffins with only 3.3 grams of net carbs per serving!
Plus, these are gluten-free paleo pumpkin muffins!
Calling all the pumpkin spices lovers with this new keto diet recipe!
Are Pumpkin Muffins Keto?
The original pumpkin muffin recipe is not suitable for a keto diet. In fact, most pumpkin muffins from the store contain sugar and white whole-wheat flour, and both are high in carbs.
So let me share with you how to make delicious keto low-carb pumpkin muffins that are moist, flavorsome, and low in carbs.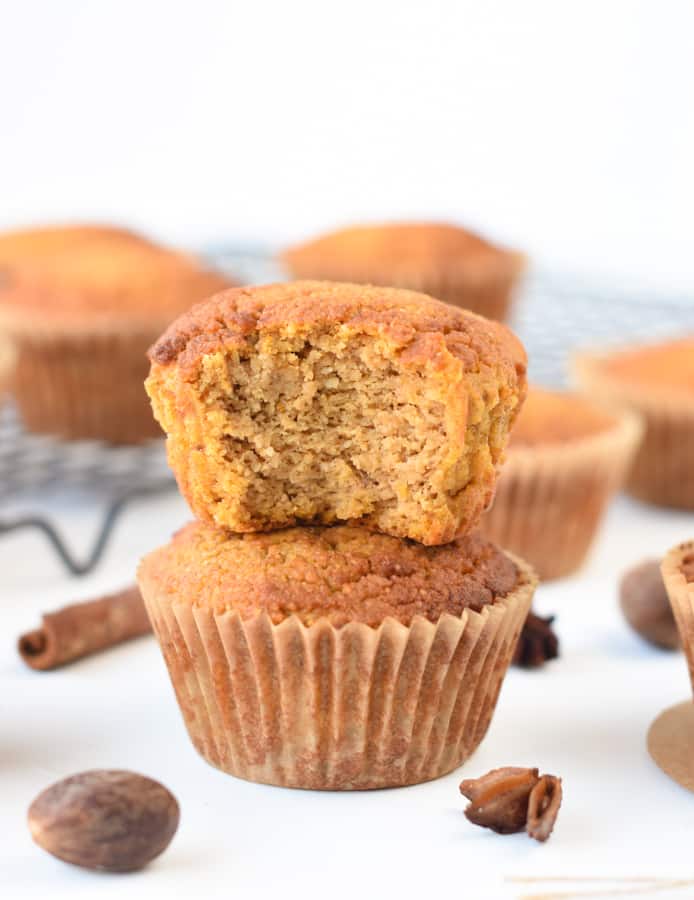 How To Make Keto Pumpkin Muffins
To make healthy pumpkin muffins low in carbs, you need to use wholesome gluten-free flours and sugar-free sweeteners, also known as sugar alcohols.
Ingredients
Following is what you need to make this keto pumpkin muffins recipe:
Almond Flour – Almond Flour is the main flour used in this recipe. Almond flour pumpkin muffins stay moist and soft like the original recipe. That's why I use this flour as the main ingredient in this keto muffin recipe.
Coconut Flour – Coconut Flour is a high-fiber flour that gives a cake texture to the muffins. You need a combination of both almond and coconut flours to achieve the best muffin crumb.
Erythritol – it's a safe keto-friendly sweetener with zero carbs and zero calories. You can also use other sugar alcohols like xylitol.
Pumpkin Spices – if you can't find the ready-made pumpkin spices in your store, jump to the recipe note section of the recipe card to see the mix of dried spices you need to achieve the same flavor.
Baking Powder – if you are intolerant to gluten and you want to ensure that this recipe makes 100% gluten-free pumpkin muffins, choose a gluten-free baking powder.
Salt
Measuring The Ingredients precisely
The trick to making the best pumpkin muffins with keto flours is to measure the flours precisely.
In fact, keto flours are high in fiber, and if you add a little too much of them, the muffins will be too dense, dry, and not as good.
I recommend the scoop and level method to fill your cups and to always use US standard cups in my recipes.
Simply whisk all the dry ingredients together in a large bowl to avoid lumps.
Liquid Ingredients
The liquid ingredients must be at room temperature for this recipe. This is an easy pumpkin muffin recipe, but if you want to succeed, the temperature of the ingredients matters.
In fact, cold eggs or almond milk lumps melted coconut oil or too hot coconut oil will cook your eggs!
So prepare the ingredients 1 hour before starting to ensure they are all at the same temperature.
All you need in this recipe are pretty simple:
Canned pumpkin puree – pumpkin is a keto-friendly vegetable, and therefore, you can use pumpkin puree in keto recipes. However, always make sure you are using 100% canned pumpkin puree without added sugar or additives. Don't use pumpkin pie filling in this recipe. It's very different. Also, homemade pumpkin puree can work if made with steamed or roasted pumpkin, not boiled! Learn how to make your own pumpkin puree.
Melted coconut oil – or melted butter. If you use coconut oil, make sure you measure the oil melted and use it lukewarm, not piping hot, or it will cook your eggs.
Eggs – use large eggs at room temperature. If your eggs are cold, place them in a warm batter bath to bring them to room temperature quickly.
Unsweetened almond milk
Vanilla extract
Baking The Muffins
This recipe fills a 12-muffin-cup tin. Since they are moist pumpkin muffins, it's easier if you line the muffin pan with paper liners. It will be much easier to release each muffin.
Bake the muffins in the center rack of a preheated oven at 350°F (180°C).
I recommend baking the muffins for 20 minutes, then inserting a skewer in the center of one muffin, and if the center comes out clean, they are ready to remove from the oven.
Otherwise, keep baking for an extra 10 minutes. In general, it takes between 20 to 30 minutes max to bake the 12 muffin tin.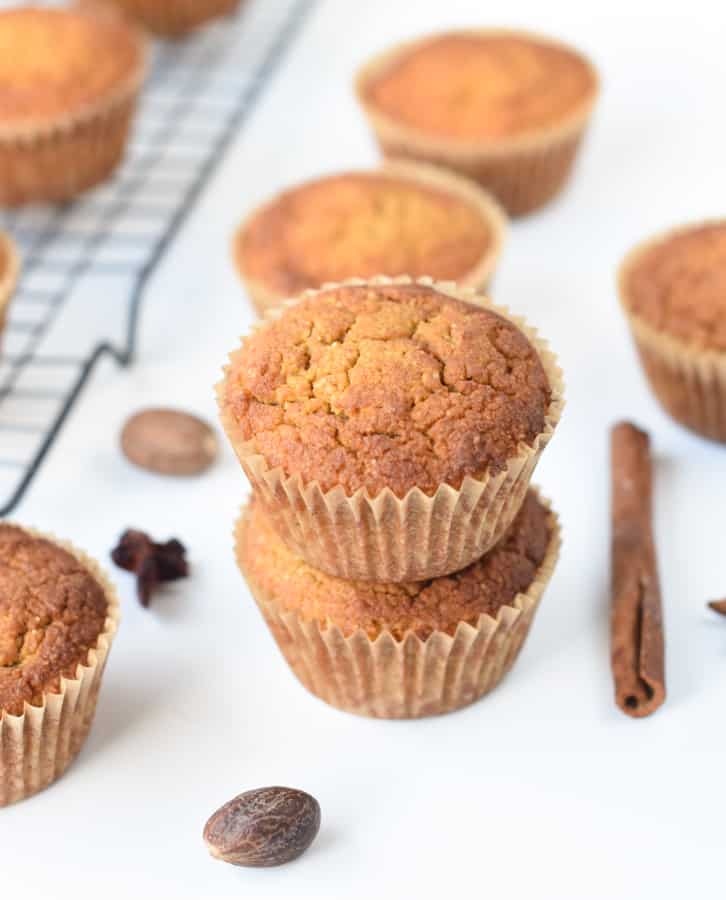 Changing Flavors
You can add so many keto-friendly ingredients to this recipe to turn this easy keto pumpkin spice muffins recipe into an even better one! If you want to make:
Keto pumpkin chocolate chip muffins – add 1/2 cup of sugar-free chocolate chips into the prepared batter.
Keto pumpkin cream cheese muffins – fill each muffin cup with the batter following my recipe below. Then, use a toothpick to swirl a tablespoon of sweet cream cheese in the center of each muffin. To make the cream cheese swirl batter, beat 1 cup of soft cream cheese with 1/2 teaspoon vanilla extract and 2-4 tablespoons of powdered erythritol and spread a tablespoon on top of each muffin.
The addition of sugar-free chocolate chips will raise the net carbs per serving more than a cream cheese swirl. It's up to you to choose what you prefer and what matches your daily macro the best!
Decorating Pumpkin Muffins
You can add many keto-friendly toppings on top of your prepared muffins. Cool the muffins down before adding any toppings. The best keto toppings are:
Keto icing – see recipe card for the recipe. It uses a combo of heavy cream, powdered erythritol, and vanilla.
Cream cheese
Nuts – add some crunched candied pecan on top of the previous icing.
Nut peanut – a dollop of almond butter or peanut butter tastes amazing with these pumpkin spice muffins.
Storing Keto Pumpkin Muffins
These keto low-carb pumpkin muffins contain pumpkin puree and eggs. It means that they store longer in the fridge.
I recommend storing the muffins in a sealed container in the fridge for up to 7 days.
Otherwise, you can freeze the muffins and thaw them on the countertop at room temperature the day before eating.
Frequently Asked Questions
How Many Carbs Are In Keto Pumpkin Muffins?
These Keto Pumpkin Muffins have only 3.3 grams of net carbs per serving.
Can I Make Pumpkin Spices Myself?
If you can't find ready-made pumpkin spices in the store, make your own at home.
The recipe below is for 3 teaspoons of pumpkin spices. Use this recipe to swap the 3 teaspoons of pumpkin spices recommended in the recipe.
1 1/2 teaspoon ground cinnamon
1/2 teaspoon ground nutmeg
1/2 teaspoon ground ginger
1/2 teaspoon of allspice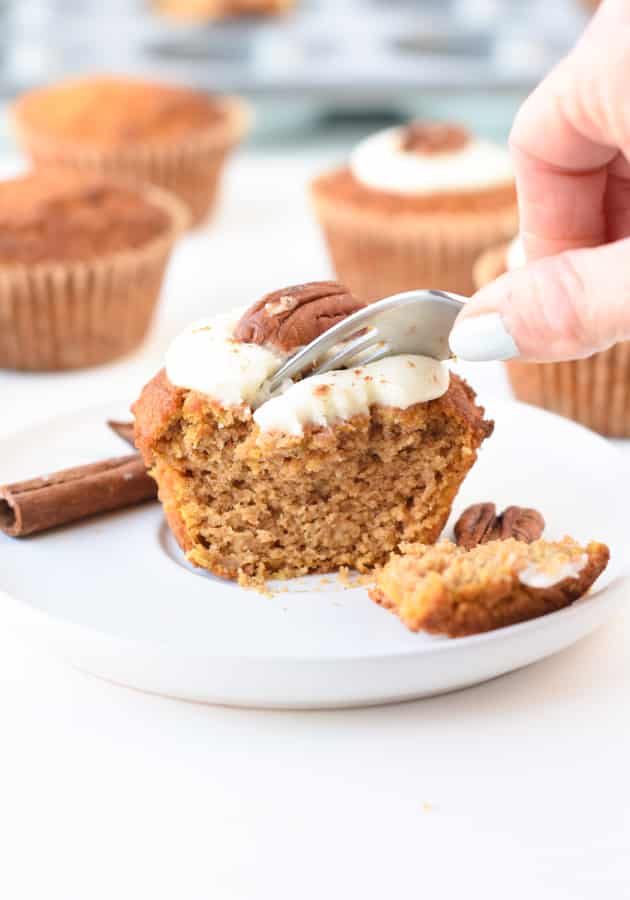 More Keto Pumpkin Recipes
If you love keto pumpkin recipes, have a look at my other keto-friendly pumpkin recipes below!
Have you made these keto-friendly pumpkin muffins? Share a picture of your creation with me on Instagram! I love to connect with you and see my recipes from your kitchen!
Keto Pumpkin Muffins
A moist keto low-carb pumpkin muffin recipe with delicious fall flavors.
Ingredients
Liquid ingredients
4

large

Eggs

at room temperature

¼

cup

Unsweetened Almond Milk

at room temperature

⅔

cup

Pumpkin Puree

canned, not pumpkin pie filling!

½

cup

Coconut Oil

or melted butter, at room temperature not burning hot

1

teaspoon

Vanilla Extract
Dry ingredients
1 ½

cup

Almond Flour

scooped and leveled. Do not use almond meal.

⅓

cup

Coconut Flour

scoop and level method

3

teaspoons

Pumpkin Pie Spices

see note for details

⅔

cup

Erythritol

1

tablespoon

Baking Powder

¼

teaspoon

Salt
Icing – optional
1

cup

Powdered Erythritol

2

tablespoons

Heavy Cream

or coconut cream if dairy free

¼

teaspoon

Vanilla Extract
This recipe may contain Amazon or other affiliate links. As an Amazon Associate I earn from qualifying purchases.
Instructions
Before, you start, make sure the eggs, melted coconut oil, and almond milk are at room temperature.

Preheat oven to 350°F (180°C). Line a 12-hole muffin pan with muffin paper cups. Set aside.

In a large mixing bowl, beat eggs with unsweetened almond milk, canned pumpkin puree, melted coconut oil, and vanilla. Set aside.

In another large mixing bowl, whisk almond flour, coconut flour, erythritol, pumpkin spices, salt, and baking powder

Pour the dry ingredients into the wet ingredients and stir with a spatula to combine. The batter will be thick and dense, not liquid as regular pumpkin muffins and that's what you want.

Scoop the batter with a spoon and fill the 12-muffin paper cups evenly. The batter is thick and rough, to achieve a lovely smooth on top of the muffins I recommend you wet your fingers and pat the top of each muffin to pack and smoothen the batter into the muffin case.

Bake for 20-30 minutes on the center rack of the oven or until a skewer inserted in the center of the muffins comes out clean

Cool down for 10 minutes in the pan, then transfer each muffin onto a cooling rack for 2 hours.
Storage
Store the muffins in a sealed box for 2 days in the pantry or for 1 week in the fridge.

Freeze in a sealed airtight container and thaw the day before on the countertop
Notes
The nutrition panel is without frosting. Frosting adds only 0.1 g net carbs per muffins. Pumpkin spices: replace the 3 teaspoons of pumpkin spices with homemade pumpkin spices, simply combine:1 1/2 teaspoon ground cinnamon + 1/2 teaspoon ground nutmeg + 1/2 teaspoon ground ginger + 1/2 teaspoon all spices.
Want My Kitchen Equipment?
Serving:
1
muffin
Calories:
202.2
kcal
(10%)
Carbohydrates:
6.4
g
(2%)
Fiber:
3.1
g
(13%)
Net Carbs:
3.3
g
Protein:
5.7
g
(11%)
Fat:
18.2
g
(28%)
Saturated Fat:
9.4
g
(59%)
Cholesterol:
62
mg
(21%)
Sodium:
192.6
mg
(8%)
Potassium:
51
mg
(1%)
Sugar:
1.3
g
(1%)
Vitamin A:
2208.3
IU
(44%)
Vitamin C:
0.6
mg
(1%)
Calcium:
107.3
mg
(11%)
Iron:
1.2
mg
(7%)
Posted In: