Keto Tortilla Chips (Vegan, Gluten-Free)
The Keto Tortilla Chips are quick and easy, baked grain-free chips made with only 4 ingredients.
A simple healthy tortilla chips recipe made with superfood: almond meal, chia seeds, and olive oil.
These are literally life-changing keto chips, your favorite low-carb bread recipe to replace carb-loaded bread, or your keto corn chips!
100% grain-free, Paleo, and Vegan with only 0.4 grams of net carbs per almond flour chip.
Are Classic Tortilla Chips Keto?
No, regular tortilla chips are not keto-friendly. Most tortilla chips are made with corn.
How To Make Keto Tortilla Chips
To make these simple almond flour chips, you need 4 simple ingredients that you probably already have in your pantry.
Ingredients
Almond flour – sometimes called almond meal or ground almond – all are similar. I used blanched almond flour, but unblanched almond flour would work well. Only the color of the low-carb tortilla chips would differ. Learn how to choose the best flours for your keto diet.
Chia seeds – I used black chia seeds. Use the one you have. Any color would work here.
Spices of your choice – play with the spices and create various low-carb tortilla chip flavors! I love to combine ground cumin, garlic powder, and nutritional yeast – this gives a cheesy flavor while adding lots of vitamins B1 and B2. Other great ideas are smoked paprika, paprika, dried rosemary, curry powder, or even turmeric!
Olive oil – I also tried the recipe with different healthy oils like avocado oil, almond oil, and hazelnut oil. It is a great way to give a different flavor to the chips.
Instructions
I have 3 simple tips to make crispy almond flour tortilla chips.
The thinner, the better – follow my technique below – I roll my dough between two pieces of parchment paper – this is a must.
Pressing the rolling pin really well to make the dough super thin.
Using parchment paper is not optional. It prevents the dough from sticking to the roller. It makes the dough super thin.
And it makes the transfer of the chips onto the baking tray super easy – all you need to do is to lift the piece of parchment paper and move it. No need to move the rolled dough!
Baking Keto Chips
Baking at hot temperature and checking every minute – usually, thin tortilla chips are all cooked all the way after only 6 minutes, but depending on how thin they are, they may require an extra minute.
I recommend checking the color of the tortilla chips every minute after 6 minutes of baking. Most of the time, they are cooked, but sometimes I roll my chips a bit thicker, and it takes up to 8 minutes.
The color is your indicator. If it is golden brown, then it is ready!
Cooling
Cool for 5 minutes on the baking sheet- this makes them extra crispy!
Don't skip this step or your gluten-free tortilla chip recipe will be too soft!
Frequently Asked Questions
Can I Find Commercial Keto-Friendly Tortillas?
There are a few healthy brands of chia seed tortilla chips in the supermarket that are low in carbs. However, most store-bought low-carb chips are very expensive!
That's why making your own keto chips make so much sense. It's cheap. It's quick. It's healthy.
Do I Fathead Dough For Keto Tortilla chips?
No, you don't!
You'll find only many great recipes of Keto Fathead Tortilla Chips, but not everyone likes cheese! And if you happen to be on a vegan diet, you need my vegan keto tortilla chip recipe!
My almond flour tortilla chips are made with only plant-based ingredients: Almond Flour, Chia Seeds, Olive Oil, and several spices.
What Are The Best Keto Dips?
These keto tortilla chips can be used as a side to any food platter or Mexican food night.
You can dip them in any of the following low-carb dips:
More Chips And Tortillas
If you enjoy this almond flour chip recipe, you will love these: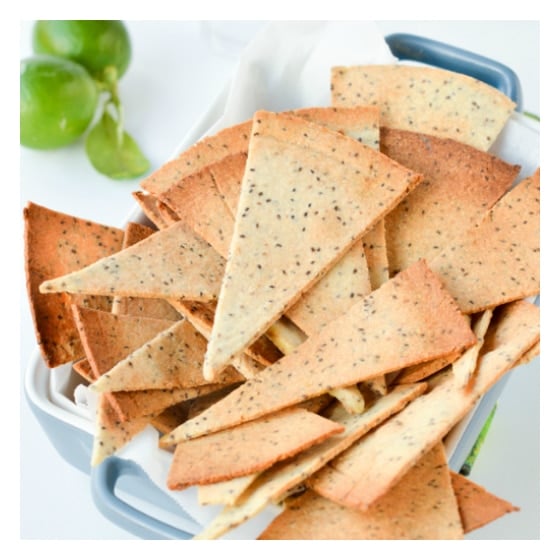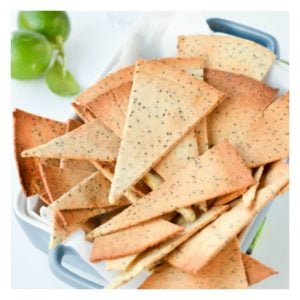 Keto Tortilla Chips
Keto Tortilla Chips are quick and easy vegan keto chip replacements with only 5 ingredients. 100% grain-free, Paleo, Vegan. These chips are life-changing, made of almond meal and chia seeds and only 0.4g of net carbs per chip.
Serving Size:
1
tortilla chip
Ingredients
1

tablespoon

Chia Seeds

¼

cup

Water

1

cup

Almond Flour

I used blanched almond meal/ground

1

tablespoon

Extra Virgin Olive Oil
Spices recommended
¼

teaspoon

Ground Cumin

¼

teaspoon

Salt

¼

teaspoon

Garlic Powder

1

teaspoon

Nutritional Yeast

– optional great for a natural cheesy flavor
This recipe may contain Amazon or other affiliate links. As an Amazon Associate I earn from qualifying purchases.
Instructions
Preheat the oven to 400°F (200°C).

In a small bowl, add the chia seeds and water. Stir with a spoon to combine. Set aside for 10 minutes or until a gel-like texture forms.

In another large mixing bowl, add almond meal, olive oil, spices, and the chia seed gel created before.

Knead dough by hands, squeezing it between your fingers to incorporate the chia gel into the almond meal until it forms a dough. It shouldn't take more than 1 minute to form a dough ball.

Place the dough ball between two pieces of parchment paper, and roll out with a rolling pin as thinly as possible.

Remove the top layer of parchment paper, cut out tortillas chips using a pizza cutter or sharp knife. To make triangle chips (tortilla shaped), simply place a round shape on top of the rolled dough. Cut around the lid, remove the dough outside of the lid – keep it for later to roll again and make more chips! You should end up with a circle of rolled dough. One circle creates about 10 chips, and you will roll 3 circles in total. Then, using the pizza cutter, cut triangles as you would when cutting a round cake.

Move the dough with parchment paper onto a baking sheet.

Bake for 6 minutes, check the color, and stop baking as soon as you reach a golden brown color. For very thin chips, it takes 6-7 minutes. For thicker chips, it can take up to 8-9 minutes. I recommend baking for 6 minutes then checking every 1 minute to avoid burning the chips.

Remove from the oven when golden brown and let cool for 5 minutes on the baking sheet.

Use a flat tool like a knife or small spatula to remove/lift the tortillas chips from the parchment paper.
Notes
Storage: Store for up to 5 days in an airtight container – they will slightly soften after 3 days but you can rewarm them 1 minute at 160°F (75°C) just before serving to give them some crispiness again. I recommend a metallic box or glass jar to keep the tortillas very crispy. Freezing: I don't recommend freezing these chips. They will lose their crisp. Spices ideas: feel free to experiment with dried herbs like rosemary, oregano, onion flakes, smoked paprika, turmeric powder, curry powder, or even matcha powder! Salt: the recipe uses only 1/4 teaspoon of salt, which keeps the chips low in sodium and healthy. If you love salty chips, feel free to add more salt but don't exceed 1/2 teaspoon.
Want My Kitchen Equipment?
Serving Size:
1
tortilla chip
Serving:
1
tortilla chip
Calories:
27.6
kcal
(1%)
Carbohydrates:
1
g
Fiber:
0.6
g
(3%)
Net Carbs:
0.4
g
Protein:
0.9
g
(2%)
Fat:
2.4
g
(4%)
Saturated Fat:
0.2
g
(1%)
Polyunsaturated Fat:
0.1
g
Monounsaturated Fat:
0.4
g
Trans Fat:
0.1
g
Sodium:
19.6
mg
(1%)
Potassium:
3.6
mg
Sugar:
0.1
g
Vitamin A:
0.4
IU
Vitamin C:
0.1
mg
Calcium:
10.6
mg
(1%)
Iron:
0.2
mg
(1%)
Magnesium:
1.4
mg
Zinc:
0.1
mg
(1%)
Posted In: