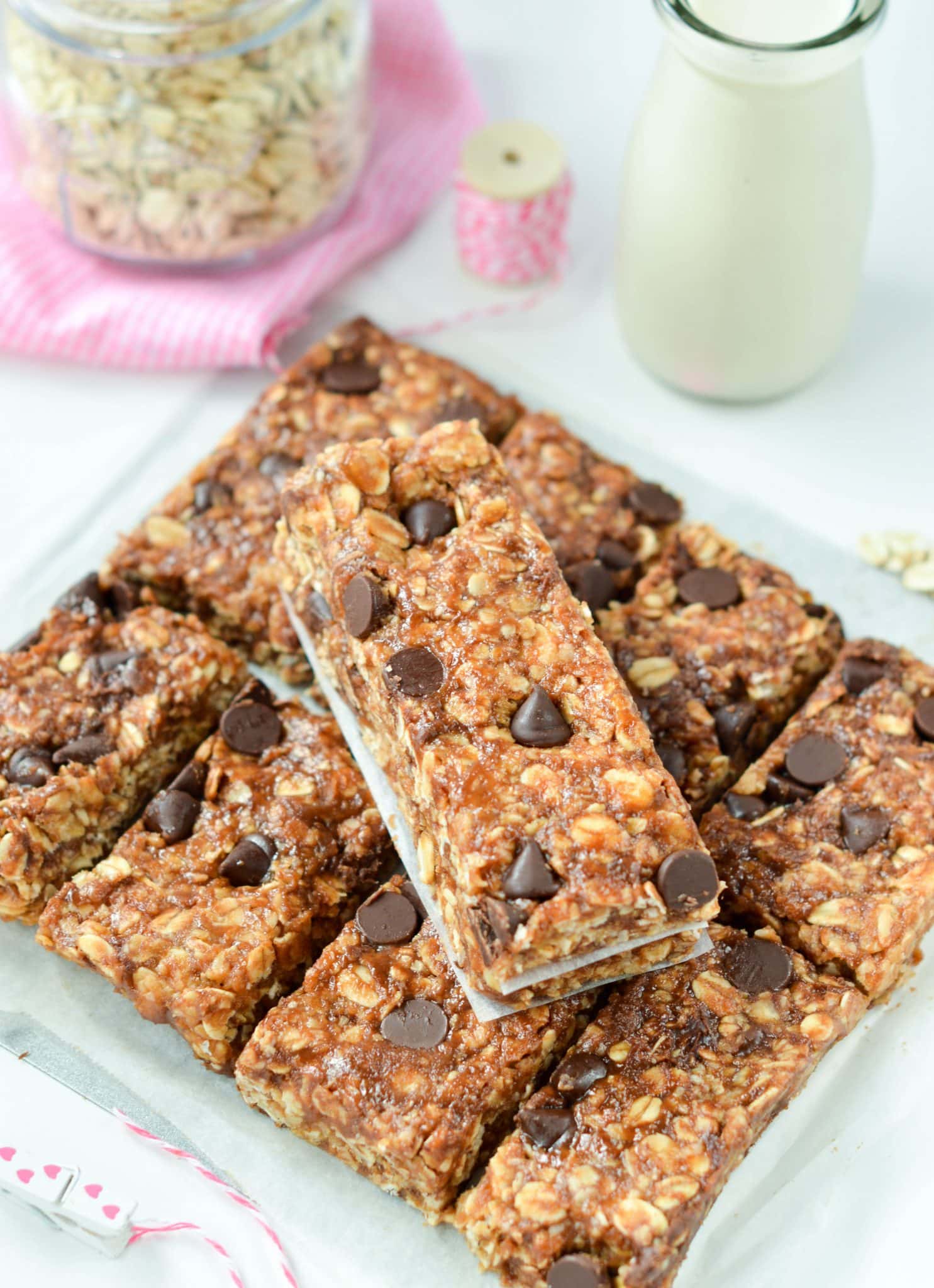 Peanut Butter Oatmeal Protein Bars – an easy clean eating recipe for homemade protein bar, no bake required and only 6 ingredients. All you need to make those no bake protein bars is 10 minutes! Those are perfect to boost your protein intake and makes a great fulfilling sweet snack in the afternoon. I personally eat them before my morning run or before going to the gym. You know I love running and this is the kind of food that help me run longer.
Peanut Butter Oatmeal Protein Bars : my semi marathon food fuel
I was really proud to finish the Auckland half marathon last month in 2h27 minutes. It was a huge challenge after three years of sugar free life. I have never been a huge sportive girl before but now I can not live a day without sport. I often look at the protein bars at the store and I found them really expensive and sometimes a bit too sweet as I am not used to eat very sweet food any more.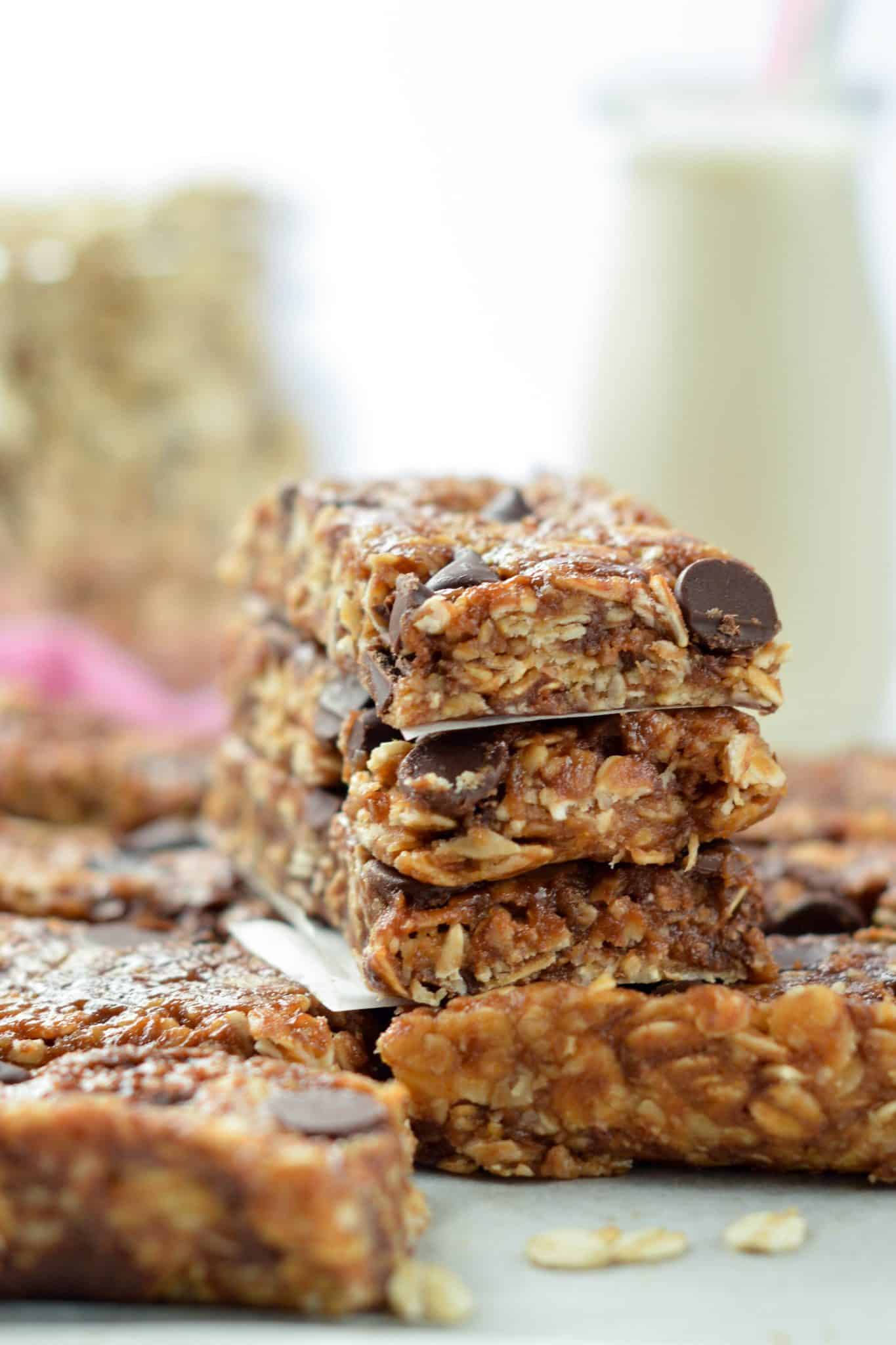 That is how I started to make my own running food lately. I simply developed my recipes following the ingredient listed on a commercial bar I was used to eat. Mainly, a protein bar is always made of nuts and protein powder to boost the protein intake.
Those oatmeal protein bars are made with 6 simple ingredients 100% vegan:
Peanut butter
Brown rice syrup – you can use maple syrup instead by I prefer brown rice syrup as it is less sweet and release slower in my body after sport
Rolled Oats and Jumbo Oats – I used a combo of jumbo size oat and rolled oats to add some texture in my bars.
Vegan Dark Chocolate Chips – optional but I love it !
Vegan pea protein – I used a vanilla one to add some extra flavor
Then some cereal usually rolled oat because it makes a perfect base to boost complex carbs before running. Finally, sweeteners are most of the time brown rice syrup as it contains less sugar than honey.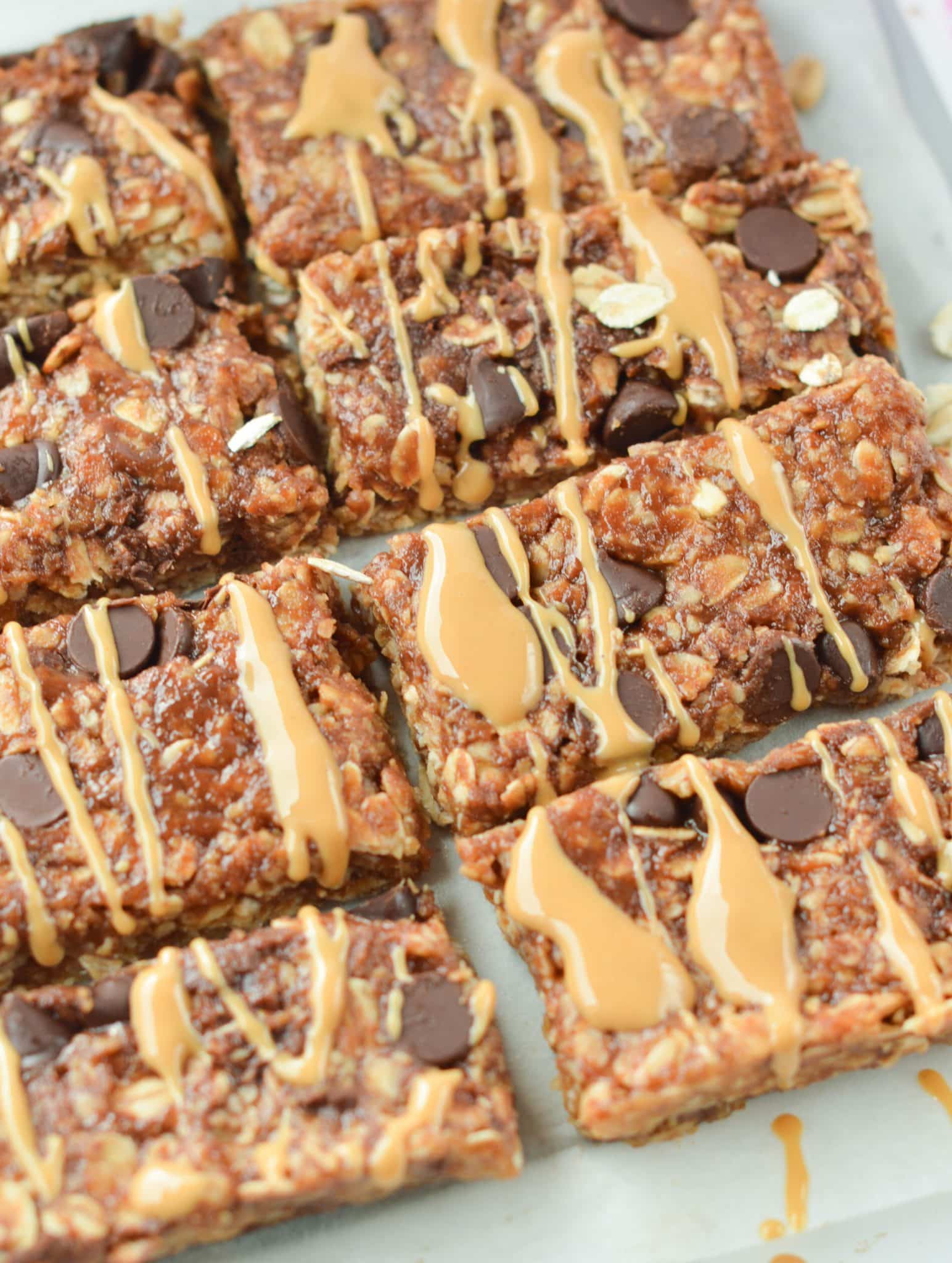 You can of course flavour your bars with anything else you like. Here I topped my bars with chocolate chips. There is sugar in those chips but this is ok when I am running as my body need some fuel. The texture of those bars is chewy with a lovely coconut flavour and bites of oats all round the bar. It is not too sweet but very fulfilling. I made 9 bars with this recipe.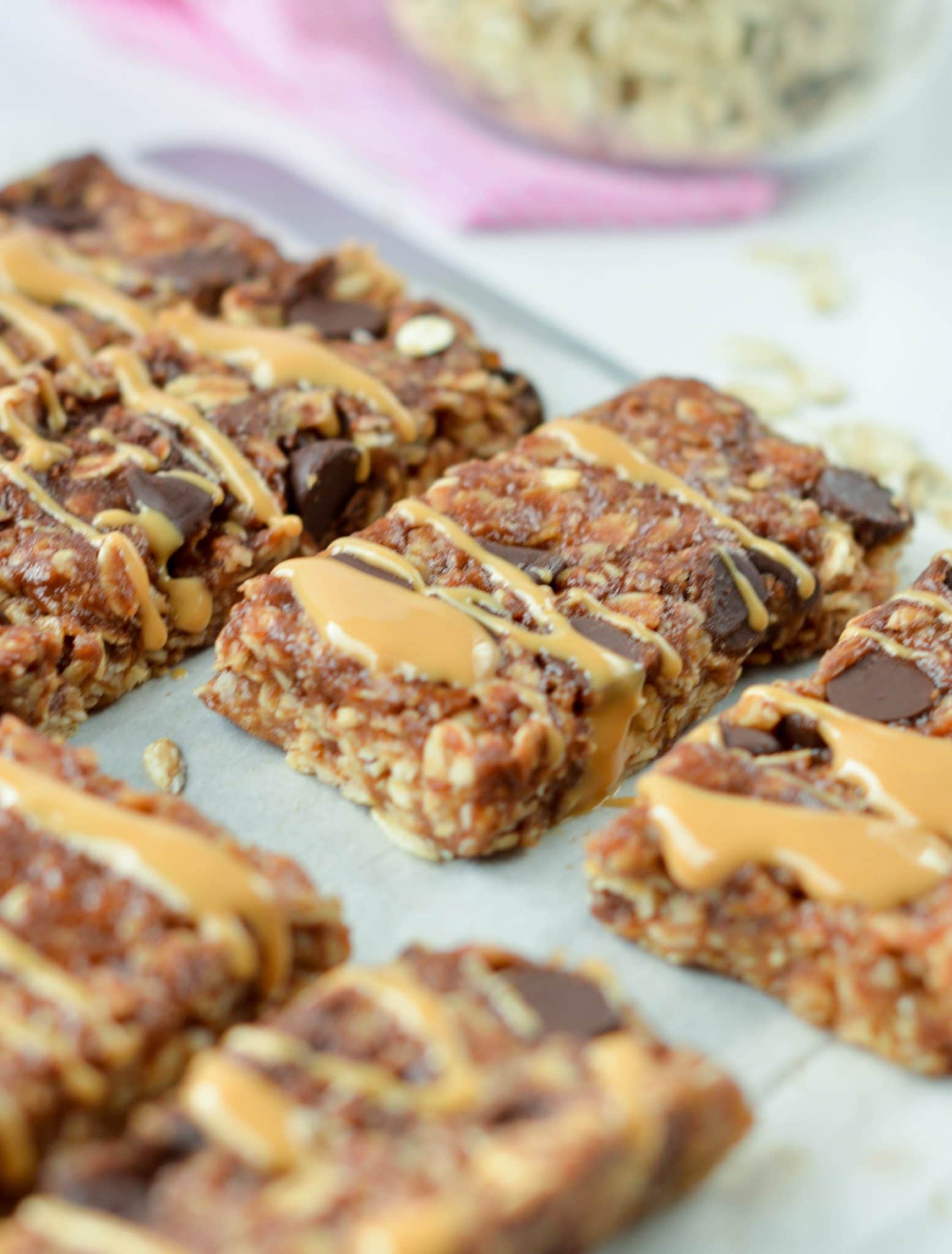 If you enjoy running food recipe simply leave me a comment below and I will share more of my running creation next time 🙂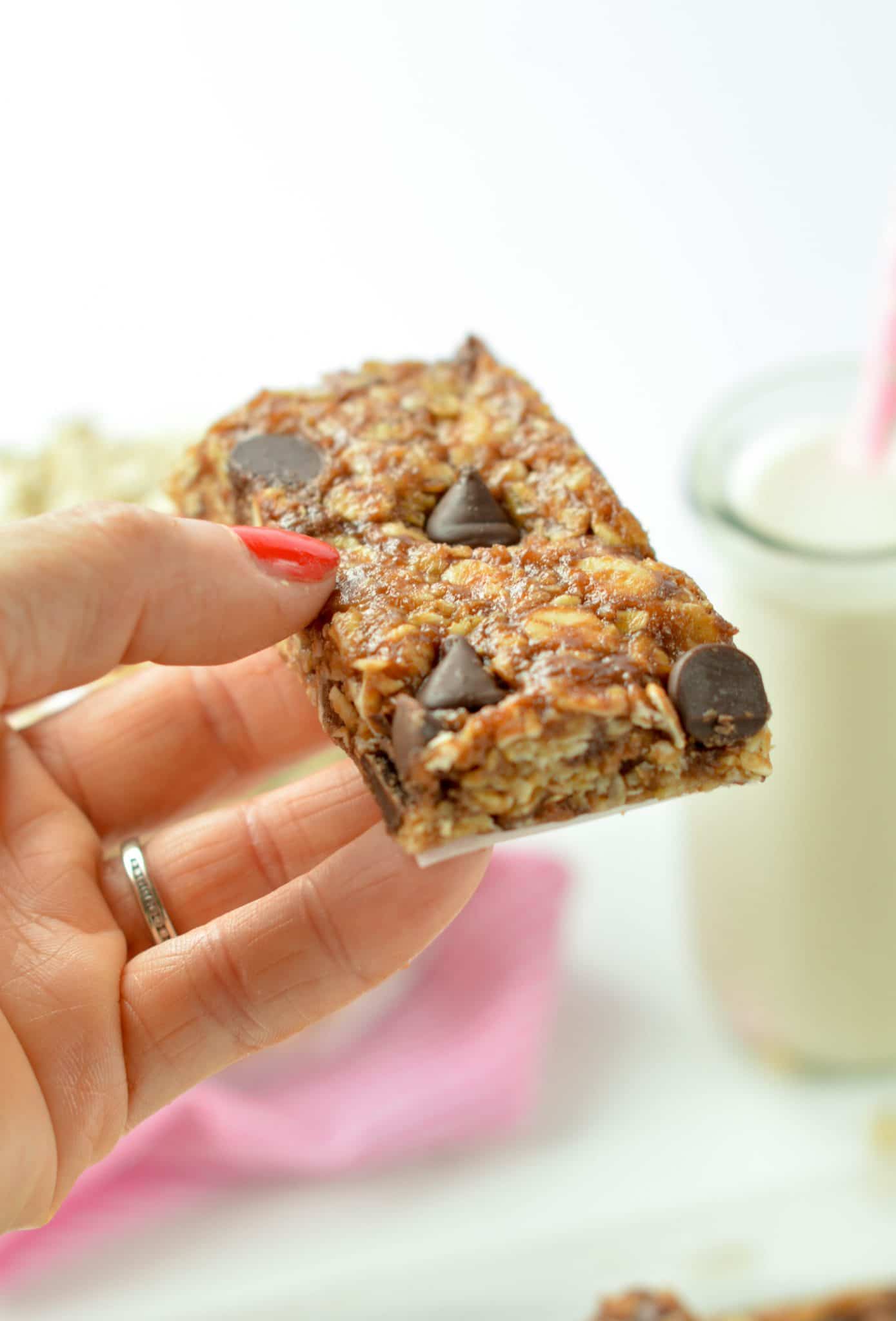 Enjoy!
Watch the recipe video and make those No Bake Oatmeal Protein Bars now !
Peanut Butter Oatmeal Protein Bars
Peanut Butter Oatmeal Protein Bars, an easy clean eating protein bar with only 5 ingredients. Healthy, no bake, vegan.
10 bars
Print The Recipe
3/4 cup Peanut butter
1/2 cup Brown Rice Syrup or honey or maple syrup
1/4 cup Unsweetened almond milk or milk of your choice
1 cup Rolled oats
1 1/3 cup Jumbo oats
1 tablespoon vanilla pea protein powder Vegan
1/4 cup Sugar-free Chocolate Chips + 1/4 cup to decorate - optional
Tired of having to count your carbs?
Try my Keto Meal Plan for FREE!
In a saucepan, under medium heat, warm the peanut butter, sweetener and milk until liquid and smooth - about 1 minute maximum. Stir to avoid the mixture to burn. Set aside.

In a large mixing bowl, combine rolled oat, jumbo oats, protein powder and chocolate chips.

Stir in the lukewarm peanut butter mixture until it forms a dough. The chips will melt, that's what you want.

Transfer the batter in a square brownie pan covered with parchment paper

Press the batter with the back of a spoon or a spatula to spread evenly into the pan .

Top with 1/4 cup extra chocolate chips if you like, or pumpkin seeds, or sliced almonds. Press with your hands to incorporate them into the bars.

Refrigerate one hour or freeze 30 minutes to firm-up quickly.

Cut into 10 bars.

Store in the fridge in an airtight box up to 3 weeks. You can also store them in the pantry, the texture will be softer.
Dark chocolate chips replacement: feel free to use sliced almonds or dried cranberries or coconut thread as a low sugar replacement. Sweetener: any liquid sweetener works in this recipe. I used brown rice syrup as it has a less sweet taste and contains less carbs - better for a fitness fuel. Feel free to replace by honey or maple syrup.
Nutrition Facts
Peanut Butter Oatmeal Protein Bars
Amount Per Serving (1 protein bar)
Calories 293 Calories from Fat 120
% Daily Value*
Fat 13.3g20%
Carbohydrates 37.4g12%
Fiber 4.2g18%
Sugar 14.3g16%
Protein 10g20%
Net Carbs 33.2g
* Percent Daily Values are based on a 2000 calorie diet.
Nutrition panel is for 1 protein bar using 1/4 cup dark chocolate chips for the whole recipe. The recipe makes 10 protein bars.