Sweet potato tots is the tastiest way to sneak some extra vegetables into your diet!  
Well, those cheesy sweet potato tots will quickly become one of your next favorite appetizers!  Trust me, those simple vegetable bites will seduce all your friends and even the kids! I have a HUGE passion for healthy finger food; I already shared with you many of my favorite recipe : spinach balls, baked zucchini balls, cauliflower tots with great success.
Now say hello to those cheesy sweet potato tots!
Sweet potato tots or Kumara tots for Kiwis!
Well, we don't eat finger food every night but during the week end I mostly serve only finger food on my table. The past 3 years I developed so much healthy finger food recipes that I also have a way to turn a veggie into a fun appetizer. From Kale Pizza Crust to Spinach balls or those sweet potato tots ANY vegetables found it is place on my party table and I LOVE IT!
SO more about those little sweet potato bites. Where to start ? Pretty easy simple prepare mashed sweet potato first. I love to baked my sweet potatoes because it had some nutty flavor to the flesh that you don't have when you boil them. Also it keeps the mash 'dryer' and easier to use in this recipe. Oh! and simple tip here :always pick some hole all around your sweet potatoes because baking them to release the extra moisture.
It is also better to wait a while before you extract the sweet potato flesh from their skin cause trust me, I burnt myself many times during this process and it hurts !!! 🙂 HAHA I am always hungry and can't wait much when I am cooking and I burn myself very often in the kitchen.
Then it is a pretty simple recipe. All you have to do is to combine some egg yolk, cheese, herbs and spices of your choice – I used garlic, onion and coriander plus some healthy bread crumb to bind the all ingredients. I choose to use classic gluten free bread crumb for this recipe. I used Bakeworks Gluten free bread crumbs in New Zealand because I love the nourishing flour it contains like millet, buckwheat, linseed and psyllium husk. It is probably the best bread crumb I ever used in long time and I am very happy with it in any recipes I develop.
I recommend to simply use your hands to shape the sweet potato tots – much more easier than any tools and if it is a bit sticky simply rub your hands with a tiny bit of vegetable oil before you starts. Look at this lovely orange color! And this is the lovely results after you bake them. Some crispy and cheesy sweet potato bites. You can clearly see the cheesy bites bursting out each sweet potato tots – that is where the crispiness comes from. The center is moist and smooth with a delicious sweet garlic flavor.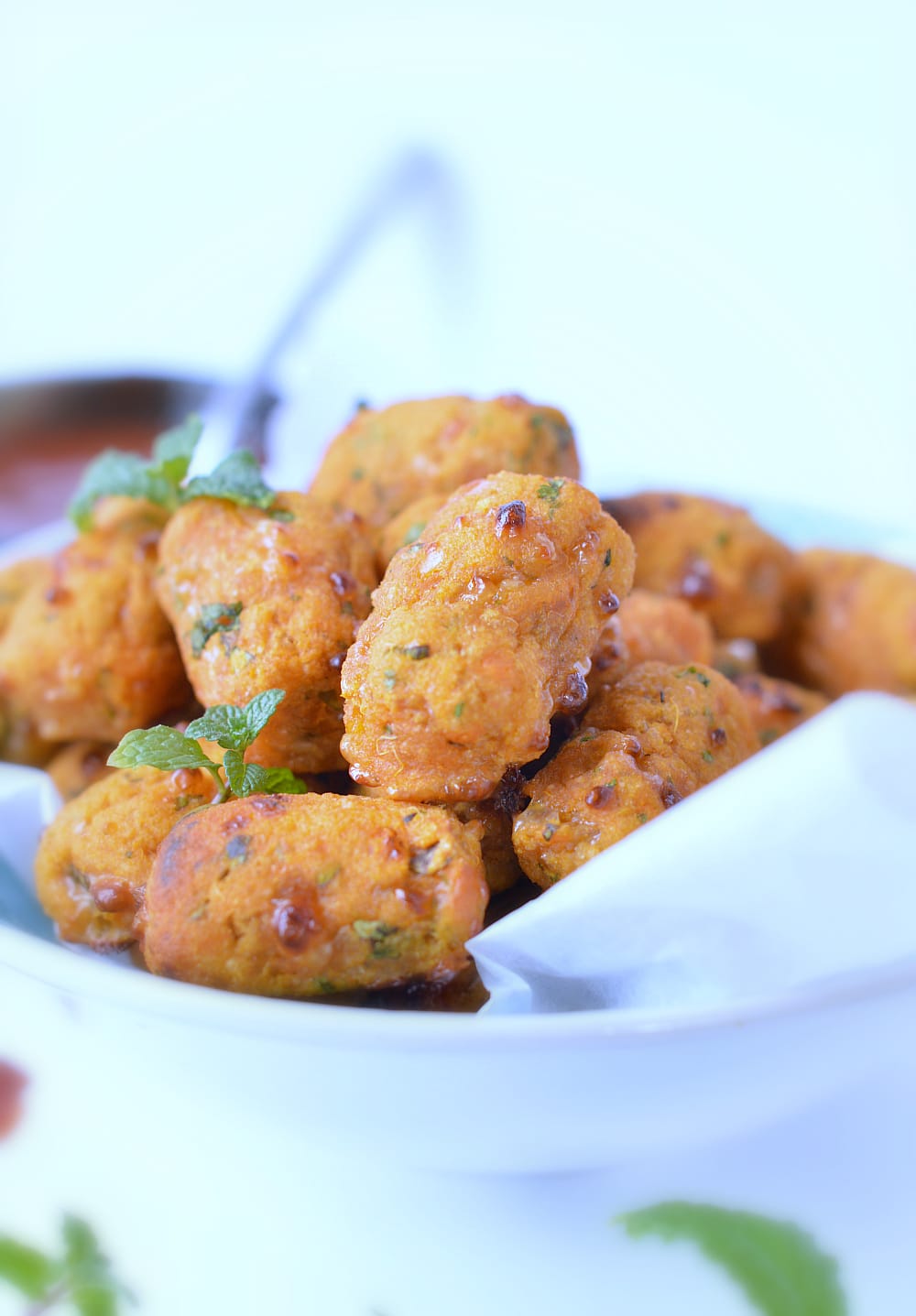 You can make those ahead of course and froze them before or after you bake them. I personally always freeze my tots before baking and bake them frozen until hot and crispy. Enjoy this recipe and see you soon on the blog!
More healthy bite size food
You may also want to try my others finger food recipes below
xoxo Carine
Sweet potato tots
Cheesy Baked Sweet potato tots recipe - healthy + easy + kids friendly finger food. A moist and crispy bites food perfect as an appetizers too.
30 tots
Print The Recipe
1 3/4 cup mashed sweet potatoes about 3 medium size sweet potatoes (420 g mashed sweet potatoes)
1 Egg Yolk or 1 tablespoon flaxseed in 2 tbsp water
1/2 cup Grated Cheese I used vegan cheddar cheese
1 Onion finely grated
3 Garlic clove crushed
1 cup low carb breadcrumb or breadcrumb of your choice
1/4 cup fresh parsley or cilantro
3/4 teaspoon salt (optional)
Preheat oven to 200C (392 F)

On a baking tray, place the sweet potatoes. Use a fork to pick holes all over the sweet potatoes.

Bake for 30 minutes or until a skewers easily goes through the sweet potatoes.

Remove from the oven and cool down 10 minutes before handling them.

Carefully slice the sweet potatoes half lengthwise and use a spoon to remove the flesh. Discard the skin.

Place the sweet potato flesh in a large mixing bowl. Cool down until it reach room temperature before you combine with the other ingredients.

Add egg yolk, grated cheddar, grated onion, crushed garlic, breadcrumb, fresh herbs and salt.

Combine with a spoon until it forms a mash that you can easily handle with your hands to shape small tots.

Prepare a baking tray covered with parchment paper. Set aside.

Use your hands to shape the sweet potato tots and place them on the tray leaving half thumb space between each tots.

Bake at 200 C (392 F) for 20 - 30 minutes or until the outside is crispy and slightly golden brown. The center will stay soft and moist.

Serve with extra dipping sauce like ketchup or guacamole for an healthier choice.
Note 1: feel free to use low fat grated cheese or use vegan cheese Note 2: This recipe makes about 30 tots. You can freeze them before baking them. The day you want to eat them, simply bake them frozen. It will take a little bit longer to bake but the taste won't change. Note 3: can be eaten hot or cold in kids lunchboxes Note 4: nutrition panel is for one sweet potato tot Vegan note: since I eat vegan now I retested the recipe to be 100% cruelty free. Replace the egg yolk but 1 flaxegg soaked for 10 minutes in 2 tablespoon of water, and use vegan grated cheddar - see recipe video for more details. (update on 25/10/2017)
Nutrition Facts
Sweet potato tots
Amount Per Serving (30 tots)
Calories 24 Calories from Fat 8
% Daily Value*
Fat 0.9g1%
Carbohydrates 3.1g1%
Fiber 0.4g2%
Sugar 0.6g1%
Protein 0.9g2%
Net Carbs 2.7g
* Percent Daily Values are based on a 2000 calorie diet.