Time to jump on this healthy pear smoothie with vanilla almond milk. A delicious clean eating recipes that taste like pear ginger cake.


Banana Pear smoothie
I have been drinking smoothie most of the winter, but it is the very first time I have pear in my smoothie. I am not obviously having smoothie for breakfast. To me smoothie is an healthy and easy way to fix my sweet craving without guilt. That is the little story behind this pear smoothie recipe.  If you know me, than you know I am French and I love to read French cuisine magazine to inspire my recipes. I agree, they are not the healthiest but I love their flavor combo, and then it is super simple to adapt a recipe from there. I feel like reading when it is bedtime.
So ….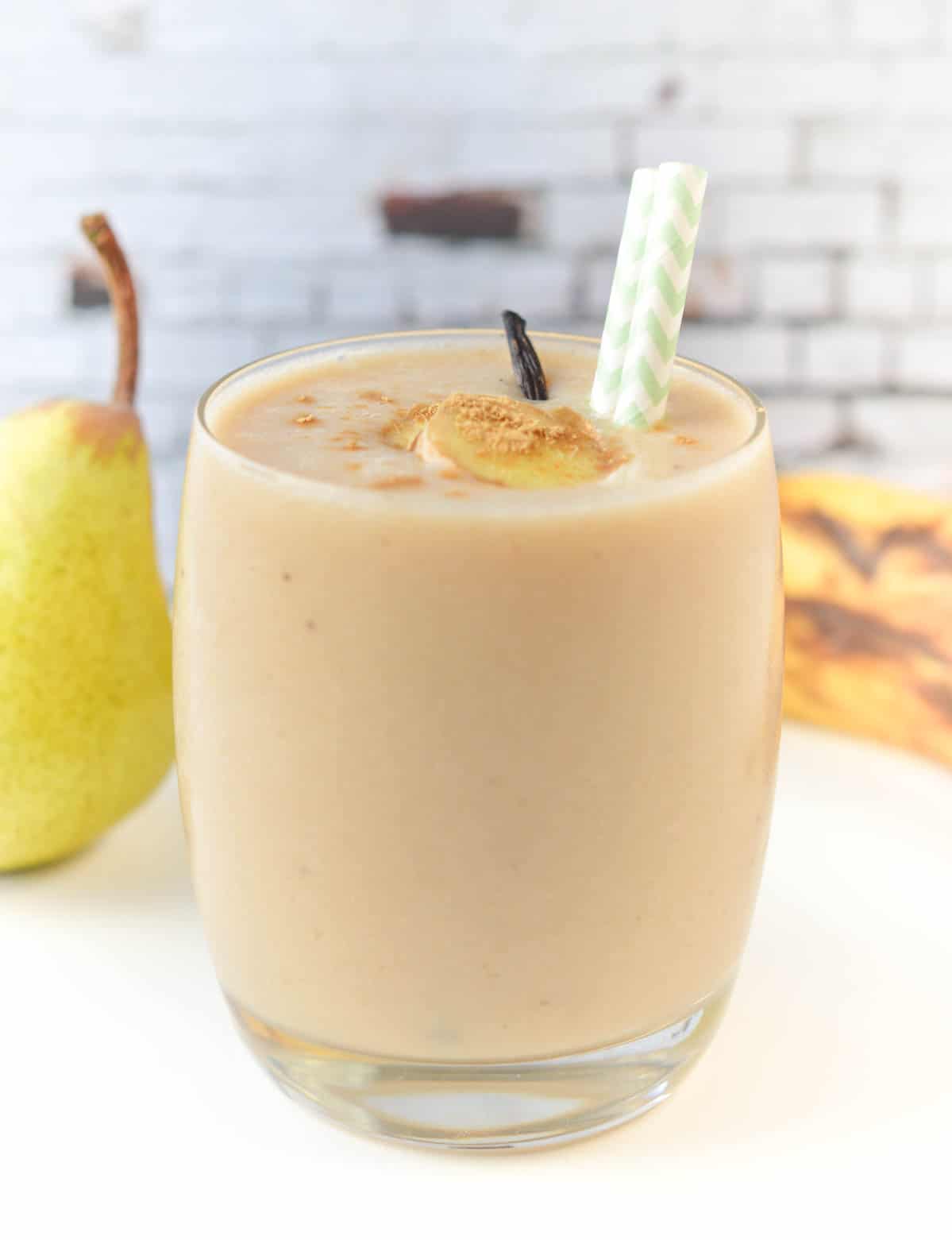 Yesterday night, I opened my magazine, saw a lovely pear ginger bread recipe that blend ginger, vanilla and almond. So yeah, it makes me super hungry. I have got an healthy gluten free pear ginger bread recipe on the blog but who would bake a cake at 8 pm, right?  I mean, I could before having two kids sucking all my energy. Anyway, that is how I came up with a pear smoothie recipe idea. I am not saying I won't make a pear ginger cake later, but this pear smoothie did the trick for tonight. Luckily I always have some Almond Breeze Vanilla Almond Milk on hand. I love how it adds a delicious vanilla flavor to my drink, it is also super light, dairy free, low calories. The perfect milk to make guilt-free smoothies.
Don't worry, this pear smoothie recipe is super simple. I blend a pear, banana, ginger and Unsweetened Vanilla Almond Milk. It makes the most delicious pear smoothie. Not too thick, full of spices flavor and super handy to fill my mug and go back to bed with my magazine. I am not saying I won't make a pear ginger bread for breakfast tomorrow. But for tonight this pear smoothie satisfy my sweet tooth in a minute.
WATCH THE PEAR SMOOTHIE VIDEO RECIPE AND MAKE IT NOW
Enjoy the lovely pear smoothie recipe.
Pear Smoothie with Almond Milk
Banana Pear smoothie an healthy breakfast smoothie with vanilla almond milk and ginger. A delicious vegan spices breakfast drink.

Ingredients
1

pear

peeled, cored, frozen

1

banana

, ripe, frozen

1

teaspoon

ground ginger
Instructions
Throw all your ingredients into a blender and blend until nice and smooth. For an even thicker consistency, use frozen banana or add 1 tablespoon of rolled oat.

Recipe Notes
Breakfast option: for a thicker and fulfilling smoothie I recommend to add 1 tablespoon of rolled oat or millet flakes if gluten free.
Fruits:  if you don't have frozen pear on hand, you can use unfrozen pear the smoothie will simply be a little less creamy and thick. Ad 2-3 more ice cubes to compensate!
 This recipe serve 2 pear smoothie glasses, 2 people. Nutrition panel is for one glass, one person.
This recipe has been sponsored by Almond Breeze NZ. I received a compensation to develop this recipe but note that I only recommend product I love on my blog and product I use everyday. Thank you.