This Coconut Cauliflower Rice tastes like your favorite restaurant-style gluey coconut rice, but it only contains 2.8 grams of net carb per serving.
This delicious creamy coconut rice made with cauliflower rice can be paired with Chinese Keto Orange Chicken or any other Asian dish.
Is Rice Keto-Friendly?
Rice is a high-carb grain, it contains 28 grams of net carbs per 100 grams.
As a result, it's not recommended on a keto diet as you would need to eat only 10 grams of rice to have the same number of carbs as you would with my Coconut Cauliflower Rice!
How To Make Coconut Cauliflower Rice
It's super easy to make low-carb coconut rice from riced cauliflower.
Ingredients
All you need are four simple ingredients:
Cauliflower Rice – you can make your own cauliflower rice from fresh raw cauliflower florets or buy frozen ready-made riced cauliflower. Both options work really well in this recipe.
Canned Coconut Cream – you find this ingredient in the Asian aisle of your grocery store. You can also use canned coconut milk as well, but the result is less creamy. See my notes below for the ratio and tips on how to swap one for the other.
Coconut Oil
Salt
Then, there are a few optional ingredients you can add to boost the flavor of the recipe:
Cilantro – fresh or dried.
Garlic powder
Unsweetened desiccated coconut
Prepare the cauliflower
First, trim a head of cauliflower, remove the stems and leaves, and discard them.
Cut the cauliflower into small florets and place one or two cups at a time in the bowl of your food processor, and pulse on low-medium speed for 30 seconds.
Stop, scrape the bowl and repeat until the cauliflower florets turn into a small crumbly texture that looks like rice.
Set aside in a bowl and repeat with the remaining cauliflower.
Method for frozen cauliflower rice
If you are using frozen cauliflower rice in this recipe, skip the step above and directly start the recipe on the next step.
You don't have to thaw frozen riced cauliflower for this recipe.
However, it may take a bit longer to stir fry the frozen cauliflower rice as it releases more water than fresh cauliflower.
Stir fry the cauliflower
Now, in a non-stick frying pan over medium-high heat, warm the coconut oil and add cauliflower rice.
Stir fry for about 5-6 minutes until the cauliflower is fried and tender.
Add cream
Now, add in the coconut cream. You have two options here.
If you pop the can in the fridge the day before making your cauliflower rice, some thick cream will lay on top of the can.
You can scoop out that cream and use it as-is for ultra-creamy rice.
Or, you can shake the can before opening it and use the mixed cream. If the cream is combined with the liquid, the rice is less packed, looser, but still delicious.
Cook the rice by often stirring until the mixture is creamy and most liquid is evaporated – about 8 minutes in total. Don't exceed 15 minutes of cooking or the cauliflower rice gets a mushy texture.
If you want the coconut cauliflower rice to be as gluey and sticky as the one from Asian restaurants, sprinkle 1/4 teaspoon of xanthan gum on the dish and stir to combine.
Add-ons
When the coconut cauliflower rice is cooked through and creamy, stir in some flavorsome spices like a pinch of garlic salt, pepper dried cilantro, lime zest, or lime juice. A great addition is also 1/4 cup of unsweetened desiccated coconut. This adds texture and enhances the coconut flavor of this recipe.
Serving ideas
This cauliflower coconut rice is delicious as a side dish to any grilled meat or Asian meal like my:
or you can use this recipe as a base to make a keto poke bowl or a keto donburi.
Storage
This coconut cauliflower rice recipe can be stored for up to 3 days in an airtight container in the fridge.
You can also use this recipe to meal prep some delicious keto lunch. Freeze and thaw the meal the day before.
Allergie Swaps
This coconut cauliflower rice is naturally:
Grain-free
Gluten-free
Vegan
Paleo
If you have an allergy to coconut, you can replace coconut oil with ghee or butter and coconut cream with heavy cream.
But, of course, swapping these ingredients removes the coconut flavor in the recipe, which I don't recommend for achieving restaurant-style keto coconut rice.
It's an option to enjoy a creamy keto rice recipe if you have a coconut allergy.
Frequently Asked Questions
Can I Use Canned Coconut Milk?
Yes, you can decrease the saturated fat in the recipe and use coconut milk instead of coconut cream. However, you must add less coconut milk, or the rice will be runny, not creamy at all.
Also, don't use packaged coconut milk as it's highly diluted with water and it won't make the rice creamy at all.
The ratio to use canned coconut milk instead of the thick top part of canned coconut cream is:
1/2 cup thick coconut cream replaced with 1/3 cup canned coconut milk

Have you made this keto cauliflower coconut rice? Share a review or comment below to tell me how you serve yours! I love to hear back from you.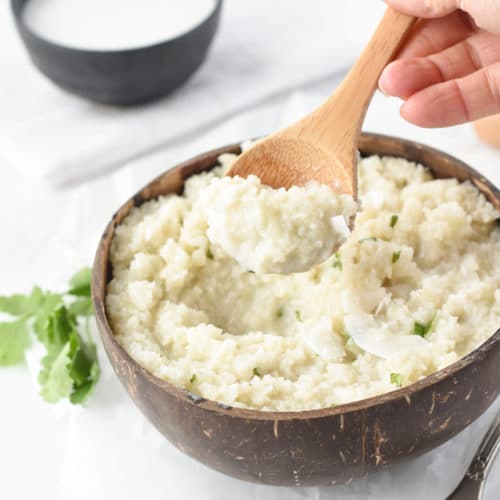 Coconut Cauliflower Rice
An easy 4-ingredient Coconut Cauliflower rice for a low-carb Asian style side dish.
Yield:
servings (1/2 cup)
Ingredients
1

medium

Cauliflower Head

riced, equivalent to 4 cups raw cauliflower rice

2

tablespoons

Coconut Oil

or ghee or butter

½

teaspoon

Salt

½

cup

Canned Coconut Cream

or 1/3 cup canned coconut milk
Optional – to serve
1

tablespoon

Lime Juice

¼

teaspoon

Garlic Powder

1

tablespoon

Coconut Oil
This recipe may contain Amazon or other affiliate links. As an Amazon Associate I earn from qualifying purchases.
Instructions
Optional – For ultra-creamy rice, pop the can of coconut cream in the fridge the day before to make sure the cream lays on the top of the can when you open it
Preparing the cauliflower rice
(Skip if you are using frozen cauliflower rice) Trim the cauliflower head, remove the green leaves and the cauliflower feet. Discard them.

Cut the cauliflower into small florets.

Place 2 cups at a time of cauliflower florets in the food processor with the S blade attachment and process on high speed for 30 seconds until it resembles rice. Set aside in a bowl. If you don't have a food processor, use a hand grater box.

Repeat the above process until all the cauliflower florets are turned into the rice. Measure 4 cups of cauliflower rice.
Stir fry
Heat and melt 2 tablespoons of coconut oil butter in a non-stick pan and stir in the 4 cups riced cauliflower.

Stir fry on medium high heat, in coconut oil for 4-5 minutes, until slightly golden grilled, still tender but cooked through.

If you refrigerated the can of coconut cream, open without shaking and scoop out the thick cream that lay on top of the can, measure 1/2 cup. If you didn't refrigerate the can, shake before opening and measure 1/2 cup. Stir in the pan. Keep cooking until the rice is creamy and fragrant, about 9 minutes in total.

Season before serving with salt, garlic powder, cilantro, lime zest, or juice if desired.

You can stir in an extra tablespoon of coconut oil before serving for an extra creamy texture.
Want My Kitchen Equipment?
Yield:
servings (1/2 cup)
Serving:
1
serving
Calories:
97.6
kcal
(5%)
Carbohydrates:
4.6
g
(2%)
Fiber:
1.8
g
(8%)
Net Carbs:
2.8
g
Protein:
1.9
g
(4%)
Fat:
8.9
g
(14%)
Saturated Fat:
7.7
g
(48%)
Polyunsaturated Fat:
0.1
g
Monounsaturated Fat:
0.4
g
Sodium:
167.5
mg
(7%)
Potassium:
263.7
mg
(8%)
Sugar:
1.4
g
(2%)
Vitamin C:
35.1
mg
(43%)
Calcium:
17.6
mg
(2%)
Iron:
0.6
mg
(3%)
Magnesium:
15
mg
(4%)
Zinc:
0.3
mg
(2%)
Posted In: