This Keto Coconut Pie crust is a simple, healthy, and low-carb pie crust made with only four wholesome ingredients.
The crust contains only 2.9 grams of net carbs per serving and tastes like the real thing.
It's perfect for any sweet pie like my sugar-free pumpkin pie or keto lemon pie.
What's A Coconut Pie Crust?
A Coconut Pie Crust is different from a coconut flour pie crust since it's not made with coconut flour but rather with shredded coconut.
As a result, coconut pie crusts have a strong coconut taste and a crumbly, crusty texture that marries very well with sweet and savory pies.
Why You'll Love This Recipe
This Coconut Pie Crust recipe has an amazing taste but it's also:
Great for Savory or Sweet Pies
Gluten-Free
Dairy-Free
Low-Carb
Keto-Friendly
Paleo
Ready In 25 Minutes
Made with 4 Ingredients
How To Make Coconut Flour Pie Crust
This keto coconut crust is perfect for any sweet or savory keto pie. It does not contain many carbs, only 2.9 grams per serving, as it is made of 4 simple low-carb ingredients.
A regular pie crust is at about 12-14 grams of net carbs per slice!
Ingredients
Unsweetened Coconut – make sure you are using unsweetened shredded coconut to avoid carbs from any added sugar that some brands include.
Almond flour – Almond meal would also work but the crust will be darker and dryer. I prefer to use ultra-fine almond flour. Almond flour is one of the best keto-friendly flours.
Eggs – I used large free-range eggs. Eggs are a keto-friendly ingredient.
Coconut Oil or soft butter at room temperature. I prefer to use coconut oil as it makes the recipe dairy-free.
This is a delicious buttery keto pie crust, suitable for diabetics with a delicious coconut flavor that marries well with any sweet filling.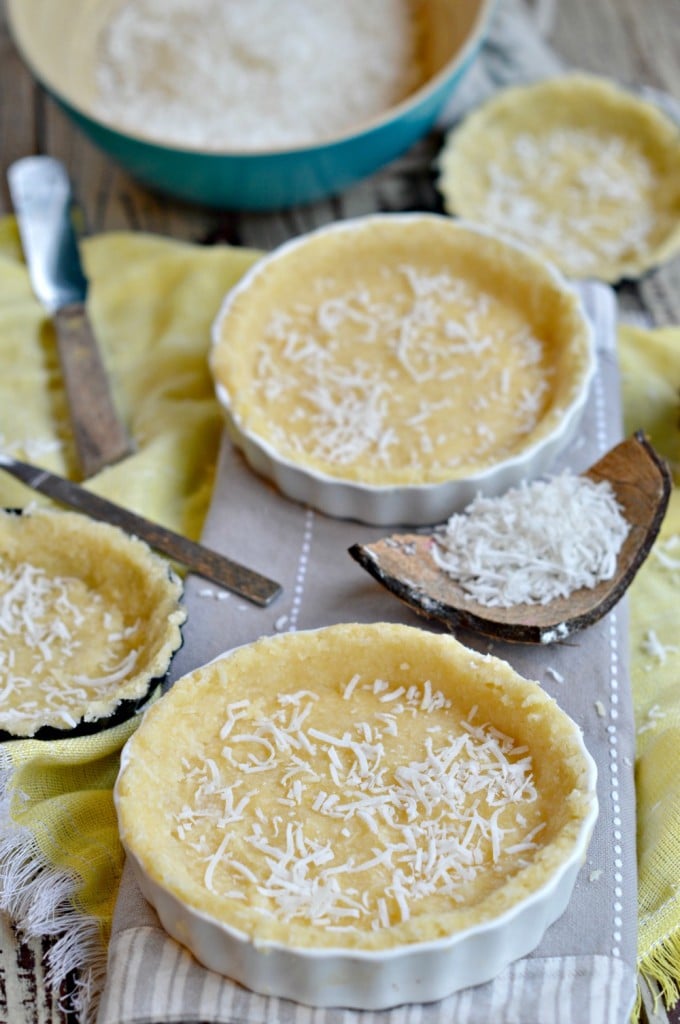 Making The Batter
Shredded coconut is very low in carbs if you use unsweetened coconut.
In fact, in some countries shredded coconut contains sugar so watch out! It is worth double-checking to make sure the recipe comes out keto-friendly!
It is a very easy coconut pie crust recipe, made in 2 minutes in your food processor!
That is clearly a no-fail recipe as all you have to do is combine all the ingredients together in the food processor to form this lovely coconut pie crust gluten-free dough.
I recommend using almond flour which results in a lighter crust.
However, you can also use an almond meal, it will work and leave some brown spots in the dough coming from the almond skin as seen in the picture below.
Shaping The Coconut Pie Crust
The dough could be a bit crumbly at first. If this happens, transfer the dough into a mixing bowl and gather all the crumbly pieces with your hand.
Press firmly to form a ball like in the picture below.
Roll the dough between two pieces of plastic wraps. It is the easiest way I found to achieve a thin crust.
Then I peel off the first plastic layer and flip over the crust onto a loose bottom pie pan. It may break and it is fine. It is a slightly crumbly dough so if this happens it is super easy to fix that with your hands.
Add the crumbly pieces where needed – where some dough is missing. By pressing with your fingers it will stick together in the pan almost like playing with a kid's play dough!
Except for that coconut pie crust, I really love to make a coconut flour pie crust for my quiche.
For a change with sweet pies, I love to use my coconut cashew crust as well.
Tools For Coconut Pie Crust
After a few attempts, I noticed that this coconut crust recipe is easier to remove from the pan using a removable bottom round pie pan.
I am now using a non-Stick 9-Inch Round Pan with Removable Bottom.
Again it is up to you to choose the pan pie you like but that is my recommendation.
I really love to make pie crust without white flour or refined ingredients. It is a very different way of baking.
It could be confusing at first because the pie dough has a different texture and break easily when you fill the pan.
But the taste is amazing and it is so nutritious!
Coconut Pie Crust
A delicious and easy gluten-free coconut pie crust made in a food processor. with only wholesome ingredients. A great clean food recipe for pie lovers. Perfect to make a pumpkin pie, apple pie or any other sweet pie.
Serving Size:
1
slice without filling
Ingredients
2

cups

Unsweetened Desiccated Coconut

½

cup

Almond Flour

¼

cup

Coconut Oil

+ 1 teaspoon to oil the pan

2

large

Egg
Optional
1

tablespoon

Erythritol

or coconut sugar (replace by 1 tsp salt for savory pie)

1

tablespoon

Vanilla Extract
This recipe may contain Amazon or other affiliate links. As an Amazon Associate I earn from qualifying purchases.
Instructions
Preheat the oven to 350°F (180°C). Grease a loose bottom pie pan with 1 teaspoon of coconut oil or butter. Set aside.

In a food processor using the S blade attachment, add all the ingredients shredded coconut, almond flour, melted coconut oil or soft butter, and eggs. If you like, add erythritol and vanilla extract to enhance the sweet flavor of the crust.

Blend on high speed for 1-2 minutes or until a dough ball is forming (as you can see in the post picture).

It could be slightly crumbly. If it is, simply transfer the dough onto a hard surface and, using your hands gather the crumbled pieces together to form a ball of dough. It will stick and hold perfectly together

Place the dough ball between two pieces of plastic wraps or parchment paper. Press the dough ball with your hand and start rolling with a rolling pin until thin – about half cm thickness. Otherwise, press the dough directly into the pan, both techniques work. It is up to you to choose what works the best for you.

Remove the top layer of plastic wrap and flip over the rolled dough onto a 26 cm (10 inches) loose bottom pie pan previously oiled with a teaspoon of coconut oil. Remove the last piece of plastic wrap. If the dough breaks or crumbles during the transfer it is easy to use your finger to fill the gaps in the pan. Simply press the dough onto the empty areas until you cover all the pan with the dough.

Bake at 350°F (180°C) for 20-30 minutes with or without filling. You don't need to pre-bake the crust for pumpkin pie.

Cool for 1 hour in the pan before you carefully unmold the crust. This crust is very fragile so use a loose bottom pan to avoid breaking it.
Notes
Note 1: If you are using a filling that needs to be baked, like pumpkin pie filling, add the filling to the pre-baked crust and return to the oven until the filling is set. If some cold filling is used, like custard or fresh fruits, wait until the crust has fully cooled down before adding anything inside. Note 2: For a savory pie, don't add the erythritol and vanilla extract. Replace these ingredients with one teaspoon of sea salt.
Want My Kitchen Equipment?
Serving Size:
1
slice without filling
Serving:
1
slice without filling
Calories:
259.1
kcal
(13%)
Carbohydrates:
6.9
g
(2%)
Fiber:
4.2
g
(18%)
Net Carbs:
2.7
g
Protein:
4.5
g
(9%)
Fat:
25.1
g
(39%)
Saturated Fat:
18.4
g
(115%)
Polyunsaturated Fat:
0.5
g
Monounsaturated Fat:
1.5
g
Trans Fat:
0.1
g
Cholesterol:
46.5
mg
(16%)
Sodium:
25.8
mg
(1%)
Potassium:
135
mg
(4%)
Sugar:
2.1
g
(2%)
Vitamin A:
67.5
IU
(1%)
Vitamin B12:
0.1
µg
(2%)
Vitamin C:
0.3
mg
Vitamin D:
0.3
µg
(2%)
Calcium:
27.5
mg
(3%)
Iron:
1.2
mg
(7%)
Magnesium:
20.8
mg
(5%)
Zinc:
0.6
mg
(4%)
Posted In: