Crustless Zucchini Quiche
This Crustless Zucchini Quiche recipe is the most convenient keto breakfast on the go, baked in jumbo muffin tins!
You will love the combo of egg, zucchini, pesto, and Parmesan. Bonus, this single-serve crustless quiche freeze really well too to meal prep your next keto breakfast.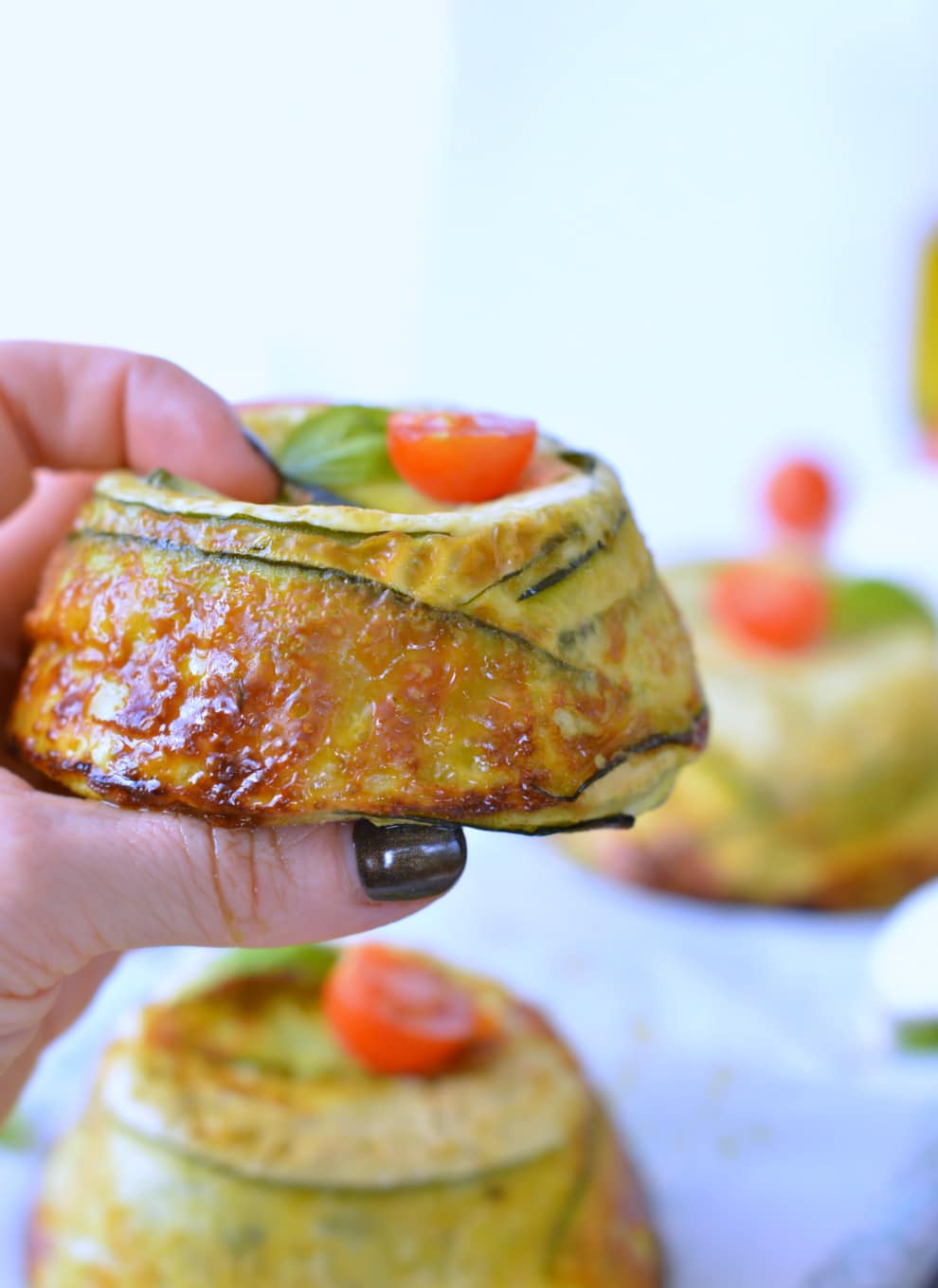 What's A Crustless Zucchini Quiche?
A Crustless Zucchini Quiche is a quiche with no crust! They are the perfect keto quiches since they don't have the carb from the wheat crust.
Although there are a few ways to bake a crustless zucchini quiche, it can be baked in a large 9-inch quiche pan or in muffin trays for a single-serve breakfast.
Why You'll Love This Recipe
This crustless zucchini quiche recipe is amazingly tasty but it's also:
Gluten-Free
Low-Carb
Keto-Friendly
Vegetarian
Dairy-Free Option
Paleo
Ready In 30 Minutes
How To Make Crustless Zucchini Quiche
This is a muffin tray recipe which means that each crustless quiche is baked in a jumbo 8-hole muffin tray.
You only need a handful of healthy, wholesome ingredients to make it.
Key Ingredients
Zucchini – Zucchinis are keto-friendly vegetables. They need to be cut or shaved in thin ribbons to make it easy to shape the quiches. And more zucchinis will be used to make a low-carb pesto mixture.
Onion – for the pesto mixture. I prefer to use yellow onions, but you can use red onions if you prefer.
Pesto – you can either buy it ready-made or make your own low-carb pesto. All you need is olive oil, fresh basil, Parmesan cheese, lemon zest, and pine nuts. Ground the lot to make keto pesto.
Eggs – pick large, free-range eggs. Eggs are keto-friendly ingredients.
Almond Milk – prefer unsweetened, unflavored almond milk. You can replace almond milk with any other dairy-free milk such as oat milk, or coconut milk.
Parmesan – Parmesan is one of the keto-friendly cheeses.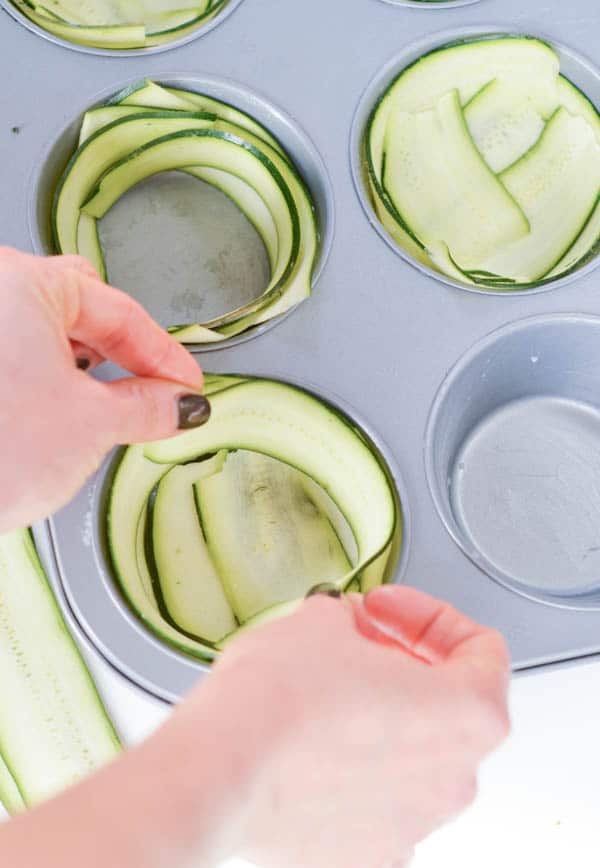 Instructions
It is a very convenient recipe to create a single-serve keto breakfast with the same carbs per serving.
First, you need to prepare the zucchini, peeling then lengthwise with a vegetable peeler, and create a ribbon.
The zucchini ribbons act as the crust. It is the trick to making a single-serve crustless quiche that holds in one hand.
Below, you can see how to arrange the zucchini ribbons in the muffin holes to ensure they are fully covered.
Next, prepare the filling by cooking some grated zucchini along with the pesto. You can also make my Spinach Pesto.
Finally, combine the cooked zucchini with egg almond milk batter and filled each hole with the filling.
Storage Instructions
It is better to serve these crustless zucchini quiche hot. However, you can also store leftovers in the fridge for up to 3 days or freeze them in an airtight container.
To rewarm your crustless zucchini quiche, you can:
Pop them in the microwave for 1 minute – not the best as the egg texture gets a bit chewy, but if you are at work, it is a way to do it!
Bake them at 250°F (120°C) for 10-12 minutes until warm in the center.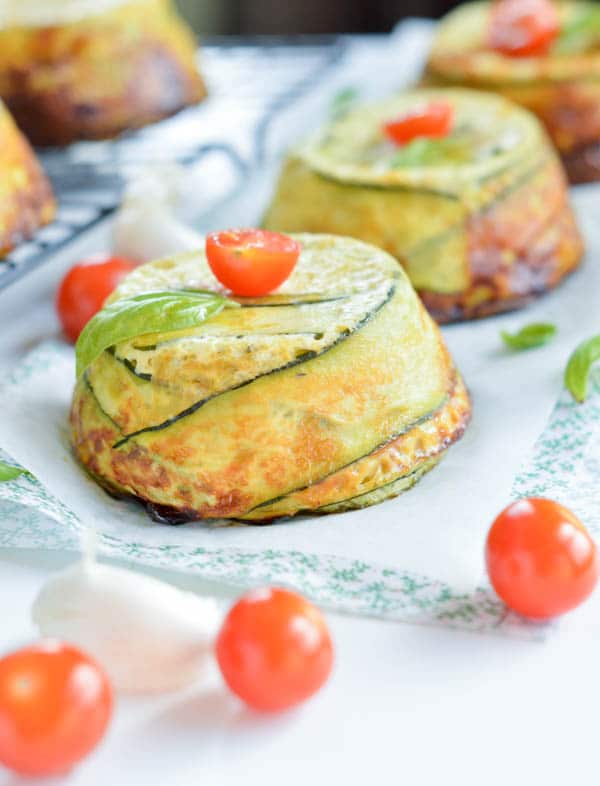 More Keto Zucchini Recipes
Zucchini is an amazing keto vegetable, low in carb and tasty! if you love zucchinis, try some of my other keto zucchini recipes below
Have you make these Crustless Zucchini Quiches? Share your picture with me on Instagram.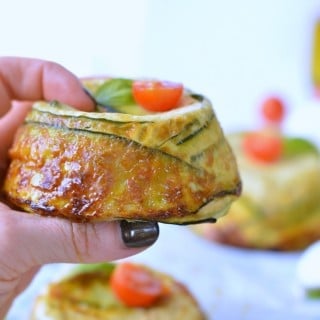 Crustless Zucchini Quiche with Pesto and Parmesan
Single Serve crustless zucchini quiche with Pesto and Parmesan. Low carb, 5.2 grams of net carbs per serving, fulfilling with 15 grams of protein. A healthy brunch recipe for egg lovers.
Serving Size:
1
crustless quiche
Ingredients
Pesto Zucchini mixture
2

tablespoons

Extra Virgin Olive Oil

1

Onion

finely chopped

3

cups

Grated Zucchini

ends trimmed – about 4 medium size zucchini

2

tablespoons

Pesto
Quiche Egg and Cheese Pesto Filling
6

large

Eggs

at room temperature

2

cups

Unsweetened Almond Milk

at room temperature

2

cups

Shredded Parmesan

optional

3

tablespoons

Pesto

1 ½

tablespoon

Oregano

¼

teaspoon

Salt
For the muffin tins preparation
1

Zucchini

peeled into ribbons

1

teaspoon

Coconut Oil

or vegetable oil of your choice (to grease the muffin tins)
This recipe may contain Amazon or other affiliate links. As an Amazon Associate I earn from qualifying purchases.
Instructions
Preheat the oven to 400°F (200°C).
For the muffin tins preparation
With a vegetable peeler, peel one zucchini into thin ribbons. Make sure you trimmed the ends of the zucchini first. Don't peel the other zucchinis.

Grease a 6-hole jumbo muffin tray with a bit of coconut oil and arrange the thin zucchini ribbons all around the muffin tin, including the bottom, to create a crust-like style. Repeat for each muffin hole until the tray is full. Set aside.
Pesto Zucchini Mixture
Grate fresh zucchinis into 3 cups of grated zucchini. I used a manual grater but you can use a food processor with the right attachment.

Squeeze out the excess water with your hand and discard the zucchini water or reuse it in another recipe.

In a saucepan warm olive oil and add chopped brown onion and grated zucchini. Fry under medium heat until fragrant and no more liquid appears in the pan. It should not take more than 5 minutes. Stir in 2 tablespoons of pesto into the cooked zucchini.

Cool down for 15 minutes in a bowl before using.
Quiche Egg and Cheese Pesto Filling
Meanwhile, in a large mixing bowl, whisk the eggs, milk, oregano, pesto, and grated Parmesan. Adjust salt and pepper to your taste.

Combine the cooked pesto zucchini mixture into the egg mixture and use the mixture to fill each prepared muffin tin. I used about a cup per muffin case. It depends on the size of muffin tins you use, of course. Mine are jumbo size.

Bake for 35-45 minutes or until a pick inserted in the middle comes out clean.

Carefully remove from the muffin tray. Place a cookie rack on top of the muffin tray and flip it over. All the crustless quiche will come out together and it should not break using this technique.

Store in the fridge for up to 3 days, on a plate covered with foil to prevent the quiche from drying out.
Notes
Freezing: You can freeze the cooked Crustless zucchini quiche too. Wait until cool and freeze in an airtight plastic box, leaving half thumb space between each quiche. Don't overlap them or separate them with a piece of parchment paper – easier to defrost later on. Defrost the day before you intend to eat and rewarm in the oven or microwave few minutes. Cheese: you can also replace parmesan with grated cheddar, Edam, or mozzarella.
Want My Kitchen Equipment?
Serving Size:
1
crustless quiche
Serving:
1
crustless quiche
Calories:
234.1
kcal
(12%)
Carbohydrates:
7
g
(2%)
Fiber:
1.8
g
(8%)
Net Carbs:
5.2
g
Protein:
15.5
g
(31%)
Fat:
16.2
g
(25%)
Saturated Fat:
6.6
g
(41%)
Cholesterol:
145.5
mg
(49%)
Sodium:
675.7
mg
(29%)
Potassium:
294
mg
(8%)
Sugar:
3.6
g
(4%)
Vitamin A:
612.9
IU
(12%)
Vitamin C:
14.1
mg
(17%)
Calcium:
409.3
mg
(41%)
Iron:
1.5
mg
(8%)
Posted In: