This Keto Biscuits Gravy recipe has buttery, flaky homemade almond flour biscuits and creamy sausage gravy.
A classic, comforting, savory breakfast with only 3.7 grams of net carbs per serving!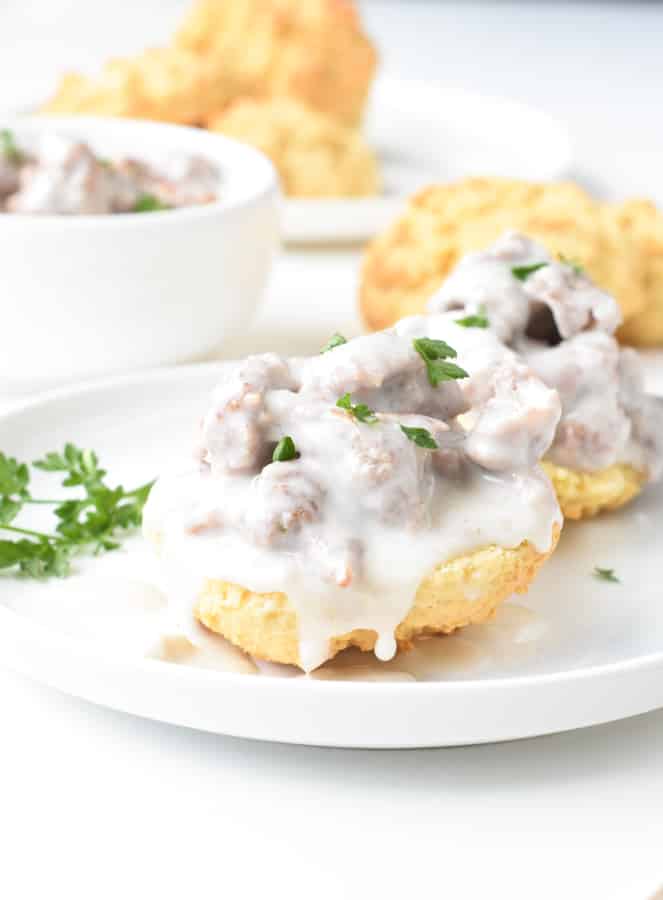 If you don't feel like a classic keto breakfast recipe like keto scrambled eggs or fried eggs, try these hearty, easy keto biscuits and gravy for breakfast!
The best part is that this recipe is super easy to make, using only basic keto ingredients, and it stores very well to meal prep your next breakfast.
How To Make Keto Biscuits And Gravy
First, you need to make your keto biscuits and then the sausage gravy.
Let's see below how you can make both very quickly to meal prep a week of comforting keto breakfast.
Making the keto biscuits
Before you start making the sausage gravy, prepare a batch of fluffy keto biscuits following my Keto Biscuit Recipe.
These almond flour keto biscuits are:
made with 5 simple ingredients,
ready in 30 minutes
freeze well for later
Also, you can use keto biscuits with different breakfast toppings like heavy whipped cream and keto jam.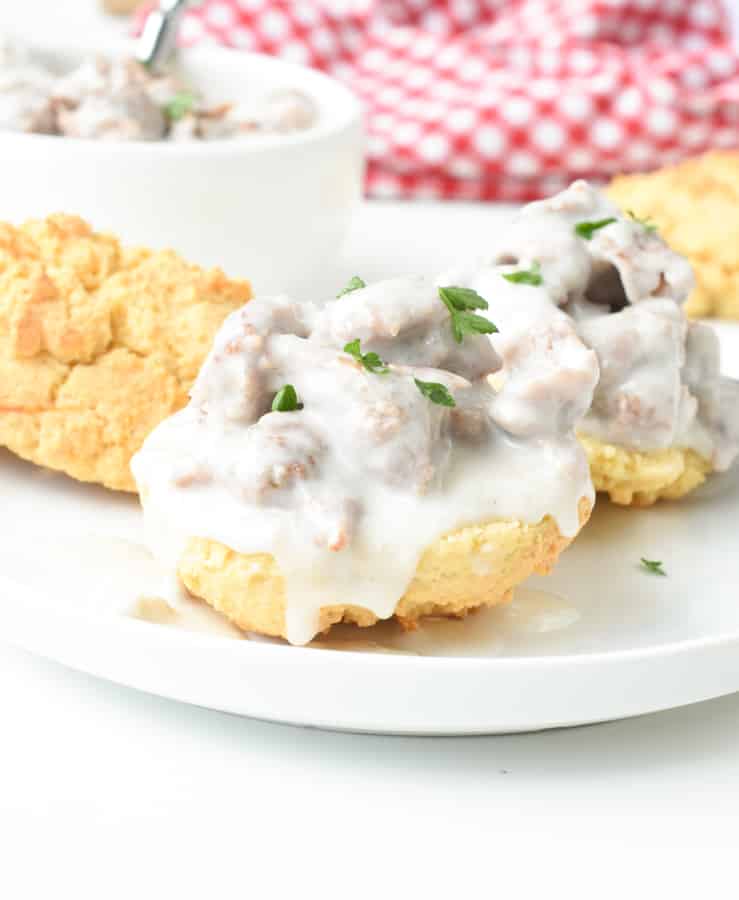 Making The Keto Sausage Gravy
Classic sausage gravy is not keto-friendly. It contains a lot of carbs from milk and flour.
Let me show you below how to make a creamy gravy with brown breakfast sausage crumble without the carbs!
Ingredients
In this keto gravy recipe, I am using only low-carb keto ingredients including:
Sausage Crumbles – I am using organic pork sausage crumbles in this recipe.
Heavy cream – can be replaced with canned coconut cream for a dairy-free paleo option, but beware, this adds carbs and a strong coconut flavor to the gravy! Learn why heavy cream is a good keto-friendly dairy product.
Unsweetened almond milk – you can also use half almond milk, and half chicken broth if preferred. I personally love this recipe more with only almond milk, much creamier and similar to classic sausage gravy.
Xanthan gum – it acts as a thickener, don't skip it, or the gravy won't be thick and smooth. If you don't like xanthan gum, or if you can't tolerate this ingredient, swap heavy cream for the same amount of cream cheese. It will not thicken the sauce as much, but it still adds a great texture.
Salt and pepper
Garlic powder – optional, but it adds a lovely flavor to the gravy.
Browning The Meat
First, fry the sausage crumbles in a non-stick frying pan over medium heat.
You can add a tablespoon of olive oil if your sausage stick too much to your pan.
Cook the meat until brown and not pink, stirring often. It takes about 5 minutes.
Making The White Gravy Sauce
Now that the meat is cooked through remove it from the pan with a slotted spoon, and set it aside on a plate covered with foil while you prepare the sauce.
Pour heavy cream, unsweetened almond milk, garlic powder, salt, and pepper into the pan and whisk.
Sprinkle the xanthan gum all over the pan and keep whisking gently to prevent lumps from forming.
Never add the xanthan gum all at once, or it forms lumps most of the time.
Cook, and simmer the sauce over medium-high heat until it thickens. Continue to whisk slowly to prevent the formation of lumps from the gum.
When the sauce is thick, about 2-3 minutes later, bring back the browned meat to the pan, stir, cover, and simmer on low heat to medium for 5 minutes.
This gives time to the meat to release its flavor into the gravy. Stir occasionally to prevent the sauce from sticking to the pan.
Serving Keto Gravy And Biscuits
This keto recipe for biscuits and gravy serves 10 breakfasts. One serving includes:
One keto biscuit – the recipe makes 10 biscuits, 3 tablespoons of batter per biscuit.
1/3 cup keto low carb sausage gravy
Slice your keto biscuit in half, place the two pieces of biscuits on a plate, cut side facing you.
Pour 1/3 cup of sausage gravy over the biscuit and eat straight away.
You can add some fresh chopped Italian parsley on top of the gravy for flavor. It won't add carbs.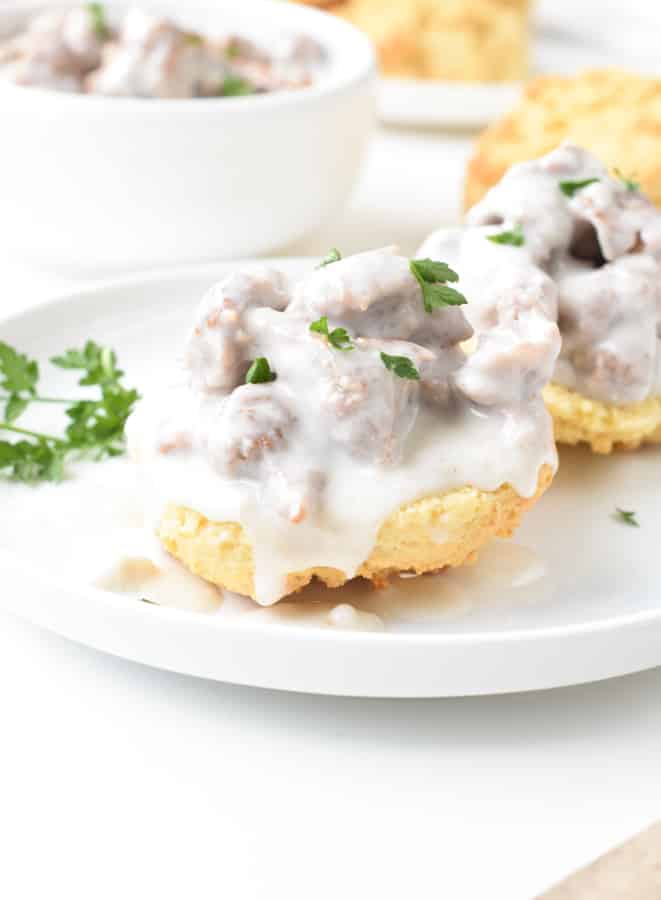 Storage Instructions
You can store the keto gravy in the fridge in a sealed container for up to 3 days.
The biscuits can also be stored in a zip-lock bag in the fridge for the same duration.
Meal prepping your keto breakfast
A great way to meal prep plenty of keto sausage biscuits and gravy for your next breakfast is to freeze them. This is how I recommend freezing your food to make each breakfast easy and delicious.
Freeze the sausage gravy in small ziplock bags or containers – 1/3 cup at a time, so you know that one bag equals one serving.
Freeze all the biscuits in a large sealed box. They are easy to remove from the box even if frozen together in the same container.
Rewarming your keto sausage gravy and biscuits
The day before, thaw the gravy in the fridge and place the biscuit on a plate on the countertop.
The next morning, slice the biscuit. You can toast each slice in a toaster to bring back some crispiness the day before serving.
Rewarm the gravy over low heat in a saucepan or simply microwave in a bowl. Serve the hot gravy over the sliced biscuits.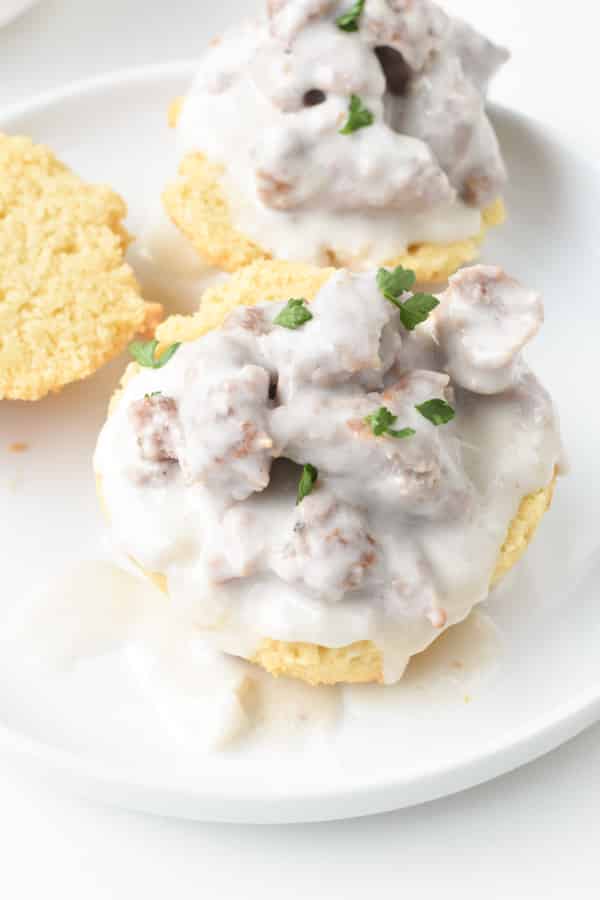 Frequently Asked Questions
How Many Carbs Are In A Serving Of Keto Sausage And Gravy?
One serving of this recipe contains:
one keto biscuit
1/3 cup of sausage gravy
The total amount of net carbs per serving comes to 3.7 grams of net carbs.
The full nutritional information is listed below in the recipe card, including calories, fat, and more.
Nutrition panel: keto gravy
If you bought ready-made keto biscuits and only want to use the keto sausage gravy recipe here, here's the nutrition information for the gravy only.
Nutrition for 1/3 cup of sausage gravy:
Calories: 224.7 kcal
Carbs: 1.1g

Fiber: 0.3g
Net carbs: 0.8g

Fat: 21.1g
Protein: 7.5g
When Should I Eat Keto Biscuits And Gravy?
This sausage gravy with biscuits is a great keto breakfast alternative to fried eggs or omelette.
It is a delicious, heartwarming, and comforting breakfast on cold days and perfect for fall or a Thanksgiving breakfast.
All your family will enjoy this gravy, even non-keto eaters!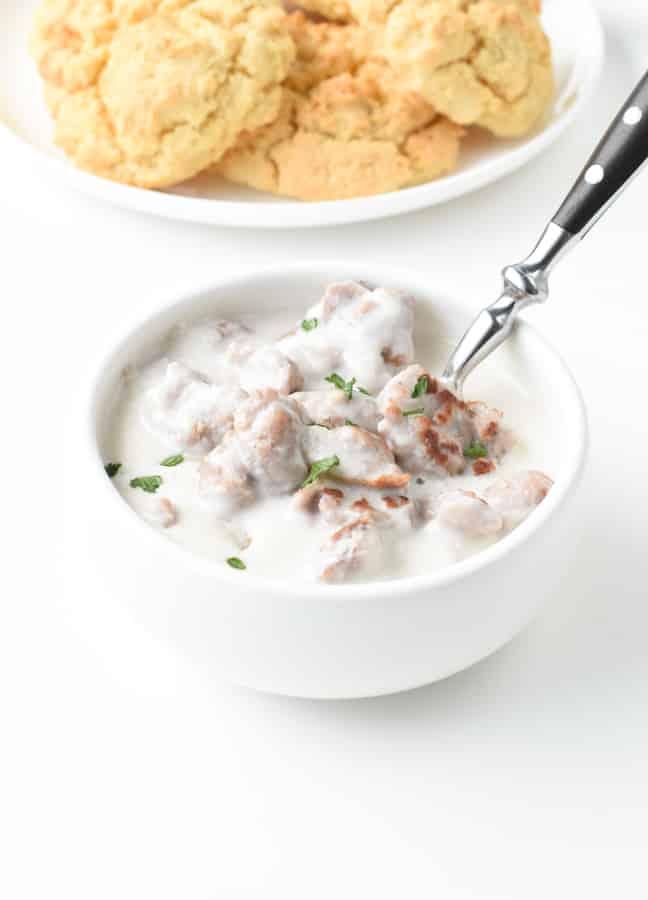 Allergy Swaps
If you have dairy allergies, I have a great swap to recommend for the gravy.
Heavy cream can be replaced with canned coconut cream. Shake the can before measuring for precision. Note that this option is the only keto-friendly dairy-free option and adds a coconut flavor to the gravy.
More Keto Breakfasts Recipes
I love savory keto breakfasts that require minimal cooking and serve plenty of breakfasts for my week.
Keto casseroles are my favorite go-to keto breakfasts after this recipe. Below I listed my favorite keto breakfast casseroles to inspire you!
Have you made these keto-friendly biscuits and gravy? Please take a minute to share your review and comment below!
I love to hear your feedback, and also, don't forget to share this recipe on Pinterest to save it for later!
Keto Biscuits and Gravy
An easy Keto Biscuits and Gravy recipe with buttery, flaky homemade almond flour biscuits and creamy sausage gravy. A classic, comforting savory breakfast, perfect on cold mornings.
Yield:
people (10 biscuits + 1/3 cup gravy per person)
This recipe may contain Amazon or other affiliate links. As an Amazon Associate I earn from qualifying purchases.
Instructions
Before you start this recipe, bake 1 batch of my keto biscuits recipe. While the biscuits are baking, make the keto sausage gravy.

In a large non-stick pan, brown the crumble sausage over medium heat until cooked through – about 3-4 minutes. If your meat sticks to your pan, drizzle 1 teaspoon of olive oil into the skillet.

Remove the pan from the heat. Use a slotted spoon to remove the cooked sausage from the pan and set it aside on a plate and cover with foil to keep warm while you make the sauce.

Return the pan over medium heat. No need to clean the pan. Add unsweetened almond milk, heavy cream, salt and paper, garlic powder. Gently whisk and sprinkle xanthan gum at the same time. This prevents the gum from forming lumps in the sauce. Never add gum all at once, or it forms little lumps.

Bring to a light simmer, whisking gently to thicken then reduce to low heat, and bring the meat back into the pan. Stir to combine, cover and simmer on low heat for 5 minutes to give time for the meat to flavor the gravy.
Serving biscuits and gravy
Serve 1/3 cup of the hot gravy on top of one keto biscuit cut in half.
Storage
Store gravy in a sealed container in the fridge for 3 days.

Store the biscuit in another container or a ziplock bag for 3 days in the fridge.

Freeze the gravy in single-serve portions, 1/3 cup per container. Biscuits can be frozen in a large sealed container.

The day before serving, thaw the gravy in the fridge and leave the frozen biscuit on a plate on the kitchen countertop. Rewarm the gravy the next morning in the microwave or over medium heat in a saucepan. You can rewarm the biscuit cut in half in a bread toaster.
Notes
Nutrition panel is for 1 keto almond flour biscuit following my recipe here + 1/3 cup sausage gravy
Keto sausage gravy nutrition panel for 1/3 cup (1 serving):
Calories: 224.7 kcal
Carbs: 1.1g

Fiber: 0.3g
Net carbs: 0.8g

Fat: 21.1 g
Protein: 7.5g
Want My Kitchen Equipment?
Yield:
people (10 biscuits + 1/3 cup gravy per person)
Serving:
1
serving
Calories:
432.4
kcal
(22%)
Carbohydrates:
6.7
g
(2%)
Fiber:
3
g
(13%)
Net Carbs:
3.7
g
Protein:
14.2
g
(28%)
Fat:
40.2
g
(62%)
Saturated Fat:
14.4
g
(90%)
Cholesterol:
100.1
mg
(33%)
Sodium:
670
mg
(29%)
Potassium:
148
mg
(4%)
Sugar:
1
g
(1%)
Vitamin A:
600
IU
(12%)
Vitamin C:
0.5
mg
(1%)
Calcium:
154.1
mg
(15%)
Iron:
1.6
mg
(9%)
Posted In: