Keto Coffee Smoothie – The Best Keto Iced Coffee
This keto coffee smoothie is a healthy summer grab'n go breakfast for coffee lovers with only 3.9 grams of net carbs per serving.
If you love milkshakes or frappuccinos, this coffee smoothie is what you need.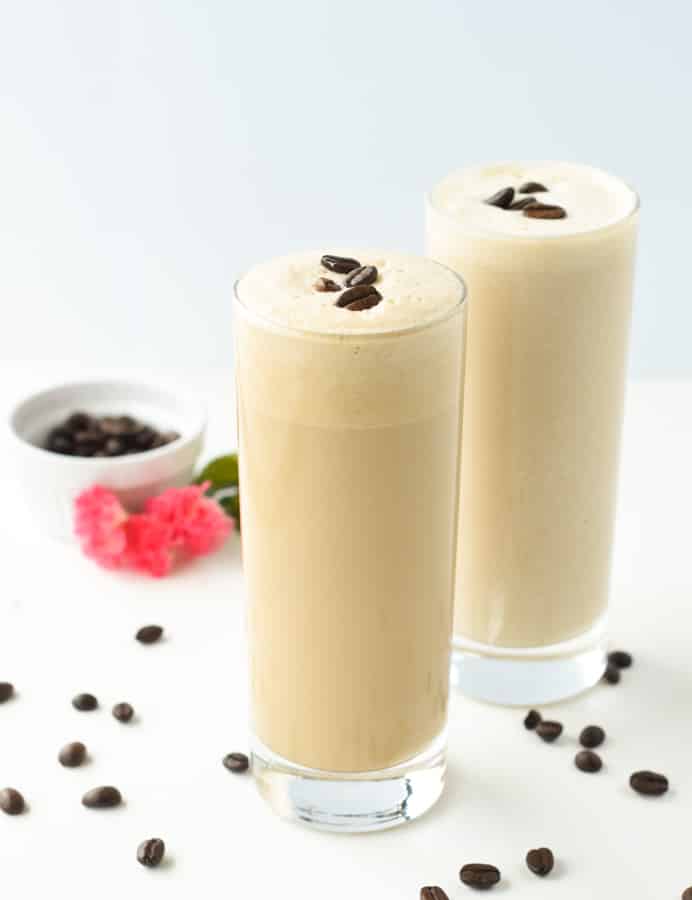 What's A Keto Coffee Smoothie?
Coffee lovers, this recipe has your name on it! If you can't start the day without your brewed coffee or coffee latte, then you will love this keto coffee smoothie.
Perfect for summer hot days, this keto smoothie with brewed coffee is an amazing swap to your traditional bulletproof latte coffee.
Personally, I love to combine this coffee smoothie with one of my no-bake keto granola bars for a satisfying breakfast on the go.
How To Make A Coffee Smoothie
A coffee smoothie, also known as an iced coffee smoothie, is a delicious cold breakfast drink for coffee lovers.
It is using brewed coffee or instant coffee as the main ingredient.
It also combines other ingredients, including ice cubes or frozen ingredients that add the frothy texture.
While most coffee smoothies use bananas, keto coffee smoothies are sugar-free, dairy-free, and banana-free.
Choose your favorite coffee – brewed coffee or instant coffee rehydrated in water.
Cool the coffee down
Add all the smoothie ingredients to a blender
Blend on high speed until frothy and smooth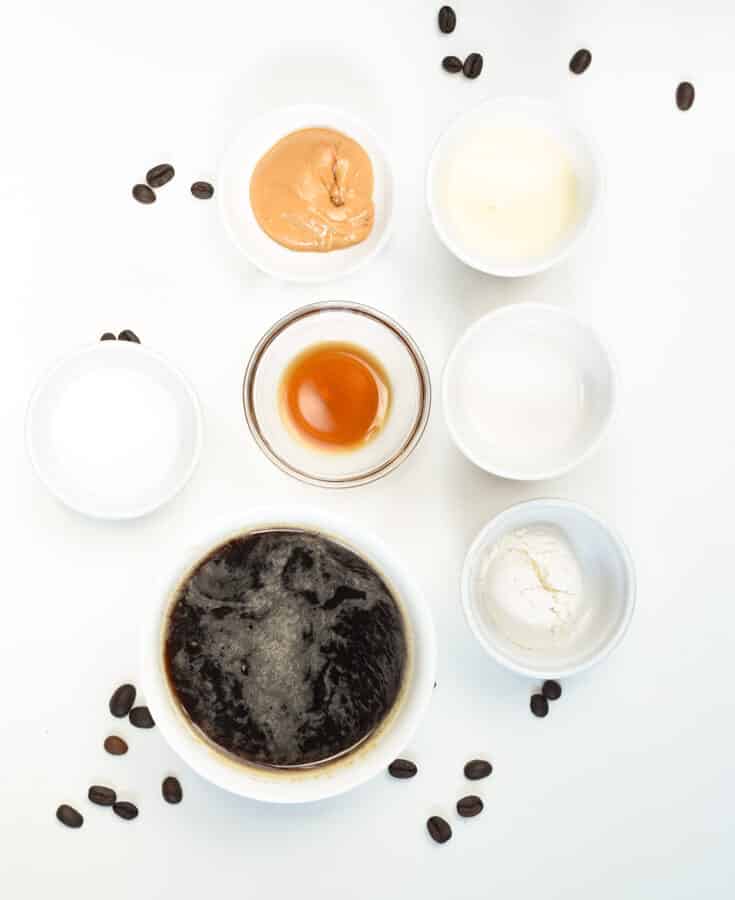 Can I Add Coffee To my smoothie?
Yes, you can add cold-brewed coffee or cold instant coffee to a smoothie.
Of course, you must combine your cold coffee with other ingredients that marry well with coffee, or the flavor can be off.
Keto Coffee Smoothie Ingredients
This keto coffee smoothie is a smooth, refreshing coffee shake perfect summer keto drink to replace your regular bulletproof latte coffee.
Therefore, it is using almost the same ingredients, including:
Chilled brewed coffee – make sure you cool the coffee before adding it to the blender. You can make ahead some brewed coffee, store it in the fridge, and use it the next morning. Another great way to make a coffee shake is to freeze coffee into ice cube trays. Use the coffee ice cubes in the recipe, and don't add the suggested ice cubes!
Unsweetened almond milk or unsweetened coconut milk if you love coconut flavor in your coffee shake.
Ice cubes – this adds a frothy texture to your coffee.
Almond butter – Like bulletproof coffees, keto coffee smoothies use fat to create a creamy texture. Butter doesn't blend well in cold drinks. That's why nut butter like peanut butter or almond butter is the best for keto breakfast smoothie recipes.
Erythritol or any sugar-free keto-friendly sweeter you like including allulose or xylitol. If you are adding protein powder as suggested in the next step, decreasing erythritol to just 1 tablespoon of the coffee shake would be too sweet!
Keto vanilla collagen protein powder – this is optional, but it boosts the texture, protein, and fat of your smoothie. I love to use vanilla collagen powder in my keto smoothie. But watch out. Some brands sweeten their collagen powder, so you will have to decrease the erythritol to avoid an overly sweet low-carb smoothie.
Vanilla extract or vanilla-flavored stevia drops – add 1/4 teaspoon for a boost of vanilla.
Add-on Ideas
You can tweak coffee smoothies in so many ways! Below I listed my favorite keto add-ons to make this low-carb coffee smoothie even more delicious:
Ripe avocado – adds some healthy fat and fudgy texture to your drink by adding up to 1/2 ripe avocado flesh.
Sugar-free vanilla syrup or caramel syrup – replace the erythritol with a tablespoon of sugar-free flavored syrup.
Dairy-free yogurt – a dollop of coconut yogurt add a delicious, creamy, smooth texture and lovely coconut flavor.
Sugar-free chocolate chips – adding 1 tablespoon will remind you of your favorite coffee chocolate chips Frappuccino of a popular coffee.
Unsweetened whipped cream – swirl some whipped cream on top of your coffee to bring dessert for breakfast.
Unsweetened cocoa powder – for a light chocolate flavor, trust me, you want this!
MCT oil – to boost fat and fat burning
Frequently Asked Questions
Can I Use Instant Coffee?
Yes, you can use instant coffee in this recipe. First, dissolve 2 teaspoons of instant coffee into 8 oz of hot water.
Then, cool down the coffee, even store it in the fridge for best results. Finally, use the recipe as a replacement for brewed coffee.
Can I Use Ground Coffee In Smoothies?
It is safe to eat ground coffee in a very small amount.
Therefore, it can be used to flavor a chocolate smoothie, but you can't use ground coffee to make this keto coffee smoothie.
This recipe needs 8 oz of brewed coffee or the same volume of coffee made with instant coffee granules.
How Does A Coffee Smoothie Taste?
This low-carb smoothie tastes like a coffee milkshake or coffee frappuccino with a touch of cocoa and vanilla if you are using vanilla collagen powder too.
Keto Coffee Smoothie
A refreshing breakfast keto smoothie for coffee lovers.
Ingredients
8

oz

Brewed Coffee

chilled, stored in the fridge 1 hour

⅓

cup

Heavy Cream

2

tablespoons

Unsweetened Almond Milk

or more heavy cream for an ultra creamy smoothie

1

tablespoon

Almond Butter

or MCT oil or peanut butter

1

teaspoon

Vanilla Extract

2-3

tablespoons

Erythritol

use 2 tablespoons only if your collagen protein powder is already sweetened with sugar-free sweetener

1

cup

Ice Cubes

add up to 1/4 cup extra for an ultra frothy smoothie

1

tablespoon

Collagen Protein Powder

optional
This recipe may contain Amazon or other affiliate links. As an Amazon Associate I earn from qualifying purchases.
Instructions
Before you start the recipe, brew fresh coffee, measure 8 oz. Set aside in the fridge for 1 hour or overnight. You can also dissolve 2 teaspoons of instant coffee into 8 oz of hot water, cool down in the fridge as for brewed coffee, and use in the recipe.

In a blender, add cold-brewed coffee, unsweetened almond milk, heavy cream, almond butter (or MCT oil), vanilla, collagen protein powder (some have added sweetener, so watch out, you may want to decrease erythritol to 1 tablespoon to avoid a too sweet smoothie), erythritol and 3/4 cup ice cubes.

Blend on high speed until frothy, taste, and adjust sweetness, adding tiny more erythritol if desired of 1/4 extra ice cubes for a frothier smoothie.

Blend again at high speed to combine the added ingredients.
Notes
The nutrition panel doesn't include collagen powder, this is an optional ingredient. If you add some, add up the carbs per serving you are adding to the recipe to calculate your total carbs.
Want My Kitchen Equipment?
Serving:
1
smoothie
Calories:
320.2
kcal
(16%)
Carbohydrates:
6.4
g
(2%)
Fiber:
2.5
g
(10%)
Net Carbs:
3.9
g
Protein:
5.6
g
(11%)
Fat:
32
g
(49%)
Saturated Fat:
14.6
g
(91%)
Cholesterol:
81.5
mg
(27%)
Sodium:
130.8
mg
(6%)
Potassium:
313.5
mg
(9%)
Sugar:
0.9
g
(1%)
Vitamin A:
874.6
IU
(17%)
Calcium:
181.6
mg
(18%)
Iron:
0.9
mg
(5%)
Posted In: