Ratatouille Recipe (From a French Chef)
Ratatouille is a classic French dish that showcases the best of summer vegetables. It's a hearty and healthy stew of eggplant, zucchini, bell peppers, tomatoes, onion and garlic, cooked in olive oil and herbs.
This easy ratatouille recipe is so simple to make and can be enjoyed as a main course with bread or rice, or as a side dish with meat or fish. It's also vegan and gluten-free, making it a great option for anyone with dietary restrictions.
Ratatouille is not only delicious, but also nutritious, as it's packed with vitamins, minerals and antioxidants from the colorful veggies. Whether you're looking for a cozy comfort food or a light and fresh meal, ratatouille is the perfect recipe for you!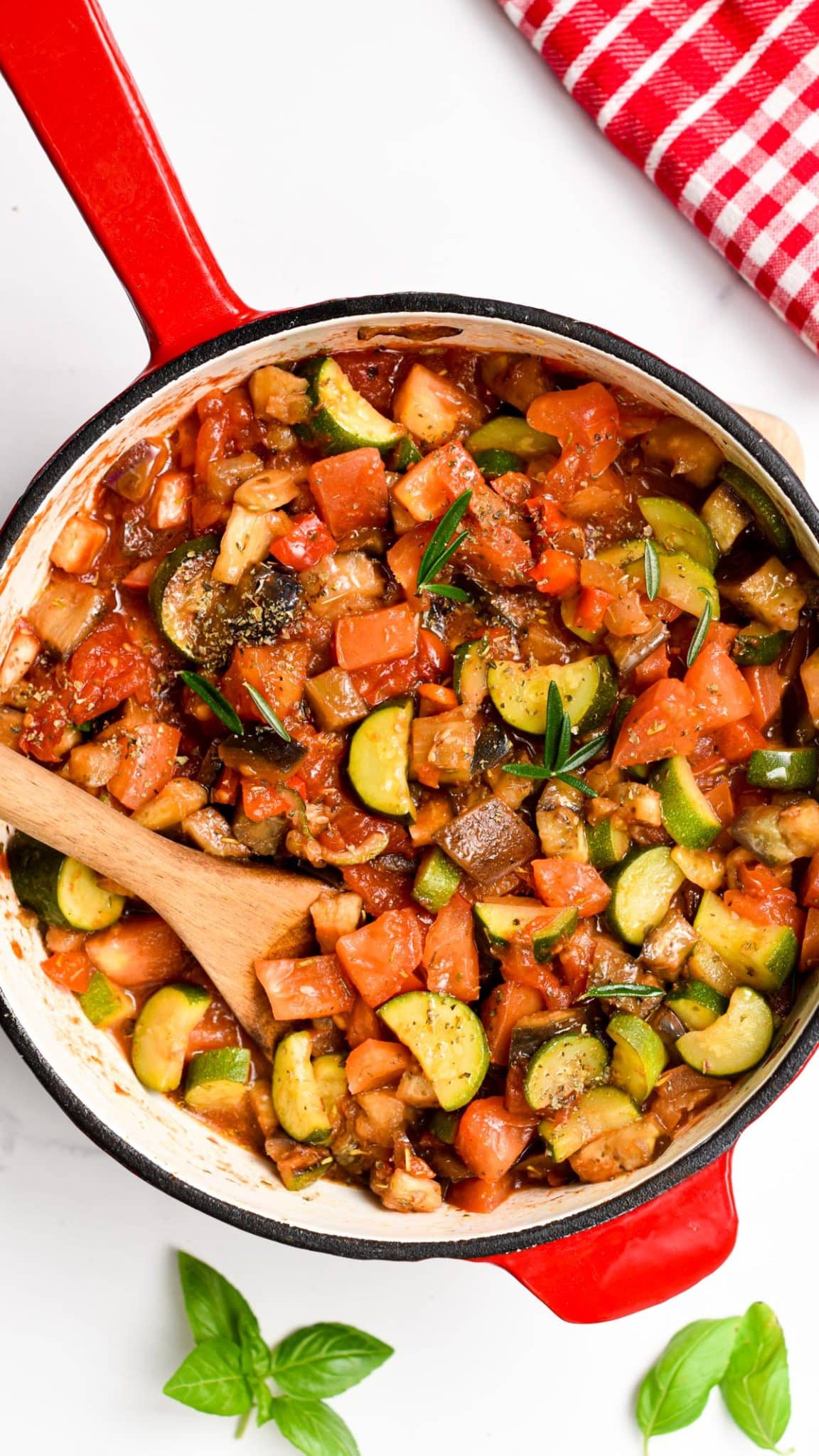 As a French person, I had to share my authentic French ratatouille recipe.
I have seen so much confusion about this classic Southern France dish since the Ratatouille movie came out a few years ago.
In the Disney movie, Remy the Rat is a chef who cooks the ratatouille in a very fancy way where vegetables are layered in a baking dish and baked for hours.
However, a classic French ratatouille recipe is far from that Ratatouille movie recipe. What you see in the movie is in fact one of the ways fancy French restaurants serve ratatouille.
But let's come back to the basics and share my easy ratatouille recipe, the one every French mum makes for their kids.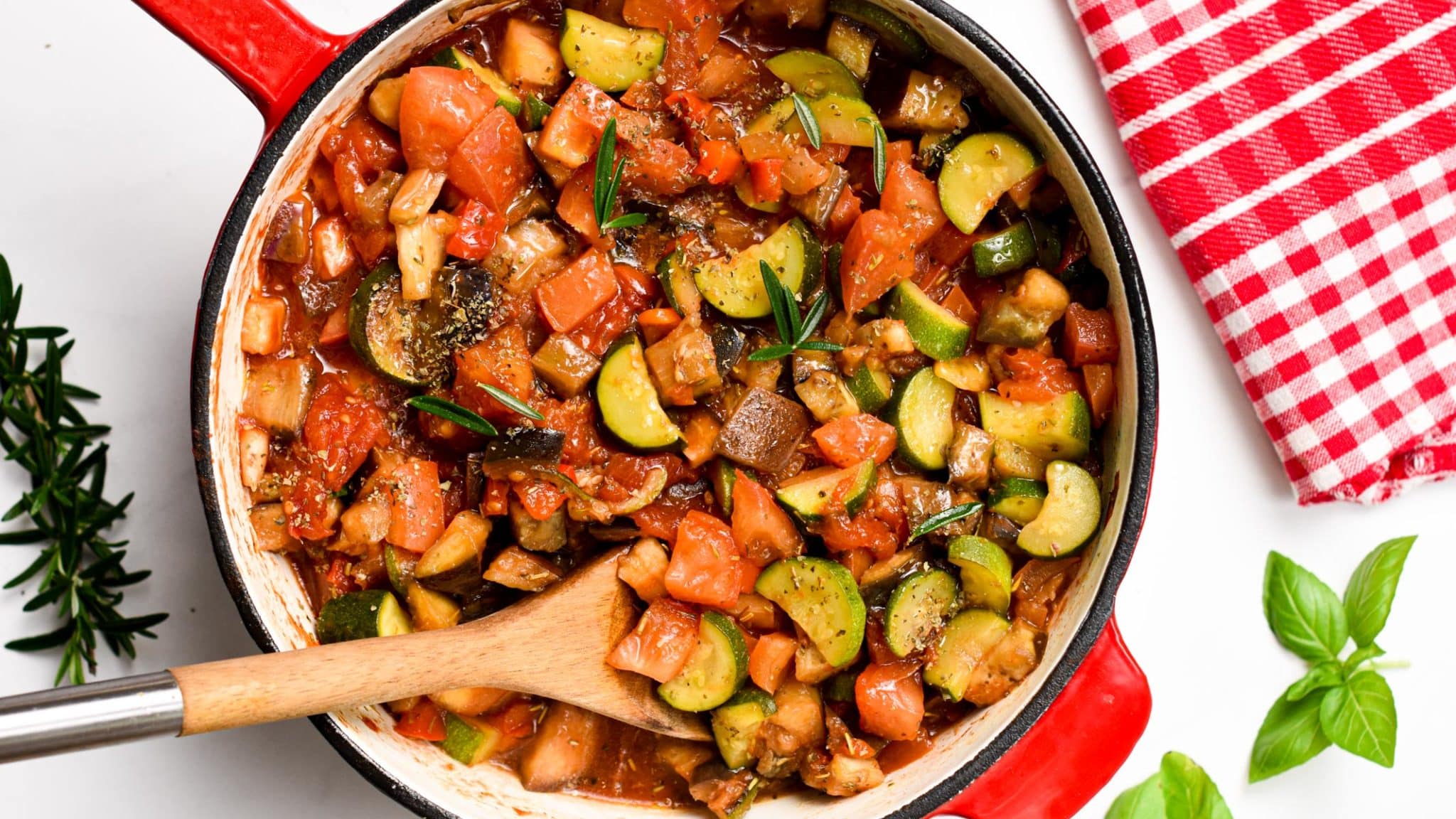 What Is Ratatouille?
Ratatouille is a French vegetable stew from the French Provence region.
It was originally, like many other humble recipes, a poor man's food and was a way of using whatever vegetables were left.
An authentic French ratatouille, also called Ratatouille Niçoise is a vegetarian dish made of slowly cooked onion, red bell pepper, eggplant, zucchini, and tomatoes.
The particularity of a French ratatouille is all the flavors of olive oil and Mediterranean herbs like thyme, oregano, or rosemary.
Why You'll Love This Recipe
A traditional ratatouille recipe is also naturally:
Vegetarian – there's never any meat
Vegan – It's made without dairy or eggs
Gluten-Free
Dairy-Free
Low-Carb
How To Make Ratatouille
To make an easy French ratatouille recipe, you need only a bunch of summer vegetables:
Ingredients
Onion – White or brown onion, both work great. They need to be finely sliced.
Garlic Cloves – Crushed is preferable, but some people leave entire cloves in the dish.
Extra-Virgin Olive Oil – Olive Oil is an ingredient that can have a massive environmental footprint, so I like to source mine locally.
Red Bell Pepper – The authentic French ratatouille doesn't use yellow bell peppers, but if you don't have red bell pepper, the yellow variety would work.
Zucchini – The classic French recipe doesn't use any yellow squash, only the green ones. They are typically not peeled.
Eggplant – I like to use darker eggplant, but purple, white or dark eggplant all have the exact same taste and texture.
Tomatoes – Roma tomatoes are my favorite pick for this recipe. Any in-season tomato would work though. Avoid cherry tomatoes if possible.
Canned Diced Tomatoes – This ingredient gives a lot of texture to the sauce.
Salt and Pepper
Thyme, Rosemary or Marjoram – fresh or dry.
Preparing The Vegetables
First, wash the red bell pepper, zucchinis, eggplant, and tomatoes under cold tap water.
Peel the onion and chop it finely. Set it aside.
Then, deseed the red bell pepper and cut them into long strips. Next, cut the strips into small cubes. Set aside in a bowl.
Slicing The Zucchinis
Trim the ends of the zucchinis, and cut them into thick slices.
The zucchinis cook faster so they must be cut into thicker slices. I like to cut the slice in half to create half moons, but you can recut the halves to form quarters if you prefer.
Cubing The Eggplant
Trim the eggplant end, keep its skin on, and slice the vegetable into thick layers.
Place each layer on the chopping board and cut them into strips. Then, cut the strips into cubes of small size. Set aside.
Cooking The Vegetables
The success of a great ratatouille is to cook the vegetable in the right order, or you will end up with some mushy vegetables at the end.
First, warm the olive oil in a large pot or non-stick cast iron pot or Dutch oven over medium-high heat.
Cook the onions until fragrant then add the garlic and stir in the red bell pepper cubes.
Keep cooking the red bell pepper, occasionally stirring, then cover the pan and let the vegetables cook for 5 minutes.
Adding Zucchini
Remove the lid and add the zucchinis. Stir fry for 1 minute then add in the eggplant cubes and stir to combine.
Cover, reduce the heat, and cook for 2 to 3 minutes.
Uncover and now add the chopped tomatoes, diced canned tomatoes, herbs, salt, and pepper.
Give it a good stir, close the lid again, and bring to a light simmer.
Simmer
Keep cooking the ratatouille over medium heat for 15 to 20 minutes. The cooking time varies depending on the size you cut the vegetables.
When the ratatouille is cooked, serve immediately.
Season with salt and pepper and serve as a light vegetarian meal or light side dish, following the serving suggestions below.
Tips For The Best Ratatouille Recipe Every Time
Classic French ratatouille is an easy vegetable stew, and the key to making it perfect every time is to follow these three tips:
Don't Peel The Vegetable – Even the thick eggplant skin must stay in or the eggplant gets mushy.
Cut The Vegetable into small cubes of the same size, except for the zucchini – zucchinis cook faster, and as a result, if you want to keep some texture from zucchinis they must be cut in larger chunks. I like to cut them in half moons, but you can slice zucchinis in thick slices or large quarters.
Don't Skip The Herbs – what makes ratatouille so flavorsome is that combination of Provence herbs from the South of France. Of course, you can play with them, adding more of one or the other but focus on the classic ones which are thyme, rosemary, and marjoram. You can add fresh basil, but it's less conventional.
What To Serve With Ratatouille
In France, ratatouille is a popular side dish to:
But some people also like to stir in some of the below ingredients in the ratatouille to turn it into a complete meal
Cooked Rice – can be white rice, brown rice, or cauliflower rice.
Cooked Pasta
Chickpeas
Cooked quinoa
Finally, a great addition to ratatouille is cheese, some of the below cheese are delicious to add on top of your dish.
Freshly Grated Parmesan
Crumbled Greek Feta Cheese
Grated Emmental
Storage Instructions
Ratatouille can easily be stored in an airtight container in the fridge for about 4 days.
In fact, it's one of these dishes that have leftovers even tastier the next day. The flavors of the herbs and olive oil combine with the vegetables and are perfect reheated.
You can also freeze the leftover ratatouille in a sealed container or bags and leave them in the freezer for up to three months. Thaw them in the refrigerator the day before.
Rewarming
You can rewarm ratatouille in a microwave-safe dish for a few minutes or until warm.
Or, bring it back to a non-stick saucepan over medium heat.
Frequently Asked Questions
Below I listed the answers to the most common questions about ratatouille.
How Does Tatatouille Taste?
Ratatouille tastes like a Mediterranean vegetable stew. The vegetables are tender, soft, and juicy with a strong tomato and Provencal herbs flavor.
Can I Add Yellow Squash?
Yes, the recipe works with yellow squash as well, you can substitute the entire green zucchinis for yellow squash or use half of each variety of squash.
Is Ratatouille Baked?
No, the Authentic French ratatouille is a vegetable stew cooked in a large pot.
It's an easy, cheap family dinner, not a fancy time-consuming recipe.
But, in some restaurants or in the Ratatouille Disney movie, the recipe has been presented with a twist: a baked ratatouille.
When Do The French Make Ratatouille?
Ratatouille is a popular summer recipe in the South of France to use the over-grown zucchinis in the garden.
It's a typical side dish for grilling in summer or for a light dinner with rice or pasta.
More French-Inspired Recipes
As a French person, I love to share French recipes with you, and below are my most popular:
More Vegetable Recipes
Try some of the other vegetarian recipes below as a healthy dinner idea: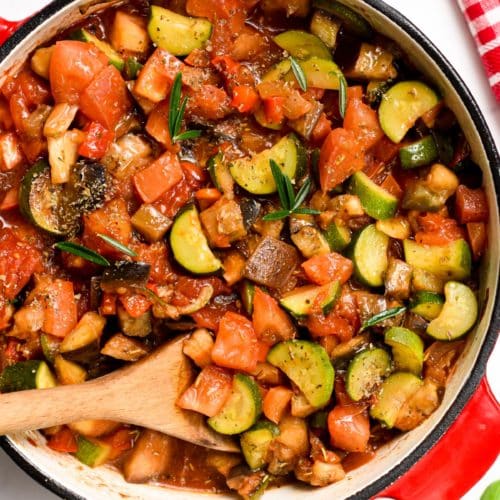 Ratatouille Recipe
This easy Ratatouille recipe is the easiest French dinner. A delicious summer vegetable stew with Mediterranean flavors, perfect as a vegetarian side dish or light dinner.
Ingredients
5

small

Zucchinis

1

Red Bell Pepper

deseeded

4

medium

Tomatoes

diced

1

can

Canned Diced Tomatoes

(14oz)

1

large

Onion

diced

6

Garlic Cloves

crushed

4

tablespoons

Olive Oil

½

teaspoon

Salt

¼

teaspoon

Ground Pepper

½

teaspoon

Dried Thyme

½

teaspoon

Dried Rosemary

1

teaspoon

Dried Oregano

or marjoram
This recipe may contain Amazon or other affiliate links. As an Amazon Associate I earn from qualifying purchases.
Instructions
Deseed red bell pepper, cut it in strips, then in dice. Set aside.

Trim the zucchini, keep the skin on and cut into large cubes or half moons (0.8-inch x 0.8-inch / 2cm).

Trim the eggplant, keep the skin on and cut into smaller cubes (0.4-inch x 0.4-inch / 1cm).

In a large non-stick pot, warm some olive oil over medium heat.

Stir in onion and garlic and cook until fragrant – about 2-3 minutes.

Stir in the red bell pepper cubes, and cover the pot. Reduce heat to low-medium heat, and cook for 2-3 minutes.

Stir in zucchinis pieces, cover, and cook for 3-4 minutes.

Stir in eggplant cubes, stir well, cover, and cook for 2-3 minutes.

Stir in diced tomatoes and canned tomatoes, herbs, salt, and pepper.

Cover, bring to a low simmer, and cook for 20 minutes or until the vegetables are soft and tender and the ratatouille is warm and flavorsome.
Storage
Store up to 4 days in the fridge in sealed container or freeze up to 3 months and thaw in the fridge the day before.
Want My Kitchen Equipment?
Serving:
1
serving
Calories:
84.4
kcal
(4%)
Carbohydrates:
9.4
g
(3%)
Fiber:
3.8
g
(16%)
Net Carbs:
5.6
g
Protein:
2.1
g
(4%)
Fat:
5.1
g
(8%)
Saturated Fat:
0.7
g
(4%)
Polyunsaturated Fat:
0.7
g
Monounsaturated Fat:
3.4
g
Sodium:
106.6
mg
(5%)
Potassium:
475.2
mg
(14%)
Sugar:
6.1
g
(7%)
Vitamin A:
805.2
IU
(16%)
Vitamin C:
32.2
mg
(39%)
Calcium:
27.3
mg
(3%)
Iron:
0.7
mg
(4%)
Magnesium:
29.4
mg
(7%)
Zinc:
0.4
mg
(3%)
Posted In: