This grain free granola recipe is a delicious low-carb cereal for a crunchy sweet keto breakfast. Plus, it is sugar free, vegan, paleo and gluten free too!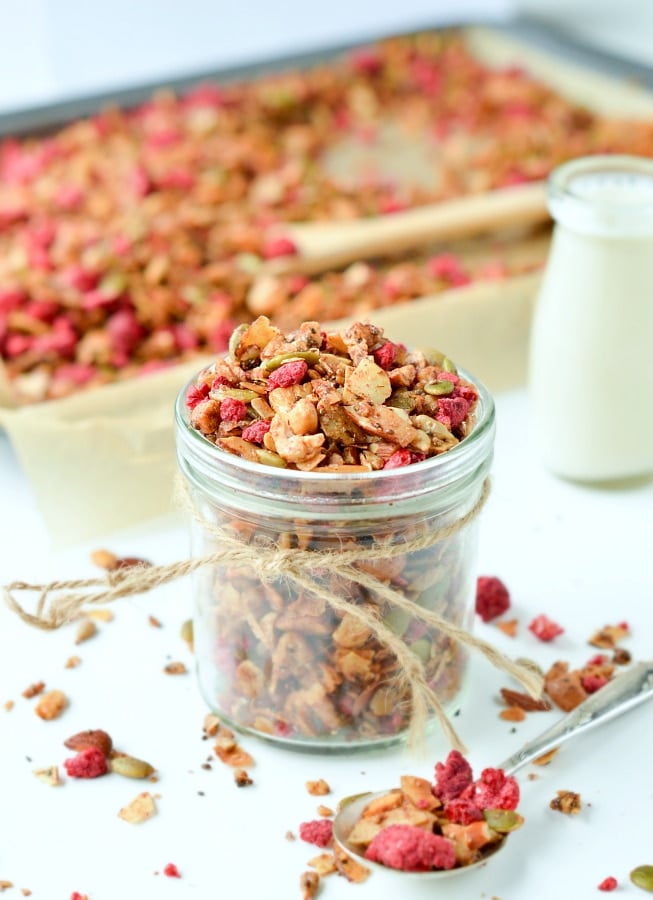 How to make Grain-Free Sugar-Free Granola?
It's pretty easy to make a delicious crunchy granola without grain or sugar.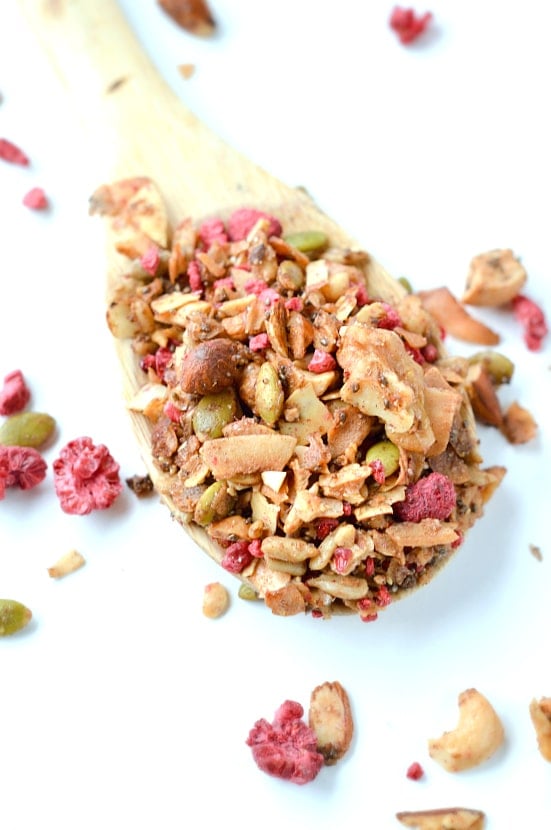 The key is to use a combo of 6 main ingredients.
Dry ingredients
Nuts – I love to have a good amount of nuts in my grain-free sugar-free granola. That's where you get the 'big' crunch. My favorite nuts are almonds, cashews, walnuts. Others nuts I found great in granola are pecan, macadamia and hazelnuts. Feel free to play with the types of nuts in this recipe to create a different granola flavor each time
Flakes – that's the ingredient that mimic the cereal texture in a grain-free granola. I used a combo of coconut flakes and sliced almonds
Seeds – seeds are also a great way to add smaller crunch pieces into your granola. I love to use pumpkin seed, sunflower seed and chia seed.
Spices – the spices are the best way to add extra sweet flavor without using sugar. I love cinnamon, a bit of salt and vanilla. Of course you can also add grated agrumes zest (orange is delicious), ginger, nutmeg or unsweetened cocoa! Play with the spices to make a delicious new recipe every time.
Freeze dried fruits – in order to keep your granola sugar free, you must use frozen dried raspberries. Indeed, frozen dried berries have no added sugar. Obviously, it's optional to add some but it gives a delicious fruit flavor to your cereals. If you are on paleo or vegan diet and you don't mind natural sweetness from fruits, use Goji berries or dried apricot. Both have a lower GI index than dates.
Wet ingredients
Oil – I am using extra virgin coconut oil to roast my granola. I love the tiny coconut flavor it adds into the mixture plus coconut oil is a very healthy oil full of antifungal and antibacterial properties. If you don't like coconut flavor, replace with refined coconut oil – it won't have any coconut flavor!
Sugar-free sweetener – good news ! you don't need a sweetener in your grain-free sugar-free granola recipe! Especially if you intend to eat yours in a breakfast milk bowl, I would recommend to add the sugar-free crystal sweetener directly into your bowl – not in the cereal making.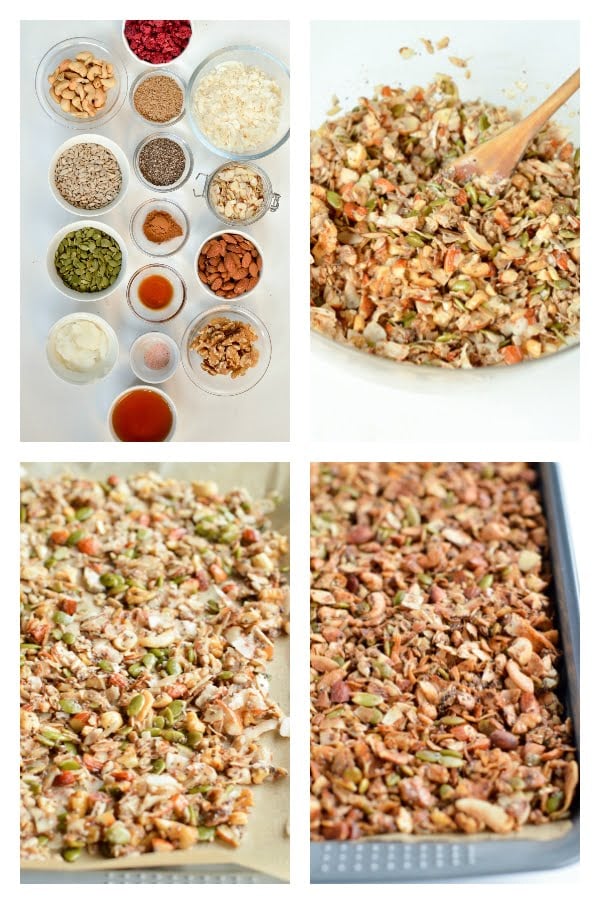 Is this grain-free granola recipe healthy?
A grain-free granola is a healthy way to boost your body with protein, hearty-healthy fat  – monounsaturated and polyunsaturated fats and Omega-3. Nuts are also very fulfilling, low carb and high in fibre to keep your guts happy! Make sure you roast the nuts at a maximum of 150C (300F) to keep the nutritional properties intact. 
Sugar-free sweetener options
Obviously, it tastes better if you use some sugar-free sweetener into this recipe, particularly if you eat this granola on top of plain yogurt or into a parfait. So following are my sugar-free recommendations.
First, natural Maple-Flavored sugar free sweetener made of Monk fruit. Monk fruit is a sugar-free natural sweetener that contains ZERO carbs, sugar or calories! That's better than stevia or erythritol as it is liquid and coats your granola perfectly.
Next, sugar-free crystal sweeteners like swerve or erythritol are fine too. Note that these don't melt as well as liquid sweeteners, see more details in the recipe card below. Finally, if you are on paleo diet and eat refined sugar-free, you can use maple syrup.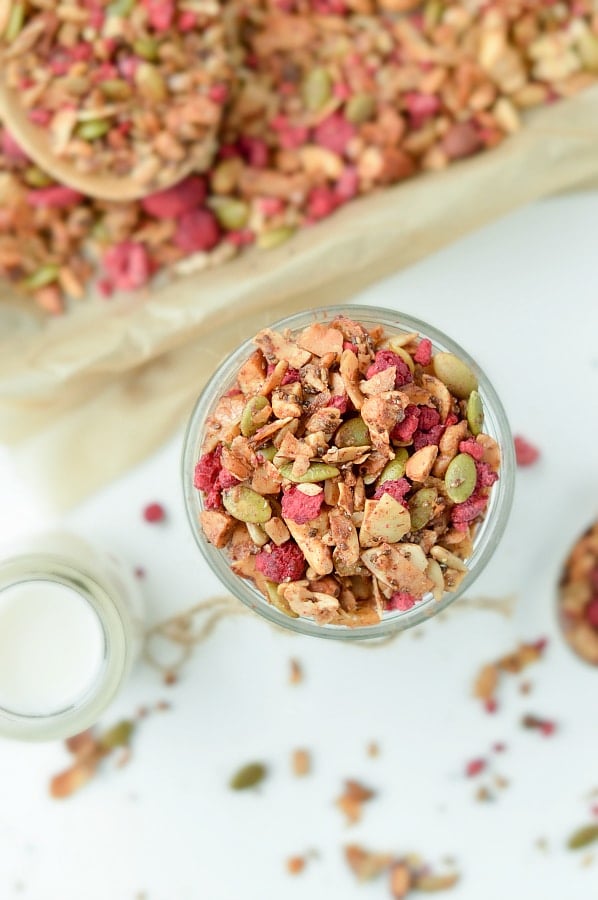 How to store your sugar-free granola recipe?
It should be noted that this cereal mix must fully cool down before being transferred in a glass parfait jar. Indeed, these jars are the best way to avoid air coming in the mix, keeping your low carb cereals intact for up to a month. Also make sure to store this recipe at room temperature in the pantry. The fridge will soften your granola. Also, don't freeze your granola !
Sugar-free breakfast, snack or dessert!
This is a versatile recipe. I found this recipe amazing to fix my sugar craving anytime in the day without eating much carbs. I love to use it for breakfast as a snack or dessert.
Breakfast – serve 1/4 cup of grain-free granola with 1/2 cup almond milk into a bowl.
Snack – sprinkle on top of a berry almond milk smoothie/protein shake or  carry 1/4 cup of this mix into a box and eat as a trail mix
Dessert – I love to sprinkle some on top of my yogurt or my ground chia seed pudding to add some crunch !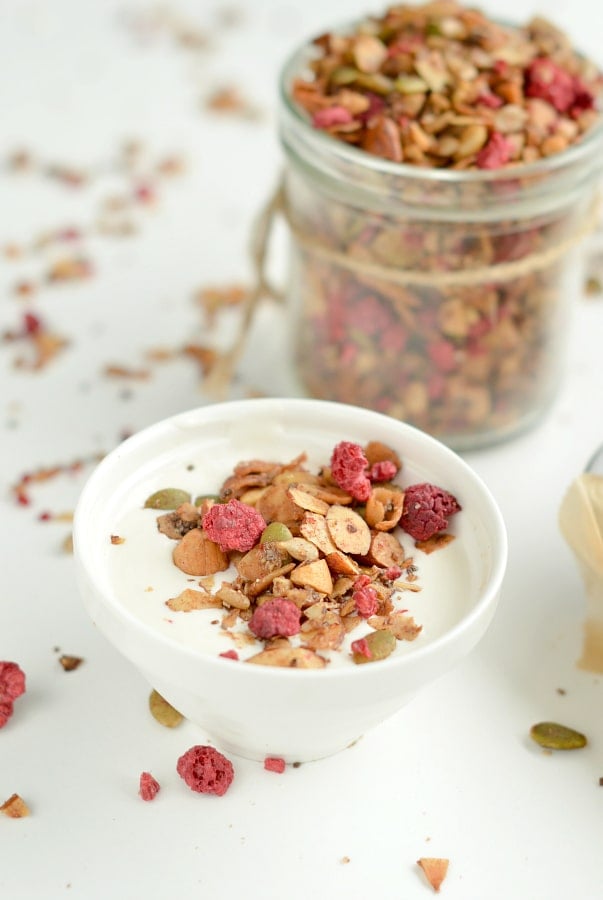 Enjoy this simple low carb cereal recipe and leave me a comment if you made it!
xoxo Carine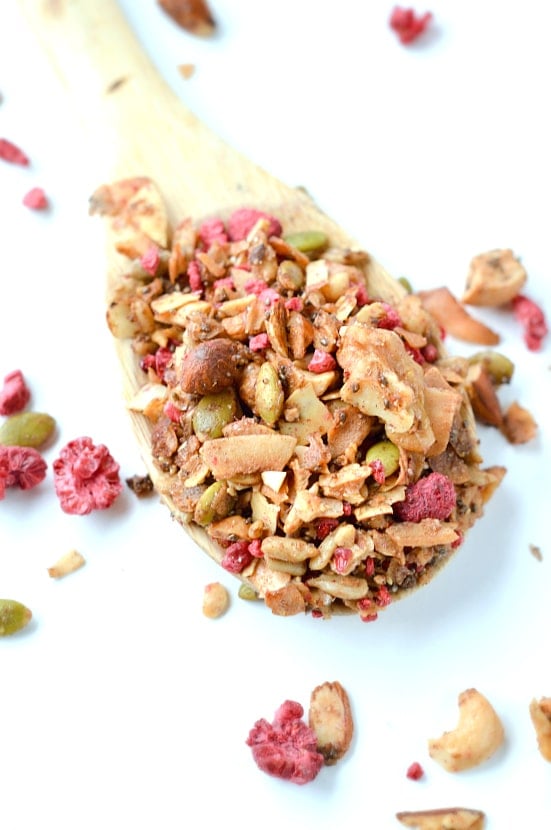 Low carb cereal recipe | grain free granola recipe
Grain Free Sugar free granola is a low carb healthy cereal delicious with almond milk for breakfast or to top on parfait or yogurt. 100% Keto + Whole30 + Paleo + Vegan.
20 servings of 1/4 cup
Print The Recipe
Preheat oven to (150C) 300F . Line a baking tray with parchment paper. Set aside. 

Toss into a large mixing bowl coconut flakes, chopped cashews, chopped walnuts, chopped almonds, sunflower seeds, pumpkin seeds, chia seeds, flaxseed meal, sliced almonds, ground cinnamon and salt.

In a sauce pan, under medium heat, melt the coconut oil with vanilla and sweetener if used! Optional, read notes. Stir occasionally until the coconut oil is melted.  honey - less than 1 minute.

Pour over the grain free granola mixture. Use a spatula to stir and combine. 

Spread your grain free granola mixture evenly on the prepared baking tray. Make sure you spread the granola in a single thin layer or use two baking tray if needed. 

Bake for 25 minutes, stirring halfway through with a wooden spatula. Your grain free granola is ready when golden-brown and crisp,

Cool down for 15 minutes on the tray then stir in the dried freeze raspberries.

Transfer your cool granola into a glass preserving jar.  Store up to 2 weeks.  this recipe makes roughly 5 cups of granola. Serving size 1/4 cup.

Serve as a breakfast 'cereal', serving size suggestion is 1/4 cup of grain free granola with 1/2 cup unsweetened almond milk.
SUGAR FREE SWEETENER Options :  Option 1: NO sweetener This recipe works without adding any sweetener. No need to add more oil. Roast the grain free granola like this. It is the perfect option for breakfast 'grain free cereal' bowl. Then, simply serve your grain free granola with nut milk and sweetened your breakfast bowl with natural sugar free sweetener like stevia or swerve.  Option 2 : Maple Flavored Sugar-Free Syrup  This coat the grain free granola perfectly, perfect to add natural sugar free sweetness and use granola either in desert like parfait or breakfast bowl.  Option 3: Sugar free crystal sweetener I usually prefer this option if I am using my sugar free granola with milk. I like this option less if I eat my granola as a snack as the erythritol won't spread as evenly as liquid sweetener above and leave bites of sweetener into the mix. However, I love this option for my breakfast as the sweetener release its sweetness really well into the milk.  Freeze dried raspberry replacement: that is your best sugar free fruit but if you can eat some sweet use any dried fruits of your choice like goji berries, cranberries or apricots. Not sugar free? Use regular maple syrup instead of sugar free sweetener, same amount and use any dried fruits you like instead of freeze dried raspberries. 
Nutrition Facts
Low carb cereal recipe | grain free granola recipe
Amount Per Serving (0.25 cup)
Calories 166 Calories from Fat 131
% Daily Value*
Fat 14.6g22%
Potassium 4mg0%
Carbohydrates 7g2%
Fiber 3.5g15%
Sugar 0.9g1%
Protein 4.8g10%
Vitamin C 1.7mg2%
Calcium 30mg3%
Iron 1.3mg7%
Net Carbs 3.5g
* Percent Daily Values are based on a 2000 calorie diet.
Nutrition panel is for 1/4 cup of low carb cereal recipe using sugar-free maple-flavored syrup.