This Keto Cereal recipe makes delicious low-carb granola as an alternative to rolled oats for your keto breakfast.
Bonus, this keto cereal is also sugar-free, grain-free, and vegan as it's made without eggs!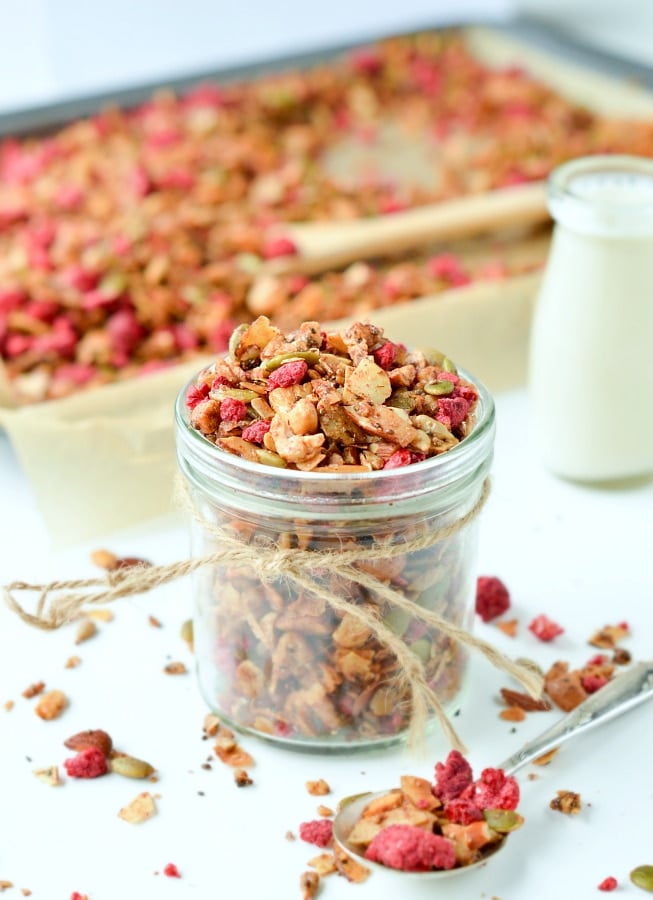 What's Keto Cereal?
Keto Cereal is a low-carb breakfast recipe that mimics the taste and texture of classic cereals without carbs.
They are made with sugar-free and keto-friendly ingredients to keep you full and fueled on a keto diet.
Why You'll Love This Recipe
This recipe is the star of keto breakfasts because it's:
Quick to make
A Big Batch
Gluten-free
Keto
Vegan
Egg-Free
Paleo
Dairy-free
And there's no coconut flour or almond flour, no dough, so no complex baking required.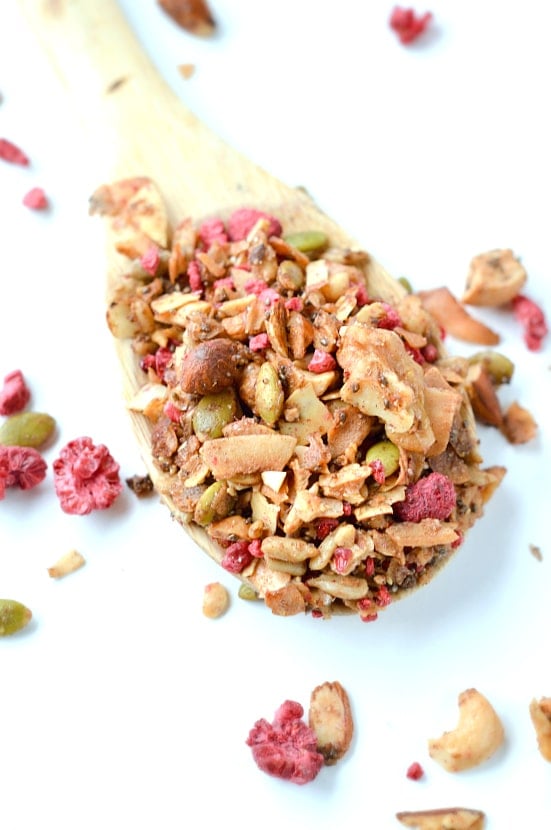 How To Make The Best Keto Cereal
It's pretty easy to make homemade keto cereal at home and a great way to enjoy crunchy breakfast cereals without the carbs.
The key to making crunchy breakfast cereal is to use a combo of nuts and seeds and no eggs!
While many keto-friendly cereal recipes recommend egg whites as a binder to form clusters, I believe it's unnecessary.
Ingredients
Nuts – nuts are very low in carbs, but not all nuts are equal when it comes to net carbs! Some can be in the high range, so for a grain-free keto cereal, focus on keto-friendly nuts like macadamia, pecans, almonds, and walnuts, and stay away from pistachios or cashews.
Flakes – that's the ingredient that mimics the rolled oats the best! A low-carb keto nut granola with coconut flakes is way tastier but even better with sliced almonds. The combo of both 'flakes' reproduces a rolled oats texture that is heavenly delicious.
Seeds – the best keto low-carb seeds are hemp heart, pumpkin seed, flaxseeds, sunflower seed, and chia seed.
Spices – Spices are the best way to add extra sweet flavor without adding carbs or sugar. A pinch of cinnamon, a bit of salt, and vanilla extract are great options to flavor a homemade low-carb cereal recipe. Of course, you can also add grated orange zest, ginger, nutmeg, or unsweetened cocoa! Play with the spices to make a delicious new low-carb granola recipe every time.
Freeze-dried fruits – optional but delicious! Use freeze-dried raspberries for minimal carbs. In fact, freeze-dried berries have no added sugar.
Oil – I am using extra virgin coconut oil to roast my cereal. I love the tiny coconut flavor it adds to the mixture, plus coconut oil is a very healthy oil full of antifungal and antibacterial properties. If you don't like coconut flavor, replace it with refined coconut oil – it won't have any coconut flavor!
Keto-friendly sweetener – Sugar-free maple-flavored syrup works the best for grain-free cereal recipes and especially to make keto vegan cereal. This binds ingredients together without adding egg whites, as you would see in most kinds of keto cereal recipes.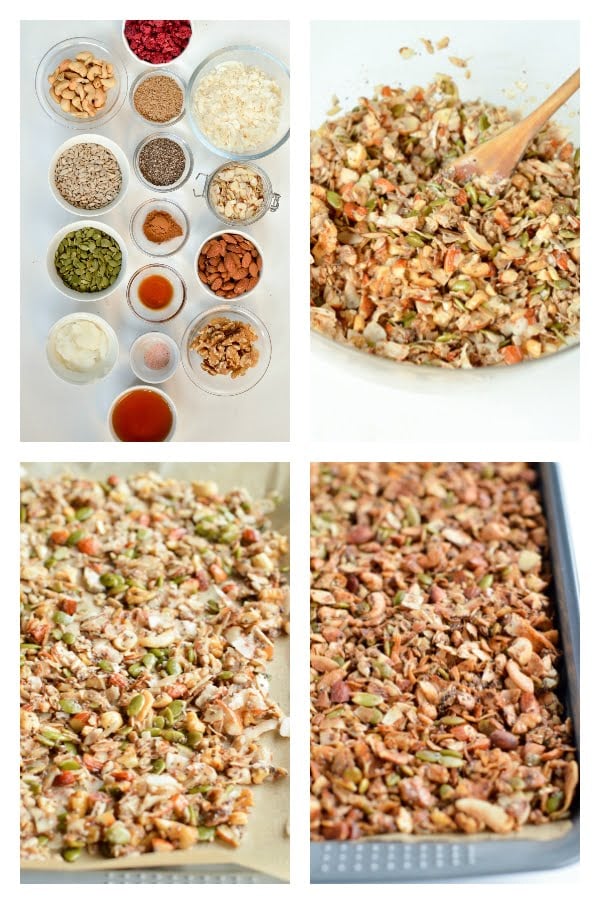 Baking Cereal
Combine the dry keto cereal ingredients in a large mixing bowl and toss them on a large baking tray lined with parchment paper.
Pour the liquid ingredients into a saucepan over low heat and stir them with a silicone spatula until they have fully melted,
Then pour the melted ingredients onto the dry keto cereal ingredients.
Spread the cereal evenly on the baking pan so they bake at the same speed.
Bake the keto cereal for 30 to 45 minutes in the oven preheated to 300°F (150°C).
You know they're ready when they take a dark golden color similar to roasted almonds.
Let the keto cereal cool down for 15 minutes on the tray as it will let cereal clusters form.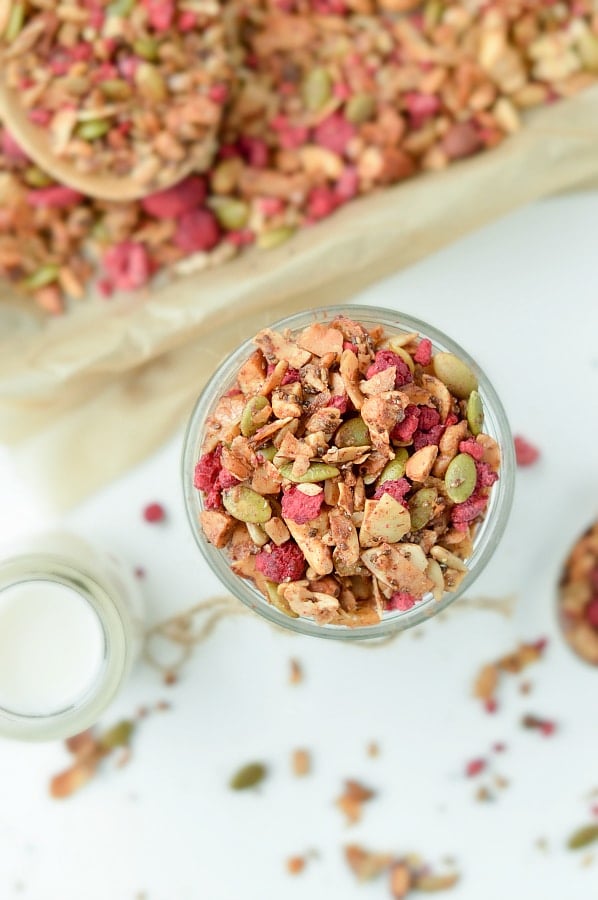 Serving Keto Cereal
This is a versatile recipe. I found this recipe amazing to fix my sugar craving anytime in the day without eating many carbs.
I love to use it for breakfast as a snack or dessert in combination with dairy-free milk like almond milk.
Breakfast – serve 1/4 cup of grain-free granola with 1/2 cup of almond milk or coconut milk into a bowl.
Snack – sprinkle on top of a berry almond milk smoothie/protein shake or carry 1/4 cup of this mix into a box and eat as a trail mix.
Dessert – I love to sprinkle some on top of my yogurt or my ground chia seed pudding to add some crunch and add a tablespoon of dark chocolate chips or cocoa powder!
Storage Instructions
It should be noted that this cereal mix must fully cool down before being transferred to a glass parfait jar.
Indeed, these jars are the best way to avoid air coming into the mix, keeping your low-carb cereals intact for up to a month.
Also, make sure to store this recipe at room temperature in the pantry.
The fridge will soften your cereal so it's better to avoid refrigerating them.
Also, don't freeze your cereal, they don't like this!
Frequently Asked Questions
Is This Keto Cereal Recipe Healthy?
Of course, this keto cereal recipe is perfect for you and anyone looking for a healthy grain-free, sugar-free breakfast.
This keto cereal is low in carbs, and sugar-free to keep your blood sugar level stable for a long time.
It's also high in plant-based protein, heart-healthy fat – monounsaturated and polyunsaturated fats, and Omega-3.
Finally, nuts are also very fulfilling and high in fiber to keep you full for long.
The only important point to keep this keto-friendly cereal healthy is to roast the nuts at a maximum of 300°F (150°C) to keep the nuts' nutritional properties intact.
This keto breakfast cereal comes to only 1.9 grams of net carbs per serving.
Can I Make Low-Carb Cereal Without Sweeteners?
Obviously, you can make this recipe without the keto-friendly sweetener, but it won't form cereal clusters.
So to make the best grain-free cereal recipe, add some sugar-free maple syrup to this recipe.
It will cluster the nuts and seeds together, and the crunch will be even better.
It also makes it easier to snack on as it forms clusters that you can grab by hand or sprinkle on top of low-carb yogurt.
Which Sweetener Should I Choose For Keto Cereal?
First, keep it natural. Stay away from artificial sweeteners or maltitol.
Next, focus on sugar-free maple-flavored syrup. In fact, sugar-free syrup creates clusters in cereal resulting in the best low-carb granola texture similar to store-bought cereal.
Finally, if you can't find a liquid sweetener, use keto crystal sweeteners like erythritol, allulose, or xylitol.
Note that these don't melt as well as liquid sweeteners, and they won't form clusters in your cereal.
Can I Make It Higher In Protein?
You can turn this keto cereal into a high-protein breakfast by serving it with 2 tablespoons of protein powder (you can use whey powder which is milk protein, or plant-based protein powder) and a touch of heavy cream.
This will bring the protein to 8-10 grams of protein per serving.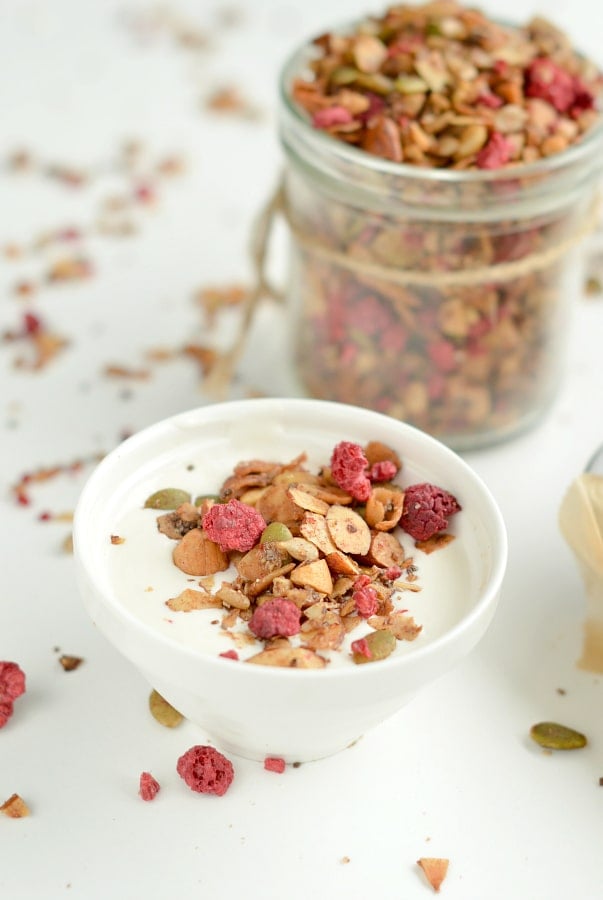 Enjoy this easy vegan keto cereal recipe and leave me a comment or review below. I love to read your feedback on my keto recipes.
Keto Cereal
This Keto Cereal recipe makes vegan, gluten-free, low-carb granola for a healthy and keto-friendly breakfast.
Yield:
servings of 1/4 cup
This recipe may contain Amazon or other affiliate links. As an Amazon Associate I earn from qualifying purchases.
Instructions
Preheat the oven to 300°F (150°C). Line a large baking tray with parchment paper. Set aside.

Toss into a large mixing bowl coconut flakes, chopped macadamia, chopped walnuts, chopped almonds, sunflower seeds, pumpkin seeds, chia seeds, flaxseed meal, sliced almonds, ground cinnamon, and salt.

In a saucepan, under medium heat, melt the coconut oil with vanilla and sugar-free maple syrup. Stir until the coconut oil is melted.

Pour over the nuts and seeds mixture. Use a spatula to stir and combine.

Spread your keto granola mixture evenly on the prepared baking tray. Make sure you spread the granola in a single thin layer or use two baking trays if needed.

Bake for 30-45 minutes until golden brown and crisp.

Cool down for 15 minutes on the tray. Clusters form as it cools down. Then stir or break clusters of keto granola and stir in freeze-dried raspberries if you like.
Want My Kitchen Equipment?
Yield:
servings of 1/4 cup
Serving:
0.25
cup
Calories:
164.3
kcal
(8%)
Carbohydrates:
4.9
g
(2%)
Fiber:
3
g
(13%)
Net Carbs:
1.9
g
Protein:
3.8
g
(8%)
Fat:
15.6
g
(24%)
Saturated Fat:
5.4
g
(34%)
Trans Fat:
0.1
g
Sodium:
31.8
mg
(1%)
Potassium:
138.4
mg
(4%)
Sugar:
0.9
g
(1%)
Vitamin A:
3.5
IU
Vitamin C:
0.2
mg
Calcium:
37.1
mg
(4%)
Iron:
1
mg
(6%)
Magnesium:
56.8
mg
(14%)
Zinc:
0.8
mg
(5%)
Posted In: