Keto Chocolate Chia Pudding with Almond Milk
This chocolate keto chia seed pudding with almond milk is a smooth chocolate peanut butter keto pudding ready in 10 minutes!
Ground chia seed pudding required no soaking and no waiting time. At last, a keto chia pudding recipe to fix your sugar craving in a minute.
What's A Ground Chia Seed Pudding?
You probably have heard of chocolate chia seed pudding.
Chia seeds are the perfect little gem to create healthy keto pudding without using carb-loaded thickeners like cornflour.
The classic chia seed pudding consists of soaking chia seeds overnight in almond milk.
Are Chia Seeds Keto?
Yes, chia seeds are a good keto-friendly ingredient. It contains 42 grams of carbs per 100 grams, but a whopping 34.4 grams of fiber, giving only 7.6 grams of net carbs per 100 grams.
When you consider that chia seeds are used sparingly in recipes, this is a good low-carb ingredient!
Is Chocolate Chia Pudding Keto?
Absolutely! With unsweetened almond milk, low-carb chia seeds, peanut butter, and unsweetened cocoa powder, this keto chia seed pudding comes at 4.9 grams of net carbs per serving!
To make your regular chia pudding keto, all you have to do is swap the sweetener (typically maple syrup) for a low-carb one (sugar-free maple syrup) and use low-carb milk like almond milk.
While it is a delicious keto pudding, some people are not fans of the gooey seeds in their pudding.
Ground chia seed pudding is a smooth instant pudding with no lumps and no waiting time.
Indeed, this recipe is an instant chocolate chia pudding recipe to fix your sugar craving in a sec.
Why You'll Love This Recipe
This keto chocolate chia pudding is an amazingly quick and simple recipe, but it's also:
Gluten-Free
Low-Carb
Keto-Friendly
Dairy-Free
Egg-Free
Vegan
Paleo
Prepared in 10 Minutes
How To Make Keto Chia Pudding
The trick to making a deliciously smooth, creamy keto chia pudding with no bites of seeds is to grind the chia seeds.
Consequently, you will have:
No waiting/ soaking time – enjoy the recipe within 10 minutes.
No lumpy, slippery seed texture
Plus, all you need to make this lovely keto dessert or keto breakfast are only 7 ingredients.
Ingredients
Chia Seeds – black or white or a combo of both. Any kind of chia seeds will work well. You can buy whole chia seeds and grind them in a grinder or blender. Or directly buy ground chia seed. I am providing both measurements in the recipe below as ground chia seeds make a larger volume than raw chia seeds.
Almond Milk – I use unsweetened Almond Milk. I love it! It is low calories, natural and vegan.
Peanut Butter – I love runny unsalted natural peanut butter, no sugar added. Feel free to use any other nut butter flavor. If you are paleo, try runny almond butter or cashew butter.
Unsweetened Cocoa Powder – this adds a lovely chocolate flavor without sugar added.
Sugar-free Liquid Sweetener – as always, I love to use maple-flavored sugar-free syrup. I am using a brand that can be used in the same amount as regular maple syrup. it means that if you are not on a sugar-free diet, you can replace it with the same amount of natural maple syrup in the recipe. You can also use sugar-free crystal sweeteners like erythritol or monk fruit. I would recommend using the same amount as for liquid syrup, 1/4 cup, and to balance the texture by adding an extra 2-4 tablespoons of almond milk. Stop when it reaches your favorite texture.
Vanilla – optional but always better with it.
Salt – same, optional but I love that extra pinch of salt to balance the chocolate flavor. Omit if you are using salted peanut butter.
Making Keto Chia Seed Pudding
Yes, you can eat this keto chia pudding straight away. No need to soak overnight or wait for hours! As you ground the chia seeds, at first, they deliver their gel-power instantly.
Your pudding can be enjoyed as fast as 10 minutes. Of course, it tastes even better if stored for 1 hour in the fridge as the pudding will get fresher and slightly thicker.
But if you are craving dessert, this is the fastest low-carb dessert ever!
Playing With Textures
The recipe creates a smooth chocolate peanut butter pudding, not overly sticky or liquid. Just the right balance.
If you love yours thicker and chewier, add less milk – decrease by 1/4 cup and add an extra tablespoon at a time, blend, taste, and see!
That's the best way to create the perfect texture for your tastebuds! Of course, for a runnier pudding, add more milk!
I hope you enjoy this lovely instant chia seed pudding recipe made with almond milk.
Storage Instructions
You can store this keto chocolate chia pudding for up to 4 days in the fridge in an airtight container.
I don't recommend freezing it, but you can put it in your freezer and eat it cold, slightly frozen for an ice-cream-like experience.
Frequently Asked Questions
Can I Grind Chia Seeds For Pudding?
Yes, grinding chia seeds makes the formation of the chia seed gel much faster.
Will Ground Chia Seeds Thicken?
When soaked in a liquid such as almond milk, ground chia seeds form a thick gel-like texture.
How Do You Make Ground Chia Pudding?
Making ground chia seeds is super easy. All you have to do is put the chia seeds in a high-speed blender and blend for about 20 seconds. That's it.
How Do You Use Ground Chia Seeds?
Ground Chia Seeds can be used to thicken no-bake desserts such as this ground chia keto pudding.
Do I Need To Soak Ground Chia Seeds?
No, you don't have to. If you soak ground chia seeds, they will thicken and turn into a gel after a few hours, but they are edible and delicious immediately as well.
How Many Carbs Are In Chocolate Chia Pudding?
This ket chocolate chia pudding contains only 4.9 grams of net carbs per serving.
More Keto Breakfast Recipes
If you like simple, healthy keto breakfasts, you'll love these: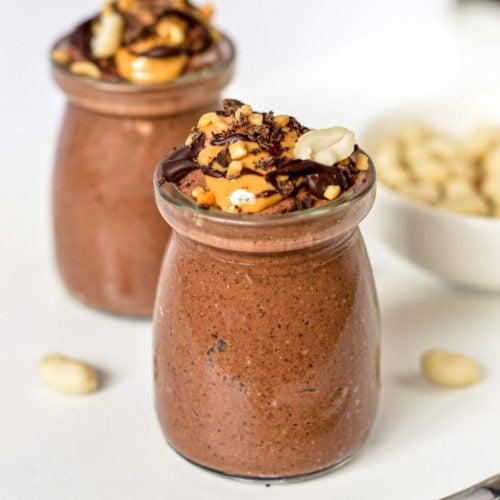 Chocolate Peanut Butter Chia Seed Pudding
This Ground Chia Seed Pudding with almond milk is a smooth chocolate peanut butter healthy dessert or breakfast. Easy, gluten-free, vegan, low-carb, keto, and whole30!
Ingredients
⅔

cup

Chia Seeds

whole, black or white or 1 cup ground chia seeds

3

tablespoons

Unsweetened Cocoa Powder

2

cups

Unsweetened Almond Milk

(or original if not keto)

2

tablespoons

Natural Peanut Butter

¼

cup

Sugar-Free Maple Syrup

or any liquid sweetener you like (maple syrup, agave, brown rice syrup)

½

teaspoon

Vanilla Extract

¼

teaspoon

Salt
This recipe may contain Amazon or other affiliate links. As an Amazon Associate I earn from qualifying purchases.
Instructions
Place the chia seed into a blender and blend for about 20 seconds to form ground chia seeds.

Add all the rest of the ingredients – order doesn't matter.

Blend again for 30 seconds to 1 minute until all the ingredients come together. If it sticks to the sides of the blender, you can stop the blender every 30 seconds, scrape down the side, and repeat until smooth. You can't over-process it!

Taste and adjust texture and sweetness. Add more almond milk, 1 tablespoon at a time, for a runnier pudding. This may be useful if you replace the sugar-free liquid sweetener with crystal sweetener (erythritol or monk fruit sugar).

Transfer into ramekin or serving jar. Decorate with a dollop of fresh peanut butter, drizzle melted sugar-free dark chocolate, and chopped peanuts.

Enjoy immediately or refrigerate for at least 1 hour for a fresher pudding.

Store for up to 4 days in the fridge in an airtight container.
Notes
Sweetener: any liquid sweetener works in this recipe. I recommend sugar-free liquid sweetener, but if you are not on a low-carb/keto diet, replace it with the same amount of regular maple syrup or brown rice syrup.
Want My Kitchen Equipment?
Serving:
1
pudding
Calories:
203
kcal
(10%)
Carbohydrates:
24.5
g
(8%)
Fiber:
19.6
g
(82%)
Net Carbs:
4.9
g
Protein:
6.4
g
(13%)
Fat:
12.3
g
(19%)
Sugar:
0.7
g
(1%)
Posted In: