This easy keto almond flour bread recipe is a keto-friendly keto bread recipe to replace regular wheat bread on your keto diet. It has a soft, chewy crumb like regular bread, with only 3 grams of net carbs per slice.

Bonus this keto bread is also gluten-free, dairy-free and use only a small amount of eggs that avoid eggy taste found in most common keto bread recipe.
Is bread keto-friendly?
A store-bought wheat bread loaf from the grocery store or bakery is high in carbs as it's made with high-carb white flour.
This is not keto-friendly, and to make keto-friendly bread, you must use a combination of keto flours, eggs, and healthy fats like melted butter or olive oil.
How to make keto bread with almond flour?
There is nothing easier than this keto bread with almond flour recipe.
All you need to make this almond flour bread recipe keto-friendly are 6 simple, wholesome pantry ingredients:
Ultra-fine almond flour – avoid using coarse almond flour, also called almond meal. The recipe works with almond meal, but it gives a heavier, gritty texture to the bread. If you are a keto beginner, definitely stay away from coarse almond flour that makes your first keto bread experience disappointing.
Whole psyllium husk – it is the key ingredient in most keto bread to reduce the number of eggs and to add a chewy bread crumb. Also, psyllium husk is great for your overall gut health. It adds fiber to your daily routine. Note that husk brands like Metamucil are NOT made for keto baking. They are gut health supplements with a brown dark color, and they are not suitable for making keto bread recipes.
Large whole eggs and egg white– use eggs at room temperature for the best results. The recipe uses a combo of egg white and whole eggs. As mentioned above, removing some egg yolks in this keto almond flour bread recipe removes the eggy flavor that most of us don't enjoy in keto bread recipes.
Lukewarm water
Olive oil or melted butter
Baking powder
Xanthan gum – don't skip this ingredient in a gluten-free keto bread recipe! This ingredient is the bread binder. It holds gluten-free baked goods to perfection and creates the best chewy bread crumb you used to love in wheat bread recipes.
Beat liquid
First, in a large mixing bowl, beat egg white, whole eggs, melted butter (or olive oil). Beat for 1 minute at high speed until the mixture double in size, gets whiter in color, and foamy. Set aside.
Combine dry ingredients
In another bowl, combine almond flour, whole psyllium husk, salt, xanthan gum, and baking powder.
Add wet to dry
Make a well in the center of the dry ingredients, pour the liquid, and using the electric beater again, beat to bring ingredients together. When the dough starts to be thick and difficult to beat, stop beater.
Are you new to Keto?
Receive my Keto Quick Start email series to learn all about the Keto diet and kick start your keto journey!
Bake
Transfer the keto bread dough into a greased 9×5-inch loaf pan covered with oiled parchment paper. Bake on convection mode for 45 minutes up to 1 hour or until a pick inserted in the center of the bread come out clean.
Cool down
Cool the bread on a cooling rack for at least 20 minutes before slicing. The best is to wait until the keto bread loaf reaches room temperature before cutting into slices.
How does almond flour bread taste like?
This almond flour keto bread recipe is a soft, airy bread perfect for making keto breakfast toast or keto sandwich. Obviously, it has a light almond flavor as it's mainly made from almond flour.
However, you won't feel any egg flavor in this recipe like in many keto bread recipes as this particular keto bread recipe use only two egg yolk.
Why does keto bread have an eggy taste?
The reason why most keto breads have eggy flavor comes from the extreme amount of egg yolk used in the recipe. This Almond Flour Bread recipe uses only two egg yolks.
Therefore, you won't have this issue in this keto bread recipe with almond flour.

How to make almond flour bread fluffy?
This keto almond flour bread recipe won't rise much on its own because it's made of gluten-free keto flours. Indeed, flours without gluten don't rise much, but a few techniques help gluten-free bread rise and get fluffy.
Below I listed my top 4 tips to make keto bread rise a bit more:
Beat the eggs on high- speed – whisk eggs and liquid until very fluffy, pale in color using an electric mixer or stand mixer with the whisk attachment. This will incorporate air into the loaf and make your keto bread rise a bit more. Be patient and whisk eggs for 1 minute at high speed until pale in color and foamy.
No hand-mixing – add wet ingredients to the dry ingredients mixing with an electric mixer, no hand-mixing. As mentioned before, this adds air to the dough and more chance for your almond flour bread to rise.
Oven baking mode – baking keto bread on convection mode instead of regular baking mode help them raise even more.
Oven rack position – place the loaf pan on rack number 2 from the bottom of your oven. This is the rack just under the center rack, but not the one at the very bottom. This oven position will ensure the best results.
For even more tips and tricks, check out my Keto Baking ebook. I share in there all my tricks to never fail a keto baking recipe!
Why is my keto almond flour bread dough wet?
This happens when your bread is low in fiber, and the amount of liquid can't be absorbed by the recipe's dry ingredients. It can be that you didn't add enough psyllium husk or use the wrong kind.
To enjoy your bread, bring the slices in a bread toaster or spread butter on both sides and fry in a saucepan. You can also use a too moist keto bread loaf to make keto French sticks!
Almond flour bread serving ideas
You can use this almond four keto bread recipe to make any of the following:
Keto sandwich – for example, fill two keto almond flour bread slices with a slice of cheese, shredded chicken, and crunchy keto vegetables like spinach or lettuce.
Keto breakfast toast – for the sweet tooth, spread some butter and homemade chia seed jam on top of your almond flour bread slice. Other delicious keto toppings are cream cheese or peanut butter and fresh keto fruits like blueberries or strawberries slices.
How to store keto almond flour bread?
This bread stores very well for 6 days in the fridge in an airtight box.
You can also slice the whole bread loaf and freeze it in an airtight box. Then, thaw a slice a few hours before eating at room temperature and rewarm in a bread toaster.
Can I skip psyllium husk in almond flour keto bread recipe?
You can't skip psyllium husk in this keto bread with almond flour, or the dough wouldn't hold together. Psyllium husk is highly liquid absorbent. It binds the almond flour together and adds a chewy, bouncy texture to the bread loaf.
You can replace half of the psyllium husk with flaxseed meal if you are not a big fan of psyllium husk flavor.
More keto bread recipe to try
There is nothing more rewarding than baking your own bread! I have plenty of low-carb bread recipes for you to try on the blog.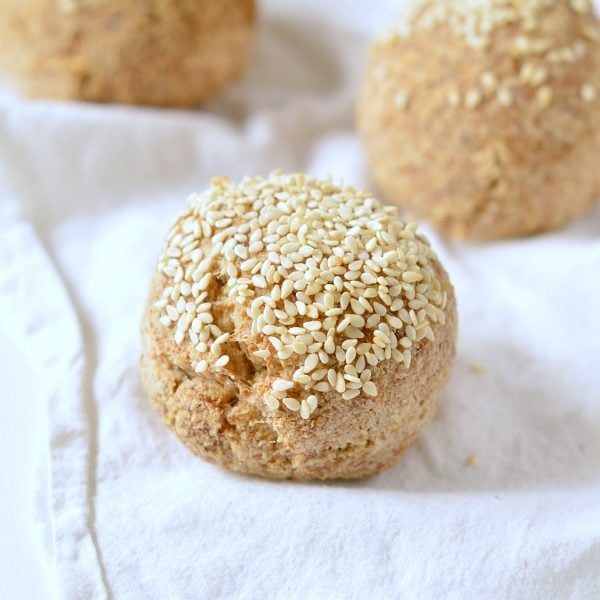 Keto bread rolls
Keto bread rolls with no eggs! 100% Vegan + Dairy-free + Low Carb + Grain-free. Delicious crispy bread rolls made of almond flour, coconut flour, and psyllium husk. 
4.7
g
Check out this recipe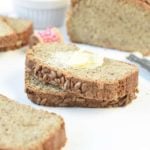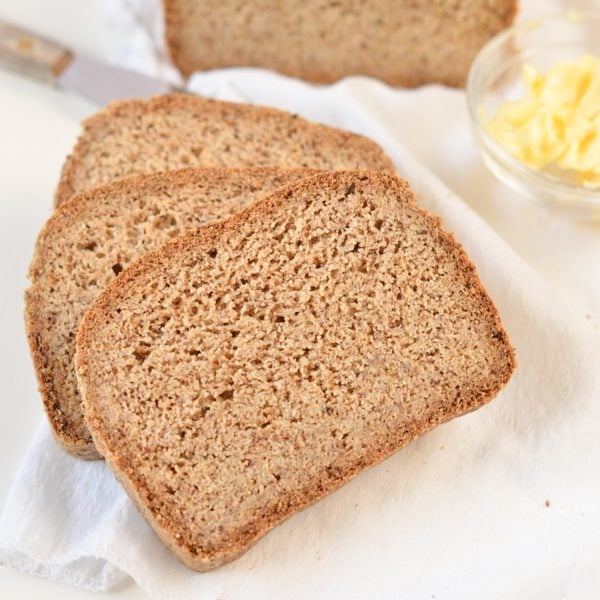 Have you made this keto recipe? Share a comment or review below. I love to hear back from you,
XOXO Carine
Recipe Card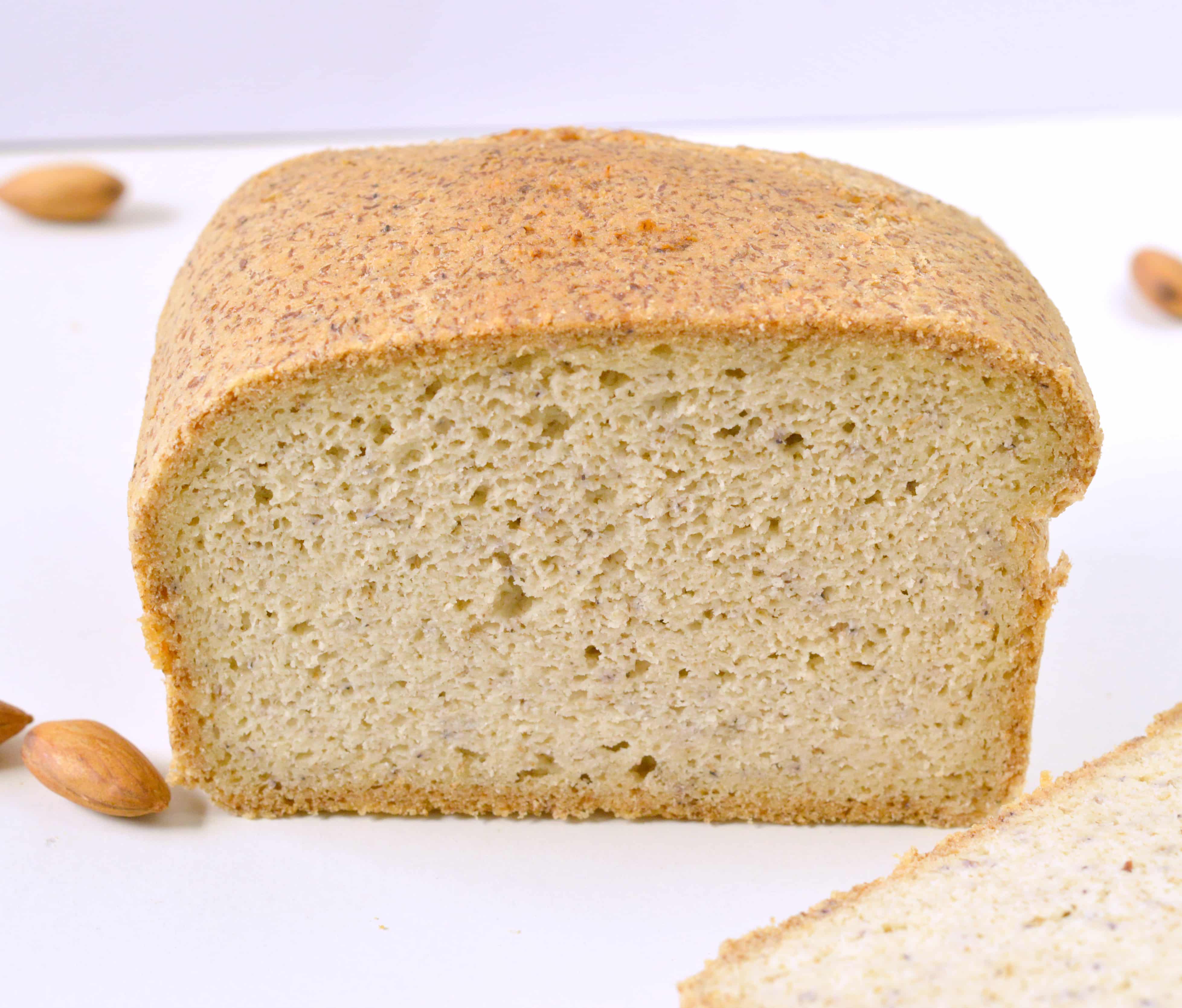 Keto Almond Flour Bread
Keto almond flour bread is an easy low-carb bread loaf recipe with a delicious bread texture and flavor. Also, it's paleo and gluten-free!
Liquid ingredients
2

large

Eggs

2

large

Egg Whites

keep egg yolk for custard

2

tablespoons

Extra Virgin Olive Oil

or melted coconut oil or avocado oil or almond oil or melted butter

1

cup

Lukewarm water
Preheat oven to 200°C (400°F). Line a 9-inch x 5-inch loaf pan with a piece of parchment paper. Lightly oil the paper to make sure the bread doesn't stick to the pan. Set aside.

Weigh all your dry ingredients, one bowl, one ingredient, before you start. The success of keto bread is precision. That is why I recommend following the recipe in weight (grams or oz) rather than cups!

In a large mixing bowl, stir all the dry ingredients together: almond flour, psyllium husk, baking powder, salt, and xanthan gum. Set aside.

In another bowl, add the whole eggs, egg whites, and olive oil. Whisk with an electric beater, on high speed for 30 seconds or until it is lighter in color, and it forms foam and bubbles on the surface.

Bring back the bowl with the dry ingredients and pour in the beaten egg mixture along with the water.

With the electric beater again, whisk the bread dough on low speed for 15 seconds. The dough is sticky and becomes heavier and harder to whisk as you go because the fiber absorbs the moisture. You can increase to medium speed, beat for an extra 15 seconds to add extra air to the batter (this helps the bread rise more). Stop the electric beater and scrape the dough from the beater tools into the bowl.

Transfer the bread dough onto the prepared loaf tin. Smoothen the surface of the bread with a spatula but don't press too much. The more you press, the heavier and denser the bread will be.

Place the loaf pan in bottom rack number 2 of your oven. It is basically the rack just below the center rack but not the one at the very bottom of your oven. This position is the best to prevent the top of the bread from burning.

Bake 60 minutes at 200°C/400°F. You can add a piece of foil on top of the bread after 20 minutes of baking to prevent it from burning. You know it is ready when a skewer inserted in the center of the bread comes out clean. If some crumbs appear on the skewers, keep baking for 10 more minutes, up to 80 minutes in total.

Cool 5 minutes in the loaf pan, without the piece of foil on top of the pan. Then transfer the bread to a cooling rack. Wait 4 hours or overnight before slicing.
Storage and freezing
Store up to 4 days in the pantry or fridge, in an airtight container. If your bread is slightly moist in the center or you like some crispy toast, bring each slice into the toaster.

Freeze the bread, sliced, in an airtight container. Defrost the day before at room temperature. Toast a few minutes to crisp.
Serving ideas
You can use this bread to make a keto sandwich filled with avocado, ham, cheese, lettuce, or as a breakfast toast. Spread sugar-free chia seed jam and peanut/almond butter on top.
What if your bread is too moist?
This can happen for many reasons. First, you are missing some husk, or yours is too thick, and doesn't absorb moisture well. Use a different husk brand and weigh the ingredients! Next, it can be because the bread was undercooked. Finally, this also happens if the bread cools down in the pan and not on a rack. In any case, toast the bread before serving, and it will fix it!
Net carbs: 3.2 g per slice
Instant raspberry jam recipe
Combine 2 cups of frozen raspberries with 2 tablespoons of water and 1 tablespoon of chia seed. Set aside until the berries defrost. Mash with a fork and set aside in the fridge for at least 1 hour or overnight until jam forms. 
Psyllium husk: Don't use Metamucil fiber supplements in this recipe. It is not the same product as whole psyllium husk fiber. Metamucil is a husk powder that is not suitable for baking keto bread. It will turn the food dry, purple, or blue.
Nutrition Facts
Keto Almond Flour Bread
Amount Per Serving (1 slice)
Calories 144
Calories from Fat 51
% Daily Value*
Fat 5.7g9%
Carbohydrates 6g2%
Protein 3.9g8%
Net Carbs 3.2g
* Percent Daily Values are based on a 2000 calorie diet.