Chocolate chia seed pudding with almond milk is one of the best healthy breakfast to start the day. Bonus, this chia seed pudding recipe is sugar-free and dairy-free too A vegan keto pudding wit only 6.9 grams net carbs per breakfast bowl.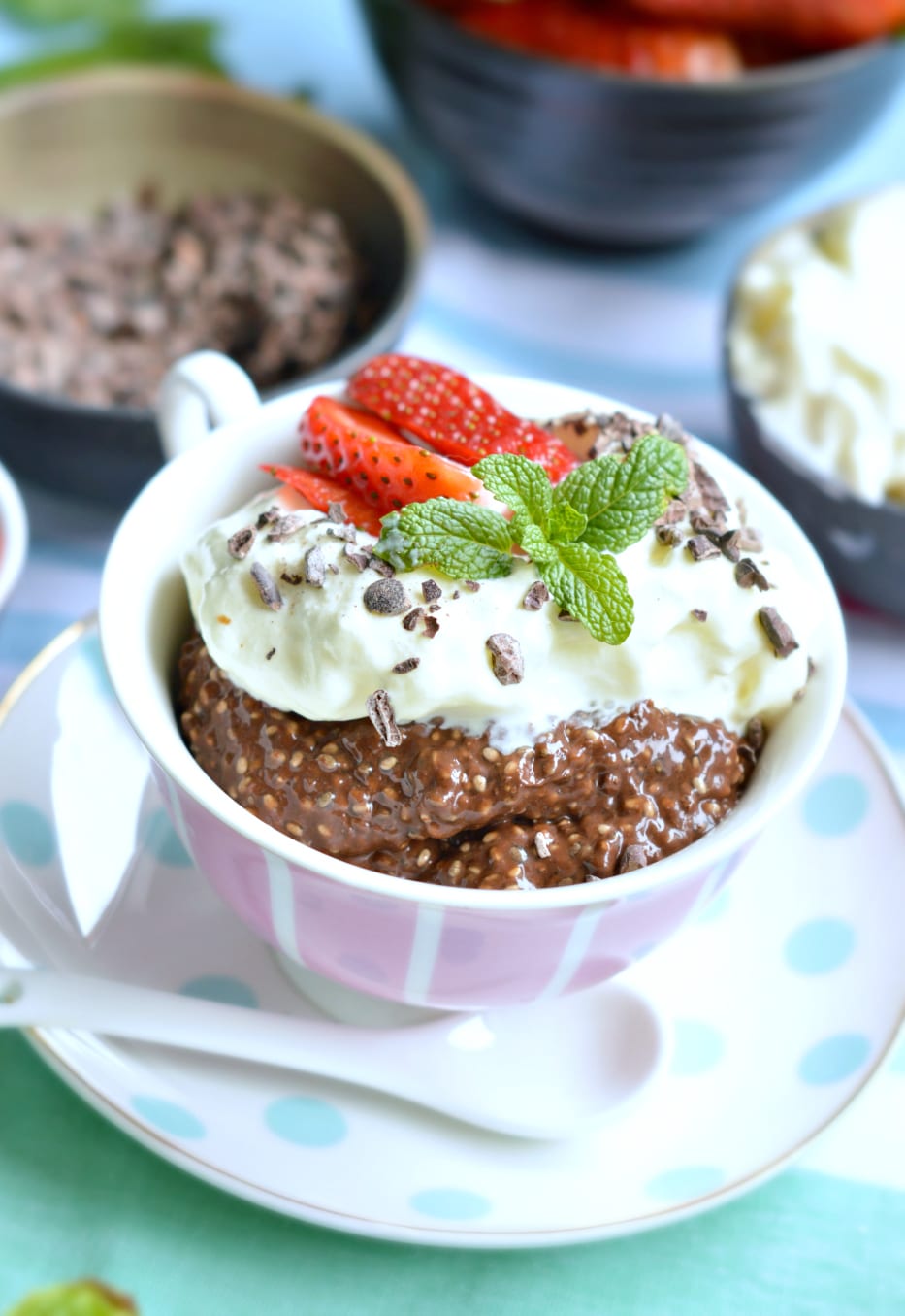 What is a chocolate chia seed pudding ?
A chocolate chia seed pudding is an healthy breakfast recipe combining chia seeds and milk to create a smooth, creamy breakfast bowl. It has a similar texture to tapioca pudding, it is creamy with slimy round bites of seeds. However, puddings made of chia are healthier than the ones made of tapioca pearls. Indeed, the chia are super seeds ! They contains barely few carbs, lots of vitamins and fiber. Chia seeds are also loaded with 34 grams of fiber per 100 grams. In fact, that is this high amount of fiber that provides the amazing properties of chia seeds. They are highly liquid absorbent and double in size when soaked in water or milk creating a creamy, silky smooth texture like pudding.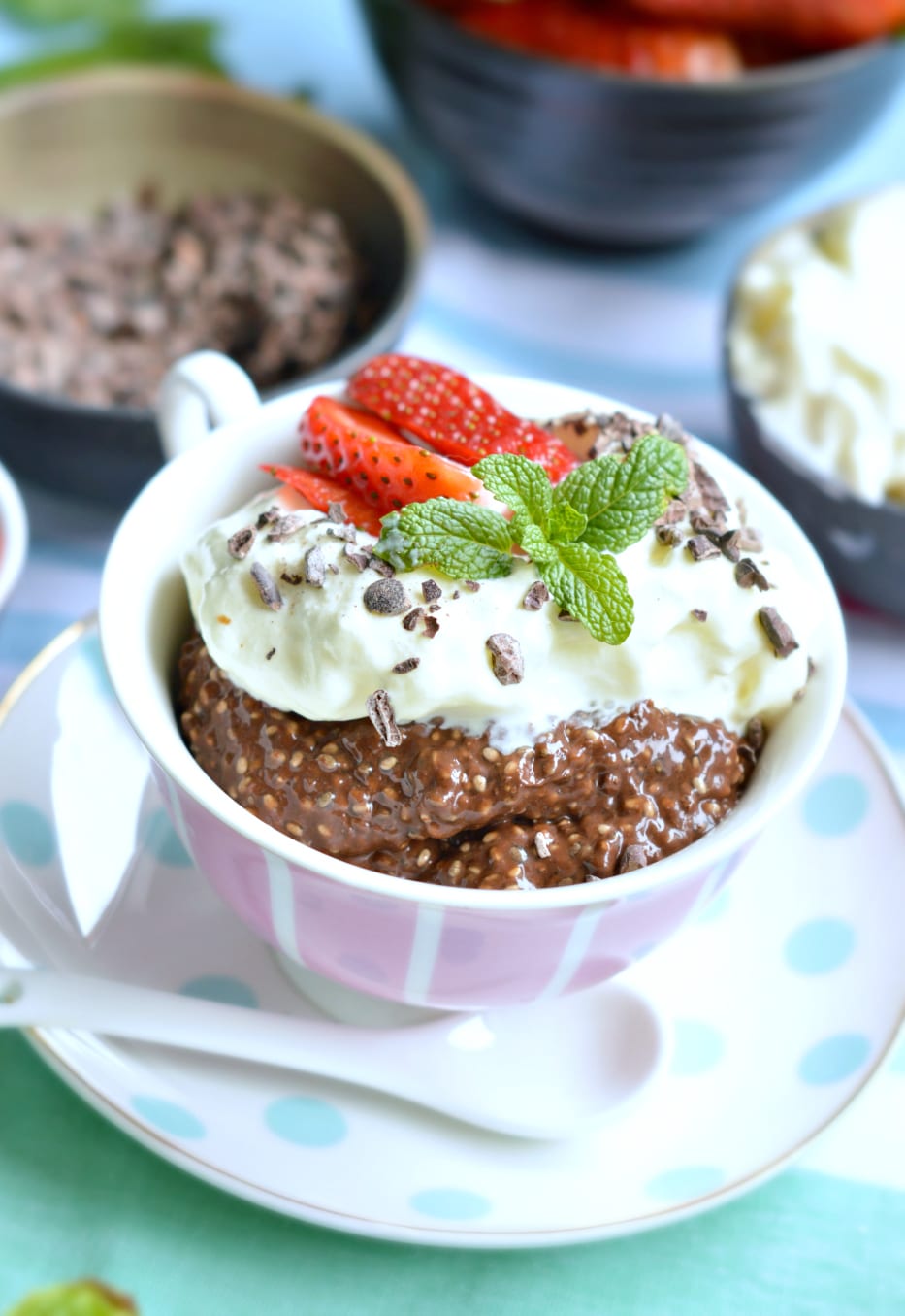 How to make chia seed pudding ?
A chocolate pudding with chia is a very easy 4 ingredient recipe. The only difference from one recipe to another is the chia pudding ratio and milk used in the recipe. As a main rule, if you want to get a silky smooth texture you must use 1/4 cup of chia seeds per 1 1/4 cup of milk or 45 grams of chia seeds per 300 ml of milk. In this chocolate pudding recipe, we use unsweetened dairy free milk to limit calories, carbs and sugar. All you need to make this delicious chocolate chia seed pudding are:
Chia seeds – you can use either black or white chia seeds, it is up to up they ave the same properties.
Unsweetened almond milk – I love to use unsweetened vanilla almond milk from almond breeze. Indeed, this dairy-free milk contains no sugar added and barely few calories. It is a great addition to an healthy breakfast.
Unsweetened cocoa powder
Sugar-free liquid sweetener – I love to use Monk fruit liquid sweetener, it is sugar-free and it is great to make a keto pudding meaning sugar free pudding. However you can also use sugar free crystal sweetener like erythritol or Monk fruit or either regular maple syrup if you don't watch the carbs!
How taste a chia seed pudding ?
Chia seeds are very bland in flavor, they mainly had a slimy texture to breakfast and desserts. If you are not a big fan of the viscous texture of te super seeds you can grind them. Consequently, grinding the chia seeds into a powder will remove the slimy seeds texture. Also, it will create smoother, creamier pudding more like a keto dessert. But, hey who will complain about dessert for breakfast right? Of course, the chia seed ratio in my ground chocolate chia seed pudding is different as the ground chia seeds are more water absorbent.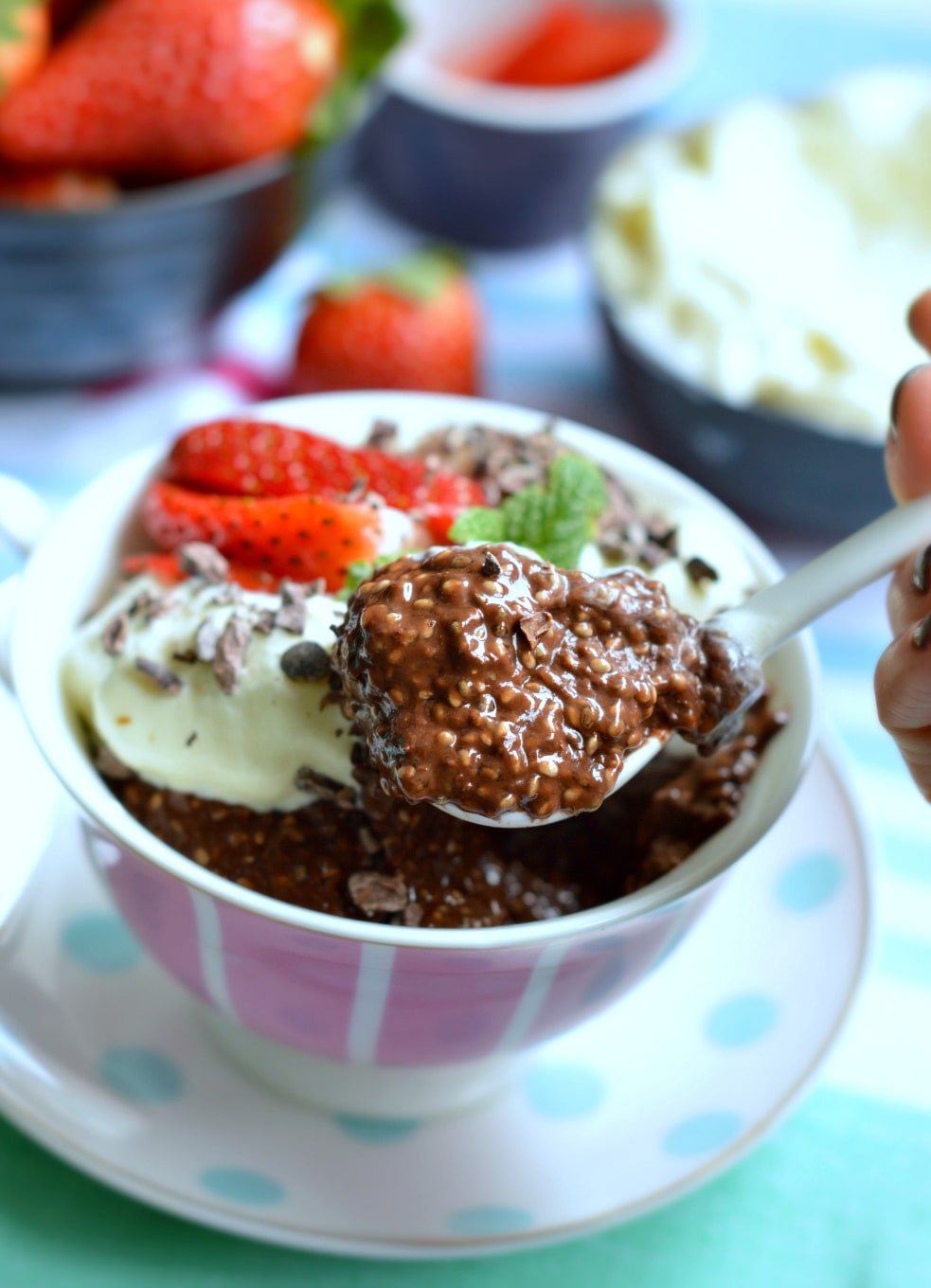 More chia pudding recipe flavors
This pudding recipe is perfect to starts the day on vegan keto diet. Most of the carbs in chia are fiber. Consequently, one serve of this breakfast bowl has only 6.9 grams net carbs. Here I listed many different flavors of keto pudding recipes from the blog. Just follow the link to give it a go!
xoxo Carine
Chocolate Chia Seed Pudding Almond Milk
Delicious chocolate chia seed pudding with almond milk. An easy 4 ingredients whole30 breakfast recipe with 6.9 g net carbs per serve.
Prep Time: 5 mins
Resting time 4 hrs
Total Time: 4 hrs 5 mins
2 puddings
Print The Recipe
Toppings
1 teaspoon raw cocoa nibs
1/4 cup fresh strawberries
2 tablespoons unsweetened whipped coconut cream or heavy cream
In a glass mason jar, add the chia seeds, unsweetened cocoa powder, sugar free sweetener and unsweetened almond milk.

Close the jar and shake vigorously to combine all the ingredients together.

Refrigerate for 30 minutes. Open the jr, give a good stir with a fork to avoid the seeds to stick together and form lumps. Close the jar and shake vigorously again for about 20 seconds.

Refrigerate at least 3h30 minutes or overnight before serving.

When ready to eat serve in individual serving bowl with extra whipped coconut cream, cocoa nibs and fresh berries on top.

Can be stored in the fridge in a glass mason jar for up to 1 week.
Texture: If your pudding is too thick to your taste, you can adjust the consistency by adding slightly more almond milk, 1 tablespoon at a time. Sweetener: you can replace sugar-free liquid sweetener by sugar-free crystal sweetener like Monk fruit or erythritol. Use same amount and add 2 tablespoons of extra almond milk to balance the texture. Net carbs: 6.9 g per serve. This recipe serve 2 puddings.
Nutrition Facts
Chocolate Chia Seed Pudding Almond Milk
Amount Per Serving (1 pudding)
Calories 293
% Daily Value*
Carbohydrates 27.4g9%
Fiber 20.5g85%
Sugar 0.2g0%
Protein 11.2g22%
Net Carbs 6.9g
* Percent Daily Values are based on a 2000 calorie diet.
This post is sponsored by Almond Breeze Nz. Note that I only promote product on this blog that use myself on a regular basis.