Ahh chocolate … nothing is better than a easy chocolate chia seed pudding!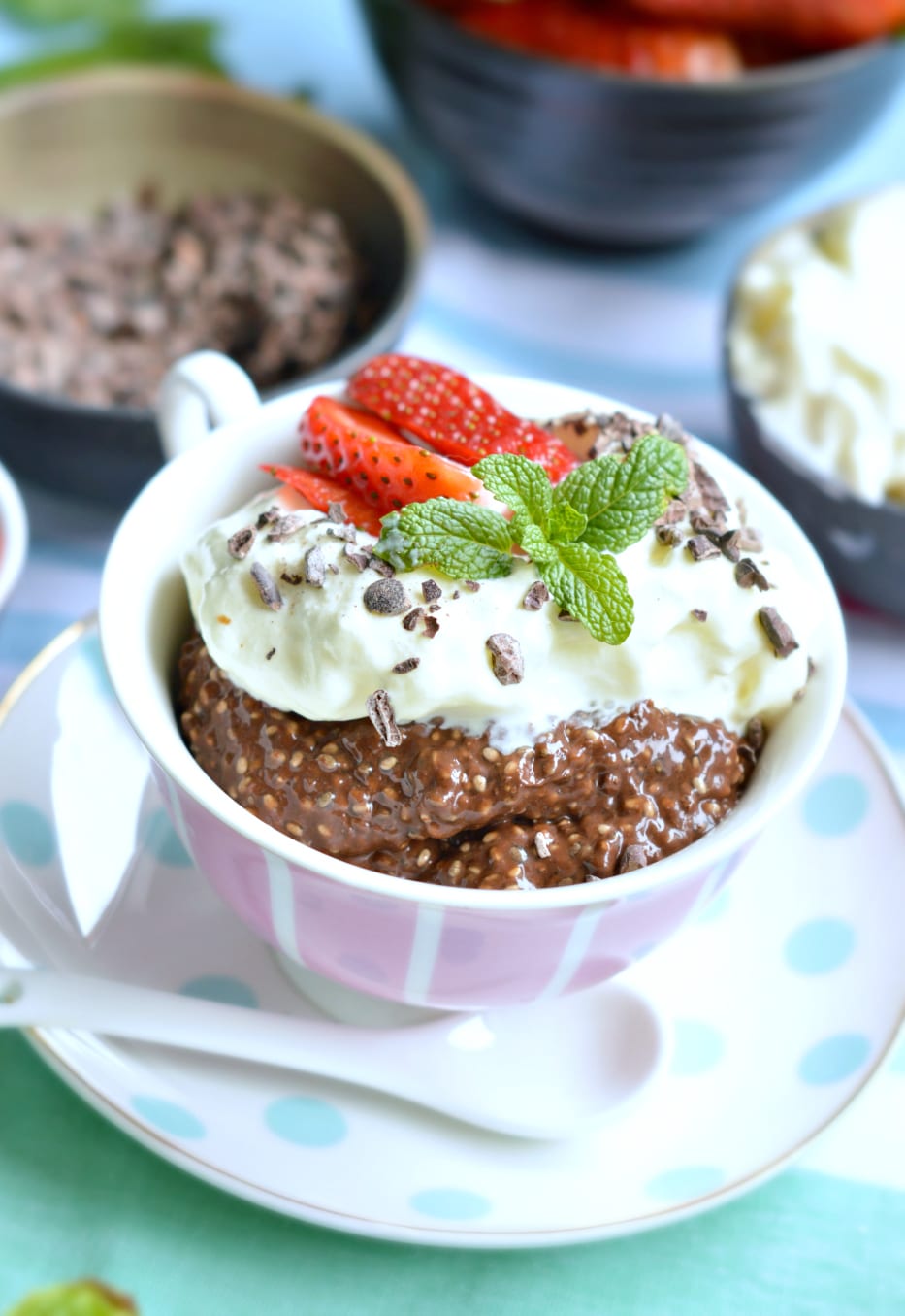 Easy Chocolate Chia Seed Pudding : a Guilt-Free Chocolate Breakfast
Seriously I LOVE chocolate and since I had diabetes it has been my biggest challenge,  developing recipe where I can enjoy chocolate without overloading on sugar.  Ugh! Not so easy when you know that even a 70% cocoa chocolate contains more than 20 grams of sugar per 100 grams. YEP! You read me well! BUT I finally found some great alternatives to make delicious chocolate recipes like this triple chocolate chia seed pudding that keep a low sugar level. First, unsweetened cocoa powder is my go to chocolate ingredients for cakes, muffins, smoothies and more. Then, cocoa nibs is a great crunchy alternatives to chocolate chips with no sugar at all. Sometimes, I found them a bit bitter so I use sugar free dark chocolate sweetened with stevia – choose what you prefer in this recipe. Simply break the sugar free chocolate tab into chunks and use it as regular chocolate chips in every baking recipes. Finally, my new obsession is the new Almond Breeze Chocolate Milk. A natural almond milk flavored with chocolate and slightly sweetened with only 6 g of sugar per 100 ml and less than 40 kcal! Honestly, this is very low it is less than my 90% cocoa chocolate bar and 3 times less than any dairy free chocolate milk you can buy from the supermarket.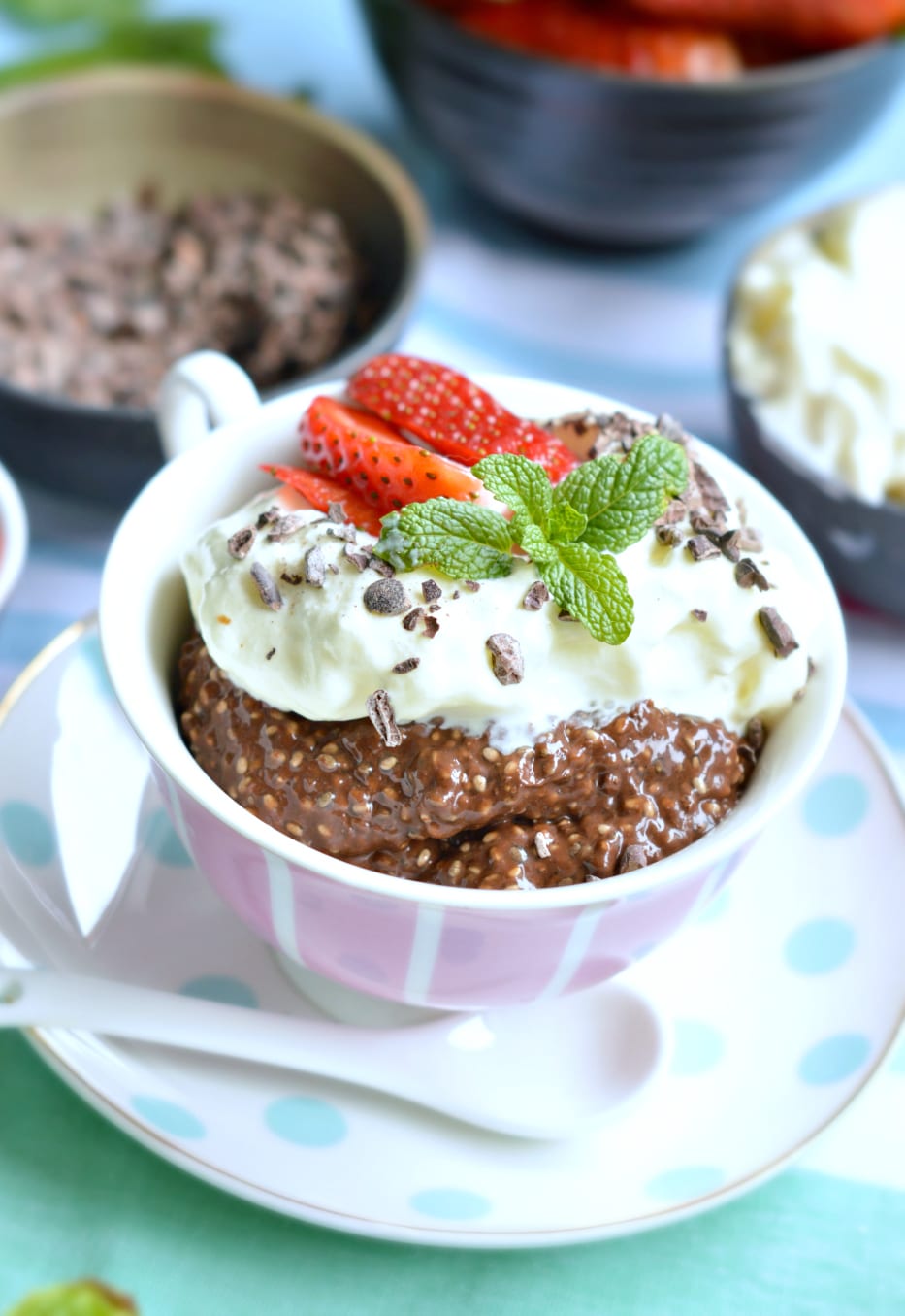 The taste is light with a delicious chocolate almond flavor and as all almond milk it is refreshing and don't upset your stomach as dairy does! Ugh I can't drink dairy milk for 3 years now it really makes me feel sick!  SO while I love drinking the Almond Breeze Chocolate almond milk directly from the glass today I thought I could also try to incorporate this delicious almond milk into a recipe.
I have always been making chocolate chia seed pudding as a comforting breakfast during the week end  but I never tried to make a triple chocolate chia seeds pudding! Ahhh my LOVE with chocolate ! There is never enough of it. So here I combined Almond Breeze Chocolate Almond Milk with unsweetened cocoa powder, cocoa nibs and stevia. Most people add liquid sweetener to their chocolate chia seed pudding but I don't see the point to add more sugar and calories into this recipe as a stevia dissolve perfectly well into almond milk. So the only sugar left is the one from the milk which is pretty fair to me only 6 g per 100 g of chocolate pudding! YEAH! But again, if you are diabetic you can make this recipe 100% sugar free using the unsweetened almond milk from Almond Breeze.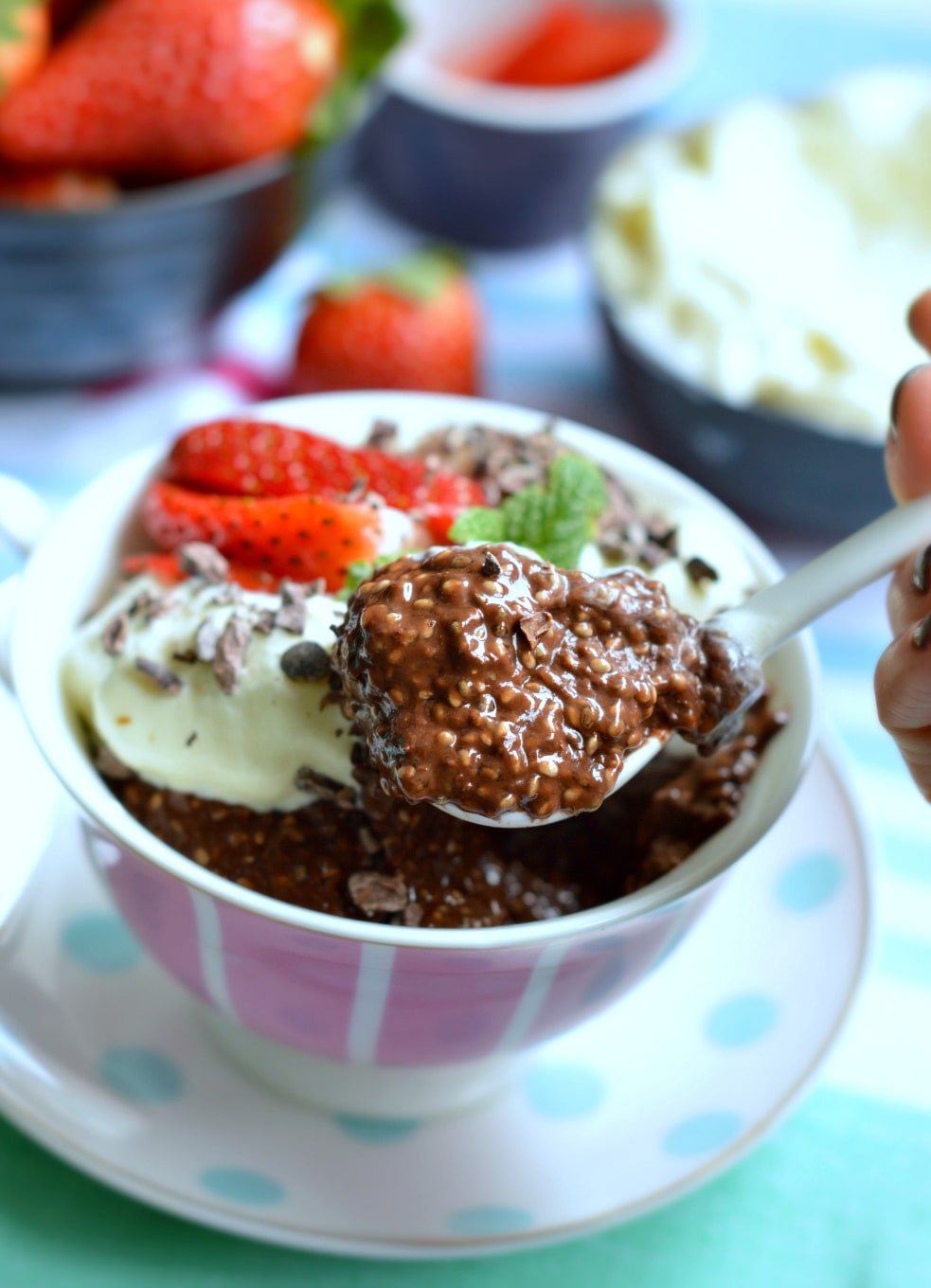 The texture of this chocolate chia seed pudding is thick and very fulfilling. While it makes a delicious healthy breakfast recipe my little girl love to eat this recipe as a dessert topped with homemade whipped coconut cream and berries. Do you know that I even freeze this recipe to make chocolate chia seeds Popsicle ! YEP, crazy idea but it taste AMAZING! If you want to try freeze the batter straight away after making it don't let the chia seeds get into a pudding.
Watch the RECIPE Video on my Youtube Channel here!
And because I absolutely adore this new Almond Breeze Chocolate Milk I team up with them to let you WIN A MONTH supply of Almond Breeze milk! PLUS there will be 3 winners including an exclusive first winner that will also receive a Nutriinfusion blender to prepare delicious smoothies with dairy free milk! GO on my facebook page HERE to enter. Competition run for New Zealand only. No rural area. Ends up on Monday 15/07/2016 8.30 am.
Easy Chocolate Chia Seed Pudding
This recipe serve 8 people. ** NUTRITION INFORMATION USING UNSWEETENED ALMOND MILK - Almond Breeze Per serve: Kcal: 161.5 kcal | Protein:4.5 g| Carbs: 15.5 g | Fiber: 11. 7 g| Net Carbs: 3.8 g | Sugar: 1.1 g| Fat: 10g ** NUTRITION INFORMATION USING UNSWEETENED CHOCOLATE ALMOND MILK - Almond Breeze Per serve: Kcal: 176 kcal | Protein: 4.6 g | Carbs: 18.9 g | Fiber: 11.8 g| Net Carbs: 7.1 g | Sugar: 4.5 g| Fat: 10.3 g
Instructions
In a small mixing bowl add the chia seeds, cocoa powder, stevia, cocoa nibs and dairy free Almond Breeze chocolate milk.

Give a good stir with a spatula to mix up all the ingredients..

Cover and refrigerate for at least 4 hours or overnight.

When ready to eat serve with extra whipped coconut cream, cocoa nibs, fresh berries and mint.

Can be stored in the fridge in an mason jar u to a week.
This post is sponsored by Almond Breeze Nz. Note that I only promote product on this blog that use myself on a regular basis and that my family love.