Keto Cauliflower Mac and Cheese Recipe
This Keto Cauliflower Mac and Cheese will fix all your pasta cravings in less than 30 minutes!
Soft, tender steamed cauliflower bits coated with a cheesy mac and cheese sauce and only 5 grams of net carbs per serving! It's comfort food at its best!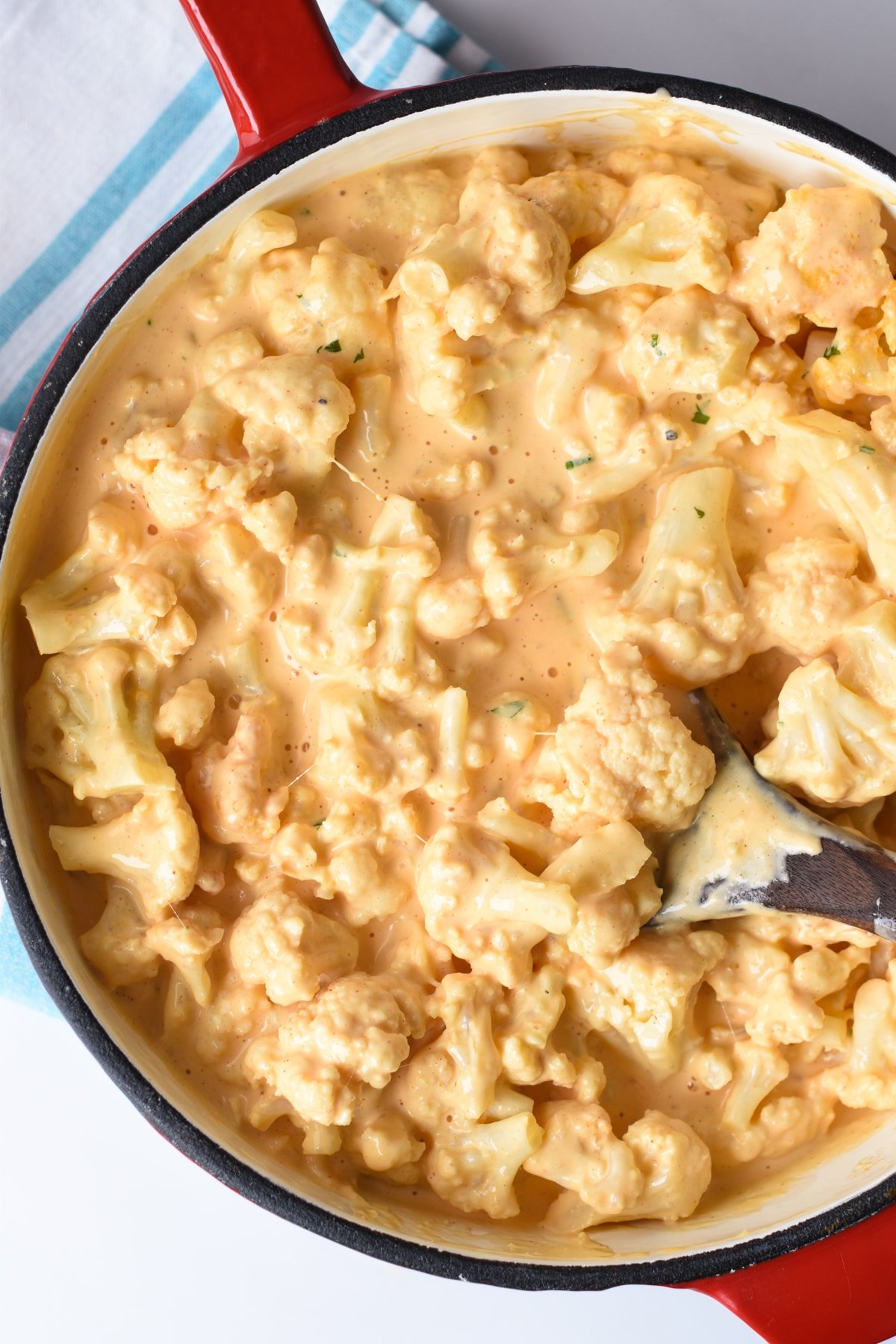 Do you miss pasta dishes on your keto diet?
We all miss that cheesy Mac and Cheese classic dish, and this Keto Mac and Cheese is the best way to bring out all the flavor of a comforting mac and cheese dinner without the carbs from pasta.
Is Classic Mac And Cheese Keto?
No, a Mac and Cheese recipe like my Smoked Mac and Cheese is not keto-friendly for two reasons.
First, the cheese sauce from Mac and Cheese recipes contains lots of carbs from all-purpose flour and whole milk.
Next, the dish itself is made from elbow pasta or macaroni, pasta made from wheat, and they are high-carb products that quickly raise your blood sugar level.
It means that even without the pasta, a mac and cheese sauce is not keto-friendly and high in carbs.
So to enjoy Mac and Cheese flavors on a keto diet, you must make your own sauce and choose a pasta low-carb carb alternative you love.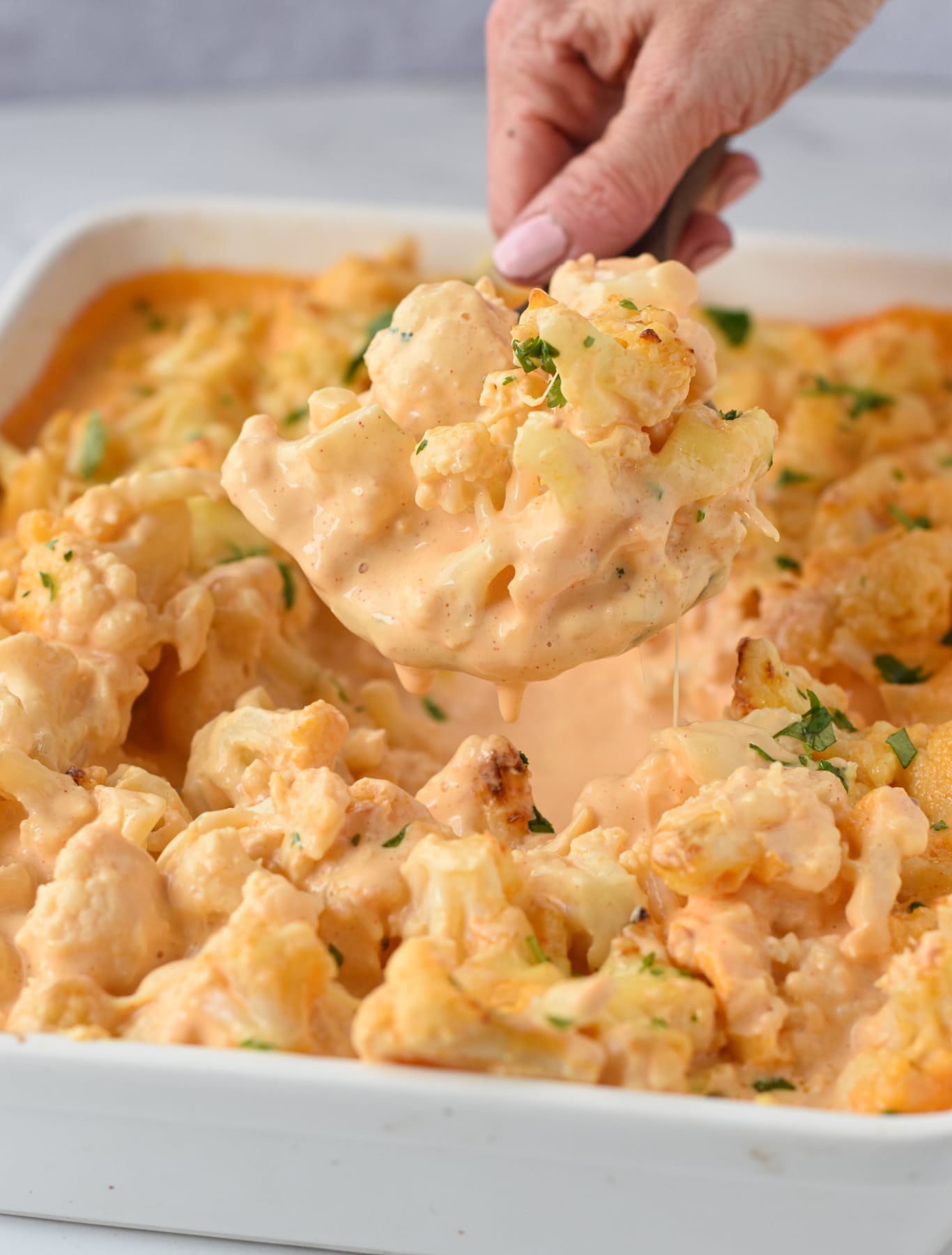 How To Make Keto Mac And Cheese
There's nothing easier than Cauliflower Mac and Cheese casserole!
All you need are a few basic ingredients, and it's ready in the same time you'd take making regular Mac and Cheese!
So dish the pasta and try this low-carb mac and cheese recipe!
Ingredients
Head of cauliflower – cut into small 1.5-inch florets and steamed. Learn how to cut cauliflower properly with my guide. Cauliflower is a great keto-friendly vegetable that is very convincing in replacing macaroni.
Unsalted Butter – learn why Butter is a keto-friendly dairy product, unlike milk.
Softened cream cheese – I prefer this option over heavy cream.
Unsweetened Almond milk
Shredded sharp cheddar cheese
Shredded Gruyere or Emmental – avoid hard grated mozzarella. This option makes the sauce too stringy!
Salt
Pepper
Garlic Powder
Paprika
Dijon mustard
Optional Add-Ons
This recipe is delicious like this, but you can make it even more perfect with:
Grilled Chicken: it won't affect the calories or net carbs much and brings great taste.
Bacon: for an extra boost of protein
Cut And Steam Cauliflower
First, place the cauliflower head on a chopping board and trim the outside leaves.
Next, cut the cauliflower head into small florets, bite-size of about 1 1/2 inches each.
Finally, place the florets into a steamer basket over a large saucepan of boiled water. Steam the florets for about 8 minutes.
You can also place the florets into a large mixing bowl and microwave for 6-8minutes until softer, not mushy.
Set aside the cooked cauliflower for a few minutes or until they have steamed out.
Alternatively, you can also grill the cauliflower in the oven by placing the florets sprinkled with cayenne pepper and olive oil on a baking sheet covered with parchment paper and cooking it for 10 minutes at 350°F (180°C).
For full details on how to steam a cauliflower, read my Steamed Cauliflower recipe.
Keto Mac and Cheese Sauce
Meanwhile, in a saucepan or pot, melt butter, then add almond milk, and bring to a light boil.
Then, whisk in softened cream cheese, Dijon mustard, garlic powder, paprika, salt, and pepper.
When the mixture is smooth, stir in 1 cup of each variety of shredded cheese. Keep cooking until the sauce is creamy and the cheese is melted.
Finally, stir the cooked cauliflower florets into the sauce and keep cooking for a few minutes until the cauliflower is well coated and flavored by the sauce.
Casserole Option
To turn this Keto Mac and Cheese Cauliflower recipe into a casserole, place the cheesy cauliflower florets onto a large 9×13-inch baking dish.
Sprinkle extra 1 cup cheese on top of the casserole with 1/2 cup bacon bits and bake it in the oven at 350°F (180°C) for 10 to 15 minutes or until the cheese is melted and grilled.
Serve immediately with fresh chopped herbs and keto rice on the side.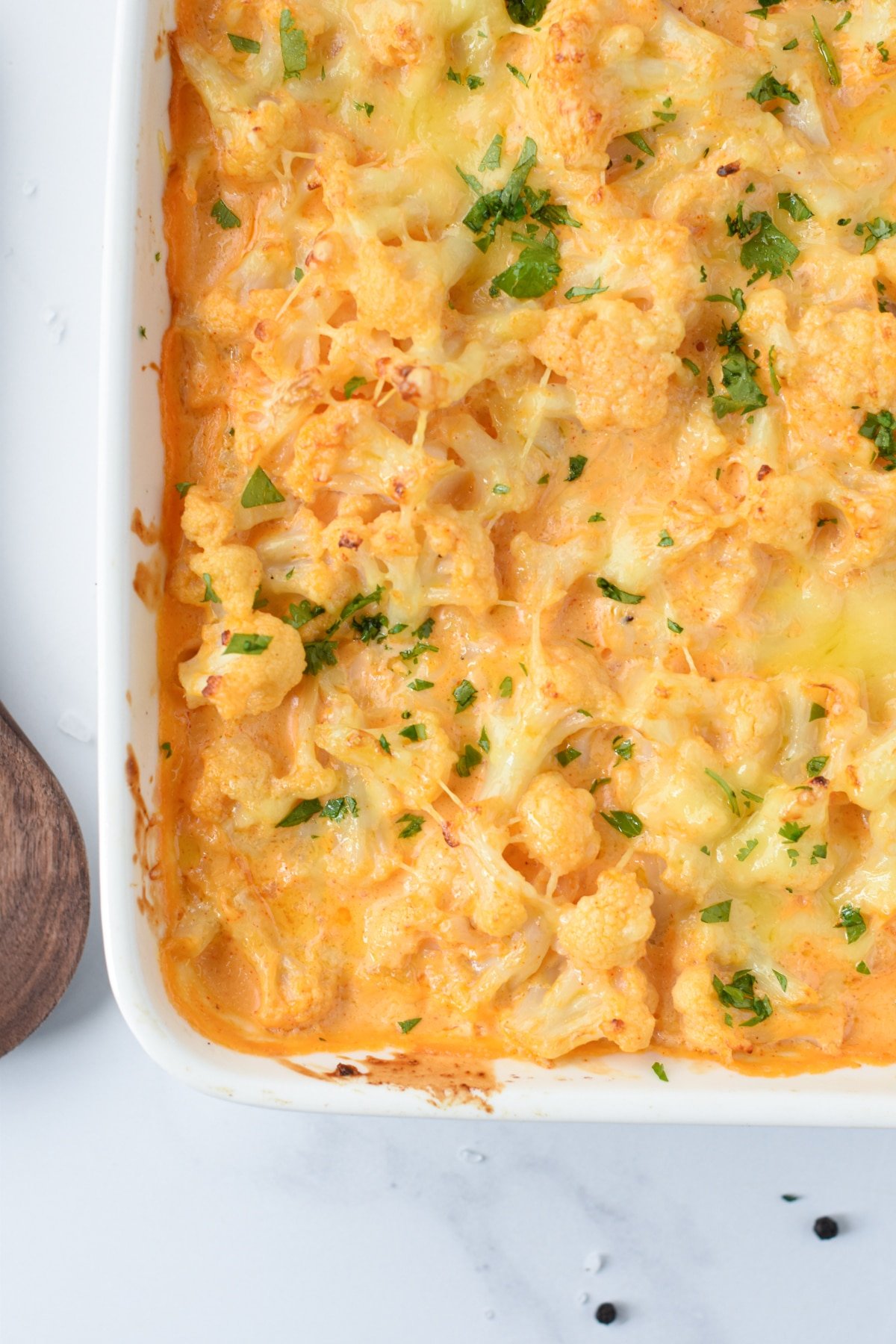 Cheese Options
I believe that the sort of cheese you use in a mac and cheese recipe is the key to making it flavorsome. Therefore, I listed below all my favorite cheese combinations for you to try.
Munster cheese and sharp cheddar
Shredded parmesan cheese and jack pepper cheese
Emmental and sharp cheddar
Storage Instructions
This keto cauliflower mac and cheese recipe freezes very well in a freezable container.
Thaw it in the fridge the day before and rewarm in a small saucepan or the microwave until hot.
You can also store leftovers in the fridge for up to 3 days.

Swaps
This recipe is naturally:
Gluten-Free
Egg-Free
Low-Carb
Keto-Friendly
Grain-Free
Vegetarian
If you don't like cauliflower or you don't have cauliflower on hand now but still crave a Keto Mac and Cheese dinner, there's a cauliflower-free option for you.
Broccoli – steamed broccoli florets are a great keto vegetable substitute for cauliflower.
Low-carb pasta – there are plenty of options on the market like Palmini linguine made from palm heart, Atkin pasta, or shirataki noodles.
Zucchini zoodles – use a spiralizer and make noodles from fresh zucchinis.

Frequently Asked Questions
I've listed below the answers to the most common questions about this recipe.
What Does Keto Mac And Cheese Taste Like?
This recipe tastes very similar to classic mac and cheese. Plus, you don't have to use cauliflower and can opt for a keto-friendly pasta alternative.
Can I Make Cauliflower Mac And Cheese With Frozen Cauliflower?
Yes, it works perfectly well with frozen cauliflower. You might need to cook it for slightly longer, but it will have the exact same mac and cheese taste.
Is Cauliflower Mac And Cheese Keto?
This recipe is as keto-friendly as it gets! Just about 5 grams of net carbs per serving will keep you in ketosis with a balanced rest of the day.
Can I Freeze Keto Mac And Cheese?
Absolutely! You can use this recipe to meal prep a whole week of keto dinners. Freeze it in smaller containers so you can defrost them one by one as you need them.
More Cauliflower Keto Recipes
I love to prepare keto meals and side dishes with cauliflower.
It's such a low-carb vegetable with a delicious texture to mimic pasta or potatoes without adding to the carb counts.
Below I listed my favorite keto cauliflower recipes for you to try as a main dish or side dish.
Have you made this keto cauliflower mac and cheese casserole recipe? Share a comment or review below with me,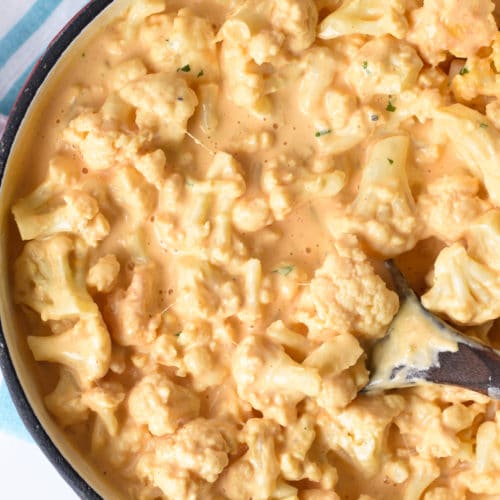 Keto Cauliflower Mac and Cheese
This Keto Cauliflower Mac and Cheese is a low-carb version of the popular Mac and cheese pasta made with cauliflower florets.
Yield:
servings (1 1/2 cup)
Serving Size:
1
serving (1 1/2 cup)
Ingredients
Optional add-ons for a keto casserole
This recipe may contain Amazon or other affiliate links. As an Amazon Associate I earn from qualifying purchases.
Instructions
Trim the cauliflower stems, remove the leaves, then break into small bite-size florets about 1 1/2 inches wide.

Place the florets into a steamer basket and steam for 8 minutes until fork tender.

Cool down on a colander for few minutes until completely steamed out, then transfer to a large baking dish and spread into an even single layer.

Meanwhile, prepare the mac and cheese sauce.

In a large saucepan – large enough to fit the cauliflower florets – add the butter and almond milk and bring to a light boil, then whisk in cubes of softened cream cheese, Dijon mustard, garlic powder, paprika, salt, and pepper.

When the mixture is smooth, stir in shredded cheddar and shredded gruyere.

Stir over low heat for 1 or 2 minutes or until the cheese just has melted and a creamy sauce forms. If too thick or stringy, add more almond milk at room temperature until it reaches your liking.

Stir the cooked cauliflower florets into the sauce and keep cooking for 1-3 minutes until hot.

For a casserole, transfer into a 9×13-inch baking dish, sprinkle extra shredded cheese on top, and bake at 180°C (350°F) for 15 minutes or until cheese is broiled on top.

Serve immediately with fresh herb or plain.
Want My Kitchen Equipment?
Serving Size:
1
serving (1 1/2 cup)
Yield:
servings (1 1/2 cup)
Serving:
1
serving (1 1/2 cup)
Calories:
454.7
kcal
(23%)
Carbohydrates:
7.4
g
(2%)
Fiber:
2.2
g
(9%)
Net Carbs:
5.2
g
Protein:
21.8
g
(44%)
Fat:
38.3
g
(59%)
Saturated Fat:
20.8
g
(130%)
Polyunsaturated Fat:
2.6
g
Monounsaturated Fat:
12
g
Trans Fat:
0.2
g
Cholesterol:
107.6
mg
(36%)
Sodium:
796.8
mg
(35%)
Potassium:
425.2
mg
(12%)
Sugar:
2.8
g
(3%)
Vitamin A:
991.2
IU
(20%)
Vitamin B12:
0.8
µg
(13%)
Vitamin C:
47.3
mg
(57%)
Vitamin D:
0.6
µg
(4%)
Calcium:
563.1
mg
(56%)
Iron:
0.9
mg
(5%)
Magnesium:
38.8
mg
(10%)
Zinc:
2.7
mg
(18%)
Posted In: