Keto Chocolate-Covered Strawberries
A step-by-step guide to creating homemade Keto Chocolate-Covered Strawberries that are beautiful, tasty, and only 2.7 grams of net carbs per serving.
A delicious holiday treats for chocolate lovers.
How To Make Keto Chocolate-Covered Strawberries
It's such an easy treat to make for a quick sweet snack or holiday dessert.
There is nothing difficult about making these chocolate strawberries, but there are a few steps and tips to make them perfect.
Ingredients
You only need 3 ingredients for this recipe:
Strawberries – you need to use very fresh strawberries. Use my tips below to pick them.
Chocolate Chips – there are many brands of sugar-free chocolate chips you can find in store. Alternatively, you can also make your own sugar-free chocolate chips.
Coconut Oil – prefer refined coconut oil for a mild coconut taste.
Step 1: Weigh the strawberries
On a keto diet, we count carbs per serving. So, if you want to make sure that the nutrition panel below is accurate, weigh your strawberries!
I am using medium-sized strawberries, 35 grams/1.23 oz each.
A large strawberry can weigh up to 45 grams, and even if it's a low-carb keto-friendly fruit, even a small difference ups the carbs per serving quickly.
If your strawberries are larger than mine, you won't have enough melted chocolate to cover them all.
So weigh the strawberries first and aim for 30-35 grams, not more.
Step 2: Wash and dry carefully
Of course, washing fruits is essential even if you are buying organic strawberries. However, water and melted chocolate are not friends, so you must pat dry the strawberries very well!
If your strawberries are wet, the chocolate won't set on them, and also, it will ruin the shiny aspect of the melted chocolate.
So use absorbent paper and pat dry each strawberry carefully one by one.
Step 3: Choosing a baking sheet or plate that fit your freezer size
You will place each chocolate-dipped strawberry onto a lined baking sheet or plate. Then, you must place the baking sheet in the freezer to quickly set the chocolate shell.
So it is important that first, you make sure that your baking sheet is not too big to go in your freezer.
Otherwise, use a plate or chopping board. Any flat hard surface will do.
Step 4: melt the chocolate chips slowly
There are three options to melt sugar-free chocolate chips. Whether you choose to use dark chocolate chips or milk chocolate chips, both ways work well.
Use a microwave-safe bowl and microwave the sugar-free chocolate chips and coconut oil for 30 seconds. Remove the bowl from the microwave, stir and repeat this step until it is completely melted and shiny.
Use a small non-stick saucepan, bring the dark chocolate chips and coconut oil under low heat, and constantly stir until melted.
Under a warm water bath. Boil some water and pour it into a large glass bowl. Bring a bowl with the chocolate chips and coconut oil on top of the bowl with the boiling water. It will float, so hold it with one hand and stir with the other hand until melted.
Step 5: Dip into melted chocolate
First, prick the center of the strawberry stem with a wooden toothpick or a small fork. Then, dip the strawberry into the melted chocolate and rotate to cover all the sides.
Finally, lift out the strawberry and wait a few seconds for the extra chocolate to fall back into the bowl.
Place the dark chocolate-covered strawberry onto the lined baking sheet.
Step 6: Leave space between strawberries
Repeat step 5 until all the strawberries are covered with chocolate and leave a 1-thumb space between each strawberry.
In fact, the melted chocolate will keep running down onto the parchment-lined baking sheet, so enough space prevents the strawberries from sticking to each other.
Step 7: Decorate
This is totally optional and will add up a few carbs but almost nothing – about 0.3 grams per strawberry, if you use a sprinkle of:
chopped almonds
unsweetened coconut
chopped pumpkin seeds
Another option consists of decorating the strawberries with melted white chocolate chips.
To do so, first follow step 8, then drizzle melted white chocolate onto the hard dark chocolate shell and pop it back into the freezer to set the added white chocolate.
Step 8: Set in the freezer for a thicker chocolate shell
Place the baking sheet into the freezer until the chocolate shell is hard and set.
You can also place them in the fridge, but the shell sets slowly.
It takes about 30 minutes, and more chocolate runs down to the strawberries, so I prefer the freezer method for a thicker chocolate shell.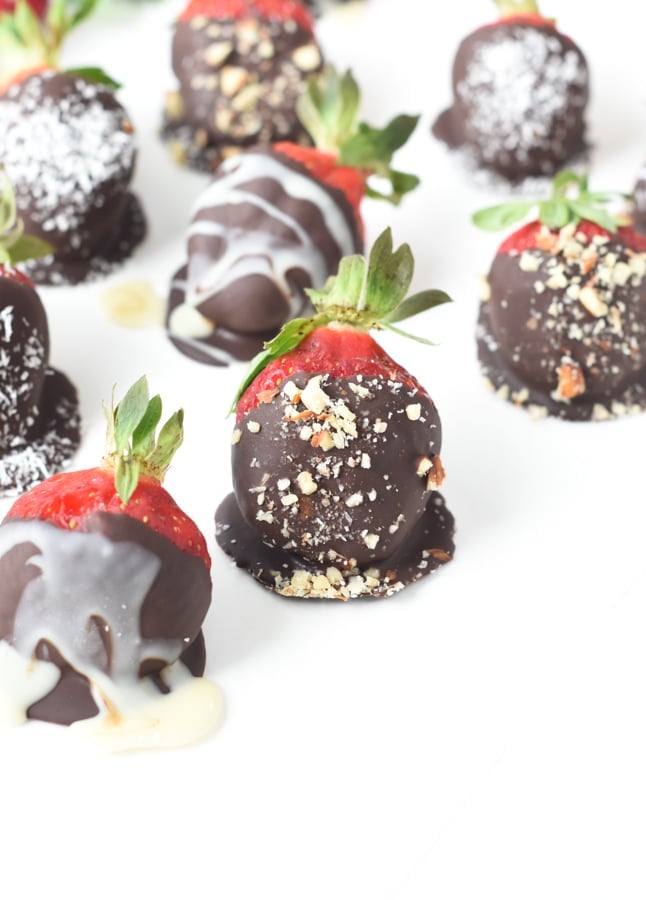 How to choose keto chocolate chips?
There are plenty of sugar-free chocolate chips available at the grocery store, but not all are keto-friendly!
Watch out for bad sweeteners like maltitol that can take you out of ketosis!
Always look for keto-friendly sweeteners in the ingredient list, including stevia, erythritol, or Monk fruit. My favorite brands are Choc Zero and Lilly's sweet.
But if you're not sure, make your own sugar-free chocolate chips.
Can I make this recipe using my own keto chocolate?
I don't recommend this option. Homemade keto chocolate made of cocoa powder and coconut is good but very runny and doesn't set well onto the strawberries.
It wouldn't create a thick shell, as seen in the pictures.
More Quick Keto Snacks
These are gluten-free and perfect for Valentine's Day or Christmas dessert. Nobody will be able to tell that they are sugar-free chocolate-covered strawberries.
Below I listed a few more keto chocolate snacks ready in less than 15 minutes to pair with these strawberries:
Made these healthy chocolate-covered strawberries? Share a review or comment below, or join me on Instagram to share a picture of your creation.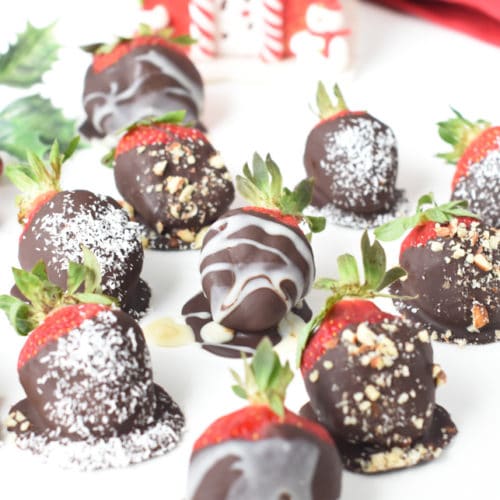 Keto Chocolate Covered Strawberries
An easy 3-ingredient recipe for delicious juicy strawberries with a crunchy sugar-free chocolate shell, perfect for a holiday treat or Valentine's day.
Yield:
servings (1 strawberry)
Serving Size:
1
strawberry
Ingredients
1.2

lbs

Strawberries

about 16 large strawberries (35g/1.23 oz each)

1

cup

Sugar-Free Dark Chocolate Chips

see note on how to choose keto chocolate chips

1

tablespoon

Coconut Oil

use refined coconut oil for no coconut flavor
This recipe may contain Amazon or other affiliate links. As an Amazon Associate I earn from qualifying purchases.
Instructions
Wash the strawberries and dry them very well with absorbent paper. Water and melted chocolate don't belong together! So it is crucial to fully dry the strawberries before dipping them into the chocolate.

Prepare a large chopping board covered with parchment – make sure it fits your freezer or fridge! Set aside.

In a small-medium microwave-safe bowl, add sugar-free dark chocolate chips (I am using Choc Zero) and coconut oil.

Microwave 30 seconds, stir and repeat until the chocolate chips are melted.

Insert a toothpick in the center of the strawberry stem, then use the toothpick to dip the strawberry into the melted chocolate and rotate to cover all the sides.

Lift and twist the strawberry slightly to give the excess chocolate time to fall back into the bowl.

Place the strawberry on the board covered with parchment paper, hold the stem and gently pull out the toothpick.

Repeat for the following 15 strawberries, leaving 1 thumb space between each strawberry as some melted chocolate will spread at their feet.
Decoration
If you want to decorate the strawberries, sprinkle chopped nuts or coconut on the melted chocolate. For a white chocolate drizzle, wait until the chocolate layer is hard to apply

Put the board in the freezer for 10 minutes or in the fridge for 30 minutes to fully set the chocolate shell. I personally prefer the freezer, it sets the shell faster, and less chocolate runs to the bottom of the strawberries.
Storage
Remove from the freezer and store in a sealed container in the fridge for up to 2 days. Don't overlap the strawberries for a better aspect.
Notes
Sugar-free chocolate chips are not all keto-friendly! Make sure the chocolate chips you choose for the recipe don't contain maltitol. It's not a keto-friendly sweetener and will raise your blood sugar level, which means it can take you out of ketosis. Best keto chocolate chips – I am using Choc Zero dark chocolate chips for this recipe, but Lily's Sweet is also a great option. Coconut oil – use refined coconut oil to avoid coconut flavor in your chocolate. I don't recommend butter. The chocolate shell doesn't harden as well.
Want My Kitchen Equipment?
Serving Size:
1
strawberry
Yield:
servings (1 strawberry)
Serving:
1
strawberry
Calories:
60.5
kcal
(3%)
Carbohydrates:
8.4
g
(3%)
Fiber:
5.7
g
(24%)
Net Carbs:
2.7
g
Protein:
0.2
g
Fat:
4.7
g
(7%)
Saturated Fat:
3.1
g
(19%)
Sodium:
0.5
mg
Potassium:
52
mg
(1%)
Sugar:
1.7
g
(2%)
Vitamin A:
4.1
IU
Vitamin C:
20
mg
(24%)
Calcium:
5.4
mg
(1%)
Iron:
0.1
mg
(1%)
Posted In: