This Keto Egg Loaf is a delicious recipe to make keto breakfast toasts or keto French toasts with only 2 grams of net carbs per slice.
Bonus, this keto bread loaf is also gluten-free!
What's A Keto Egg Loaf?
A keto egg loaf is a spongy keto bread made of eggs, cream cheese, and butter.
Some variations of the recipe add keto sugar-free sweetener, cinnamon, or a touch of keto flours to create a firmer bread texture.
It's a very low-carb bread recipe often used as a pancake or French toast substitute on a keto diet.
How To Make Keto Egg Loaf For French Toasts
This egg loaf recipe is the easiest keto bread to make as a keto beginner.
In fact, if you want to see an easy way of making this recipe, why not check my web story: making the keto egg loaf.
Egg Loaf Ingredients
All you have to do is blend all the ingredients below together, bake, slice, and enjoy.
Let's see below what you need to make the most delicious egg loaf recipe.
Large eggs – you need large eggs at room temperature for this recipe. Don't worry, Eggs are very low in carbs!
Melted butter – you can also use melted coconut oil for this recipe. Butter is a great keto-friendly dairy product.
Coconut flour – most egg loaf recipes don't use any keto flour, but I recommend a touch of coconut flour for so many reasons. First, it adds texture and structure to your bread. It's much more enjoyable as a base for toast and won't get soggy if used for Keto French toast. Next, it makes the bread less spongy, and it won't sink in the middle after baking. Finally, coconut flour adds a lovely naturally sweet flavor to the bread.
Vanilla extract
Baking powder
Cinnamon – a keto egg white bread with cinnamon tastes 100 times better, especially if you intend to make French toast with the recipe.
Erythritol or monk fruit drops – this is optional, and I personally don't add sweetener to my egg loaf bread. I prefer to add only vanilla, and cinnamon and then drizzle sugar-free maple syrup on each slice. Find out my Top-4 Keto-friendly Sweeteners.
Make the batter with a food processor
I highly recommend a food processor or a blender to make this recipe. It creates the best smooth bread batter, and your egg loaf won't sink in the middle.
If you don't have one of these kitchen tools, use an electric hand mixer—first, pulse cream cheese and eggs. Then, add the ingredients, following my recipe below.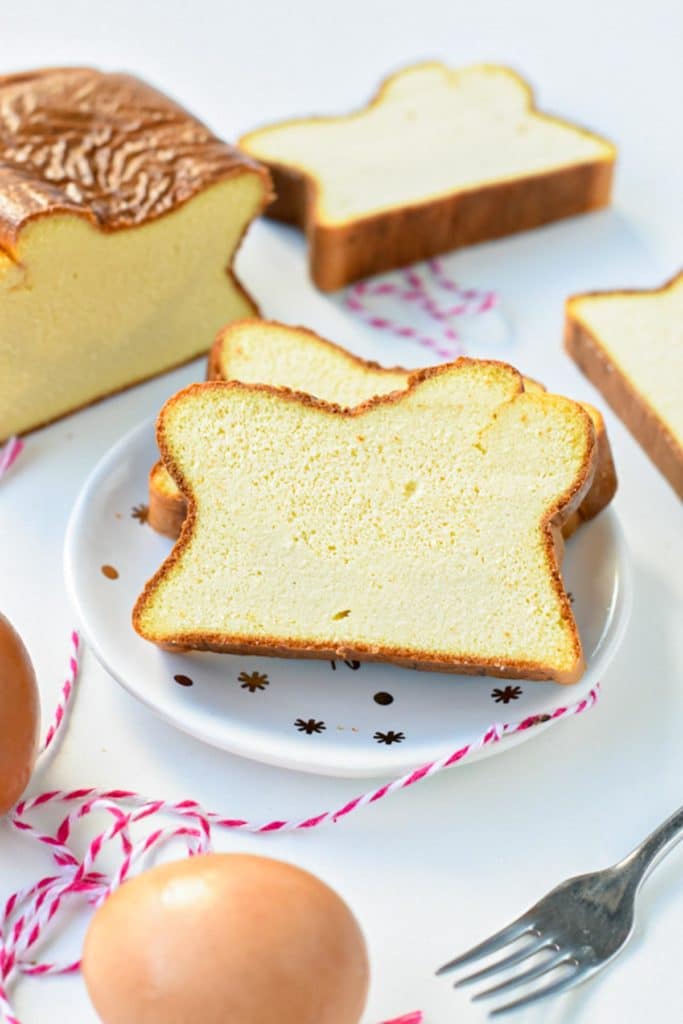 Bake 45 minutes
Transfer the batter into a loaf pan covered with greased parchment paper. Bake in an oven preheated to 350°F (180°C) for 45 minutes to 55 minutes or until the top of the bread is set and golden brown.
You can insert a skewer in the center of the bread to check if it's cooked through. If the skewer comes out clean, the egg loaf is ready to cool down.
Cooldown
Always cool down the bread for 5 minutes in the bread pan before releasing it onto a cooling rack.
This also prevents the egg loaf from sinking in the middle and keeps its lovely shape.
Can I swap coconut flour for almond flour?
Yes, you can, but your egg loaf texture will be more soggy, spongy, and most probably sink in the middle.
Also, the ratio will be very different. Aim for 3/4 cup to 1 cup of almond flour to swap the 7 tablespoons of coconut flour used in this recipe.
How To Store Egg Loaf
You must store this bread in the fridge in a sealed container. You can slice the bread ahead of time or just before serving.
Overall it stores up to 4 days in the fridge or can be frozen, and sliced for 3 months.
Thaw the egg loaf on a plate at room temperature just before serving.
How Many Carbs Are In An Egg Loaf?
This egg loaf makes 12 slices. One slice is one serving and contains 3.4 grams of total carbs, 1.4 grams of fiber, and only 2 grams of net carbs.
It's the perfect keto breakfast to fix a bread or pancake craving.
Does It Taste Eggy?
We all have a different sensitivity to egg flavor in food. But let's reckon that yes, egg loaf does have a light, eggy flavor.
Any recipe with more than 4 eggs has an egg flavor, but egg loaves are used as a base for French toasts.
As a result, the added vanilla, cinnamon, and toppings totally cover up any egg flavor.
All you feel is a spongy, thick bread with delicious vanilla, cinnamon, and maple flavor.
It perfectly mimics bread and fixes any craving for bread you might have for breakfast with such a low amount of total carbs.
How To Serve Egg Loaf
Slice a piece of egg loaf and use it as:
Toast or keto pancake replacement – melt a teaspoon of butter in a frying pan and fry bread on both sides: drizzle sugar-free maple syrup and keto fruits on top.
Sandwich – don't add any vanilla, cinnamon, or sweetener to the batter, and use 2 slices of egg loaf to make a sandwich. Add bacon, ham, lettuce, or any keto vegetable to make a quick keto lunch.
French toasts – follow my Keto French Toast recipe here.
More Keto Breakfast Recipes
We all love some sweet keto breakfasts to change from fried eggs. Keto scrambled eggs or omelette.
I've listed below my favorite quick and easy keto breakfast to fix your sweet tooth:
Made this keto egg loaf recipe? Share a review or comment below with me. I love to hear your feedback on my recipes.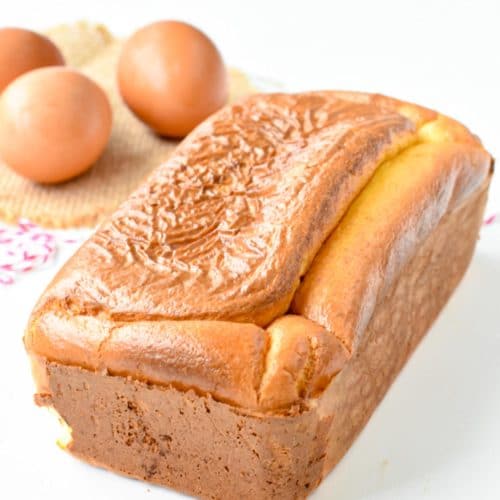 Keto Egg Loaf
An easy keto egg loaf recipe to make Keto French toasts or breakfast toast.
Nutrition Snapshot
Want My Kitchen Equipment?
Instructions
Preheat oven to 350°F (180°C). Line a 9 x 5-inch loaf pan with greased parchment paper. Set aside.

In a food processor, with the S blade attachment, blend eggs, melted butter, softened cream cheese, and vanilla extract if used. Blend on high speed until smooth.

Stop the food processor and add in baking powder, coconut flour, erythritol, and cinnamon, if used. Blend again on high speed to combine and form a smooth loaf batter with no lumps.

Pour the batter into the prepared loaf pan.

Bake for 45-55 minutes or until the top has puffed and has a lovely golden brown color. You can insert a skewer in the center of the loaf to test the baking. If it comes out clean, the egg loaf is cooked through.

Cool it down for 5 minutes in the pan, then pull out the hanging part of parchment paper to release the egg loaf.

Transfer onto a cooling rack, the loaf will slightly sink in the center at room temperature, and that's normal.
My Recipe Notes
Nutrition
Serving:
1
slice
Calories:
163.2
kcal
(8%)
Carbohydrates:
3.4
g
(1%)
Fiber:
1.4
g
(6%)
Net Carbs:
2
g
Protein:
5.9
g
(12%)
Fat:
14
g
(22%)
Saturated Fat:
7.7
g
(48%)
Trans Fat:
0.2
g
Cholesterol:
154.8
mg
(52%)
Sodium:
185.3
mg
(8%)
Potassium:
73.3
mg
(2%)
Sugar:
1
g
(1%)
Vitamin A:
550.4
IU
(11%)
Calcium:
57.9
mg
(6%)
Iron:
0.8
mg
(4%)
Posted In: