An easy 3-Ingredient Keto Rice recipe to fix all your rice cravings and serve as a keto side dish to Keto Chicken Curry or based in your Keto Poke Bowl.
Bonus, this rice alternative recipe doesn't use konjac rice or low-carb rice substitutes like shirataki rice! All you need is a cauliflower head!
Is Rice Keto-Friendly?
No, rice is one of the highest-carb grains, and like wheat, it turns into glucose very quickly into your bloodstream.
So you can't eat rice on a keto diet. In fact, eating rice, even the healthier kind of rice like brown rice, would spike blood sugar levels and take you out of ketosis in an instant.
How To Make Keto Rice
There are three ways of enjoying rice on your keto diet.
The first two rice substitutes consist of using low-carb keto rice substitutes:
Konjac rice – or "miracle rice", made from the Konjac Roots. Popular in konjac noodles.
Shirataki rice – also made from the Konjac Roots, but with a slightly different method
Both of these are almost zero-carb foods and very low in calories. They are my favorite in my vegan keto meal plan to keep carbs low.
But there are some downsides to these:
Fishy taste – even if you wash, boil or rinse them with acidic food like vinegar or lemon juice, it's hard to get away from 100% of their fishy smell and taste.
Price – not everyone can afford rice substitutes.
So to me, the best option to make keto rice at home is to use riced cauliflower cooked in a good amount of coconut oil or butter.
Keto Rice Ingredients
The ingredients you need to make keto rice that doesn't taste like fish are:
Head of cauliflower – Cauliflower is a low-carb vegetable with only 1.7 grams of net carbs per 100 grams. It's one of the best veggies on your keto diet.
Butter – or coconut oil, MCT oil, olive oil, or ghee. Butter is one of the keto-friendly dairy products.
Lime juice
Can I use Broccoli instead of Cauliflower?
Yes, but the texture is quite different. Broccoli is also slightly higher in carbs and lower in fiber, and because it's green, it doesn't quite replace white rice in your head when you eat it.
Step 1: Turning Cauliflower into Rice
First, trim the head of cauliflower by removing its feet and large green leaves. Discard these parts in your compost, for example.
Then, cut the cauliflower into small florets and place about 2 cups of florets in your food processor.
Using the S blade attachment, process the cauliflower florets at high speed for about 30 seconds or until they turn into a rice-like texture.
You can also use a box grater or grate manually, but it takes a lot more time!
Set aside in a large bowl, then repeat with the remaining cauliflower florets.
Never add more than 2 cups of fresh cauliflower florets to the food processor, or it becomes hard to process, and large pieces remain.
Step 2: Stir-Frying the Rice
Heat two tablespoons of butter – it can also be ghee or coconut oil, depending on what you like the most – in a large non-stick pan over medium heat.
When the butter is melted, add 4-5 cups of riced cauliflower, stir-fry for 1 minute, then cover and keep cooking for 5-7 minutes until the keto cauliflower rice is tender but still firm and slightly yellow and grilled.
Just before removing from the heat, add a splash of lime juice to remove any cauliflower smell and to add a delicious zesty flavor to the rice. Another option is to add vegetable broth.
Season with salt and pepper or garlic powder if desired.
Serve as a side dish to any grilled meat, grilled fish, or Keto Curry Recipe.
Step 3: Flavoring the Rice
Like white rice, you can add flavor to your low-carb rice alternatives by adding some of the keto-friendly rice flavorings:
Tasting and Adjusting
This keto cauliflower rice has a firm texture like rice. It does have a light cauliflower taste that is well covered by butter.
But, if you are not a fan of cauliflower, add even more flavor to your cauliflower rice by adding garlic, salt, coconut amino sauce, or cream!
Frequently Asked Questions
I've listed below the answers to the most common questions about this recipe.
How To Get Rid Of The Cauliflower Smell?
If you are new to keto, cauliflower is your friend for many dishes. But, I hear you! The sulfur smell of cauliflower can be unappreciated by many.
The best way to cover the cauliflower smell is to add a few drops of white vinegar or lemon juice to the pan.
Serving Ideas
The best way to use keto rice is as a side dish to some of my keto recipes below.
You can also use this recipe to make your own keto cauliflower fried rice. Simply combine the cooked rice with Scrambled Eggs, ham or diced bacon, and chives.
Storage Instructions
This cauliflower rice can be stored for up to 3 days in an airtight container in the fridge. You can freeze the cooked rice for up to 3 months, either in single portions or as a side to your meal.
Thaw the low-carb rice portion in the fridge the day before serving.
This keto rice reheats very well in:
The microwave
In a saucepan
More Keto Cauliflower Recipes
I love cauliflower as a low-carb replacement for rice and potatoes. Below I listed my favorite keto low-carb cauliflower recipes for you to try.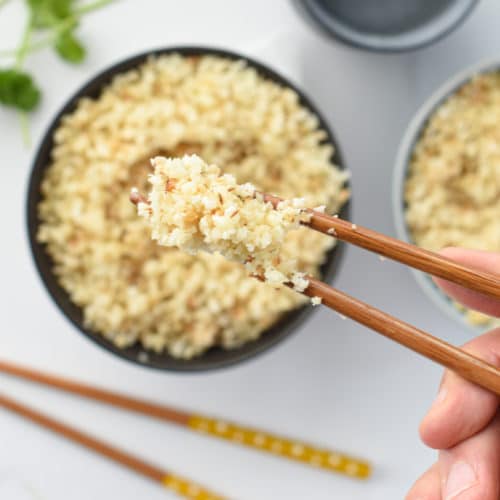 Keto Rice
An easy 3-ingredient Keto Rice recipe perfect as a keto side dish to meat, fish, or curry.
Ingredients
1

medium

Cauliflower Head

riced, equivalent to 4 cups raw cauliflower rice

2

tablespoons

Butter

or coconut oil or olive oil

1

tablespoon

Lime Juice

or broth
Optional – to serve
½

teaspoon

Salt

¼

teaspoon

Garlic Powder

1

tablespoon

Butter
This recipe may contain Amazon or other affiliate links. As an Amazon Associate I earn from qualifying purchases.
Instructions
Trim the cauliflower head, remove the green leaves and the cauliflower feet. Discard them.

Cut the cauliflower into small florets.

Place 2 cups at a time of cauliflower florets in the food processor with the S blade attachment and process on high speed for 30 seconds until it resembles rice. Set aside in a bowl. If you don't have a food processor, use a hand grater box.

Repeat the above process until all the cauliflower florets are turned into the rice. Measure 4 cups of cauliflower rice.

Heat and melt butter in a non-stick pan and stir in the 4 cups riced cauliflower.

Stir fry in butter for 1 minute, cover pan with a lid, and reduce to medium heat. Cook the rice for 5 minutes or until slightly golden grilled, still tender but cooked through.

Remove lid and keep cooking until the liquid evaporates and texture is to your liking.

Stir in a splash of lime juice or broth at the end of cooking if you like – just for flavor, keep cooking for 30 seconds to incorporate and evaporate the liquid, then serve hot or lukewarm as a side dish to any keto recipe.

Season before serving with salt and garlic powder if desired.

You can stir in an extra tablespoon of fresh butter or coconut oil before serving for an extra creamy texture.
Want My Kitchen Equipment?
Serving:
1
serving
Calories:
43.8
kcal
(2%)
Carbohydrates:
3.8
g
(1%)
Fiber:
1.5
g
(6%)
Net Carbs:
2.3
g
Protein:
1.4
g
(3%)
Fat:
3
g
(5%)
Saturated Fat:
1.8
g
(11%)
Polyunsaturated Fat:
0.1
g
Monounsaturated Fat:
0.7
g
Trans Fat:
0.1
g
Cholesterol:
7.5
mg
(3%)
Sodium:
192
mg
(8%)
Potassium:
219.1
mg
(6%)
Sugar:
1.4
g
(2%)
Vitamin A:
88.4
IU
(2%)
Vitamin B12:
0.1
µg
(2%)
Vitamin C:
35.2
mg
(43%)
Vitamin D:
0.1
µg
(1%)
Calcium:
17.1
mg
(2%)
Iron:
0.3
mg
(2%)
Magnesium:
11.1
mg
(3%)
Zinc:
0.2
mg
(1%)
Posted In: